Mercedes-Benz C-Class Estate review
Current Model
Premium load lugger, updated for 2018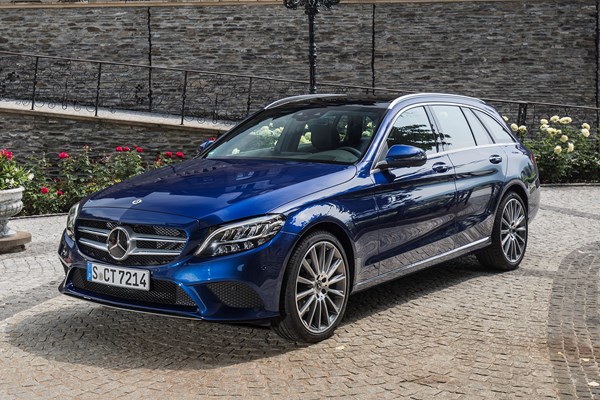 PROS
Sharp looks
Sleek cabin
Technology
CONS
Not the largest load-lugger
Stiff suspension
Rattly diesel
PROS
Sharp looks
Sleek cabin
Technology
CONS
Not the largest load-lugger
Stiff suspension
Rattly diesel
Mercedes-Benz C-Class Estate rivals
Mercedes' best selling model in the firm's UK arsenal is the C-Class, with the Mercedes-Benz C-class estate accounting for 20 percent of that.
Competing against the BMW 3 Series Touring and Audi A4 Avant it's fighting a difficult battle, but Mercedes believes this version can build on the practicality, technology, efficiency and style of its predecessor to take it to the top.
Practicality
Expect the biggest estate in the sector and you'll be disappointed, as Mercedes is keen to see the new C-Class estate as a lifestyle leader rather than a load-lugger – think outdoor pursuits and small boats being towed and you have it.
That said the boot space is, of course, larger than before. With the seats in place it has grown by five litres to 495 litres and with the seats folded down an increase of 10 litres takes the maximum space to 1,510-litres.
The boot opening is large and squarely shaped, with the interior impeccably well-trimmed as you'd expect, while the rear seat is now split 40/20/40 rather than the standard 60/40 configuration. You don't even need to clamber around to release the catches, thanks to controls located next to the seats and at the rear of the boot which allow the backrests to be folded electrically.
And if you've got armfuls of shopping when returning to the car, as long as you've ticked the correct option box, a simple wave of your foot under the rear bumper will open the tailgate for you – allowing you to place items in without hassle.
Engines and gearboxes
As you'd expect the majority of UK C-Class estates will arrive in dealerships with a diesel engine under the bonnet, of which there will be a pair to choose from at launch.
Both are the same 2.1-litre four-cylinder unit, but the C220 BlueTEC produces 168bhp and the C250 BlueTEC makes 201bhp, with corresponding differences in torque. That said both slip under 120g/km for CO2 output and can achieve over 60mpg with a light right foot.
Later there'll be a C200 BlueTEC diesel with a 1.6-litre four-cylinder engine, and the C300 BlueTEC Hybrid which combines the 201bhp 2.1-litre diesel with a 27bhp electric motor for better performance, less emissions (sub 100g/km) and more economy (74.3mpg).

Petrol aficionados will have to look to the C200 petrol, which is surprisingly efficient and offers buyers the chance to take advantage of its 181bhp and over 50mpg combined economy.
There's also a six-speed manual gearbox available, but we'd stick with the excellent seven-speed 7G-Tronic automatic as it shifts smoothly and efficiently and is far better than the Mercedes tradition of vague manuals.