Mercedes-Benz C-Class Saloon (2007 - 2014) review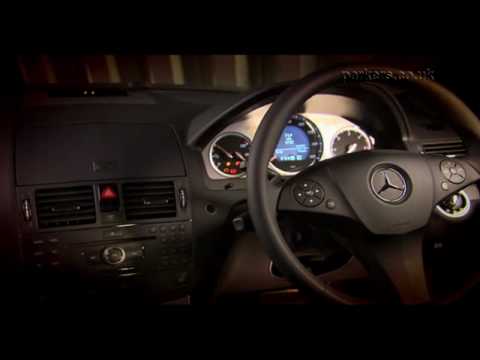 Enlarge
1

videos
Enlarge
57

photos
PROS
Great choice of engines
Spacious interior
Comfortable and refined
Classy image
CONS
Plain cabin doesn't feel particularly premium
Dated foot-operated parking brake
PROS
Great choice of engines
Spacious interior
Comfortable and refined
Classy image
CONS
Plain cabin doesn't feel particularly premium
Dated foot-operated parking brake
Mercedes-Benz C-Class Saloon rivals
Style is crucial among executive saloon buyers and it's no surprise that the Mercedes-Benz C-Class is sleeker and sharper than before - with a hint of BMW 3-Series about it. Mercedes wants this generation of its saloon to appeal to younger buyers and this is evident in the neatly designed and unfussy interior. Good to drive, extremely comfortable and safer than ever, the Mercedes has a strong image and reputation behind it along with an excellent choice of petrol and diesel engines. The Audi A4 may be a better all-rounder but if you're after a premium saloon, the C-Class simply cannot be overlooked. In 2012 the C-Class received a facelift, getting a new C180 BlueEFFICIENCY petrol engine and three new trims to replace the existing ones - Executive SE, AMG Sport and AMG Sport Plus.
Refined and comfortable
The Mercedes C-Class has always been aimed at those buyers in the small executive saloon sector who value comfort over outright handling ability. This is not to say the C-Class is not good in corners – a round of revisions in 2011 improved the handling significantly – but it's more concerned with getting you to journey's end feeling relaxed and calm. It does this with help from a refined cabin that is largely free of wind, engine or road noise, while a line-up of quiet petrol and diesel motors also does its bit. There is also that sense of traditional Mercedes solidity to the cabin that was missing from the previous generation C-Class, so the latest model is back to where it should be.
Plain cabin
Mercedes is not noted for going too flashy with its saloon cabins and the C-Class is not about to upset this tradition. It has all of the equipment and comfort you expect from a car of this class, and it's one of the more spacious cars in this sector, but it just doesn't quite have the visual appeal of a BMW 3 Series or Audi A4. Still, it does offer plenty of space for passengers in the front and rear, which makes the C-Class a good bet for those with families as well as thrusting careers.
Can it hope to compete in a seriously popular sector of the UK car industry? Read on for our full Mercedes-Benz C-Class review to find out.
Other Mercedes-Benz C-Class (2007 - 2014) models: