View all Lexus IS reviews


Lexus IS Saloon (2005 - 2012) review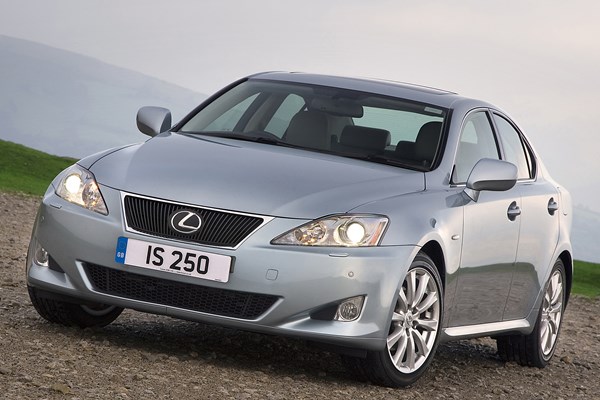 PROS
Excellent build quality and reliability, good standard equipment levels, superior refinement
CONS
Cramped rear seats, ungainly styling, limited engine choice, notchy manual gearbox
PROS
Excellent build quality and reliability, good standard equipment levels, superior refinement
CONS
Cramped rear seats, ungainly styling, limited engine choice, notchy manual gearbox
The Lexus IS is the smallest saloon (behind the GS and LS) in the range and is intended as an alternative to models such as the BMW 3 Series and Audi A4. It manages to be as upmarket and high quality as more expensive Lexus cars with a sophisticated interior plus a plenty of high-tech kit. It's also very well equipped and, as you'd expect of a car from Toyota that owns Lexus, is supremely reliable. You can also count on Lexus dealers to provide exceptional customer service because the manufacturer continues to feature highly in owners' surveys. The downsides are cramped rear seats and a rather lacklustre driving experience.
Engine line-up
Compared to its biggest rivals from BMW and Audi, the engine range is very limited with just one petrol option on offer. A diesel version was available but was phased out from the range in early 2012. The single petrol engine is the 2.5-litre V6 IS250. This has been available since the car's beginning in 2005 but has gone through significant changes to make it cleaner and more fuel efficient. All models now come with a six-speed automatic gearbox too; earlier cars came with a six-speed manual. The diesel model was the more affordable in terms of running costs in the IS. Starting life as the 220d it then became the 200d and at the end of its cycle was capable of averaging 55mpg with emissions down to 134g/km. Unfortunately it was still some way off the lowest figures of the competition. Still, if you're looking for a used diesel model look for the 200d for better running costs.
Well equipped
Ignore the ridiculously confusing list of different trim levels to choose from - there are five in total - and the IS comes with plenty of kit no matter which car you pick. Even the entry level SE model comes with luxuries like suede-effect seats, cruise control, climate control, headlight washers, front fog lights, keyless entry and 17-inch alloys. So the IS has been improved over the years but can it still challenge the mainstream rivals? The single engine choice limits buyers and running costs are quite high. It does come with plenty of kit and ownership experience should be one of the best, however. Read on for the full Lexus IS review.