View all MINI Roadster reviews


MINI Roadster Convertible (2012 - 2015) review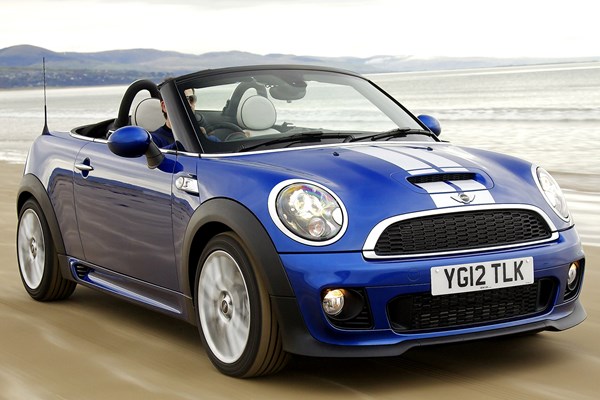 PROS
Another iconic model from MINI, fuel efficient and low-emitting diesel model, handles better than the Convertible
CONS
Rear visibility is limited due to small rear window, discounted models will be hard to find
PROS
Another iconic model from MINI, fuel efficient and low-emitting diesel model, handles better than the Convertible
CONS
Rear visibility is limited due to small rear window, discounted models will be hard to find
MINI Roadster Convertible rivals
The MINI Roadster is the soft-top version of the controversial looking Coupe. Just like the Coupe model the Roadster is much better to look at in the metal. Many will find the lines of the soft-top version are much more aesthetically pleasing, however. The brand is famous for making cars with excellent handling, and the Roadster may just have taken the accolade of being the best small cabriolet to drive.
The roof takes just eight seconds to drop, making it one of the quickest folding soft-tops around, while it can be open or closed at speeds of up to 20mph. There's 20mm of difference in terms of the centre of gravity compared to the standard MINI Convertible. This makes the Roadster more fun to drive and just about gives it the edge. You won't be ferrying many friends around, however, as the roadster has just two seats while the Convertible is more like a 2+2 layout.
Loadspace is a surprisingly useful 240 litres whether the roof is up or down, which is good enough to store a couple of soft bags and it should be ample for a weekend away. The engine line-up consists of three petrol engines and one diesel engine, which should cater for every type of MINI driver. Enthusiasts will be pleased that the flagship car of the range is a 2.0-litre John Cooper Works, referred to as JCW, version with a power output of 210bhp.
You can always doddle down the boulevard, roof down enjoying the sunshine with the spoiler up, as there's a 'poseur button' where you can raise the spoiler to make the MINI look sporty while moving at a leisurely pace. Motorists looking for style, low emissions and good fuel economy are likely to opt for the 142bhp 2.0-litre SD diesel engine. This version emits just 118g/km of CO2 and can average a claimed economy of 62.8mpg.
In the real world it's more likely you'll average somewhere in the 50mpg range, but that still means that the MINI is economical. MINI is setting its sights on rivals that include the Mazda MX-5 and the Audi TT Roadster. A bold aim but the way the MINI Roadster handles on B-roads, as well as the option of the frugal diesel or performance-orientated John Cooper Works car, should put the Roadster onto the radar of many people.
So can this car make you smile roof up or down? Read the full MINI Roadster review to find out.