Peugeot RCZ Coupe (2010 - 2015) review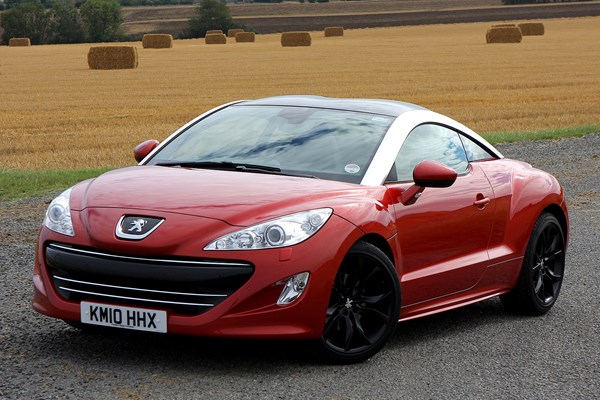 PROS
Stunning looks
Fun to drive
Affordable and clever
Hot RCZ R very impressive
CONS
Question marks over reliability
Cramped rear seats
Un-intuitive sat-nav
PROS
Stunning looks
Fun to drive
Affordable and clever
Hot RCZ R very impressive
CONS
Question marks over reliability
Cramped rear seats
Un-intuitive sat-nav
Striking a balance between style and practicality, comfort and handling and value versus premium feel, the pretty Peugeot RCZ is something of a hit in a long line of disappointments for the firm. Designed to take on the might of the Audi TT and VW Scirocco it offers one diesel and two petrol engines plus a manual or automatic gearbox.
One of the best-looking cars to ever come from the French maker, it's already proved something of a hit, this statement of intent proving a dream car for Peugeot's long-suffering marketing men.
Distinctive Design
Inspired by the firm's Le Mans racing cars, one of the most arresting aspects of the car is its 'double bubble' roof. An interesting design that has function as well as form; when it rains water is channelled off the roof and down the rear screen onto the ground.
There's a range of different personalisation options as well, the RCZ sporting distinctive 'arches' either side of that roof offered in a variety of finishes and ten alloy wheel choices. For the real extroverts body transfers can complete the look.
Practical and comfortable
You're not going to fit adults in the rear – the sloping roofline sees to that – but there is at least a pair of rear seats with Isofix mounting points for child seats. The boot's pretty big for such a sleek coupe too, the 384-litre loadspace expandable to 760 litres with the rear seats folded.
And despite being involving to drive, especially in flagship THP 200 form which benefits from bespoke front suspension changes, the RCZ remains comfortable. Ride comfort is a highlight, and the cabin is well-appointed with sports seats, a leather wrapped dashboard and the option of a smaller 'Sport' steering wheel and short-shift gearbox.
2012 Facelift
The RCZ received a mild facelift late in 2012, with a refreshed Peugeot family face, extra standard equipment and an extended options list. Engines and transmissions are carried over from before and save for some different trimmings the interior remains familiar also. Two new paint finishes and an updated and more comprehensive sat-nav and media system feature on the options list.
Hot RCZ R version
In 2013 a hotter version called RCZ R was launched. Built by Peugeot Sport – the racing wing from the French firm – this model uses a 1.6-litre turbocharged petrol engine that makes a surprisingly high 270bhp.
On the road it's a brilliant car – it's sporty and fun to drive thanks to its well-sorted chassis and that engine provides a sprint from 0-62mph in 6.1 seconds with a soundtrack to match.
Inside the RCZ R you find racy bucket seats and red stitching throughout the interior.
While Peugeot doesn't expect to sell very many, the RCZ R is undoubtedly the enthusiasts' choice.
Read the rest of the Peugeot RCZ review to find out if this sports coupe can still roar in a new field of challengers.