Audi TT Coupe (2006 - 2014) review
The second-generation Audi TT is a real diamond, but one that's not without flaws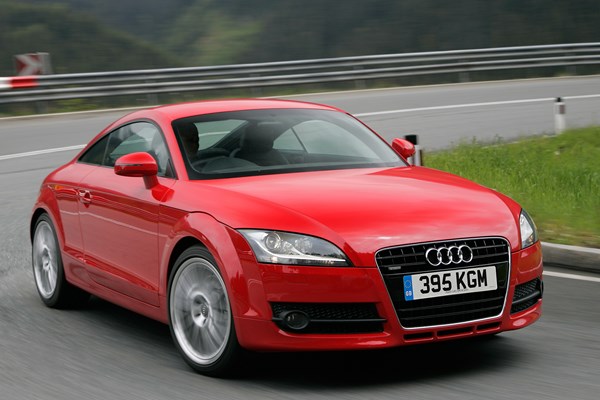 PROS
Sleek styling, classy interior
Surefooted handling
Superb build quality
CONS
Impractical, with tiny rear seats
Avoid badly modded versions
Non-dealer service history car could cost £££s

PROS
Sleek styling, classy interior
Surefooted handling
Superb build quality
CONS
Impractical, with tiny rear seats
Avoid badly modded versions
Non-dealer service history car could cost £££s


They're a clever lot at Audi. While the original 1998 Audi TT Type 8N was an excellent all-rounder, its curvy design began to look a little dated as time passed. And the fact that it sat on a Golf MkIV chassis would always compromise dynamics.
For its predecessor, the 8J, they added sharper angles, while retaining the same basic silhouette, then perched it on the bang-up-to-date Volkswagen A5 PQ35 platform.It was enough to get closer to rivals such as the Volkswagen Scirocco, Porsche Boxster and BMW Z4
But here's the ingenious bit: they created a bespoke aluminium and steel space frame, giving it an alloy front and a steel rear, resulting in near-neutral front-rear weight distribution. The fact that it was five inches longer and three inches wider also helped, of course.
Audi TT Mk2 history and introduction
Launched in April 2006, the new upstart instantly offered a much more involving drive, as well as being very easy to use on a daily basis. Gone was the ubiquitous 1.8 turbo petrol engine from the Mk1 and in came the well-tried and much admired 2.0 TFSI unit, as found in the contemporary Volkswagen Golf GTI. Offering 200hp, it was good for 150mph and managed 0-60mph in just 6.4 seconds.
From 2009, it was joined by the front-wheel-drive-only 160hp 1.8 EA888 unit. Meanwhile, those seeking more performance could opt for the VR6, which featured the 3.2 V6 carried over from the first TT with 255hp, 0-62mph in 5.7 seconds and an electronically capped 155mph maximum speed.
The V6 had the added advantage of Quattro all-wheel drive as standard, while this remained an option on the 2.0 turbo petrol. Six-speed manual gearboxes were standard for both or could be swapped for Audi's Direct Shift S-TRONIC dual-clutch transmission.
TT Roadster, TTS and TT-RS add appeal to the range

The Roadster arrived at the end of 2006 with the same engine and transmission options as the tin-top.
Soon after, the range was further enhanced with the all-wheel drive 280hp TTS which had a 155mph top speed and could do 0-62mph in 5.4 seconds, while the Roadster was only a tad slower. All TTS models were fitted with Audi's adaptive magnetic damping system, sat 10mm closer to the ground and had an intermediate setting for the electronic stability control (ESP) for more driver involvement.
The 170hp 2.0 turbodiesel Quattro, available from 2008, was a move by Audi to give its TT broader appeal in the company car market. However, the best was yet to come in terms of the RS, which broke cover in 2009. Pushing out a monstrous 340hp from its 2.5 turbocharged five-cylinder engine, it was capable of propelling the far-from-humble TT from 0-62mph in 4.2 seconds.
Audi TT Mk2 facelift in 2010
The range underwent a slight makeover in April 2010, when LED daytime running lights became standard for S-Line models, while the 2.0 TFSI was given a power boost to achieve 212hp.
An optional 'Sport' button for all non-RS models was also added at that time. In early 2012 , while the all-new TT 8S was in development, Audi brought out the RS Plus, which upped engine power to 365hp.
Audi TT Mk2 running gear

Audi introduced a new multilink rear suspension set-up, as well as a Magnetic Ride system for the TT Mk2. It uses magnetorheological dampers that react when magnets are applied to stiffen the ride; it was an option but appeared as standard fit on the TTS and RS. Try before you buy is the best policy here, as some feel it's excessively firm for UK roads.
Quattro models in particular get through tyres, especially if there's bush wear or the steering geometry is out. If it's not too excessive, use this as a negotiating tool, then get the car on a four-wheel laser alignment rig once you've done the deal. While still on the subject of tyres, be wary of skinflint owners who may have fitted budget tyres – only the best quality rubber will do on the prestigious TT.
The TT 1.8 models came with 16-inch alloy wheels, although most owners would have specified larger wheels from new. The 2.0-litre had 17-inch alloys, the TTS 18-inch rims and the RS has 19-inch.
Audi TT Mk2 brakes and exhaust: ripe for upgrades
Incidentally, on 1.8- and 2.0-litre models, the brakes are 312mm vented discs at the front and 286mm solid discs at the rear. The V6 and TTS boast larger 340mm and 310mm front and rear discs respectively, while the RS has 370mm front discs.
Audi recalled all 8J second-generation TT models in 2009 because of potential damage to the brake servo vacuum pipe. It affects cars built between May and July 2009, so check the service history to ensure the necessary work has been carried out.
Some TT owners may have upgraded their cars with a bigger bore stainless exhaust system to liberate a bit more power. Just make sure it's not too raucous, that it's been fitted properly and that it's from a known, quality manufacturer.
Other Audi TT (2006 - 2014) models: