Volkswagen Scirocco Coupe (2008 - 2018) review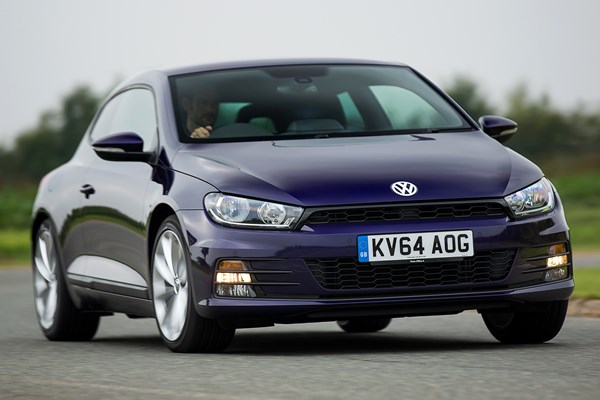 PROS
Interesting styling
Sharp handling, refined ride
Excellent TSI petrol motors
Diesel engines too
CONS
Boot awkward to access
Not the most exciting drive
PROS
Interesting styling
Sharp handling, refined ride
Excellent TSI petrol motors
Diesel engines too
CONS
Boot awkward to access
Not the most exciting drive
Volkswagen Scirocco rivals
The Volkswagen Scirocco name hadn't been seen on a new car since 1992 when production of the three-door model ceased.
Volkswagen has resurrected the name for this coupe, and with striking looks, sporty handling and strong performance it follows in the footsteps of its predecessor.
Good-looking coupe
It certainly stands out thanks to the distinctive profile and aggressive front end but it's the handling which really impresses. Agile and surefooted it's great fun on twisting roads while a new adaptive suspension system means it's comfortable and smooth on the motorway too.
Despite that high roofline, the Scirocco's not the practical coupe it initially looks with a smaller boot, tighter opening and rear seats for two, not three. If you need extra practicality then opt for the Golf instead.
While it demonstrates how capable the Golf-based underpinnings are underneath, they also take the edge off the ultimate driving satisfaction, compared to a BMW 2 Series for instance.
Mid-life facelifts
From summer 2014 the Scirocco was facelifted featuring more distinctive and aggressive bumpers – the front one fitted with Golf GTI-style blades – a revised tailgate with the 'VW' logo now a functioning release handle and tweaked LED lights.
Under the bonnet were a revised range of petrol and diesel engines offering more power than before.
New alloy wheels and a refreshed interior, with extra dials completed the makeover.
Petrol and diesel engine choice
A wide range of petrol and diesel engines were available from launch included the smooth 1.4-litre TSI, although this was replaced in 2014 when the Scirocco was facelifted.
For 2014 the line-up comprised of the 1.4-litre TSI with 123bhp (upped from 120bhp), with the previous 158bhp 1.4-litre being replaced by a larger but more fuel efficient 2.0-litre with 178bhp.
Previously offering 207bhp, the 2.0-litre TSI was further upgraded to 217bhp.
Diesel enthusiasts were treated to two 2.0-litre TDI motors, with 148bhp and 181bhp.
The popular coupe's engines are frugal and efficient, coupled with the excellent build quality and an impressive range of safety features, the Scirocco is a fine purchase if you're after substance as well as style.
Read on for the full Volkswagen Scirocco review.