Renault Scenic: Farewell report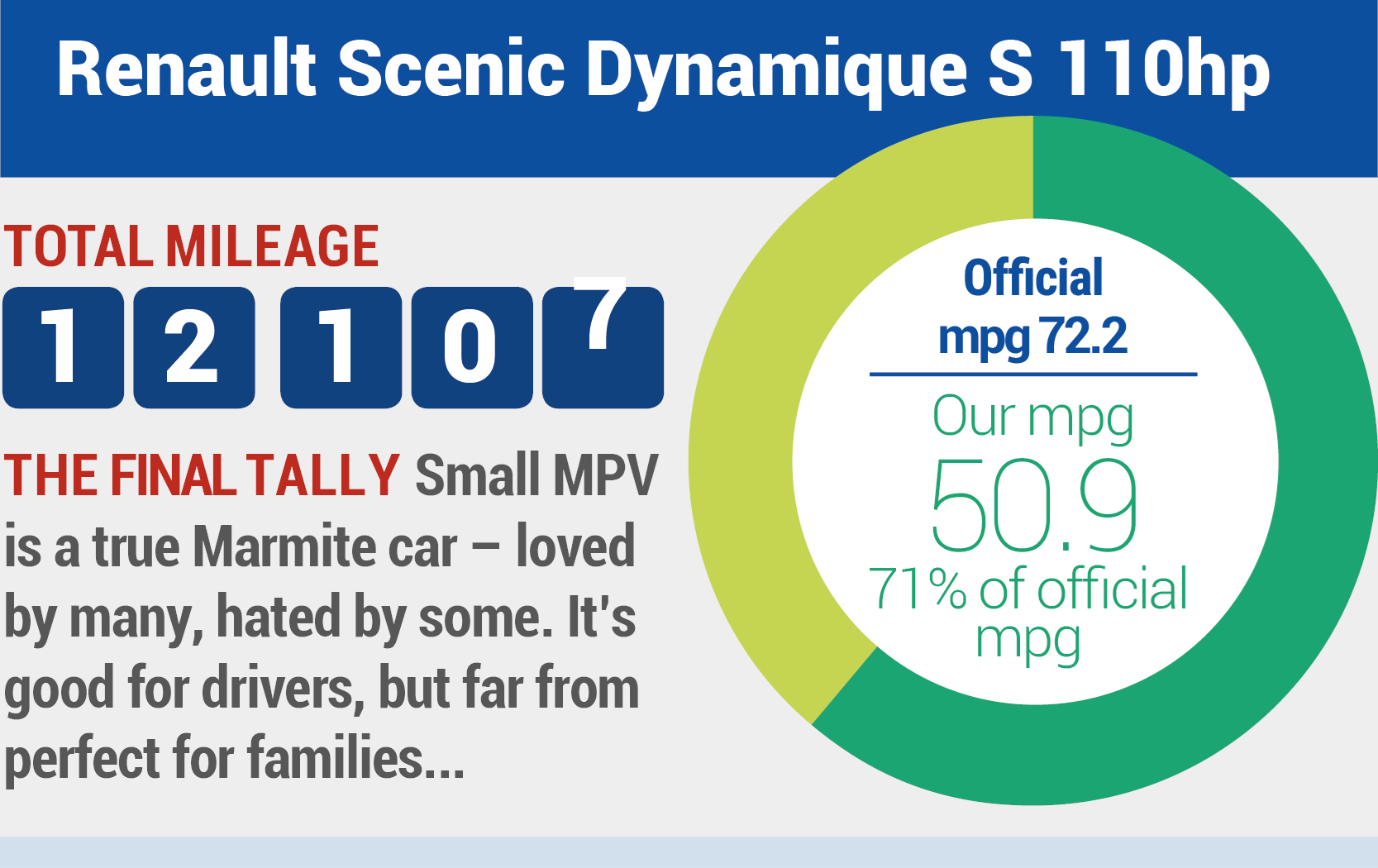 A year's worth of driving in six months – what did we think?
Are the safety features a pointer to the future for everyone?
It might look like a concept car, but is it any cop as a family car?
Farewell Report: Renault Scenic
Keith Adams looks back on 12,000 miles in his 110hp Renault Scenic, and concludes that although it's far from perfect, it can be very rewarding to live with in the longer term…
So, six months and 12,000 miles on, it's time to wave goodbye to our Renault Scenic. It's averaged a whisker over 50mpg, and cleared 12,000 miles in our care. We've been pleased, frustrated, and locked out of it – but seldom have we been bored.
Also, in our time with the car, we've learned rather a lot about the current state of the Renault model line-up, the overall health of the MPV and SUV market, and what it takes to make a great driver's car might not necessarily make a good family car.
What I loved about the Renault Scenic
1: The way it looks
The first thing to say right now is that styling is subjective, and I generally like to avoid raising the subject. But on a car like the Scenic, which has clearly been styled to be eye-catching, as well as banish the utilitarianism of the MPV genre as a whole, I can't go without saying that I love what they've achieved with it!

The bold use of curves is a breath of fresh air in the MPV class. Even if you don't like the way it looks, park it next to, say, a Volkswagen Touran, you'll never conclude that it's not an interesting design.
The dramatic proportions, the way the windscreen melts into the bonnet, which frames the bold-looking Renault grille, and those amazing 20-inch wheels, scream concept car. I'm so pleased that Renault had the balls to build this car.
2: The way it drives
Okay, you don't buy an MPV for driving excitement, but at the same time, just because you have a family or loads to shift, you shouldn't enjoy yourself in the process. And so, it's a blessed relief that the Scenic drives as well as it does.
The steering is quick and accurate, the gearchange is lovely and the high-speed body control is deeply impressive. In short, if you're a keen driver, there are genuine back-road rewards to be had from the Scenic, once you're tuned into the way it goes round corners.
If I was being truly picky, I could complain about the fidgety ride – but considering it's rolling on 20s, I think I can live with it. More city-bound drivers might beg to differ, though.
3: The look and feel of the interior
This really is about styling and driver comfort. The view forward through its massive windscreen and the high-set seating position help make this a relaxing long-distance cruiser. It never feels flustered, especially when driven using the adaptive cruise control.

The seats are magnificent, too – supportive, well-shaped, and - again - great to look at. And the electrically adjustable centre console (with its cubby large enough to house your weekly shop) is a joy to use. The style of the portrait-format infotainment screen is very agreeable, too – not so, the functionality.
But we'll get back to that.
4: The kit
Admittedly, my car was optioned up, but the kit in this car is truly impressive. Standard-fit Autonomous Emergency Braking is a nice thing to have, as is the excellent adaptive cruise control system. Other toys I got very used to are the auto-dipping LED headlights, superb Bose stereo, the panoramic roof, auto-parking system and one-touch seat folding mechanism.
If you like gadgets, a fully-specced Scenic is the car for you.
What I hated about the Scenic
1: The controls
I don't think I'll ever come to terms with the control set. Over-use of the infotainment's touch screen isn't my idea of fun. Yes, I can control the heating via a temperature dial, but other than that, it's all via menu.
R-Link is tricky to update, and if you want to Apple CarPlay working, you'll need to download an app into the system. It's laggy and dissatisfying to use, other than for the basic functions. Voice control is frustrating and slow, too. Finally, if you want to search through DAB stations, there's no other way than to go via lots and lots of screens. The Sat-nav is excellent, though.
Also, why is the cruise control switched on and off by a rocker switch on the centre console? Baffling.
2: Practicality
Family cars are supposed to be practical, and the Scenic falls down here. The rear legroom is average at best, and the headroom on my panoramic roofed example is tight for anyone over six-feet tall.
The boot, although well shaped, isn't that large either, a fault shaped with the Kadjar (and most SUVs in this sector, come to that). If you want a commodious Renault, you'll need to buy a Megane Tourer – or import an Espace.
Verdict: What was the Scenic like to live with?
As I've said many times before, I love the Scenic. It's a car that sticks two fingers up to convention, and in many ways is an antidote to the waves of facsimile Volkswagen Group cars that are currently flooding our shores. As a design statement, it certainly makes the grade.
As a design statement there's also little to argue against. That swoopy styling, those supercar-sized wheels and its searing colour mean you won't lose it in a carpark. And your choice will divide opinions.
But – and this is a big one – Renault hasn't quite hit bullseye. The trouble is they've made a family car that isn't actually that brilliant at being a family car. It's great to drive, but not exactly roomy for passengers and luggage – a combination, I fear, that will send too many MPV buyers heading towards their local Volkswagen dealer.
If you're not after the last word in roominess, though, and want to stand out in a crowd, get yourself over to your local Renault dealer and start haggling.

---
Update 11: Back to the grindstone
Keith Adams is back in his 110hp Renault Scenic, and he's missing the extra power of the 160hp DCT version. Being spoiled is never nice, and it doesn't help that he's been driving a new Koleos…
It's interesting that in the pre-160hp era, I was pretty happy with the way my Scenic drove.
Before, I'd be contented with the way it rolled along, enjoying the view in and out, whereas now I'm finding myself frustated with a lack of vim and vigour. It's not as if I'm a fast driver – I'm not – but these days, it feels leaden.
Driving another punchy Renault

Perhaps it's down to the fact that I was on a quick squirt down to Gloucestershire from my base in Middle England to attend the launch of the Renault Koleos. Traffic was its usual claggy self on the A43, and although the Scenic was as surefooted as ever, its lack of muscle was proving annoying – especially when merging into fast-moving traffic.
At the Koleos event, it's great to see how good the Scenic MPV looks against this lumpy SUV (once again, forcing me to ask myself why so many people are obsessed by owning an SUV). But on the road, the new challenger – which is only availble in 160 and 175hp diesel form – feels far more solid and dependable. No doubt, it's aided by all that extra grunt.
There are many, many upsides
Despite my harping on about my Scenic's relative lack of power, especially when lined up against its punchier cousins, I still really like the way this golden nugget drives.

For a start, it has the sweetest gearchange you're ever going to encounter in a car of this type. It's light and positive, but with an agreeably mechanical feel that's a joy to use.
Apologies if this update sounds like it's come from a spoiled road tester who's obsessed with cliches about on-the-limit handling, steering feel, and 'the thrill of driving'. I'm sorry, because I'm not. Actually, the comments about performance are genuinely rooted in real-world driving, while the feel of the gearchange just adds to the owning pleasure of the car.
And for the real-world stuff
To prove I'm rooted in reality, I've been ferrying friends and family around in it, too. And my picky counterparts were very complementary about the Renault. On a packed trip to the local Indian restaurant, with the panoramic roof's blind open, there were many positive comments from those in the rear.

The picnic trays built into the front seat backs are a winning idea, while the general sense of airiness was praised. It wasn't all positive, though, as one friend thought the rear was too cramped for a car of its size; and while the knobbly high-speed ride won friends with those with a propensity for carsickness, those who valued comfort were less entralled.
That point about rear room serves to remind me that I've yet to enjoy a Grand Scenic. Does the seven-seat option give the main passengers more room?
Not sure on that score, but it's hard not to conclude that the Grand Scenic certainly looks better thanks to that longer rear end.

---

Update 10: More power to your elbow
Keith Adams loves his Renault Scenic, but wishes it had more power. After taking a 160hp DCT version for a week, he's more convinced than ever that more power perfects the breed…
I think I've made my feelings clear many times about our Renault Scenic long-term test car. It pretty much answers all of the questions I've asked of it – from running up and down the country to taking on the role of temporary removal van – via a polished performance on some very nice B-roads.

Although the car industry now treats the MPV as a zombie format, with the SUV sweeping all aside, I can't help but think that I'd have a Scenic over a Kadjar any day of the week. On that basis, you can keep your SUV!
If there's a fly in the ointment, it's that there's not enough power in my 110hp version.
Trying the 160hp Scenic
At the heart of this more powerful Scenic is a 1.6-litre dCi power unit that develops 160hp. That's a lot of grunt for what is effectively quite a small power unit, but to avoid any peakiness it's mated-up with a seven-speed dual-clutch automatic transmission. In theory, any holes in the power band are compensated for by the auto box's management system.

That's the theory, anyway. First impressions when you fire up are that the higher-powered version is less refined than its 110hp sibling. It clatters into life and shudders noticeably at idle, and although the volume levels aren't high, it is an unpleasant sound.
The transmission selector also feels a little cheap. Compared with the high-quality DSG selector you get in any run-of-the-mill Volkswagen product, the shift action is clunky.
But does it feel better with 50 more horses?
Oh my, yes!
But after a fashion. Because the 110hp Scenic has such a delightful throttle action, it flatters you into believing it's quicker and more responsive than it is. That means that initially you might think that there's little difference between the two cars.
But that's misleading. If you look on paper, too, you might think there's not much in it. The 110hp car's 0-62mph time is 12 seconds, and that plays against the 10-second time for the 160hp version. There's a pretty similarly sized uplift in maximum speed, too.
But on the road is where it counts. And for anyone who's had to change down on a steep motorway incline, or simply not bother overtaking an ambling 50mph HGV on a straight A-road, this car is a revelation.
One for country-dwellers
Beyond 40mph, it surges forward and there's genuine performance. Acceleration is instant, and while there's plenty of pulling power at low revs, the transmission is always keen to shift into a lower gear to help you on your way.
It isn't all about straightline speed, though. It's a more effortless drive, and in normal driving, because you're not pushing it as hard, fuel consumption doesn't suffer compared with the 110hp model. In a week's mixed driving, it averaged 54mpg, which compares with the 51mpg our long-termer is currently delivering.
Think before you option

Without options, the Scenic Signature Nav we drove was £30,805. Considering our 110hp Dynamique S was more than £29,000 optioned up, that difference is not a huge one. Given you'll get most of the equipment you need as standard in the more expensive car, this seems like a bit of a no-brainer to us.
If and when I decide to go for another diesel Renault, this will be the direction I take. The slightly higher tax and purchase price are more than comprehsively wiped out by the far more pleasurable drive.
Plus, doesn't it look sexy in black?
---
Update 9: Technical perspectives
Professional photographer, technical journalist and classic car enthusiast Richard Kilpatrick takes the Parkers Renault Scenic on a trip to Stonehenge for the summer Solstice... via Scotland.
Here are his thoughts on our stylish MPV…
It has been a while since the excitement of an actually new car has been something to enjoy. So, getting the opportunity to take the Scenic up to Scotland for Retina photo festival and a family catch up was much appreciated.
It's a car that I've yet to experience in any generation, and – spoiler alert – it's left a very positive impression. First glance and more importantly, touch, revealed many pleasing details.

The stitching finish evokes premium leather-trimmed cars, and the tablet-style screen dominating the centre console is not too fussy or over-styled. Fingerprints are inevitable, of course, particularly when you have set up multiple apps and widgets.
The keycard – learning from Keith's experiences – has been constantly in that little jeans pocket which makes me wonder if Renault made it that size deliberately, so precise is the fit.
Comfortable inside and to drive
Getting a comfortable seating position is trouble-free too, albeit slightly limited by lever backrest adjustment rather than geared. Despite often finding the most ergonomic of designs uncomfortable, Renault's efforts here were much appreciated by my back and shoulders, from the first mile to three hours of mixed roads without a break.
Most of the controls fall easily to hand, not that you need to worry excessively as the wipers and lights take care of business for you, including the impressive LED high beams.
Other reviewers have commented on the placement of the cruise control switch, yet despite being thoroughly acclimatised to a dedicated stalk the rocker below the handbrake button made perfect sense - also providing a tactile feedback in addition to the amber or green symbol on the dashboard and heads-up display.
Thoughts on the styling and seating position
Acclimatising to the monobox design took a little longer. It's not that 'cars where you can't see the bonnet' are a new thing, but rather the wheelbase and general layout of seats and controls are inherited from designs that have a conventional A-pillar in line with the door.
You don't sit any further forward, the windscreen is just further away. The windscreen also provides my one real complaint about the Scenic; the expanse of graphite plastic, particularly where it transitions to a harder material around the heads-up display, is constantly reflected in the windscreen.
Polarising sunglasses help a little, but in high summer sun it's an unwelcome distraction. There are advantages, too, and from a purely stylistic angle I love the large A-pillar windows that evoke the original Espace and Avantime designs.
Dynamically compromised?
Those 20-inch wheels often result in a compromised ride, and despite some excellent work on isolation, the Scenic struggles to mask the ripped-up asphalt of Peterborough's HGV-battered roads.

A wide track allows speed cushions to be dealt with smoothly, however, and on smooth roads it rides impressively well. Road noise takes over from the gentle wind noise on concrete roads, another inevitability of low-profile grippy tyres.
And what grip it has. There's little feedback from the wheel, regardless of mode - switching between comfort, Sport and Eco modes does alter the steering response as well as the throttle and engine mapping.
Don't attack, relax…
The sheer competence of the Scenic comes through when you find a familiar A-road and let it all flow together. Being aggressive won't help here, just let it build speed and you'll see the heads-up speedometer displaying a pace through bends that is more akin to an '80s hot hatch.
It won't let you feel like you're driving fast; all the sport mode achieves in this situation is marginally better overtaking, but the result is a great point to point time on clear roads.

Overtaking, of course, is a mixed situation. Plan ahead and you'll be okay, but with this engine, there's not quite enough power to safely punch past a 45mph-in-NSL Sunday driver unless you've got a good clear stretch ahead.
Why rush, though.
Conclusions: A great drive, surprisingly so
You're sitting up high, travelling in comfort, for over 50 miles per gallon. The R-Link 2 will pop up and let you know about traffic problems, rerouting as well as any TomTom will, and adaptive cruise eradicates that irritating on/off crawl that blights Britain's major routes now.
My usual cars are all over 20 years old, and few of them return more than 33mpg. It's five years since I last owned a new, modern car and in that time I had forgotten how liberating it is to feel all those worries and adjustments made to compensate for wear just drift away.
The bright, colourful two-tone finish helps, accentuates that Renault's premium offering adds more than just equipment here; the Scenic's style and personality are extremely appealing and I've enjoyed every mile in it – from Stonehenge to the Scottish borders.
Richard Kilpatrick
---
Update 8: Luxury tech, family spec
More than halfway into our time with the Renault Scenic, and it's occurred to me that I've become so used to all the tech in it, that I'm now taking it for granted.
Given that this is a mainstream car – an MPV that's aimed at families – being able to spec this car with such things as Autonomous Emergency Braking (AEB), adaptive cruise control and a head-up display is seriously impressive. Automatic parking? Not so sure on that, but many people love it once they've worked out how to use it.
This is a clear sign that tech reserved for luxury car as recently as five years ago is now heading towards being universally available. Here are three of the most noteworthy features on this car – and the good and bad.

Although the Renault R-Link system isn't proving universally popular, it's packed with some amazing features if you delve into its menus. Okay, the reliance on touchscreen technology means that operating it on the move requires too much eye time, but once it's set up, and you know your way around it, it'll do pretty much all you want it to.
Combined with the multi-system Bose stereo, your music choices are almost limitless. You can play from memory sticks, your iPod, smartphone, or by streaming from any Bluetooth-enabled device. Finally, you can have full integration with your smartphone – and the hands-free operation is very slick indeed.

You can control the vehicle's dynamics, and other control systems, and most importantly, the sat-nav updates in real time to give you a constantly updating, and extremely reliable forecast of your arrival time when you've dialled in your location.
Finally, if you're a bit of a tech geek, it'll tell you how you're driving, and mark your efficiency in an Eco-Coaching lesson. I can imagine that'll annoy a few people.
2: The adaptive cruise control
Does what it says on the tin. Flick the cruise control on (via the bafflingly-placed on/off switch) and control it via your steering-wheel mounted controls. Ergonomically, it's not as good as the stalk-operated systems you get in rival cars, but once mastered, it's not worthy of comment.
But once you're underway, the active cruise works seamlessly, maintaining a safe gap between the car in front and you. This gap can be programmed via the steering wheel, so if you're an impatient type, or someone who doesn't like letting people in, you can set it to sit quite close to the car in front. The head-up display keeps you well informed.

A downside is that on a manual car, you'll be nagged to change up and down gear – and when you do, it drops out of cruise mode. But on fast-flowing A-roads and motorways, this is a seriously impressive tool for maintaining a stress-free drive. If Renault added in lane-keeping to this system, it'd be half-way to motorway autonomy.
3: Autonomous emergency braking
You can't argue against the fitment of this on any car. AEB will be constantly looking for stationary objects ahead of you, and if it's judged a threat, the car will apply the brakes for you after warning you of an impending threat.
It relies on a windscreen mounted camera, and in the 8,000-plus miles we've covered in it, there has never been cause to invoke it. To some, this might sound like a waste of money, but I remember people saying that about ABS in the 1980s.
In addition, it's impressive that there have been no false alarms. My esteemed Parkers colleagues will all recount instances when their AEB systems have triggered for the wrong reason (cars on hard shoulders, hedgehogs in neighbouring fields and the like), but the Renault system has so far proved infallible.
In conclusion
This car is a techfest, and once acclimatised to the controls (especially for the R-Link infotainment system), it all works very well. As tested, our car costs the thick end of £30,000, but it's easy to see a scenario where Renault extends all of these features to its more affordable cars. Think the next-generation Clio, and you're there.
It's a promising indication that safety kit once reserved for the rich will be available for all – and if that makes our roads less dangerous, then what's not to like?
---
Update 7: Love, hate… mostly love
Halfway into our tenure of our Renault Scenic, and I'm still as wedded to it as ever, and that's despite it sharing drive space with our new Skoda Superb Estate. That particular car might have more than twice the power of our trusty Renault, but in the cut and thrust of day to day driving, our golden nugget MPV still manages to impress.
But as the miles roll on, it's fair to say that there are a few annoyances making themselves felt – as is always the way with any new car. For a start, that portrait-style infotainment system looks good on the dashboard, but until you speak fluent R-Link, it's fair to say that anyone new to the car will find it endlessly annoying.
Want to turn down the fan speed? Go via the screen.
Want to redistribute the air supply? Go via the screen.
Want to change radio station to one that's not preset? Go via the screen.
You get the idea...
People new to the car will take ages to get used to it. Some won't want to bother. But for a tech-head like me, I don't mind it – I just wish that the voice control was more effective. With familiarity, it's all pretty much a cinch, but driving the Skoda with its much more traditional layout does have me questioning the functional benefits of such a system.
On the road: more power needed
Or more precisely, more torque. The Scenic's 110hp isn't particularly generous in a car of this size and weight. When you drive it initially, it feels sprightly and long-legged, but hit a hill on the motorway or go for an A-road overtake, and that lack of power can't be disguised by clever throttle mapping.
Want more go, you're going to have to specify the 130 or 160hp version.

We've been carrying some big and heavy loads recently. Shifting my gear from one house to another has been an interesting experience in testing the relative load capacities of various cars – and the Scenic does very well indeed.
A useful amount of room
The load bay might not be as long as a traditional estate car, but it's wide and flat, and the boot sill is low enough not to be a pain in the neck. The push button to lower all the seats electrically is a nice touch. The headrests fold, the seats drop and your van-sized boot is presented in one smooth action. Nice.

The suspension set-up handles big loads well, too. The sporting suspension set-up with its stuff springs might lead to a jiggly ride on broken roads, but load it up with a few hundred kilogrammes of weight, and it comes into its own.
The back end doesn't drop, and other than the drop off in performance, it feels delightfully unaffected by a big load. This is a real bonus if you are one for regular house moves or tip runs.

What would we do differently?
So, if I were speccing this car from new now, what changes would I make?
Going through the Parkers Price and Specs pages for the Scenic, an obvious choice springs out at me. The 160hp Dynamique S gets the bigger 1.6-litre dCi diesel engine, and a walloping 50hp more power.
And compared with my optioned-up 110hp model, if I resist the temptation to option it up, I get it for the same £29k price (before discounts). It might be a little less economical according to official figures (62mpg vs 72mpg), but I bet in the real world, there won't be much in it at all, given you'll be driving the more powerful version with less determination to keep up with the traffic.
I think the 160hp version could well be all the Scenic you'd ever need.
---
Update 6: Design masterpiece
After almost three months behind the wheel of our Renault Scenic, I'm still as impressed as ever. If that sounds like faint praise, it shouldn't – I have a famously low boredom threshold, and the average length of tenure of any of my cars tends to run to days...so here we are. Even after driving some very powerful and desirable cars, I jump back in the faithful Renault, and just think, 'this is nice'.
And that's the thing – you can become blind to a car's failings when you bond with it, so a long trip after some time away can be very valuable. Equally, comparing it with rivals cars is also very instructive. Even more so, when it's an in-house relative. Which got me thinking – is the Scenic worth the £1,420 extra over the equivalent Kadjar?
So, when a Kadjar came into the office for us to evaluate, I was keen to have an extended drive, back to back. Just for comparison's sake, of course.
Ah, the Kadjar
But, given that the Kadjar and Scenic are both touted as roomy family five-seaters, is there room in the range for both? Yes, the Kadjar has a lower starting price, and marketing types will tell you that one is a SUV, and the other is an MPV – but functionally, both cars do pretty much the same thing.

So why choose the more costly Scenic? Why indeed. If you value ride quality, you'd definitely choose the cheaper car. Whereas the Scenic is fidgety, and clearly set up to be a laugh in corners (yes, seriously), the Kadjar is softer and smothers motorways, A roads and back lanes with ease.
It's not perfect. In our review, we concluded, 'comfort levels are incredibly high. In fact, the only issue comes with higher-spec cars which have 19-inch alloy wheels, but it's a no-cost option to switch to 17-inch wheels and they are far better.'
And you can't get a Scenic with anything less than 20-inchers! This means less rubber between you and the road.
The difference between MPV and SUV is...?
Not a great deal in this case. Inside, the Scenic's quality is on a far higher level. The trim materials are on an altogether higher plane, it's far more stylish, and it's brighter all round. In short, the Scenic feels far more special, premium, even. Yes, really.
There's little in it in terms of room, practicality, and family appeal. And it probably comes down to personal preference, and the availability of a 4x4 Kadjar. But for me, the Scenic is a fabulous looking car, and thanks to its rarity, far more interesting. You can't move in suburbia without tripping over a Kadjar – as for the Scenic, when did you last see one?
And that's it for me: a dad car versus style statement. Scenic it is.

So, at the end of the day, probably not a rational decision. But as I said at the top of the piece, I do like the Scenic. If you are thinking rationally, however, you can save £2,925 by going for the equivalent Megane Sport Tourer over our Scenic.
Racking them up...
Speaking of long trips, I've been clocking up more miles, and the Scenic continues to impress. Inside, there's a lovely feeling of space and airiness, helped by both the generous glass area and high seating position. Even one-up, the benefit of this MPV-style car on long-distance comfort is undeniable.
A 500-mile trip can be consumed in one go, and without fatigue. Which, given the car's relative lack of power (110hp) is notable. The well-shaped driver's seat and punchy Bose stereo probably have a great deal to do with this, as is the adaptive cruise control – it's just a shame that it doesn't really work so well fitted to this manual-transmission example.
Is anything beginning to annoy? I think there's too much wind noise from the door mirrors, and I'm still not happy with the way the infotainment system requires you to jab at the screen to do the simplest of tasks. But other than that, it's a likeable, pleasurable family car – and one, which is proving increasingly satisfying to run.
I really must get over to France in it soon.

Mileage: 6,552
Fuel economy: 50.1mpg
---
Update 5: Highland Fling
I should have been in a mood with our Renault Scenic. After all, it had put a dampener on a recent weekend by locking me out (below). An important message has been learned, which I will carry over to all the keyless cars I drive – always keep the key in my pocket! But when it came to it, all it took for me to fall back in love with it was a long drive.
As usual, a Friday evening saw me hit the A1 north for a drive up to the borders, via the gorgeous (when it's not raining) county of Cumbria. And after a few weekends of being in other people's cars, I managed to bag myself a decent drive in what I'd call the world's funkiest-styled family car.
Alone at last with my Renault...
Although I've been driving it a lot in the past few weeks, none of my journeys have been recreational. They've been those annoying mid-week drives – the sort that see you pounding the stop/start motorways, taking four hours to cover 120 miles. Those sort of drives.

Still, as I head up the A1, the traffic is manageable enough to switch on the adaptive cruise control, and let the car take the strain. It's a reliable system that maintains a pre-programmed speed until you catch another car, when it seamlessly drops its speed to match the car in front – maintaining a distance between you and the driver in front.
Cruising happily
It works well – other than the controls, which sees you needing to flick a switch on the centre console to turn it on – and I soon end up using it extensively, covering mile after mile without my feet going anywhere near the pedals.
Being a six-speed manual, the cruise control becomes ineffective in top below about 40mph, and then deactivates itself completely at 30mph. Unlike Vauxhall's excellent system in the Insignia Grand Sport, if you change gear, cruise is cancelled.
Other than that, the Scenic proved a brilliantly capable long-distance cruiser. With 110hp and fully-laden, it still handled motorways extremely well – you can spend all day at the legal limit and thanks to its 2,000rpm 70mph gearing, it'll leave you unstressed doing so. There's some wind rustle around the door mirrors, but that's a new occurence, so I'll get that checked out by a dealer as soon as I get the chance.
Did it disappoint at all?
Not in the slightest. I complained that it lacked grunt going up the A66 inclines, but as my passenger reminded me, it's more than capable considering the price, market it's aimed at, and the economy you get from the car. So, that's me told – and the Renault placed in correct context.
Finally, a word about comfort. Those 20-inch wheels do leave it feeling a little on the fidgety side, but the damping is excellent, and overall, it's impressively comfortable on long journeys. Families will find it excellent at staving off travel sickness in kids, and the rear-seat picnic trays are perfectly placed for the little tikes to prop up their iPads.
In short, it's comfortable. And given I own the two classic cars pictured below, which major on cossetting everyone inside, that's high praise indeed.

Mileage: 5,635
Fuel economy: 50.8mpg
---
Update 4: Locked out!
Our Renault Scenic might have been winning (some) friends among the Parkers team, but it has also managed to impress its keeper with its ability to leave him stranded. Providing a great example of what happens if you don't read the manual – carefully – before using your car.
Rewind a couple of weeks to a very early Saturday start, and a very sulky Scenic. Keith WR Jones and I had arranged to drive the new Vauxhall insignia Grand Sport to Keith in Scotland. It involved a 5.00am rendezvous in Peterborough – in order to get from Luton to Keith, via Ellesmere Port.
So, at 4.45am I'm outside my house packing the Scenic with all the bits and bobs I'd be needing for our upcoming 20-hour working day. Piece by piece, I placed my stuff on the back seat – laptop bag, reading material, wallet, keys...
As usual, my keycard (below) was in my jacket pocket alongside my (two) mobile phones, and placed on the back seat. I closed the door to get into the driver's seat – and before I'd opened it, there was the beep-beep of the alarm system, followed by the clunk of the central locking. The Scenic's perimetric locking system had locked me out.

This isn't supposed to be possible. Luckily, I was able to get a lift down to my meeting with Keith, and our drive to Scotland was interesting given my lack of phones and wallet. Still, it's good to borrow.
I called Renault Assist, and after explaining that I hadn't actually locked my keys in the car, but that the car had locked me out, we got around to chatting about the next plan of action. That involved sending out an RAC patrolman to see if he could get into the car.
'I'm not breaking into a 66-plate Renault, mate,' said the patrolman over Keith's phone after he turned up. 'I know,' I said, heading for Scotland. I'd assumed that they'd send out a little Renault Assist van and a man with a magic codebreaker. Clearly not. So, off he went.
I called Renault Assist again, and after a long conversation, was presented with two options: get the car taken to a dealer, who'd be able to look at it on Monday or wait until then to get hold of my spare key. Easy choice, then.

In the end, a weekend without my phones and wallet ended up being a mild inconvenience. But had I not had access to other cars, and some very generous friends, it could have been a major problem. Especially if I'd locked a pet in the car.
Read the manual!
On the following Monday, the ever-helpful press officers at Renault explained what happened – I had not read the manual!
He quoted the handbook to me: 'Never leave the Renault Card in the vehicle or near to any electrical equipment (computers, telephones, etc.) which could affect its operation.' In other words, read the manual.

So, operator error. In my defence, I'd counter this by asking just how many people read the handbook from cover to cover. And more relevently, how many people keep the keycard in a jacket pocket or handbag alongside electronic devices. I'd say loads.
Also, a request to Renault: it might be an idea putting a warning sticker on the keycard, explaining this issue – just for those people like me who don't read the handbook!
So, if you want to avoid being locked out of your Renault, I'd simply suggest: read the manual, and keep your keycard in your pocket!
Mileage: 4,525
Fuel economy: 49.1mpg
---
Update 3: Still winning friends
The Renault Scenic has been piling on the miles with the Parkers team. Mainly, but not entirely me – and as is the way with cars I like, they can be a bit of an aquired taste for other people. It's not that the Scenic is a bad car – far from it – but if you're not in the family way, you might struggle to see its appeal.
So, during the past couple of weeks, we've had vans editor CJ Hubbard, features editor Sophie Knight, finance editor Chis Lloyd and continuity editor Keith WR Jones all take extended runs in it, and all have come back with entirely different opinions of the Renault. We'll start with the indifferent, and move on to the good.
What Parkers thinks so far…
We'll start with Sophie, who likes the Renault's practicality and the way it looks – which is a bit of a spaceship – as well as its equipment level. But there's one aspect of the car that means she'd never consider buying one herself.

'I hate that clutch pedal – there's a tapping that comes through the bottom of my shoe whenever I use it – and that really doesn't feel good. That's a shame because, no matter how brilliant the car is, I couldn't buy it with that clutch pedal vibration.'
Chris Lloyd can't get on with the touchscreen. 'It's ridiculous that there are no phyiscal controls for the fans - there are knobs to control the temperature, but not for the fan speed. It's way more distracting than it should be to adjust these when you're driving. However, I like the fact it's different, and that it's not trying to copy something else, but it doesn't feel as spacious as I'd expect it to be.'
Keith WR Jones likes it a lot, even if it's not perfect. 'It's a great family car, and looks brilliant. It's comfortable in most situations, but the ride can be too sharp on rough surfaces. It feels more generic European than classically French, and if I am nitpicking, I'd say that second gear too short.'
CJ Hubbard is more effusive: 'I love it – and call it the golden nugget!'
What Keith thinks of it so far
Despite the niggles from the other members of the team, I continue to really rate the Renault Scenic. I have a very long history of extended ownership of French cars, and what you need with the best ones is a little patience and understanding.

Classics such as the Citroen CX, Renault Avantime or Peugeot 205 GTI take time to bond with – you don't just jump in and feel at home in them. It takes time for the controls and their road manners to fall naturally in place. But once they do, you'll just get it, and they'll just work for you.
So, I really like the way the Scenic works, the elastic pull of its dCi engine (it feels way more powerful than its relatively modest 110hp rating), keen handling and pliant damping. I'll agree with Chris that using the touchscreen control for just about everything is completely stupid – but I'll counter that somewhat with the excellent voice control system.
The head-up display (above) also works a treat. And when used in conjuction with the adaptive cruise on a long journey, light work can be made of big distances. I still haven't tested its family-swallowing capabilities, and that's because I've chosen the Scenic on purely aesthetic grounds (I love the way it looks). That will come – probably in the next long-term test report.
Mileage: 3,920
Fuel economy: 50.6mpg

---
Update 2: Quietly impressive
The Renault Scenic has been impressing me with its ability to get on with the many, many jobs that I've been throwing at it over the past few weeks. Although it's an MPV (multi-purpose vehicle), and one that's been designed with families in mind, most of the time I've spent in it, the Scenic has been one up.
So, it's been doing the job of motorway cruiser instead of school-run chariot, a task that this great-looking French hold-all has proved brilliant at. Its 110hp dCi engine doesn't sound over-endowed with power, but there's more than enough to haul it along at the legal limit all day long. And although it's spinning less than 2,000rpm in sixth on the motorway, there's still plenty of pulling power when those steep hills loom ahead.
It's good on the lanes, too
But thanks to its tautly-damped chassis set-up and huge 20-inch wheels, there's no lack of grip in the corners. Our full review says this: 'If hustled along in a manner likely to rapidly leave the cabin flecked in toddler puke, the Scenic acquits itself perfectly well, with no unpleasant surprises lurking at the extremes of grip. It is, however, at its best loafing through rather than leaping at corners.'

That said, and who am I to argue with the great Anthony ffrench-Constant (who wrote the review), but I'd beg to differ. The handling is tidy, the high-speed body control is excellent, and it just feels planted and at home when pushing on.
Whether that's really relevant when you're bouncing up and down kerbs on the school run is up for debate, but for parents who drive, this is good news. Of course, you might not want to be too aggressive with these gorgeous wheels.

Other aspects of this Renault that are making it a pleasure to live with include the optional Bose stereo, the excellent adaptive cruise control and – on a more basic level – the electrically-folding rear seats.
Bits we like
The last point, especially, makes those saturday trips to Ikea a lot more bearable. Open the tailgate, press a button, and you get the small van experience without wrestling with baffling levers and flaps.
As for the stereo – it handles speech as well as music gracefully with effortless bass response and crisp mid- and top-range response. Although, I'm not entirely sure I appreciate BBC Radio 1 at high volume after Adam Binnie's borrowed it...
And the things we don't
There are a couple of irritations, which might ease off with continued use. But at the moment, I'm struggling with the way the car's main systems are controlled through the touchscreen. In other words – want to change the heating and ventilation settings? That'll be the touchscreen. Want to change the sound settings on the (brilliant) stereo? That'll be the touchscreen.
In time, the irritation factor may subside, but anything that requires a look away from the road while on the move is a bad thing. Renault is not alone with this move – Peugeot, Citroen and DS are fairly guilty of this, but that doesn't make this any better.
And the other annoyance? If you look below, you'll see that the average fuel consumption is hovering below the 50mpg mark. Given the NEDC combined figure is 72mpg, we're a little bit behind. I'm realistic enough to understand the 'official' figure was achieved in a lab – but it does set-up unrealistic expectations. We'll see how it pans out as the engine loosens up.
Mileage: 2,480
Fuel economy: 49.9mpg
---
Update 1: Welcome
Our new Renault Scenic proves that just because you're a family car driver, you don't have to settle for something lacking in style. Given that the latest addition to the Parkers long-term test car fleet has been touted as the last stand for the medium-sized MPV, it's fitting that Renault has decided to make its third-generation Scenic a hugely stylish car.
The innovative monospace (as they say in France) – a boxy car with a short, stubby bonnet has been given the full designer treatment, with swooping flanks, dramatic side windows, and huge 20-inch wheels across the range. And yet, inside it's as fully family-friendly as every Scenic that's come before.
This latest Scenic was launched in 2016, and first came to the UK early in 2017, and currently, it's a rare sight on the roads. Which means our car, which was supplied with a little less than 1,200 miles on the clock, and finished in Honey Yellow, turns heads. And we rather like that.
What did we get with our Scenic?
Our Dynamique S Nav model sits in the middle of the Scenic range, but you'd never guess, looking at it. The on-the-road list price was £25,445 at the time of writing, but for your money, it's packed with kit.
We won't give you a full run-down of the equipment, but here are the highlights:
20-inch alloy wheels
Panoramic glass roof with sun blind
Front fog lights and LED daytime running lights
Sliding centre console with four USB sockets
Rear seat picnic trays
Privacy glass and auto-dipping rear-view mirror
Rear sunblinds
Part-leather upholstery
One-touch rear folding seats
7.0-inch TFT dials with speedometer
8.7-inch portrait R-Link infotainment system
Automatic dual-zone climate control
Automatic headlamps and wipers
Multi-position boot floor

Inevitably, there are some options fitted, which really do add to the car's appeal. That Honey Yellow metallic paint is a £545 option, while LED headlamps add a further £500.
You also get automatic parking for £500 as part of the Parking Sense pack, while the safety pack adds adaptive cruise control, among other facilities. Finally, the one we approve of the most – a £500 Bose stereo upgrade, which given the bad music we like to play through it – is worth every penny.
The total price of this car, on the road, with options is £28,080. We'd hate to think what a Volkswagen Golf SV would cost when specced up to the same level.
And under the bonnet?
On the engine front, you get a 1.5-litre turbodiesel that delivers 110hp and 260Nm of torque – which, although it doesn't sound that much, is more than muscular enough to pull this relatively heavy car along at a decent lick.

Forget the 12.4-second time for the 0-62mph run – remember that at 70mph, it's ticking over at just over 2,000rpm, which is right where the engine is pulling its hardest. We'll see in the coming months whether it lives up to its early promise, and delivers anywhere near its official fuel consumption figure of 72.4mpg.
And inside?
Inside, the Scenic is just as intriguing. The portrait-format Renault R-Link media system works well, although with so many screen functions, it will undoubtedly take time to master. The rest of the controls are familiar to those fluent in Renault, and the panoramic roof is a timely reminder that brighter days are on their way.
The seats – part leather – are supportive up front, with plenty of (manual) adjustment, and the rears are well-shaped and generously proportioned, with loads of head and legroom. As for the rear picnic trays – I'll leave it to the Parkers team members with young kids to test those.
Finally, the boot has a lovely trick up its sleeve. Press a single button, and the split-fold rear seats drop electrically. That's nice and elegant, even if it could be argued that this is the solution to a first-world problem that no one's actually identified yet.
How long have we got it?
We're running the Scenic for at least six months, and in that time, fully expect to put it to some serious use. We're likely to lend it to some of our workmates in the leisure sector, and will undoubtedly take it overseas for some decent trips. More than likely, it'll see the odd school run, and trip to the supermarket. Just like any other Scenic.
It will be interesting to see how it fares. So, what will it be like to live with? Over the next six months we're going to find out.

Mileage: 1,186
Fuel economy: n/a