Renault Scenic review
Current Model
Renault's MPV better looking and more practical than ever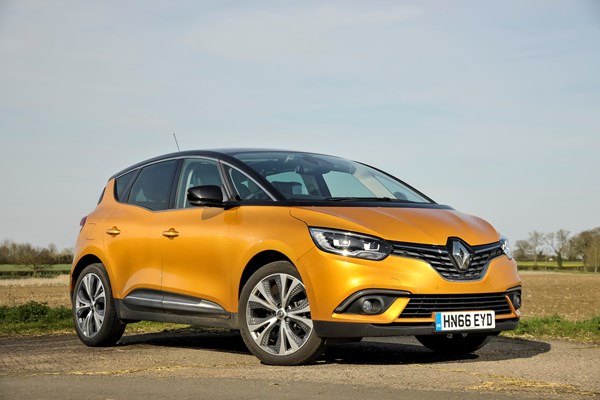 PROS
Sharp-suited elegant design
Much improved interior styling
One-touch rear-seat folding
Generous equipment levels
CONS
Rear seating not as flexible
Complex touchscreen multimedia slow to react
Excessive door mirror wind noise
Lumpy low-speed ride quality
PROS
Sharp-suited elegant design
Much improved interior styling
One-touch rear-seat folding
Generous equipment levels
CONS
Rear seating not as flexible
Complex touchscreen multimedia slow to react
Excessive door mirror wind noise
Lumpy low-speed ride quality

What's in a name? Those today struggling to identify the difference between a Sports Utility Vehicle (SUV), a crossover and a Multi-Purpose Vehicle (MPV) – you're not alone.
With sales of the first two niches currently burgeoning, you'd forgive the fourth-generation Renault Scenic – a car that pretty much invented the compact MPV segment some 20 years ago – for suffering something of an identity crisis en route to the launch pad.
Especially since it's equally hard to pigeonhole the new Scenic's rivals, such as Citroen's C4 Picasso, the Ford C-Max, the Peugeot 3008 and, perchance, Renault's own Kadjar, and even posher totty such as Volkswagen's Golf SV and the Mercedes-Benz B-Class.
Larger cabin, sharper styling
Surely, though, for any Multi-Purpose Vehicle to genuinely merit the moniker, the cabin space – replete with legion seats that flop about with all the alacrity of a freshly landed flounder – must, above all, be truly flexible.

A distinct whiff of SUV has certainly crept into the new Scenic's design. It is 20mm wider and 40mm longer than its predecessor, with a 32mm longer wheelbase. Though lower in the roofline, it also sports a 40mm increase in ground clearance.
The exterior is hallmarked by Renault's increasingly badge-centric frontal graphic, a straightforward SUV rump, and a pleasing profile with a steeply raked windscreen flowing seamlessly into a blacked-out roofline, more usually associated with crossover styling.
All Renault Scenics get 20-inch alloys
Seen from any angle, save for dead ahead or full astern, the Scenic pulls off the neat trick of simultaneously looking both sharp-suited and somewhat voluptuous. It has 20-inch wheels fitted, as standard, across the entire model range further bolster the appeal of the silhouette, if not ride quality.

Despite the fact that the cabin occupies an entirely MPV-like 80% of the bodyshell volume, the rear seating is not as flexible as that found in the outgoing model. The sliding seats are now split just 60:40 instead of into three. Shame that; being able to slide the centre seat out of line was the best way of easing shoulder rub with three adults abreast.
Offering merely adequate legroom, the seats may be lowered at the touch of a loadspace wall-mounted button, or via one of the multimedia system's endless menus, to give a flat floor. Loadspace, however, is bigger than before and – at 572 litres – claimed to be class-leading.
Generous range of engines – if you like diesels
Six engines will be available from day one; two turbocharged petrol, three turbodiesels and, built around the least powerful diesel, a Hybrid Assist engine.
This latter is interesting not only for offering an 8-10 percent reduction in fuel consumption and CO2 emissions over the standard diesel, but also because, to our knowledge, it's the first hybrid powertrain out there mated to a manual transmission. More of which later.
These powertrains complement a 21-version model line-up, based on four trim levels: Expression+, Dynamique Nav, Dynamique S Nav and Signature Nav. Standard specification levels seem generous, and all versions are loaded to the gunwales with sufficient safety technology to garner a five-star Euro NCAP rating.

We sampled a manual transmission version of the more powerful, 130hp turbo petrol unit, the beefiest, 160hp turbodiesel mated to Renault's DCT transmission, and the Hybrid Assist engine.
The petrol unit is smooth, refined and willing, but struggles in a car of this size. The hybrid's electric motor provides useful low-speed torque for urban work but, of the three, the diesel alone provides sufficient oomph to get the Scenic moving with any real eagerness.