View all Skoda Kodiaq reviews


Skoda Kodiaq SUV
Review
Current Model
Seven-seat SUV appeals equally to heart and head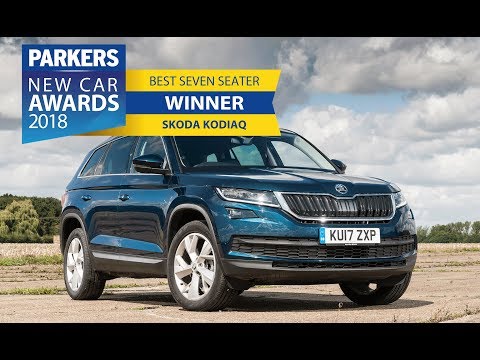 Enlarge
1

videos
Enlarge
120

photos
PROS
Comfortable, practical interior
Very competitive list prices
Good roadholding and smooth ride
Up-to date kit and tech
CONS
Entry-level model is lacking desirable kit
Petrol models could do with more power
Manual gearbox is not the slickest
Interior is functional rather than special
PROS
Comfortable, practical interior
Very competitive list prices
Good roadholding and smooth ride
Up-to date kit and tech
CONS
Entry-level model is lacking desirable kit
Petrol models could do with more power
Manual gearbox is not the slickest
Interior is functional rather than special
Verdict
The Skoda Kodiaq is a full-sized seven-seat off-roader without the full-sized price tag - available for substantially less than its Kia, Hyundai, Nissan and Land Rover rivals. Despite the attention-grabbing prices, the Kodiaq is anything but a budget car, feeling a rung or two above the Kia Sorento, Hyundai Santa Fe and Nissan X-Trail when it comes to equipment, quality, comfort and roadholding.
The Land Rover Discovery Sport, meanwhile, gets much closer to the mark, but still can't match the Skoda's feel-good factor on the inside – even with its much higher prices. As a result, the Skoda Kodiaq's appeal comes from the fact it feels like it should wear sister brand Volkswagen's badge, though it dramatically undercuts the smaller Volkswagen Tiguan off-roader, while providing much more space and equipment. Setting the Kodiaq apart from many similarly priced rivals is the possibility for seven seats – with a sliding middle row.
What engines does the Skoda Kodiaq have?
The Kodiaq range consists of three petrol and three diesel options. Petrol power comes in the form of 150hp 1.5-litre motors, plus an automatic-only 190hp 2.0-litre model. Four-wheel drive is standard on the 2.0-litre, while the 150hp model is available in two-wheel drive manual and automatic form, plus four-wheel drive automatic versions.
Diesel choices consist of 150hp and 190hp 2.0-litre units. As with the entry-level petrol, the 150hp model comes in two-wheel drive manual and automatic form, plus a four-wheel drive automatic. The 190hp engine is exclusively available with an automatic transmission and four-wheel drive. For a car so large – and capable of carrying so many passengers and luggage – it's the two diesels that make the most sense. The slick DSG automatic gearbox suits the car extremely well, too.
Basic SE trim comes with parking sensors, DAB radio and cruise control while the fully loaded Edition gets niceties including standard metallic paint, leather seats and wireless phone charging. SE L trim strikes a good balance with sat-nav, a powered tailgate and seven seats as standard. Budget around £30,000 to £33,000 for a 150hp or 190hp DSG model in this trim.

Skoda Connect with Amazon Alexa
In May 2018 Skoda announced that its Connect multimedia system, which features on the Kodiaq, will interface with Amazon's Alexa virtual personal assistant. This means you can ask Alexa certain questions to find things out about your car. For example, you can check if you've left your headlights on, what the range is with your current fuel level or even where you've parked your car.
Good value personal lease and PCP deals for the Kodiaq
Monthly payments for the Kodiaq are competitive. If you want to get one on personal lease, our partner ZenAuto quotes from £310 per month for a 1.5 TSI SE 150 model on a 48-month term with an initial payment of £2,250 and a mileage allowance of 8,000 per year. Given that the entry level for a Land Rover Discovery Sport is £404 per month, you'll see how good value these cars are.
High residual values and low list prices compensate for the relatively high APR charges and lack of deposit contribution when it comes to manufacturer PCP finance, too. Due to the low cash prices, the Kodiaq is also good value overall if you plan to make the optional final payment to buy the car at the end of the contract.
The Kodiaq might not be the most obvious company car choice, but low list prices mean that BIK tax charges for company car drivers are very competitive – starting at £90/£180 (for 20%/40% taxpayers respectively) for the petrols and £117/£234 for the diesels.
Should you buy a Skoda Kodiaq?
Yes, if you're after the maximum space for your money. We like it so much that we awarded the Kodiaq the Best Seven-Seater car in the 2018 Parkers new car awards. It didn't win just because it's great value, but because the Kodiaq is good to drive, honest, dependable, and looks great in a chunky way.
Keenly priced, spacious and well-specified, the Kodiaq is every bit the pragmatic choice you'd expect from Skoda. Whether you choose petrol, diesel, two- or all-wheel drive, running costs are also admirably low, and handsome styling helps make this one the most desirable cars Skoda has ever produced.

Read on for our full Skoda Kodiaq SUV review
*Deals are correct at time of publication. Everyone's financial circumstances are different and credit is not always available – Parkers cannot recommend a deal for you specifically. These deals are indicative examples of some packages available this week. Bauer Consumer Media Limited is an appointed representative of ZenAuto Limited for the broking of regulated hire agreements. ZenAuto Limited is authorised and regulated by the Financial Conduct Authority. ZenAuto Limited's registered office is Number One, Great Exhibition Way, Kirkstall Forge, Leeds LS5 3BF. ZenAuto Limited's company registration number is 10967345. ZenAuto is the trading name of ZenAuto Limited. Terms, conditions and exclusions apply.