Skoda Rapid Saloon (2012 - 2018) review
Rapid majors on space and value for money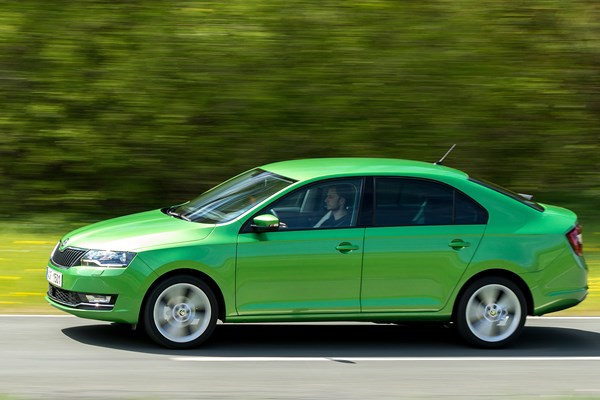 PROS
Range of efficient engines
Huge amount of boot space
Spacious interior, and good to drive
CONS
Dull to look at and sit in
Lots of kit costs extra
About to be replaced by the Scala

PROS
Range of efficient engines
Huge amount of boot space
Spacious interior, and good to drive
CONS
Dull to look at and sit in
Lots of kit costs extra
About to be replaced by the Scala

The Skoda Rapid is another example of the Volkswagen Group's Czech arm doing what it does best. By stretching out a platform designed for a small car, Skoda is able to offer impressive space and practicality, but with the running costs and ease-of-driving of a supermini.
The resulting Rapid looked for all the world like a scaled-down Octavia, right down to its 'fastback' saloon-style silhouette (though the boot opening is actually a conventional hatchback). However, under the skin you'll find an assortment of parts more closely related to the dinky Volkswagen Polo. It's a formula that proved to work quite well, and the Rapid became very popular with taxi firms – proving that the Rapid is a great choice for those who value dependability and practicality.
It certainly has the latter in spades, with a huge boot and plenty of space for four adults. At the same time, its cheap components and downsized engine meant purchase and running costs were similarly low.
The Rapid has since been replaced by the Skoda Scala, which offers a similar winning combination of space and value – however, it's exclusively available as an elongated hatchback, without the truncated rear deck of the Rapid. This does mean that the Rapid could make an even more savvy used buy, as it's low on desirability but high on practical merit. And if the Skoda badge is a little too pedestrian for you, you could always opt for the (very) slightly racier SEAT Toledo, which is mechanically identical to the Rapid.
With pricing similar to many superminis, the Rapid could be considered a rival to the likes of the Volkswagen Polo and Ford Fiesta. Its cavernous interior makes it more of a direct competitor to low-end examples of the Ford Focus or Vauxhall Astra, as well as value-focused family hatchbacks such as the Fiat Tipo or Hyundai i30.
Familiar Skoda engine options
The Rapid is powered by a familiar selection of turbocharged petrol and diesel engines shared with other Volkswagen Group cars (SEAT, Volkswagen and Audi). There are no performance variants available (the Rapid isn't that kind of car, which is ironic given its name). There's a stronger focus on efficiency than speed and, as such, the biggest, most powerful engine available is a 1.6-litre TDI diesel with 115hp.
If efficiency is your priority, there's a smaller 1.4-litre TDI diesel, while petrol power is provided by a three-cylinder 1.0-litre TSI with a choice of power outputs, as well as a 1.4-litre TSI that comes exclusively with a DSG automatic gearbox and only one trim option.
Due to the selection of engines, you'd think the Rapid is a car that spends most of its time pottering about town, but it's actually surprisingly good to drive thanks to its light weight and punchy engines. It's no sports car, but it's easy to drive on all roads, which is a very appealing thing for many buyers.
Spacious, well-built interior, and a big boot

The Rapid isn't a particularly exciting car to look at from the outside. It's the inside where it really impresses, with enough space for four adults to fit comfortably and a huge boot hidden beneath that elongated tailgate.
It's all familiar Skoda stuff inside too, with a solid build and a functional, easy-to-understand layout that's very easy to get comfortable in. It feels well-built though, and is available with the usual selection of Skoda's Simply Clever storage solutions to make life a little easier.