View all Smart Fortwo reviews


Smart Fortwo Cabriolet
Review
Current Model
UK's smallest convertible gets more appealing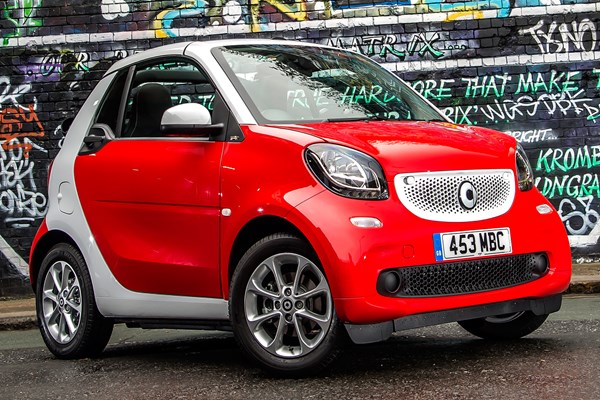 PROS
Power roof a doddle
Extra width affords elbow room
Dual-clutch auto infinitely better
The cheapest cabrio in the UK
CONS
Ugly front end
Premium-free Renault switchgear
Limited boot space
Expensive
PROS
Power roof a doddle
Extra width affords elbow room
Dual-clutch auto infinitely better
The cheapest cabrio in the UK
CONS
Ugly front end
Premium-free Renault switchgear
Limited boot space
Expensive
Verdict
Inelegant front styling gurn of a chubby Pokemon character aside, this third generation of Smart's diminutive, two-seater convertible is clearly the best yet. And that's simply because it's the first Fortwo Cabriolet in 18 years to offer a driving experience that won't leave you inadvertently boasting the neck muscles of a rugby prop forward within six weeks of buying the thing.
All the Smart trademarks remain - including no real soft-top rivals save the larger and less pricey four-seater Fiat 500C and Peugeot 108 Top - except for that ghastly automated manual gearbox which threw your head around like a plastic Churchill bulldog on the parcel shelf with every shift.
Joint collaboration with Mercedes and Renault
Now, because of a new alliance with Renault (which builds the Twingo and four-seater Smart Forfour sister ships), the Fortwo Cabriolet is armed with a choice of 999cc, 70bhp and turbocharged 898cc, 89bhp three-cylinder French petrol engines that first arrive in the UK mated to a German Twinamic double-clutch automatic transmission smoother than a freshly buttered bannister.
Indeed, the Cabrio is something of a Franco-Germanic hybrid: responsible for the overall concept, Mercedes makes the trademark Tridion safety cell (now some 50 percent stiffer than its predecessor), suspension, safety technology and dual-clutch gearbox, while, along with the engines, Renault supplies a £995 cheaper, five-speed manual transmission available for order imminently, and a good chunk of the hardware, including much of the interior.
Versatile roof
The snug, triple-layered soft-top works well, opening in two stages in just 12 seconds, at any speed up to and including terminal velocity; a whisker short of 100mph, and the roof side bars may also be removed. Mercifully, this isn't a Citroen C3 Pluriel, so the process is relatively painless, and the bars store in a tailor-made pocket affixed to the bottom-hinged tailgate.
Though identical in all other dimensions to its predecessor - just 2.69 metres long with an hilarious 6.95-metre turning circle to out-manoeuvre even a London black cab - this latest specimen is 10cm wider, allowing two large (and heavily disguised) gentlemen to sit side-by-side without relentlessly clonking elbows in the manner of courting albatross beaks.
Within an interior now spacious enough to make you largely forget just how small a car you're driving, stylistic efforts to make this well-equipped cabin grow up may have succeeded, but we can't help feeling that - though the driving position is first class – there's a slightly over-blatant whiff of Renault-sourced switchgear and componentry that devalues the cabin a touch.
Trio of specifications
As with the standard Fortwo, there are three trim levels to choose from: entry-level Passion, higher-specification Prime, and sporting Proxy.
Passion grade standard equipment includes automatic climate control, an audio system with Bluetooth connectivity, a choice of either orange/black or grey/black interiors and 15-inch alloy wheels. Prime models bolster this with black leather upholstery, seat heating, fancier 15-inch alloys and additional clock and rev-counter dashboard instrumentation in the form of a pod aping the sadly now defunct, funky dash-top crab eyes of yore.
Proxy versions are equipped with larger 16-inch alloys, a blue and white interior with false leather and cloth upholstery and, as standard, the Sports Package, which includes rubber-studded sports pedals, a leather-clad steering wheel with paddle shifters, a chrome exhaust and sports suspension lowered by 10mm.
Save some money on sat-nav
We weren't convinced by the seven-inch-screened media system (part of the £795 Premium Pack) fitted to the Fortwo we drove. It is a mite clunky to operate, and the sat-nav's not the fastest by a considerable chalk. You might do better with the standard smartphone cradle and Google Maps.
The Parkers Verdict
Though turbocharging does allow the Smart to hold its own with some alacrity in the urban environment, the extra power doesn't accompany any extra mechanical grip out in the bundu. Best, then, to hang out at the £13,265 end of a range priced up to a heady £15,550, and simply enjoy the new-found delights of roofless dual-clutch wafting in the (somewhat pricey) cheapest cabrio you can buy in the UK.
Read on for the full Parkers Smart Fortwo Cabriolet review.