View all Tesla Model 3 reviews


Tesla Model 3
Review
Current Model
This exciting car will either revolutionise – or break – its maker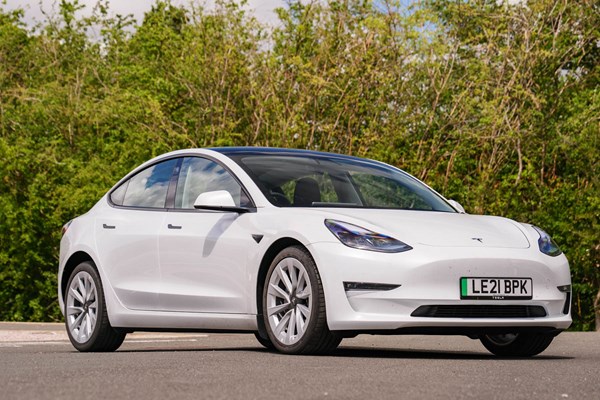 PROS
Interior space and performance are very impressive

It's likely to be much cheaper than the Tesla Model S
Real-world electric range should be impressive

CONS
A long wait if you've not already reserved one

Lifestyle issues – range anxiety, charging etc
Podgy styling not as appealing as Model S
PROS
Interior space and performance are very impressive

It's likely to be much cheaper than the Tesla Model S
Real-world electric range should be impressive

CONS
A long wait if you've not already reserved one

Lifestyle issues – range anxiety, charging etc
Podgy styling not as appealing as Model S
Verdict

Tesla is due to start delivering Model 3s into the UK during 2019. This is the car that's set to move this most famous of Californian start-ups into the automotive big time – it's set to bring Tesla's amazing Battery Electric Vehicle (BEV) technology to a more affordable end of the market.
And it's certainly needed. Although Tesla has not yet announced UK pricing details of the Model 3, it's clearly going to widen your options if it's a Tesla you're after – the Model S starts at £73,500 and that isn't small change by anyone's standards.
But Tesla is keen to emphasise that when taking fuelling costs into account, and the ease of the use of its Supercharger network of car chargers, the overall cost of ownership is actually very competitive.
Tesla Model 3: how much range does it have?
The Model 3 is part of Tesla's 'secret master plan' to bring sustainable energy-powered transport to the masses. A smaller price puts new customers in the manufacturer's cars, not just those who could afford to justify the premium cost of the Model S.
Like that car though Tesla says the Model 3 will combine range, performance, safety and utility to make it the ideal family car. Depending on which model you choose, you should be able to get up to 259-335 miles on a charge – which places it firmly at the top end of this crowded market sector.

The Model 3 comes in two forms: Standard and Premium, and the equipment line-up looks like this:
All models:
15-inch touchscreen with onboard maps and navigation
Wi-Fi and mobile internet capability
Keyless entry and remote climate control with app
Voice-activated controls
Dual-zone climate control system
Centre console with open storage and two USB ports
Tesla Model 3 Premium
Premium heated seating and cabin materials throughout, including open pore wood décor and two rear USBs
12-way, power adjustable front seats, steering column and side mirrors, with custom driver profiles
Premium audio system with more power, tweeters, surround speakers and subwoofer
Tinted glass roof with ultraviolet and infrared protection
Auto dimming, power folding, heated side mirrors
LED fog lamps
Centre console with covered storage and docking for two smartphones
Tesla Model 3 charging – as good as it gets
As well as costing less the rival petrol and diesel cars to run, the Tesla is as painless as it comes for a BEV to charge up. Like all of its rivals, charging using a three-point domestic plug is okay for emergencies, it's slow and inefficient. Most owners will install their own fast charger at home and that will be sufficient for most needs.
There's also Tesla's Supercharger network, which takes about 40 minutes to replenish, and is expanding all the time. Compared with other public chargers, the Supercharger offers a premium ownership experience – as long as you're not going out of your way to top up – although the free charging offered to Tesla customers following its launch has long since been dropped.
In use, a Tesla Model 3 shouldn't offer up too many anxieties around its range. When the battery runs low, the sat-nav automatically diverts the car to the nearest available charger. Travel information and advice are relayed exclusively by the big touchscreen, which is still a USP of Tesla.
What's the Tesla Model 3 like to drive?

Like the larger Model S, the Model 3 is quick in all of its forms. Tesla claims a 0-60mph for all models between 3.5 and 5.6 seconds, which like the Models S dominates your initial impressions of the car. The lower figure is for the Premium model with four-wheel drive and a 90kWh battery pack. Maximum speed of this version is quoted as 141mph, but high-speed motorway cruising kills this car's range, as well as battery life.
As for handling, when pushed hard, the Model 3 has impressive directional stability, and is blessed with flat cornering and tenacious grip. The good news is that if you don't make use of all of that performance, you can expect a maximum of 335 miles between charges too.
The pay off is that the ride quality isn't exactly impressive. On test in the USA, the Model 3 displayed a jittery ride that is felt through the wheel as well as the seats, no doubt a side-effect of not offering adjustable dampers or an air suspension.
What else do we need to know about the Tesla Model 3?
The rear-seat accommodation isn't exactly generous, which is a disappointment, given the Model S's huge interior, and shared benefits of that compact electric drivetrain. Head- and legroom are acceptable, but the rear bench is also too narrow for three adults.
The steering has three modes: Comfort, Standard and Sport. Since the sole parameter affected is the weight of the system, Standard strikes the best compromise between input and feedback. Another driver option is the brake energy regeneration mode.
In the high setting you rarely need to touch the brake pedal. That's acceptable for steep hills, but excessive resistance is actually counter-productive in normal driving as you keep reinvesting the energy saved to maintain a steady forward motion. Still, the braking system is powerful, even if the pedal feels a little numb.
What safety kit do you get in a Tesla Model 3?

Although the standard kit list looks fairly ho-hum these days, it's worth bearing in mind that safety levels will be high by default. It's an American car built to American standards, and Tesla expects it to become the safest car in its class once it has been tested.
This will be an important consideration for family buyers looking to protect younger passengers. Standard equipment includes:
Automatic emergency braking and collision avoidance
Eight airbags
Electronic stability and traction control
Buying a Tesla Model 3 in the UK
Production of the Model 3 is underway and the car is on sale in the USA and Canada. Tesla won't take an order yet, nor will it take your money, but you can reserve one – and the company says that you'll be able to configure your car nearer once your order has been confirmed.
UK deliveries are promised for 2019, although no pricing details have been announced, other than being guided by the US, where a standard rear-wheel drive model comes in at $35,000, while the Premium model starts at $49,000.
The Parkers Verdict
Tesla needed to introduce a product that is more of a realistic proposition in terms of price, and while the Model 3 is by no means a cheap option, it is definitely closer to the mark than what came before. It's also a whole lot more car-shaped than the Jaguar I-Pace, Mercedes-Benz EQ C and Audi E-Tron.
Progress with electric cars is beginning to gather momentum and this car is a good indicator of the state of the art. But due to its lengthy gestation and other delays, it very quickly be overtaken by rivals in terms of range and performance, as the big premium players (Audi, Mercedes-Benz and Jaguar) muscle in.
But quirky styling and love-it or hate-it interior aside, the Model 3 is capable, likeable and very good to drive. We'll wait for the UK models to arrive later in 2019 before calling a final verdict, but for now, based on the US drive, and assuming they get the pricing right, this is the best BEV on the market at this price point.

Keep an eye on this page for our full Tesla Model 3 review