Toyota Prius Plus review
Current Model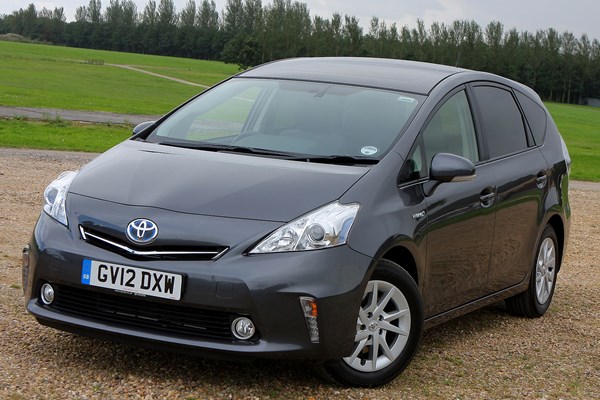 PROS
Comfortable, very cheap to tax, good fuel economy.
CONS
Expensive to buy, not engaging to drive.
PROS
Comfortable, very cheap to tax, good fuel economy.
CONS
Expensive to buy, not engaging to drive.
The Toyota Prius+ is a seven-seat MPV which uses a version of the Japanese firm's Hybrid Synergy Drive. It's a system which mates a small petrol engine to an electric motor, with charge for the electric motor being stored in lithium-ion battery packs. Prius+ emissions are rated at below 100g/km CO2, meaning it's exempt from the congestion charge, eligible for free road tax and guaranteed to deliver low company car tax bills.
This is sure to make the car a hit with those looking to pinch pennies where ever they can. Two trim levels are available and which one you choose dictates how low the CO2 emissions are. With the entry level T4 trim emissions are 96g/km of CO2, while T Spirit trim means slightly higher emissions of 101g/km of CO2. The difference is caused primarily by the larger 17-inch wheels on the T Spirit model.
As you'd expect from an MPV, practicality is an important aspect. There's 200 litres of boot space available with the rear seats folded up, extending to 505 litres when the third row of seating is folded down. Toyota claims there's no loss of load space to make way for the batteries, which are stored in the centre console instead of the traditional place in the boot.
The hybrid system is an adaption of the technology Toyota first introduced on the Prius back in 1997. It features a blend of 1.8-litre petrol engine and electric motor, coupled together with a Continuously Variable Transmission (CVT) which supplies power to the front wheels. The Prius+ is 135mm longer, 30mm wider and 85mm higher than the standard Prius, while the wheelbase has been extended by 80mm to slot in the extra row of seats.
The silhouette remains similar to that of the normal Prius though, helping to retain the car's excellent aerodynamic qualities. So does this hybrid MPV have what's required to take on the likes of the Vauxhall Zafira Tourer, Ford's S-Max or the Renault Grand Scenic?
Read our full and comprehensive Toyota Prius+ review to find out.