If you're looking to buy a Honda Civic Mk8 or Mk9 (2006-2017), it's worth getting familiar with their common problems, so you can avoid being caught out by them. Read on to get the full expert view on these reliable, dependable and popular hatchbacks.
Honda Civic Mk9 known problems and common faults
Introduced for the UK market in mid-2013, the Honda Civic Mk9 (2012-2017) was one of the best versions to wear this badge. It still sported the silhouette of the outgoing model (below), but watered down to avoid offending conquest customers moving across from other brands. For buyers looking to get one today, there's a simple model line-up with versions to suit most tastes.
Much better interior fittings and textures made the Civic feel more quality-orientated and an all-new lightweight 1.6 diesel packed the same punch as the outgoing 2.2 unit. A Tourer estate model was also introduced (in 2014) with all the clever hatchback's packaging tricks – plus a few more to boot.
Top 10 problems
Buying guide – common issues, and what to look for if you're looking at getting one.
1 – Cooling system pipework
Earlier cars up to 2015 had poor-quality hose clamps fitted that can corrode and let go – with expensive, sometimes terminal, results. If possible, check the radiator bottom hose clamp is okay and haggle accordingly if not.
2 – Poor or smoky diesel start-up
Low-mileage 1.6-litre diesels can foul their glow plugs that leads to erratic or smoky cold starting. Thankfully it is not expensive to fix and DIY is possible for those with tool know-how.
3 – Check the sat-nav works properly
Cars that haven't had the required software revisions to their sat-nav systems can be frustrating to use. Owners find the system to be slow and lethargic to operate. Dealers charge almost £200 for map upgrades and many owners refuse to dig that deep.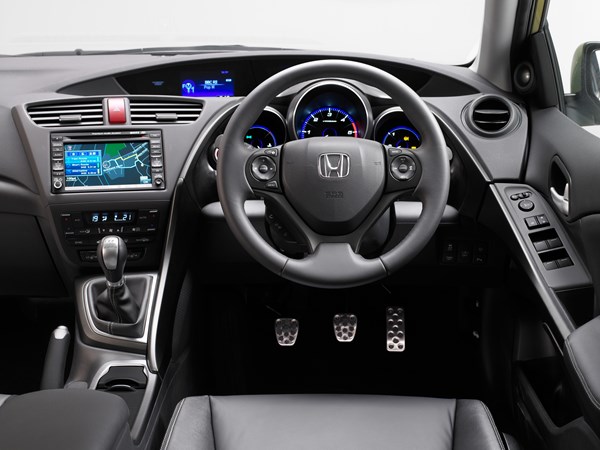 4 – Noisy front suspension
High-mileage or hard-driven cars can wear out the anti-roll bar links and/or bottom suspension arm ball-joints that will emit clatters or clonks. Avoid pattern-fit replacement components too.
5 – Adjustable rear dampers
Some Civic Tourer models feature selectable rear damping. When driving, test this function works by selecting each option and sensing the ride difference. If nothing happens then it may have an electrical or component fault that will be expensive to put right.
6 – Handbrake travel
Check the lever for excessive travel to pull on the handbrake firmly – it may be an adjustment is required or worn-out rear pads. Also, check the lever for a loose side-to-side feeling when off that may point to a worn clevis pin that locates the lever to the floor mounting.
7 – Wheels and tyres
Some models feature diamond-cut alloy wheels that are easily scrubbed and damaged on kerbs, requiring specialist refurbishment. Also check the rubber for quality and brand – cheap tyres can ruin the Civic's keen road manners, especially in the wet.
8 – Windscreen replacements
Ask the seller if the screen has been replaced in its lifetime. Sometimes the screen cameras/sensors that operates items like the radar cruise, city-braking and automatic high beam require recalibration to operate correctly and safely after glass replacement.
9 – Check the service history
Honda owners tend to be sensible decent folk. Check the service history to ensure its been looked after properly – as most them are. Skipped or missing history is a major no-no as is local fast-fit servicing plans. Hondas really do work at their best with on-the-dot quality care.
10 – Type R upgrades
The brilliant Civic Type R is at its best when left alone and unmolested. Sadly, many examples are sprinkled with upgrades that often spoil what originally was an almost perfect sporting flagship. If its all glitter and cable ties just walk away – putting it all right again will cost you.
>> Read more: Honda Civic Type R review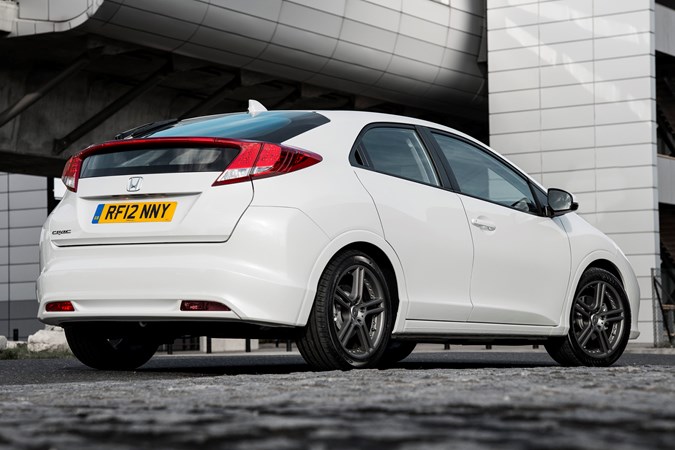 Engine options
Petrol versions
•   1.4 i-VTEC: 100hp
•   1.8 i-VTEC: 140hp
•   2.0 i-VTEC Turbo: 310hp
Diesel versions
•   1.6 i-DTEC: 120hp
Transmission Options
•  Six-speed manual
•  Five-speed automatic
•  All models are front-wheel drive
Model timeline
•  2013: Launched for the UK and European market, built in the UK at Swindon
•  2014: Facelifted headlamps and bumpers
•  2015: 1.6-litre diesel or 1.8 VTEC Sport model introduced
•  2015: 310hp 2.0-litre VTEC Turbo Type-R introduced
•  2017: Production ends
Honda Civic Mk8 known faults and common problems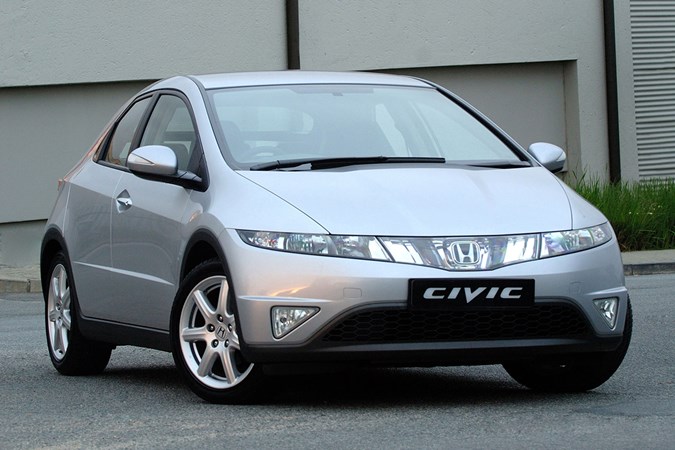 Beamed down onto planet Earth in 2006, the Swindon-assembled Honda Civic FN or Mk8 blended futuristic looks with a roomy and practical interior. With the accent very much on technology, the Civic made most of its rivals look quite plain and conservative.
The dashboard may resemble the flight deck of a Klingon bird of prey to the untrained eye, but it's all very user friendly. Its chassis provides entertaining handling too and all models except the entry level 1.4 punch above their weight. The 2.2i CDTi is exceptionally gutsy and economical… without a troublesome DPF to worry about.
Top 10 problems
Buying guide – common issues, and what to look for if you're looking at getting one.
1 – Oil consumption on 2.2 iCDTi diesel
Honda originally specified a 0w/30 grade engine oil on the diesel engine. This was changed to a thicker 5w/30 grade to reduce a notable consumption of oil between servicing. If the level is low on inspection check to see if the correct procedures are being adhered to.
2 – Poor starting (diesel)
Low mileage cars can foul their glow plugs causing poor starting when cold. Also ensure the correct heavy duty battery is fitted. Cold starting should be instant so be wary of an engine that's been pre warmed by the vendor. Original parts are expensive but replacement for both is straightforward.
3 – Braking system
The Civic can be known for brake squeal and grumbling rear pads – especially if cheap aftermarket replacements have been fitted. Also make sure the handbrake doesn't have excessive travel before holding the car firmly. The Civic has a trait for wearing out the rear pads quickly – so check.
4 – Brakes: has the recall work been done?
A recall was issued regarding a potentially faulty handbrake ratchet. Check the service book to be sure this has been attended to or go to the VOSA website.
5 – Interior rattling from roof area

This affects vehicles fitted with the panoramic roof. Poorly fitted roof linings can cause a rattling noise. A dealer fix was developed and most cars should be fixed by now. Curing it is simple but dealer labour rates are quite expensive.
6 – Misting lamp clusters
Front and rear lamp units are known for misting up in damp weather. Headlamps point towards a defective bulb cap seal but rear units are only cured by the fitting of a later revised part with better breather tubing.
7 – Door switches
Check all the buttons work on the driver's door. Water or damp ingress can corrode the switch terminals causing windows to fail and mirrors to stop working.
8 – Paintwork / Bodywork
Early cars were known for thin and low quality paintwork. Be aware of stone chip scars and badly touched up paintwork. Getting this put right to a decent standard isn't cheap. Cracked or smashed front fog lamps are eye wateringly pricey from dealers and scarce at the breakers, so haggle accordingly.
9 – Trashed and thrashed sporty models
Honda engines are robust but nevertheless avoid worn out Type S or Type R models that have been badly modified or accident damage repaired. Always remember – there is no such car as cheap Type R. Always look for a decent wedge of service history, evidence of lots of oil changes and walk away if it doesn't look right. There are still plenty around.
10 – Automatic transmission
By far the sweetest Hondas have three pedals, so we'd always recommend a manual over the auto. The 1.8 auto is difficult to like, as it's very thirsty and will cost the earth in transmission repairs if it goes wrong.
But it's the only poor model in the Civic range.
Engine options
•    1.4i DSi Petrol – 85hp
•    1.4i V-TEC Petrol – 100hp
•    1.8i V-TEC Petrol – 140hp
•    2.0i V-TEC Petrol – 200hp
•    2.2i CDTi Diesel – 140hp
Transmission options
•    Front-wheel drive six-speed manual
•    Front-wheel drive five-speed automatic (i-shift)
>> Read the full Honda Civic 2006-2013 specs
Owners' reviews
The Honda Civic gets a four-star rating, and is generally seen as reliable and good value. Click below to visit the owner reviews section.