View all Honda Civic reviews


Honda Civic Type-R (2015 - 2017)
Review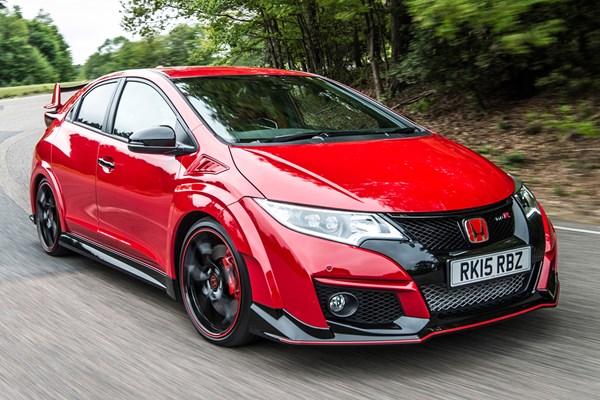 PROS
Strong engine
Composed chassis
Slick gearbox
Practicality
CONS
In your face styling
Engine's lack of sparkle
Busy interior
Not cheap
PROS
Strong engine
Composed chassis
Slick gearbox
Practicality
CONS
In your face styling
Engine's lack of sparkle
Busy interior
Not cheap
Other Honda Civic (2012 - 2018) models:
Verdict
It's been a long time coming, but finally the new Honda Civic Type R is here. This time though it uses a turbo, is five-door only, uses the VTEC system for the bottom of its rev range rather than the top and was developed with the Nurburgring firmly in mind.
Facing the talented SEAT Leon Cupra , Vauxhall Astra VXR, RenaultSport Megane, Ford Focus ST (and four-wheel drive RS), Audi S3 and Volkswagen Golf R, it re-enters one of the toughest sectors of the new car market. Fans of the brand's red badge needn't worry though – this one's faster, more hardcore and more visually arresting than anything the firm has produced previously.
That engine
So the new Honda Civic Type R retains the familiar 2-litre four-cylinder layout of its predecessors but this time it's had a turbo bolted to it, primarily to reduce emissions and fuel consumption. And this it manages, but the delightful side effect is a 306bhp power output complemented by a 400Nm peak torque figure.
And where you'd need over 6,500rpm on the dial to take advantage of peak performance before, by using the VTEC at the bottom rather than at the top of the rev range this car develops that torque at just 2,500rpm. The engine's redline is still posted relatively high at 7,000rpm and peak power is delivered just 500rpm earlier but it makes it a much more tractable and easy car to drive quickly.
In fact it'll sprint from 0-62mph in just 5.7 seconds and tops out at 167mph.
That chassis
Adaptive dampers, bespoke front suspension components and a mechanical limited slip differential: if you were to jot down a wish list of individual components to have on your hot-hatch, the Civic Type R would have them. The dampers constantly monitor the movements of the car to keep it as flat as possible, altering the flow of oil in their damping tubes to reflect the conditions and task asked of the car, though if the Civic is one thing it's very firm.
There's a new +R mode which relaxes the stability control system, changes the throttle map (but doesn't give any more power), steering and increases the damper's stiffness by 30 percent. You should never use it though, unless you're chasing a sub-eight minute lap of the Nurburgring where it was specially developed – it's certainly way too stiff for any UK road we know of.
Talking of the 'Ring, though, Honda's engineers were mildly – and unusually – obsessed with it, telling us the limited slip differential improved the lap time there by around three to five seconds. Alongside the new Dual Axis front suspension, which separates torque from the transmission to the suspension unit, torque steer is greatly reduced. The steering's still missing that last degree of feel and feedback though.
At least the 40mm shift-stroke from the machined metal gear knob should be viewed as a masterclass in gearbox know-how and shift-feel. Brembo brakes with huge 350mm discs up-front ensure the car stops almost as fast as it accelerates.
Those looks
It might be a five-door only these days, but the new Honda Civic Type R looks absolutely mental – there's no question of it failing to stand out amongst a crowd, no matter how luridly-painted the other vehicles are. Replete with wings, spoilers, vents, fat exhausts and huge 19-inch wheels there's little for the serial car-modifier to turn their hand to.
Everything's said to have a function though, and the Honda Civic Type R boasts of negative lift (or downforce) across both axles, thanks in part to its near-flat underside and huge rear wing. The front end's air intakes, four square metres' worth, send airflow through to the engine for cooling and back out through the vents on the front wings an trailing edges of the wheel arches.
Those wheel arch extensions are bespoke, made of aluminium and have a 42 percent weight reduction over a conventional steel panel, allowing for the Civic's wider, more aggressive track.
Faster, more agile and cheaper to run the new fast Civic promises to be better than ever – so read the rest of the Parkers Honda Civic Type R full review to find out if it's the best in the class.