Fiat Ducato dimensions (2011-on)
Looking for information about the size and carrying capacity of the Fiat Ducato large van on sale since 2011? Then you've come to the right place, as we've got all the info you need about payload, load area and towing capability right here on this page.
This Ducato has been updated in 2014, 2016 and 2019 (the MY20 upgrade), and although the latest payload figures are set to be a little lower than before, due to the introduction of an AdBlue tank for emissions control reasons, it remains one of the most practical choices in the large van class.
For more on how the Ducato drives, what the cab interior is like and how it compares for value, check out our main review page by clicking here or on the tab above.
The Fiat Ducato panel van comes in four lengths, three wheelbases and three roof heights, for a total combination of eight different load volumes ranging from 8.0 cubinc metres to 17.0 cubic metres. Payload ratings are extremely high, with light duty and 'maxi' duty variants available.
Alongside the basic van there is also a wide range of other body styles, including dropsides, chassis cabs, cowl cabs, window vans and passenger carriers, and the Ducato is a big favourite among motorhome and campervan converters.
We're dealing with the panel van here, and all current versions of this come with a fixed steel bulkhead as standard. You can have a glass window in this if you want, but rear visibility isn't going to be great if you do, so we'd stick with using the mirrors.
Fiat Ducato load area and accessories
If you need more payload, the bulkhead can be replaced by a simple metal frame protecting only the driver, but there are potentially severe safety implications for this.
The rear floor and walls are available with load-lashing rings; the floor can be lined with plywood, the walls with plastic to either half or full height.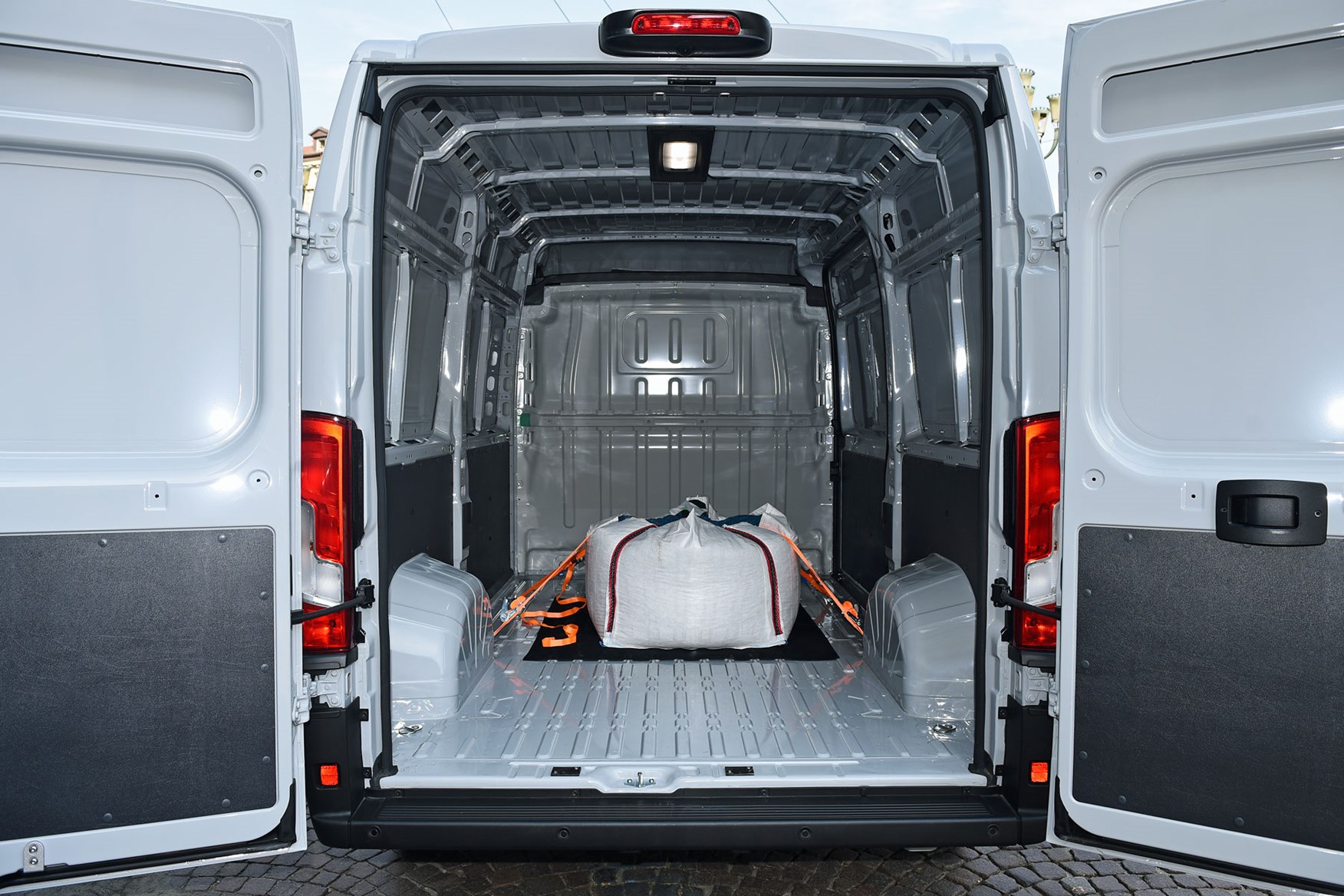 The rear doors open to 270 degrees, and a retractable side steps are available for both the rear and the side loading openings, reducing step-in height.
The side door opening is wide enough to load a Euro pallet - though note that the shortest body length also has a smaller door opening.
Other loading accessories include roof racks (with or without a loading roller) and rear-mounted ladders.
Fiat Ducato load area dimensions
These are the major interior load space dimensions of the Fiat Ducato panel van:
Fiat Ducato panel van
Wheelbase 3000
Wheelbase 3450
Wheelbase 4035
Wheelbase 4035XL
Maximum load length (mm)
2,670
3,120
3,705
4,070
Maximum load height (mm)
1,662 or 1,932
1,932 or 2,172
Maximum load width (mm)
1,870
Width between wheelarches (mm)
1,422
Load volume (cubic metres)
8.0 or 9.5
10.0 or 11.5
13.0 or 15.0
15.0 or 17.0
Wheelbase (mm)
3,000
3,450
4,035
Sill height unladen (mm)
535
535 or 550
Rear door opening width (mm)
1,562
Rear door opening height (mm)
1,520 or 1,790
1,790 or 2,030
Side door opening width (mm)
1,075
1,250
Side door opening height (mm)
1,485
1,485 or 1,755
1,755
As you can see, each wheelbase option comes in a choice of two roof heights, explaining the two different loading heights and cubic loading volumes.
There are only three wheelbases, but Fiat names the Ducato's four body lengths after them anyway, hence the longest version being the 4035XL.
The at-a-glance info is that the Ducato can carry between 800kg and 2,100kg maximum payload, depending on version - and in fact, on later models the minimum payload is closer to around 1,000kg.
If you got some heavy stuff to shift, this is an ace choice of large van.
Fiat Ducato payload and gross vehicle weight
The Ducato comes in light duty and maxi duty variants, with light models available in a choice of 3,000kg (3.0 tonnes), 3,300kg (3.3t) and 3,500kg (3.5t) gross vehicle weights (GVW).
Maxi models are offered in 3,500kg, 4,005kg (4.0t) and 4,250kg (4.2t) GVWs.
Exactly what's available with each panel van body size is described below.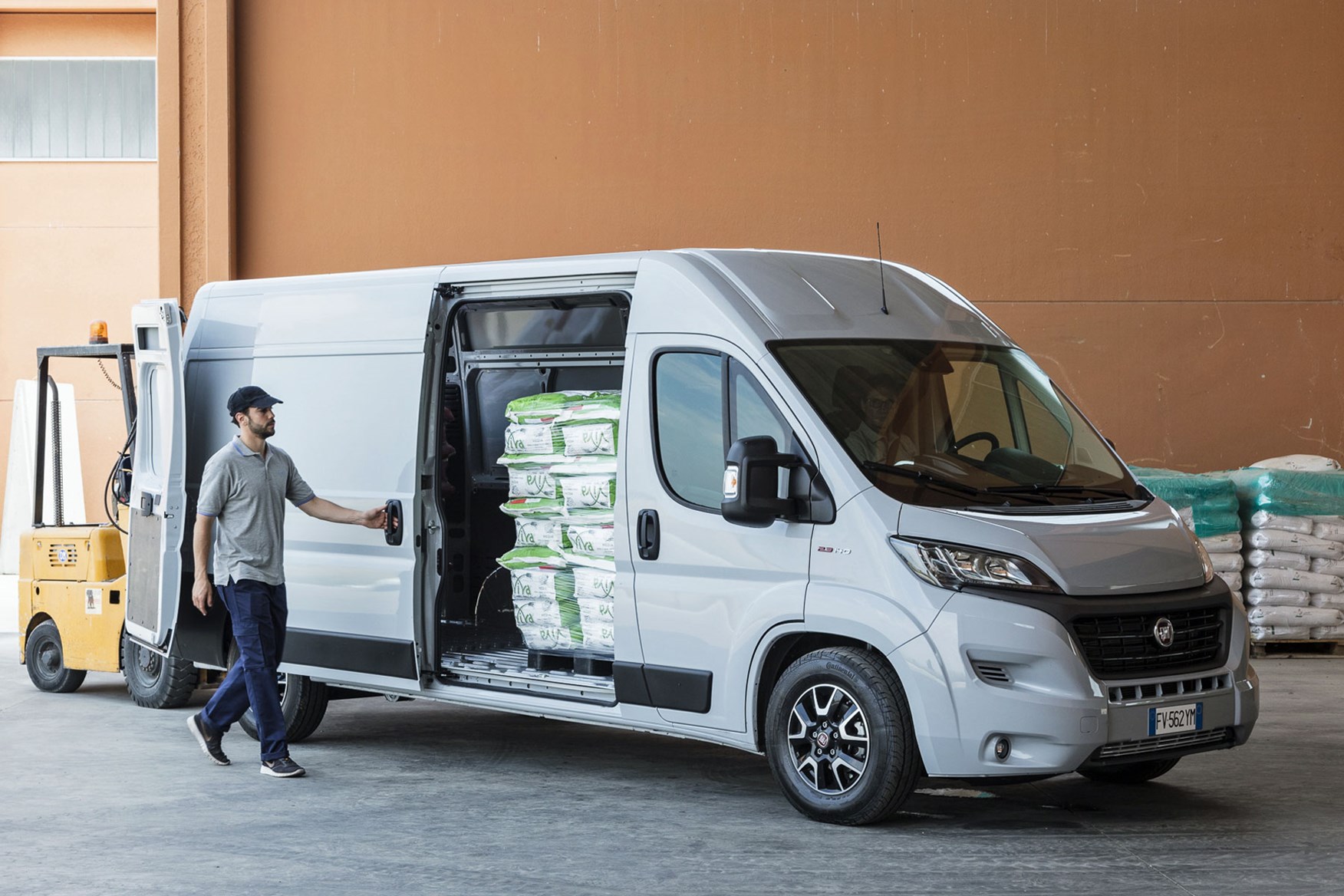 The top payload ratings of over two tonnes apply only to the highest gross vehcle weight (GVW) models, which are now rated to 4,250kg - the greatest of any front-wheel drive van.
If limited to vans you can drive on a regular car licence, 3.5t is the highest GVW allowed - and with a payload rating of up to 1,655kg available before the MY20 update, the Ducato has long been the top of the class.
After the MY20 update, the Ducato's ultimate 3.5t payload has fallen slightly, to a maximum of 1.605kg.
This is partly due to the addition of an AdBlue tank and other technical changes needed to meet the latest emissions standards (adding around 40kg to the van's kerbweight), but also due to Fiat discontinuing the lighter 2.0-litre engine in favour of an all-2.3-litre line-up.
Fiat Ducato Euro 6 (2016-2019) payload ratings:
Fiat Ducato panel van
3000 Wheelbase
3450 Wheelbase
4035 Wheelbase
4035XL Wheelbase
GVW light (kg)
3,000, 3,300, 3,500
3,300, 3,500
3,500
GVW maxi (kg)
3,500, 4,005
3,500, 4,005, 4,250
Payload light (kg)
955-1,655
1,050-1,615
1,115-1,540
1,065-1,495
Payload maxi (kg)
1,575-2,060
1,150-1,995
1,075-2,190
1,385-2,145
Fiat Ducato MY20 Euro 6D Temp (July 2019 on) payload ratings:
Fiat Ducato panel van
3000 Wheelbase
3450 Wheelbase
4035 Wheelbase
4035XL Wheelbase
GVW light (kg)
3,000, 3,300, 3,500
3,500
n/a
GVW maxi (kg)
n/a

3,500

3,500

3,500, 4,005, 4,250

Payload light (kg)
1,075-1,605
1,340-1,565
1,450-1,490
n/a
Payload maxi (kg)
n/a
1,485-1,525
1,410-1,450
1,360-2,095
You'll also note that the range has been slimmed down for the launch of MY20. If any of the other variants return, we will update this info.
>> Best large 3.5t vans for payload
Fiat Ducato towing capacity
The Ducato's maximum braked towing capacity is 2,500kg or 3,000kg, depending on version.
Unbraked it's 750kg.