Fiat Ducato review (2021)
Efficient engines and high payloads but it's an aging design
PROS
Plenty of power and torque
Very high payload ratings
Excellent on-paper fuel economy
Wide choice of variants available
Newer nine-speed automatic is great
CONS
Uncomfortable ride, poor seats
Cluttered, cheap feeling dashboard
Older Comfort-Matic auto isn't great
Noisy engines
Very much feeling its age
Summary
Fiat has been building Ducato large vans since 1981, and the model covered by this 2021 Fiat Ducato review is the sixth iteration. It was originally launched back in 2006, revised in 2011, facelifted in 2014, updated in 2019, and is now being upgraded again with another facelift, new engines and more technology for 2021.
The New Ducato, as Fiat is calling the 2021 model, is available with class-leading driver-assistance systems for added safety, lots more screens in the cabin and has adopted the same 2.2-litre engines used by the Peugeot Boxer, Citroen Relay and Vauxhall Movano.
We're yet to drive this version, but you can read more about it in our New Ducato news story.
In addition to this, 2021 will also see the Fiat E-Ducato electric van go on sale in the UK. With a long driving range and high payload ratings, this could well raise the bar for large electric vans.
Fiat Ducato: an elder statesman of the large van market
The Ducato shares its basic design and architecture with the Citroen Relay, the Peugeot Boxer and - as of 2021 - the Vauxall Movano. Tracing its origins all the way back to 2006 means that together with its cousins, this Fiat is one of the oldest vans on sale. This doesn't do wonders for the driving experience.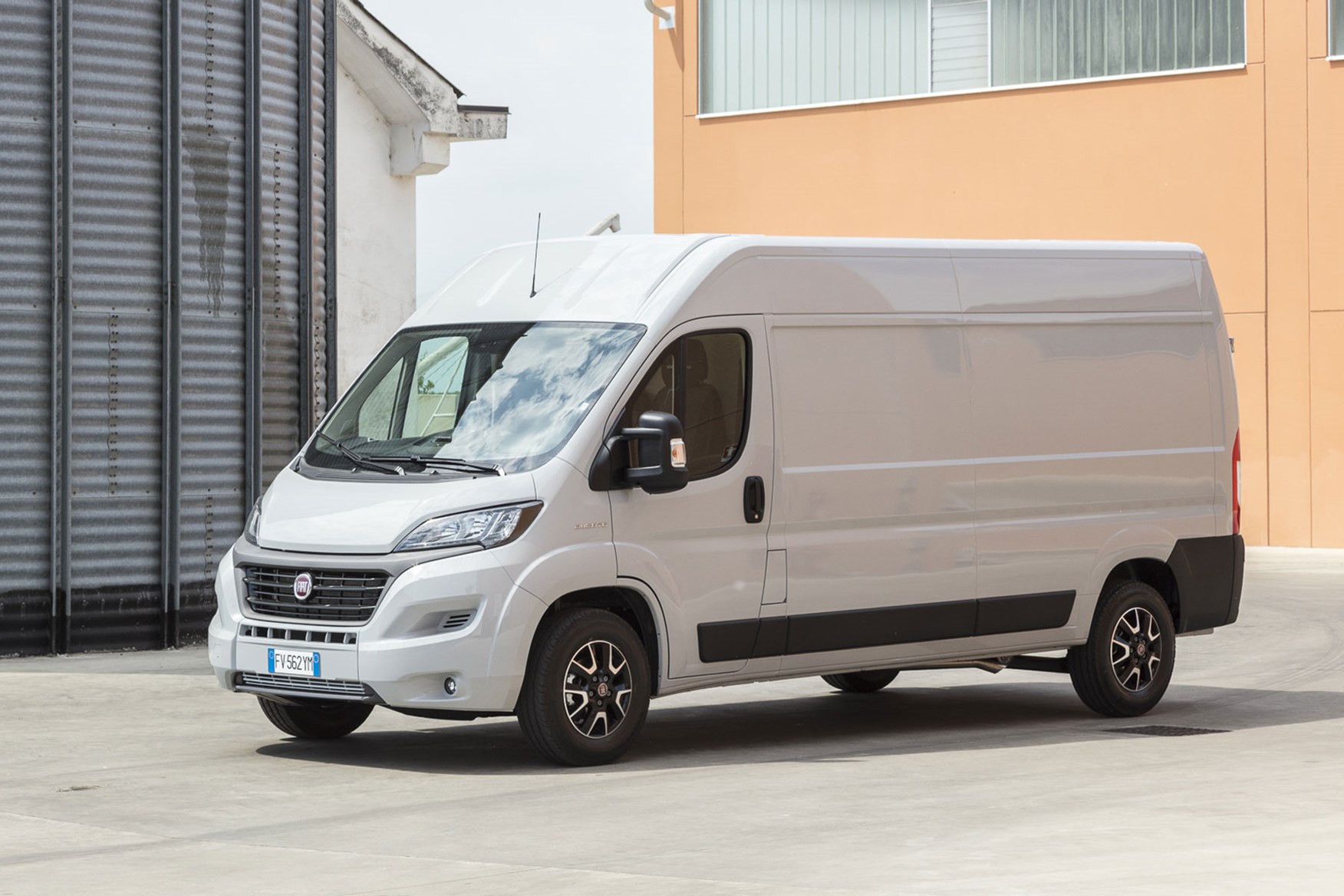 However, it has very high payload ratings, impressive on-paper fuel economy and a space-efficient load area; add this to Fiat's determination to keep it up-to-date, and the Ducato remains worth considering. It has always been popular for campervan and motorhome conversions, too.
Up until 2021, Fiat has always used its own engines – which have been specifically designed for commercial vehicle use – but as part of the New Ducato changes it's shifting to the same 2.2-litre units used by its relatives. Fiat, Vauxhall, Peugeot and Citroen are all part of one big Stellantis family of companies now, so this makes sense.
Huge variety from the Fiat Ducato
While the Fiat Ducato is only available in front-wheel drive, it still offers buyers an enormous amount of choice.
Fiat says it produces over 1,000 body variants across a range of panel vans, window vans, chassis cabs, chassis cowls, truck bodies, people movers and conversion platforms, and has in the region of 10,000 versions available in total.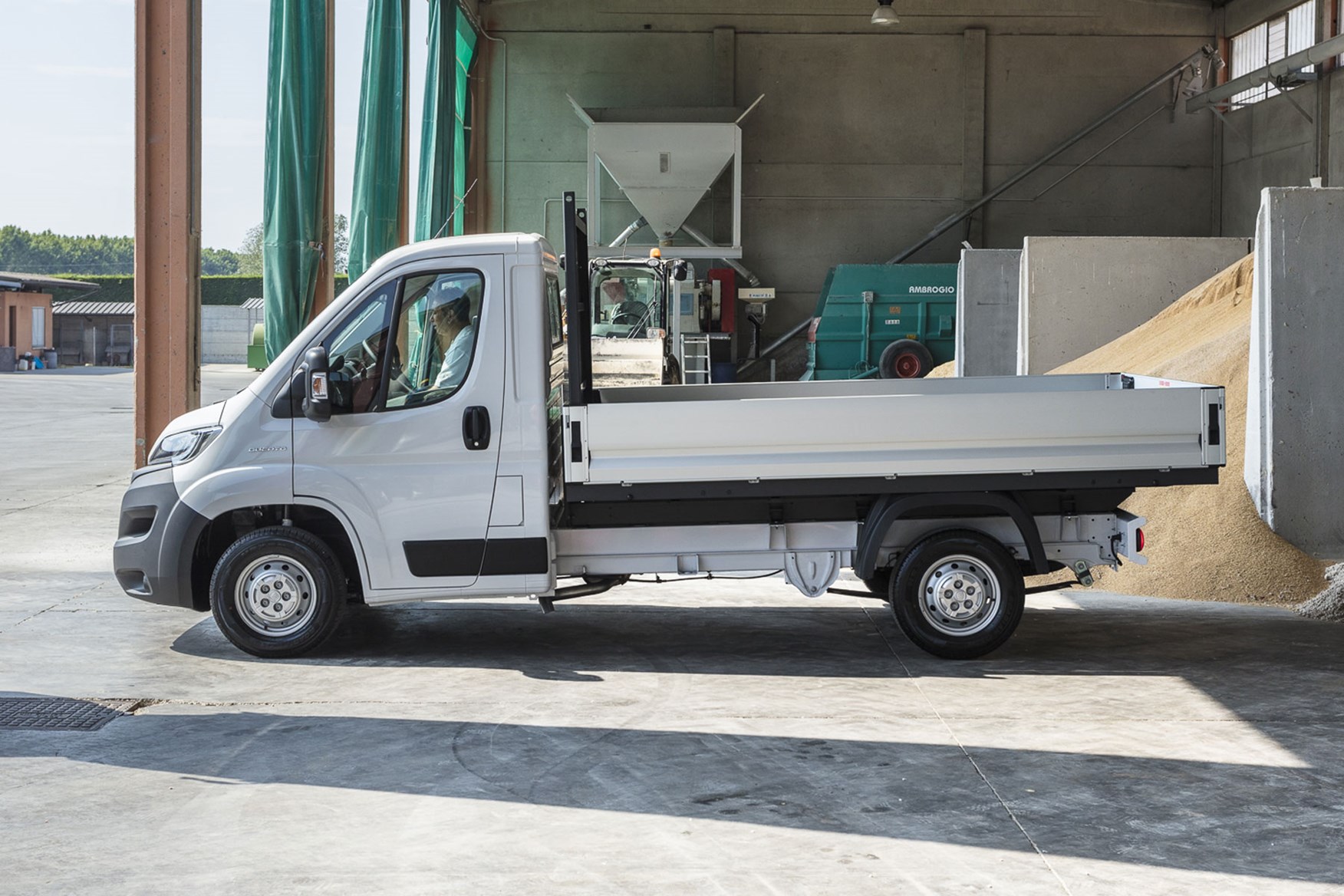 To be clear, not all of these are necessarily routinely offered in the UK, but this a big versatile machine, with four body lengths in van guise (up to six in other versions), three roof heights and three wheelbases.
Particularly useful for conversions is that all of the powertrain elements are confined within the dimensions of the cab area. This, plus a dedicated Fiat Camper department, is one of the reasons the Ducato is so popular among campervan and motorhome converters.
Fiat Ducato rivals
As the UK's bestselling large van, the Ford Transit is always worth a look. The Ducato smashes the Ford for payload, though, so you won't be able to carry as much in an equivalent Transit.
The Boxer, Relay and 2021 Movano are all but identical products; it will always be worth comparing costs between the four to see which firm can give you the best deal.
Alternatively, the Renault Master, Nissan NV400 previous-related Vauxhall Movano also carry plenty, and are only marginally newer in design.
Finally, the Volkswagen Crafter, MAN TGE and Mercedes-Benz Sprinter are all far more modern than the Fiat, with lower payloads and higher prices – but are also much nicer to drive and more modern inside.
Is there an electric Fiat Ducato?
Yes. Called the Fiat E-Ducato, it has some of the most impressive specifications of any large electric van - especially in terms of payload.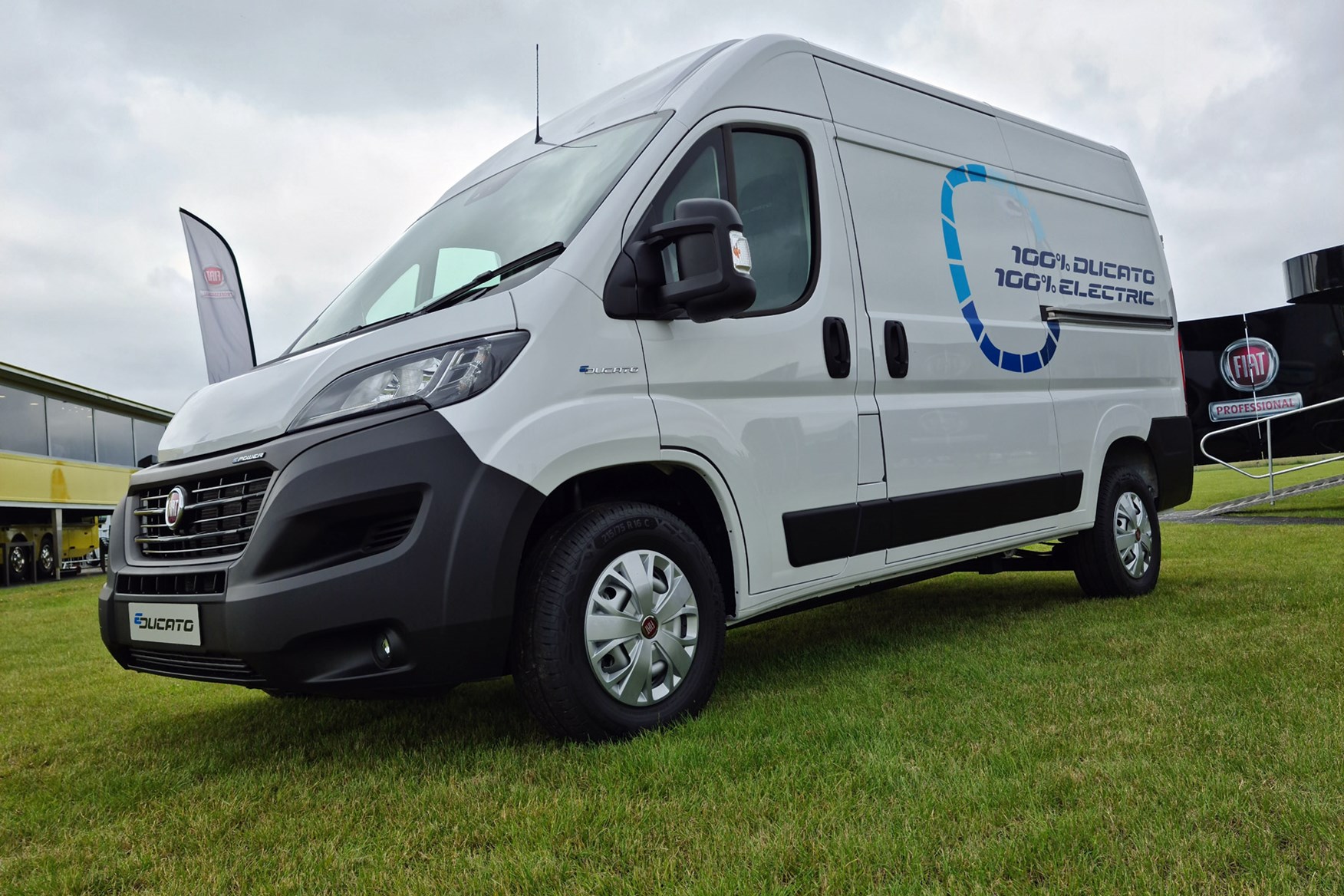 We'll cover it properly in a separate review, soon, but in the meantime you can find out all the latest details in our Fiat E-Ducato news story.
---

Fiat Ducato verdict
This is not a van to choose if comfort is a high priority – the ride is firm, the engines noisy and the driving position slightly awkward. If you do long distances on a regular basis the Ducato isn't the greatest choice.
However, with high payloads, good fuel economy, plenty of space and a lot of build options, the Ducato is a proper workhorse.
For details of the Ducato's dimensions and payload capacity, see our dedicated Fiat Ducato specification page. Otherwise keep reading for the full review.
Skip to our full verdict on...
Powerful – but noisy – engines
Uncomfortable ride
Excellent nine-speed automatic (from mid-2019)
If there's one area where the Ducato really shows its age it's the driving experience. While the engines have plenty of performance and the turning circle is good, this is not a comfortable or refined van by the latest standards, making longer journeys a chore.
Note: Fiat has just announced a new range of engines for the Ducato as part of the 2021 New Ducato facelift. We are yet to drive these, but you can read about them in our news story and we will update this review as soon as we've been able to give them a try.
>> New Ducato - full details of Fiat's latest large van
Engines at launch in 2011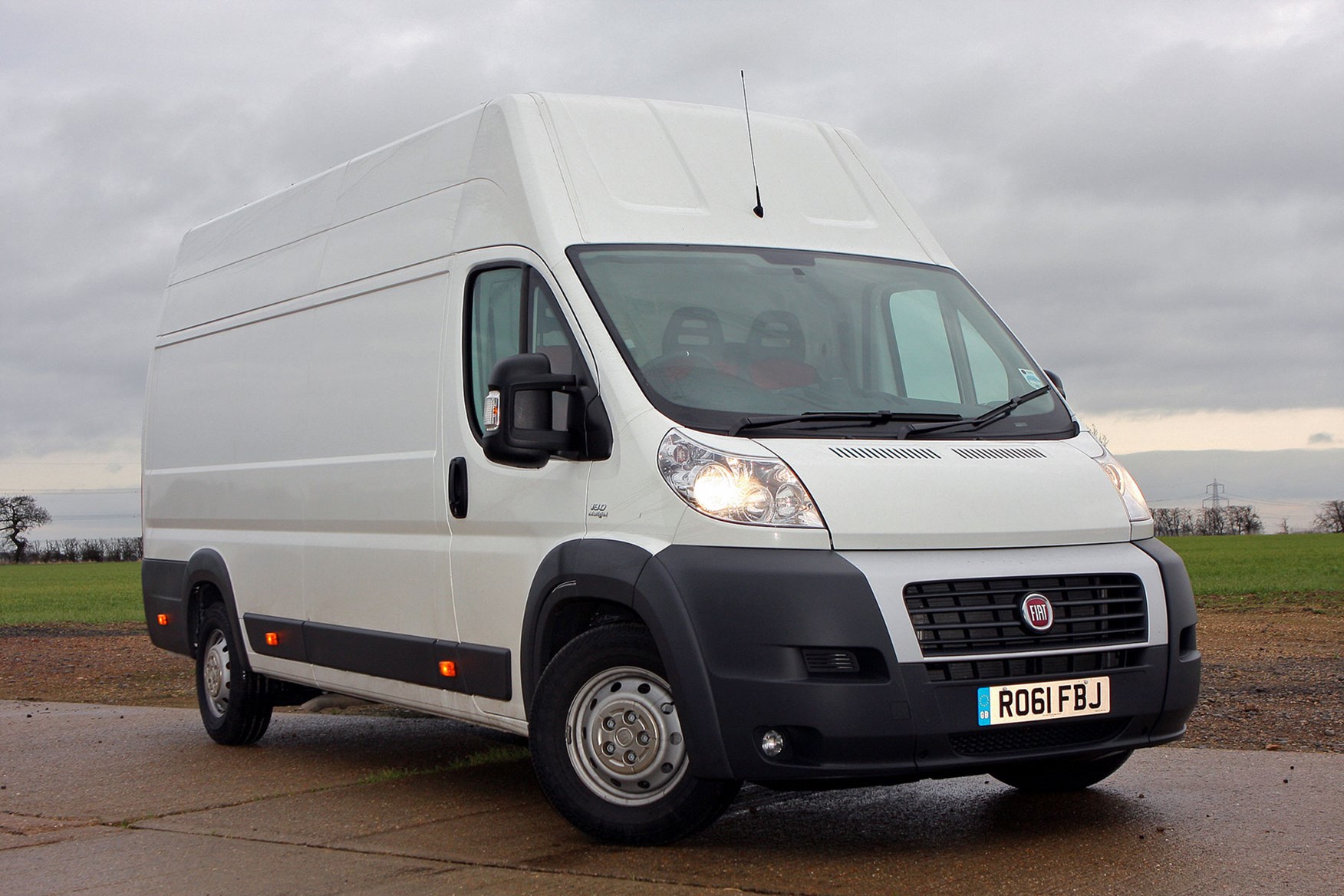 This generation of Ducato launched with the following choice of MultiJet turbodiesel engines:
110hp / 300Nm 2.3-litre
130hp / 320Nm 2.3-litre
150hp / 350Nm 2.3-litre
177hp / 400Nm 3.0-litre
All were rated to Euro 5+ emissions regulations.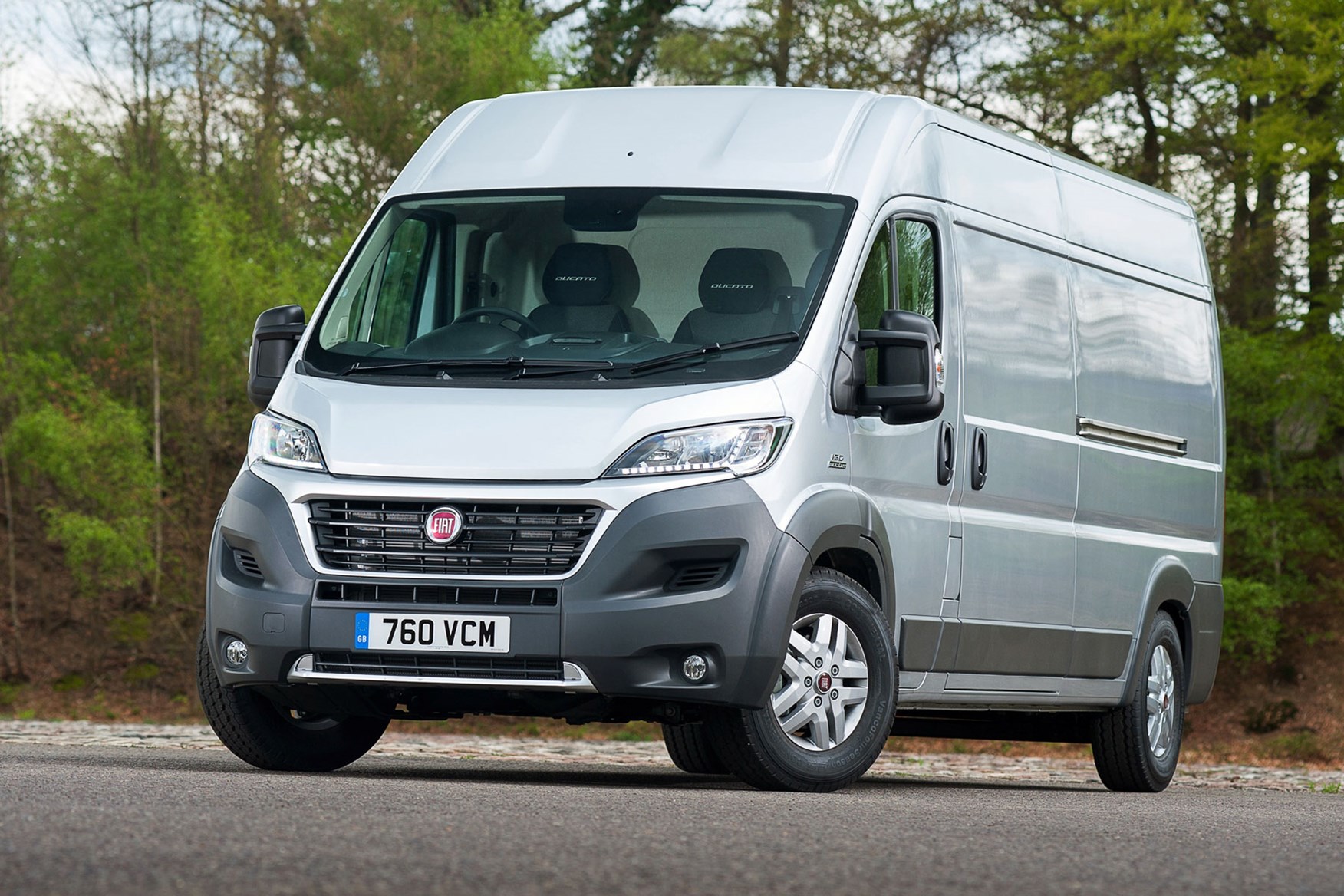 At the time we described them as 'pulling well while remaining quiet and refined', but the large van segment has moved on quite a bit since then, and though there's no arguing with the performance, we'd no longer agree about them being quiet or refined.
On the other hand, it probably is less noisy inside than a Renault Master.
First Euro 6 engines from mid-2016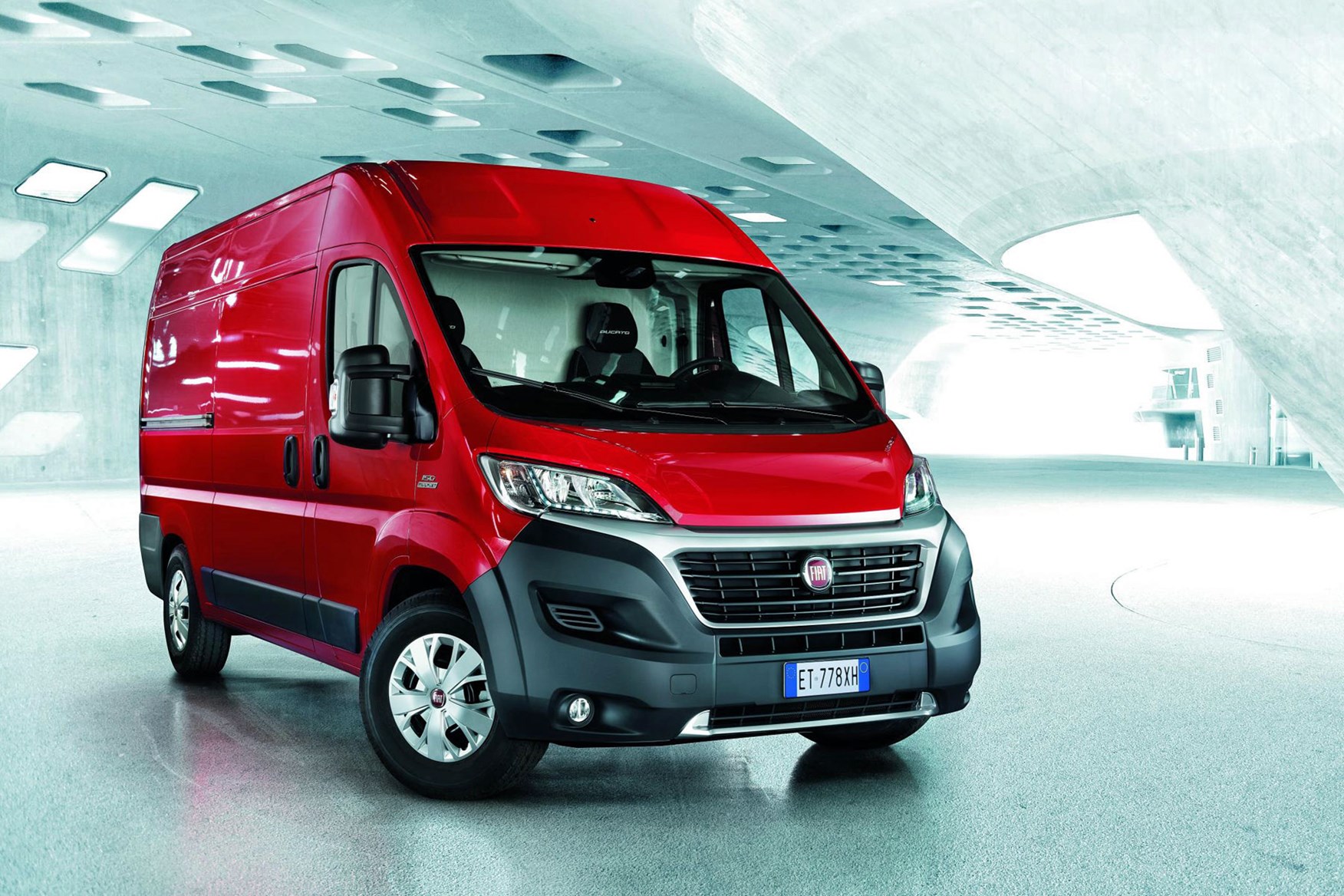 Ahead of the introduction of the first round of Euro 6 emissions regulations in September 2016, Fiat revised the Ducato's engine line up as follows:
115hp / 290Nm 2.0-litre
130hp / 230Nm 2.3-litre
150hp / 380Nm 2.3-litre
177hp / 400Nm 2.3-litre
As you can see, this update added an entry-level 2.0-litre engine – which claimed class-leading fuel economy of 47.9mpg at the time – with more power compared with the low-end 2.3 it replaced, but slightly less torque.
It also saw the 3.0-litre engine replaced with a 2.3 that matches its power and torque output (albeit across a narrower band of revs), but with better fuel economy and lower emissions.
It's worth noting that these Ducatos meet their Euro 6 standard without using selective catalytic reduction (SCR) technology – meaning they don't require AdBlue, in turn helping them to achieve class-leading payload ratings.
They were the only large vans to avoid SCR at this time.
MY20 engines from mid-2019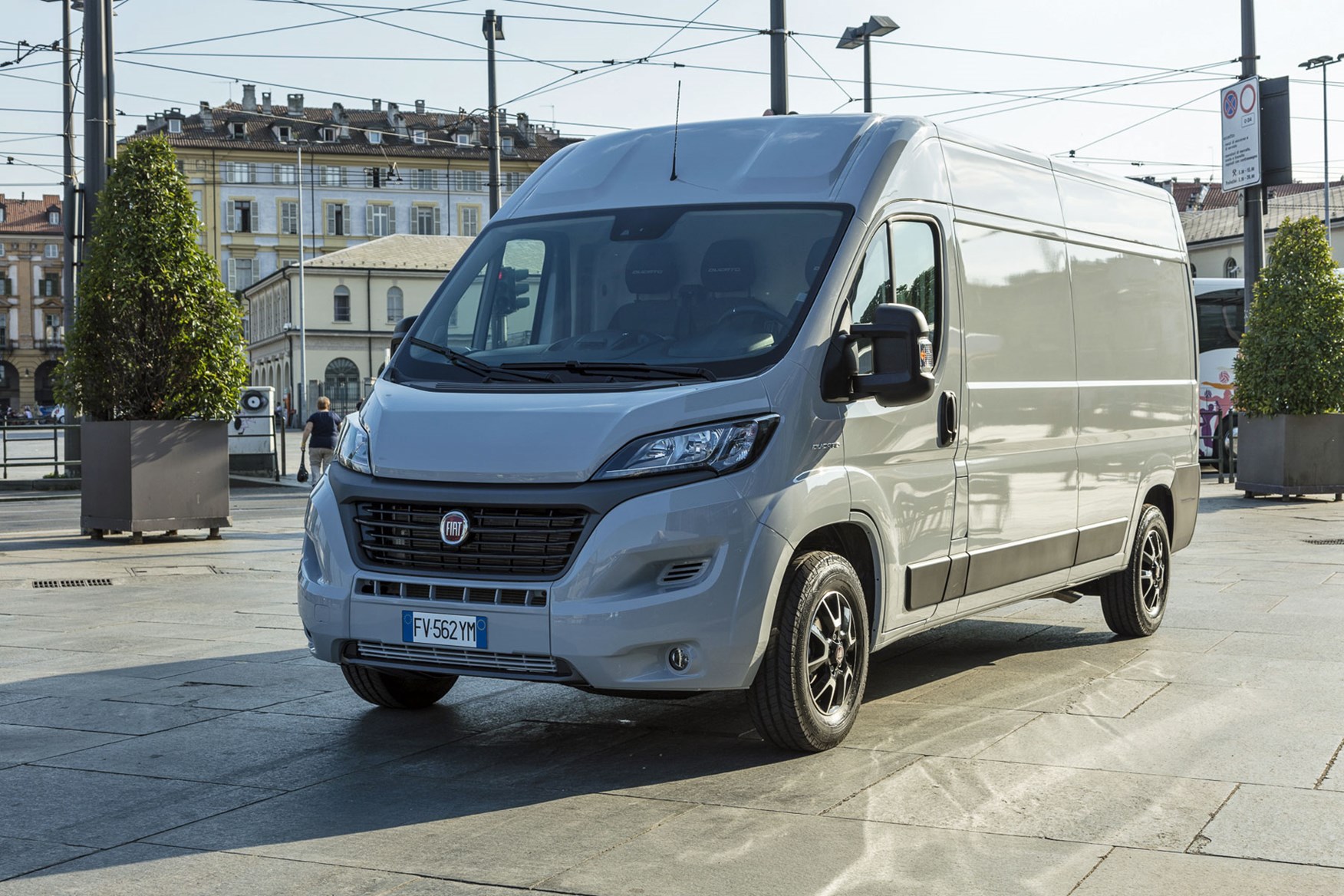 In September 2019, the Euro 6 emissions regulations get tougher as they move to the Euro 6D Temp standard. This has forced Fiat to make further changes to the Ducato's engine line-up:
120hp / 320Nm 2.3-litre
140hp / 350Nm 2.3-litre
160hp / 380Nm 2.3-litre (400Nm with optional automatic gearbox)
180hp / 400Nm 2.3-litre (450Nm with optional automatic gearbox)
Now it's all 2.3-litre engines, which Fiat says is for the sake of simplicity. The motor has been overhauled at the same time, switching to variable-geometry turbos for improved response and efficiency.
Power and torque goes up at the lower end, while the addition of a new fully-automatic gearbox option on the more potent engines gives Fiat the flexibility to increase torque where this is fitted (due to the additional strength of the new transmission).
However, the new regulations require high-pressure exhaust gas recirculation (EGR), so Fiat's previous use of low-pressure EGR to control emissions is no longer available, forcing the firm to adopt SCR technology just like everyone else.
This not only means you now have to keep an AdBlue tank topped up in order for the Ducato's engines to function, the addition of this tank and other changes causes kerbweights to increase by about 30kg – and so sees some payload ratings fall by a similar amount.
An Eco Pack also will be fitted as standard from September 2019, which as well as adding stop-start technology to the 120hp and 140hp engines (the 160hp and 180hp models already feature this as standard) includes an intelligent alternator and electronically controlled fuel pump to reduce fuel consumption.
What's the new nine-speed automatic Ducato like?
The standard six-speed manual gearbox in the Ducato is a slightly clunky affair. Not awful, but not something that likes to be rushed – second to third in particular can be troublesome if you try and move the lever too fast. It never takes us long to get used to it, but there are better van gearboxes.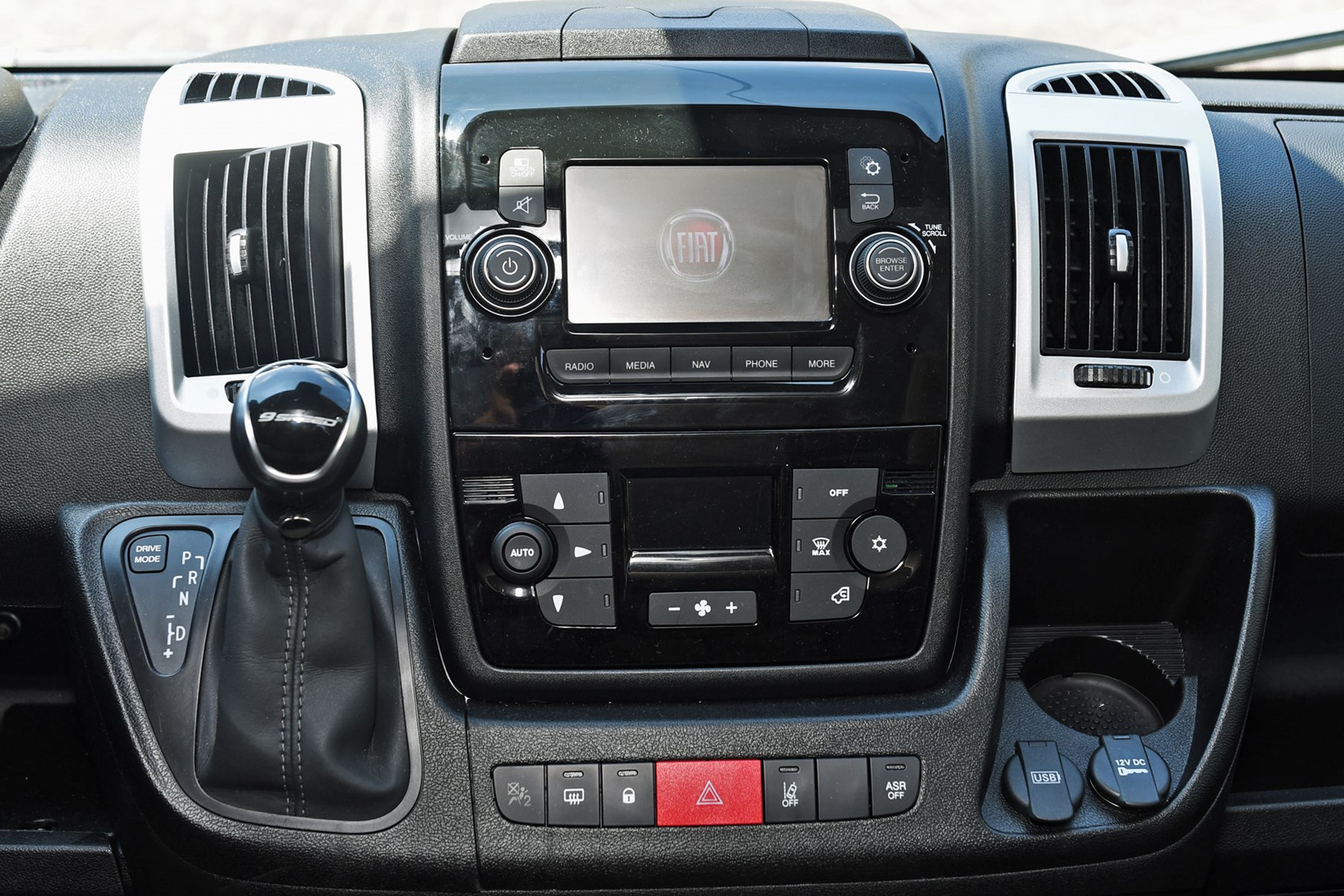 However, the nine-speed automatic option, introduced as part of the 2019 MY20 update and officially labelled 9Speed, is among the very best self-shifting choices in the van marketplace.
Smooth, speedy and generally untroublesome, you can simply leave this transmission to its own devices and it does a great job. And since the extra ratios allow the engine to turn over and much fewer revs per minute (rpm), it also helps make the Ducato quieter at speed.
It's not quite so hot on engine braking, although that may improve with more time to get used to the number of gears, and at least the manual control works like a racing car – pull the lever back to change up, push the lever forward to change down – which is more intuitive than the alternative.
The worst bit about it is the button that switches between Normal, Power and Eco driving modes, which feels incredibly cheap and nasty.
Regardless, it's a massive step up over the previous Comfort-Matic auto option, which was slow-witted to say the least, being a robotised manual gearbox rather than a true automatic.
What's the Ducato like to drive?
The ride is uncomfortable over all but the smoothest surfaces, proving both firm and bouncy – something that loading the rear reduces but doesn't completely eliminate.
This translates into a rolling, slightly uncontrolled feel to faster cornering, even within the context of it being a large van. Similarly, the steering is reasonably well weighted but offers very little feedback – a combination that hardly encourages quick driving anyway.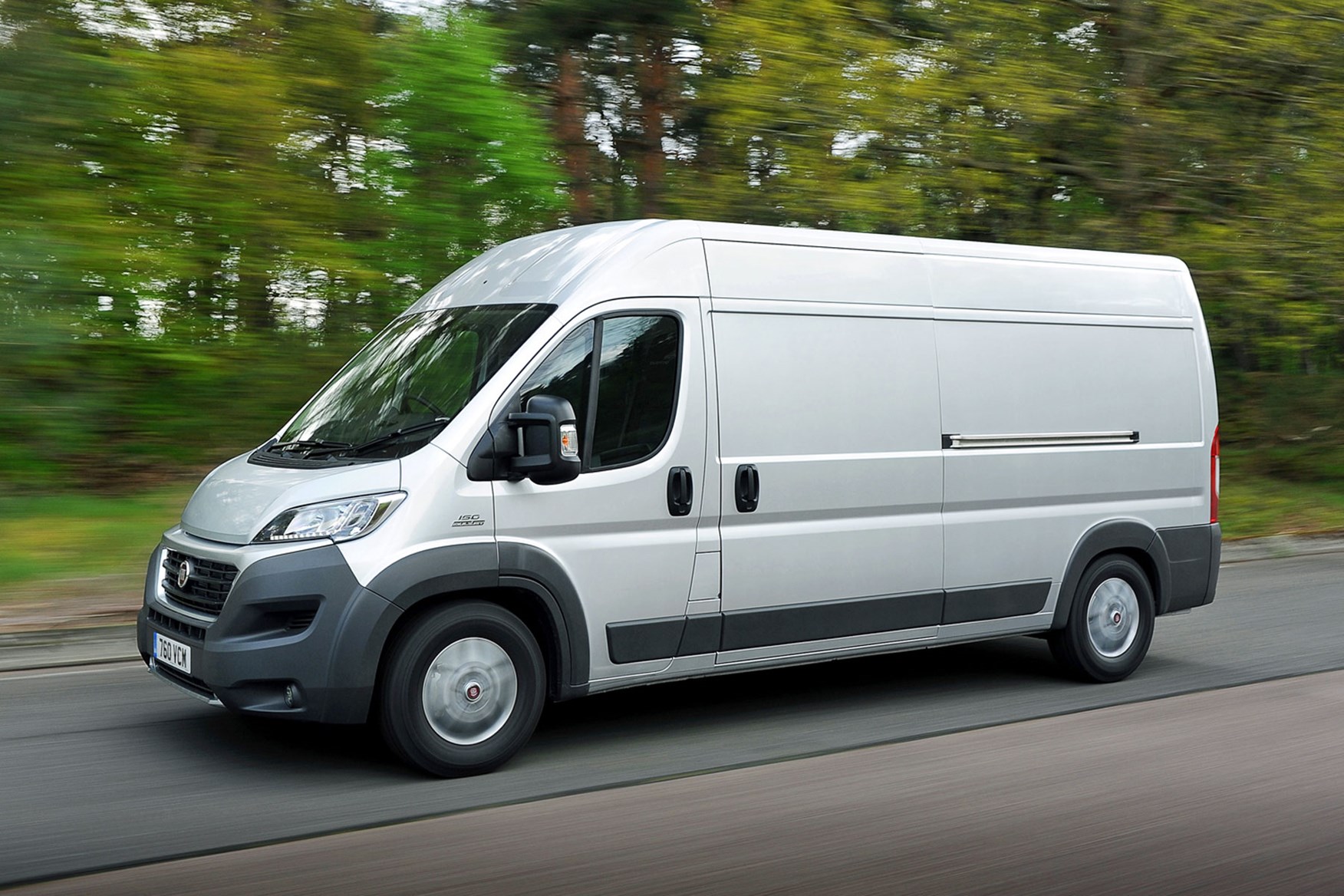 The turning circle is good for such a large vehicle, and despite some visibility issues caused by the divided side windows, the Ducato is easy enough to manoeuvre around city streets, even highly competitive Italian ones.
The engines have always been strong, although we've never been given the opportunity to test the 2.0-litre model while it was available. Compared with rival 2.0-litre large vans, the extra engine capacity of the 2.3-litre motors is surprisingly noticeable, giving the Ducato a strong, muscular disposition.
But you can also hear too much of them in the cab when accelerating, and together with the shuddery standard suspension tuning this conspires to underline the Ducato's age.
The compromises required by the driving position don't help, but more on these in the Interior section below.
Ducato suspension choices
Fiat offers 10 different suspension choices to Ducato buyers, from the standard set-up to self-levelling air springs and the more recent addition of composite technology, which is 15kg lighter than conventional steel springs (and therefore boosts payload by the same amount).
Driving position not ideal
Lots of storage space
Small touchscreen (until September 2019)
Another aspect of the big Fiat that falls behind the latest rivals, the Ducato's cab has poor ergonomics, an unattractive design and doesn't feel especially good quality in places.
However, there are still plenty of practical places to stash stuff, and the infotainment has been upgraded in 2019.
What's the Ducato's driving position like?
Not great. If you're much over six-feet tall, you may struggle to get comfortable in a Ducato van – the closeness of the bulkhead means you may find the seat backrest needs to be very upright to make space for your legs, and even then they may end up touching the lower dashboard.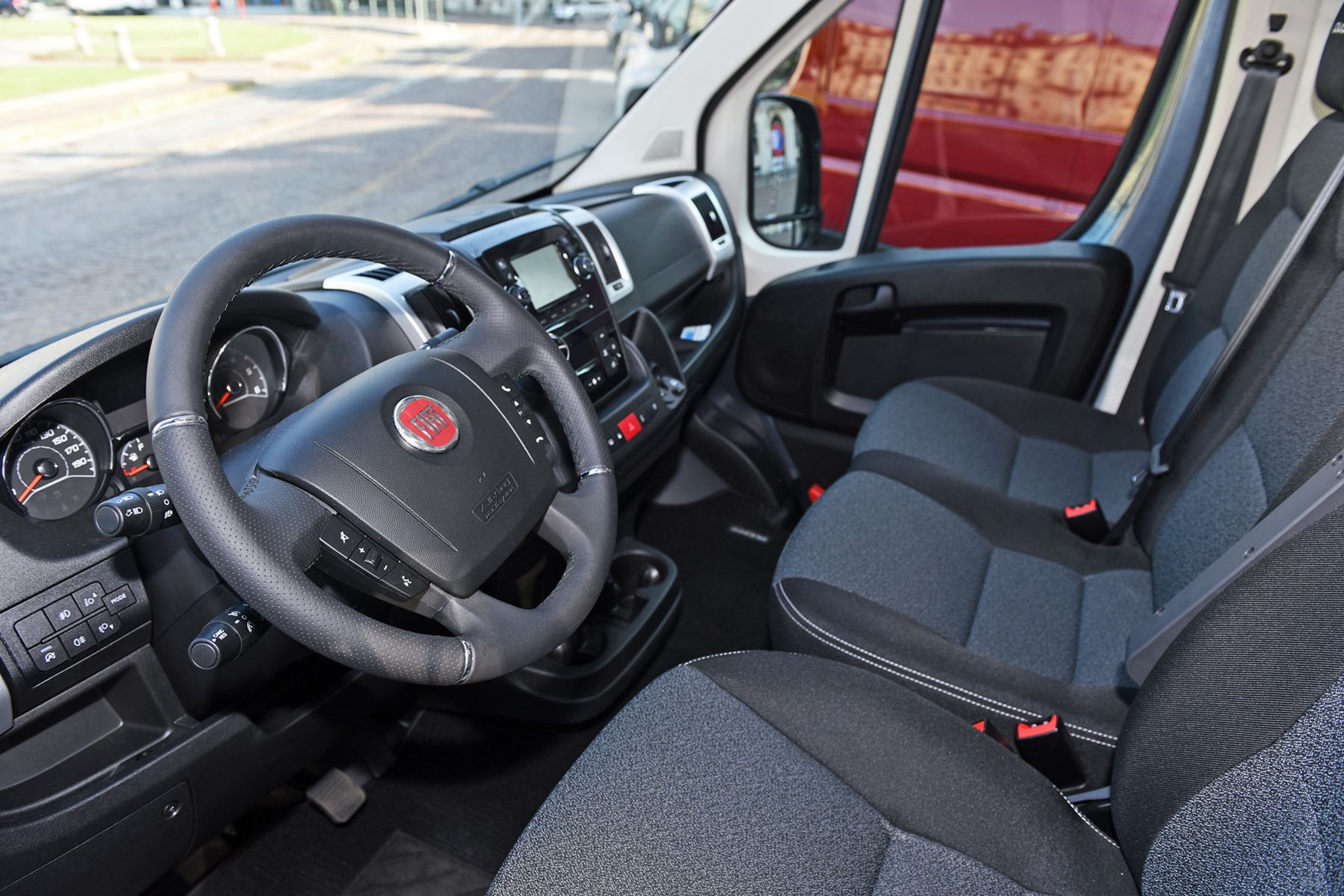 Sadly, if you're much shorter than six-foot, you'll also find yourself having to stretch your arms to reach the steering wheel and the gearlever; the steering wheel does adjust for rake and reach, but the former still ends up with it angled like a bus (which isn't great for your wrists) and the latter doesn't extend very far.
This situation will probably be fine if you're travelling short distances, but is likely to become tiresome over longer journeys, despite plenty of adjustment available from the driver's seat itself. The passenger bench seat is firm and upright as well.
You can, however, option a suspended driver's seat, which does help smooth-out the Ducato's bumpy ride quality.
Storage solutions
The Ducato isn't short on storage space, with large bins below the centre console, large door pockets, an overhead shelf and covered dash-top cubbies as well.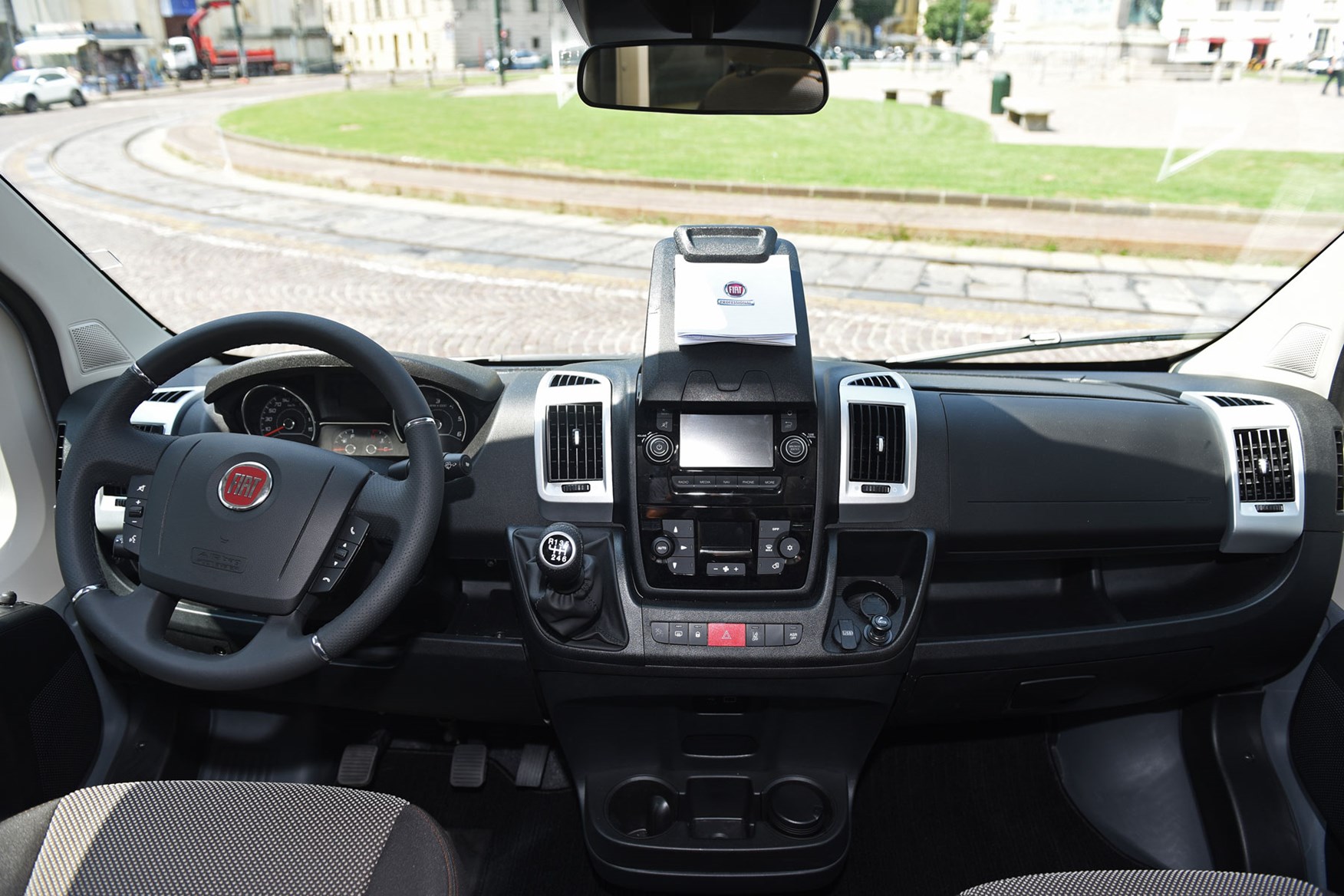 There is space beneath the dual passenger seat, too; this also includes a fold-down centre back section that doubles as a desk.
The top of the centre console can be optioned with a pop-up clipboard, which has been repurposed as a phone / tablet holder in later versions.
Build quality
The Ducato's plastics neither look nor feel especially high quality, while some of the buttons are actually quite nasty to the touch. The locking lever for the optional tablet holder seems a bit fragile for long-term use, too.
Yes, it's a van – but rivals give you more luxurious surroundings, with a greater sense of longevity.
Creature comforts and infotainment
Currently, all models get Bluetooth connectivity and all but the base model get air-conditioning and a touchscreen infotainment system, including sat-nav.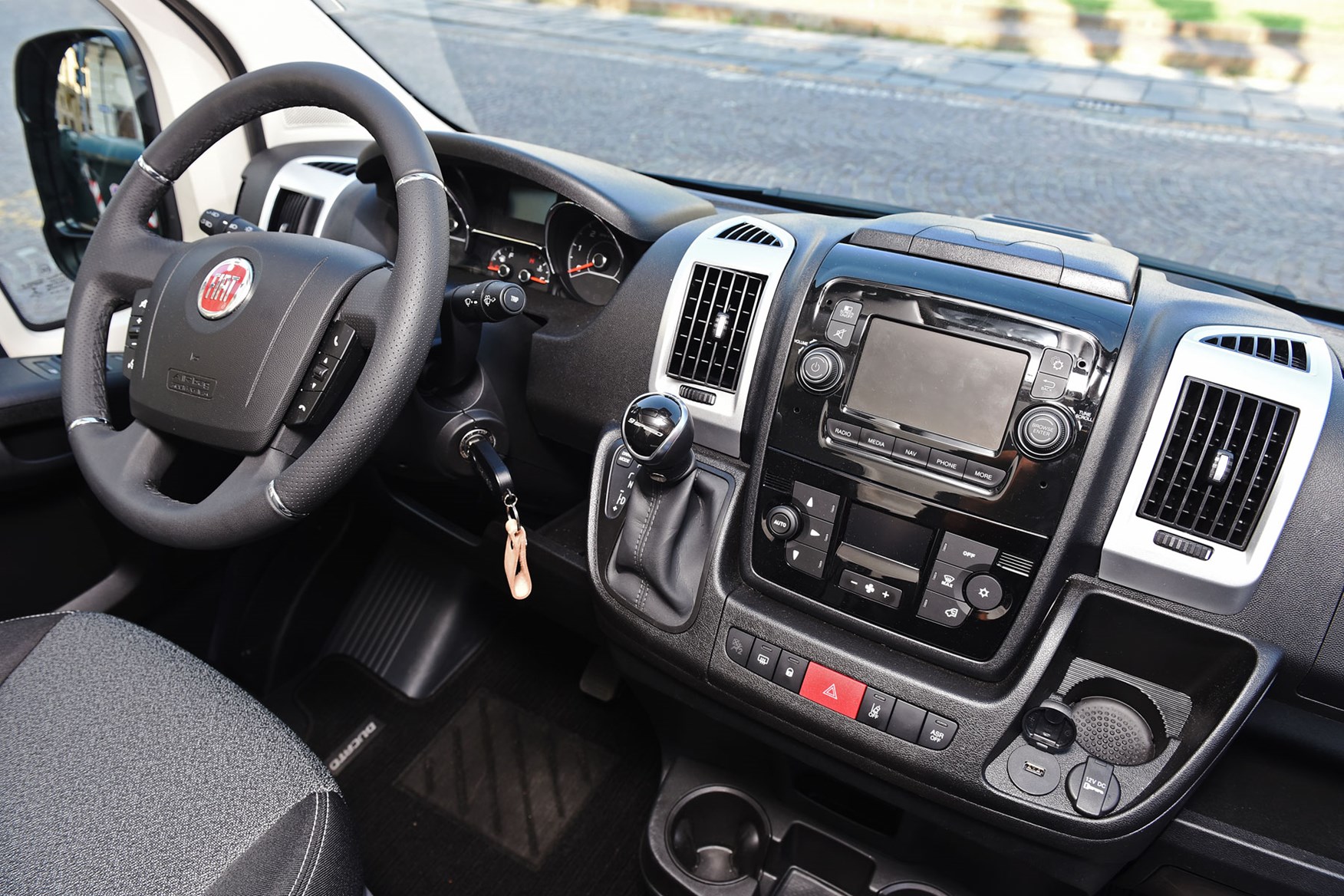 The touchscreen is a tiny 5.0-inch unit, however, and not the easiest thing to use.
An upgraded 7.0-inch infotainment system is available from September 2019, complete with Apple CarPlay and Android Auto integration.
Class-leading on-paper fuel economy
Cost-saving design features
Not particularly generous standard kit
The big advantage to the Ducato being one of the elder statesmen of the large van sector is that it doesn't weigh very much. This is good news not only for payload – but also running costs.
Generally speaking, the lighter the vehicle, the less fuel it uses.
On top of this, the Ducato also has some cost-saving design features, and decent service intervals.
Fiat Ducato mpg
The most fuel-efficient Ducato based on the official testing figures is the 2.0-litre 115hp version, on sale 2016-2019, which claims as much as 47.9mpg – the best in the large van class.
The 130hp version of the 2.3-litre engine of the same era claims 46.3mpg.
UK fuel economy figures for the MY20 Ducato on sale from July 2019 are yet to be officially announced, but we'll update this page once we know more.
This big van is set to become even more efficient in September 2019, when all versions get a new Eco Pack as standard – including not only start-stop technology but also a smart alternator and electronically controlled fuel pump.
Fiat Ducato service intervals
Service intervals are set at two years or every 30,000 miles, whichever is sooner.
This is one of the longest service intervals of any van.
Fiat Ducato warranty
The Ducato comes with a two-year manufacturer warranty, plus a further 12 months' cover provided by the retail network.
However, in July 2019, Fiat launched a new '555 campaign', boosting the warranty coverage to five years or 125,000 miles (whichever comes sooner) on Tecnico and Sportivo versions of all its vans, including the Ducato.
The package also includes five years' servicing and roadside assistance as well, and is available 'until further notice'.
Money-saving design features
Fiat enhanced a number of key components during the 2014 facelift, including brakes, clutches, front suspension, hinges and seals – all in an effort to help them last longer.
The fundamental design of the van is intended to help keep costs down, too, with features such as three-piece bumpers from 2014 (so you can replace just the damaged section; on all but top spec Sportivo models these are unpainted, too) and high-set lights placed above the usual points of contact for minor bumps.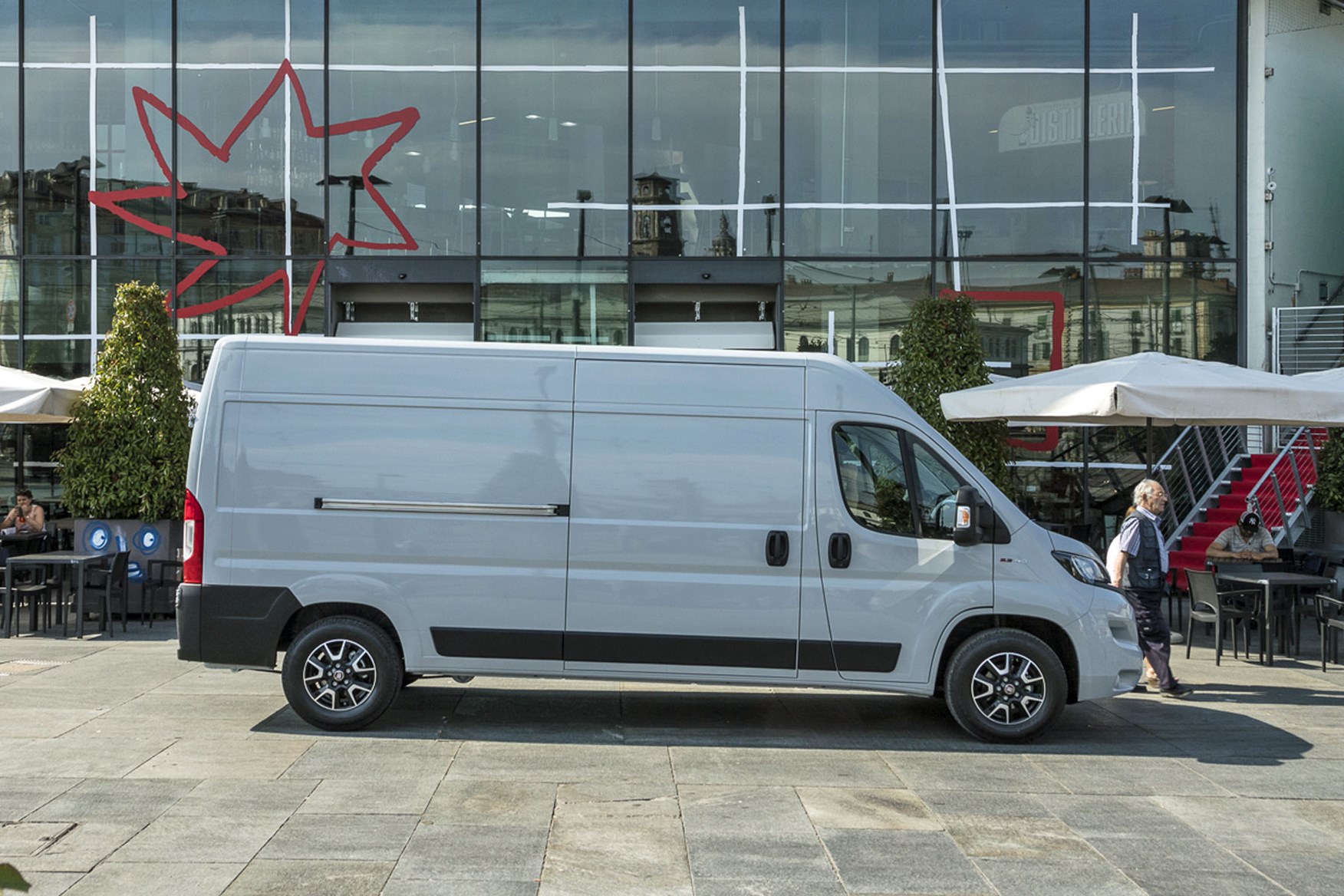 The lights themselves are supposed to be easy to remove and replace, ditto for the bulbs inside them.
The 2014 update also improved bonnet access, reducing servicing time.
Fiat Ducato trim levels and standard equipment
The MY20 Ducato on sale from mid-2019 comes in three trim levels: standard (or base), Tecnico and Sportivo.
These are the main items of standard kit – though for details of safety and security see the safety section below.
Fiat Ducato standard equipment highlights:
Bluetooth connectivity
Steering wheel audio controls
Driver's seat lumbar adjustment and arm rest
Electric, heated door mirrors
Dual passenger seat
Heated diesel fuel filter and blow by tube
Tyre repair kit (instead of spare wheel)
Full steel bulkhead
Fiat Ducato Tecnico standard equipment highlights (in addition to base model):
5.0-inch touchscreen infotainment system
DAB radio
Sat-nav
Air-conditioning
Cruise control with variable speed limiter
Rear parking sensors
Fiat Ducato Sportivo standard equipment highlights (in addition to Tecnico):
Reversing camera
High level instrument panel
'Saddle' headrests with Ducato logo
LED daytime running lights
Front fog lights
Metallic black paint
Painted bumpers
Black grille with chrome bars
16-inch alloy wheels
Techno dashboard finish
While it's not unusual to find people complaining about older Fiat Ducatos, this generation seems to have few common faults.
And, considering it's been on sale since 2011, there haven't been many safety recalls either.
More widespread issues include an electronics problem that potentially stopped the dashboard, the airbags and the ABS from working, a potential EGR (exhaust gas recirculation) pipe failure and a possible intercooler pipe failure.
Recalls affecting fewer vehicles include some fuel line problems, camshaft failure and a situation where some versions were fitted with the wrong tyres.
All these issues should have been repaired at no charge as part of the recall process, but if you're buying used it's probably worth checking that nothing's been missed.
Some active safety aids available at extra cost
Standard kit on most models is limited to ESP and an airbag
Base models get dead locks but no alarm
Earlier versions of this Ducato have very limited safety equipment, but things have improved over time, with a number of modern active safety aids now available (if mostly at extra cost).
Fiat Ducato safety
The Ducato only got electronic stability control as standard on every model in 2014, so if you're hoping for a host of latest active safety aids included in the price you're better off looking elsewhere.
You do get a driver's airbag and a full steel bulkhead, but that's about it – unless you're looking at heavier 4,000kg or 4,250kg gross vehicle weight (GVW) versions, which also include lane-departure warning and advanced emergency braking (better known as autonomous emergency braking, or AEB) as standard.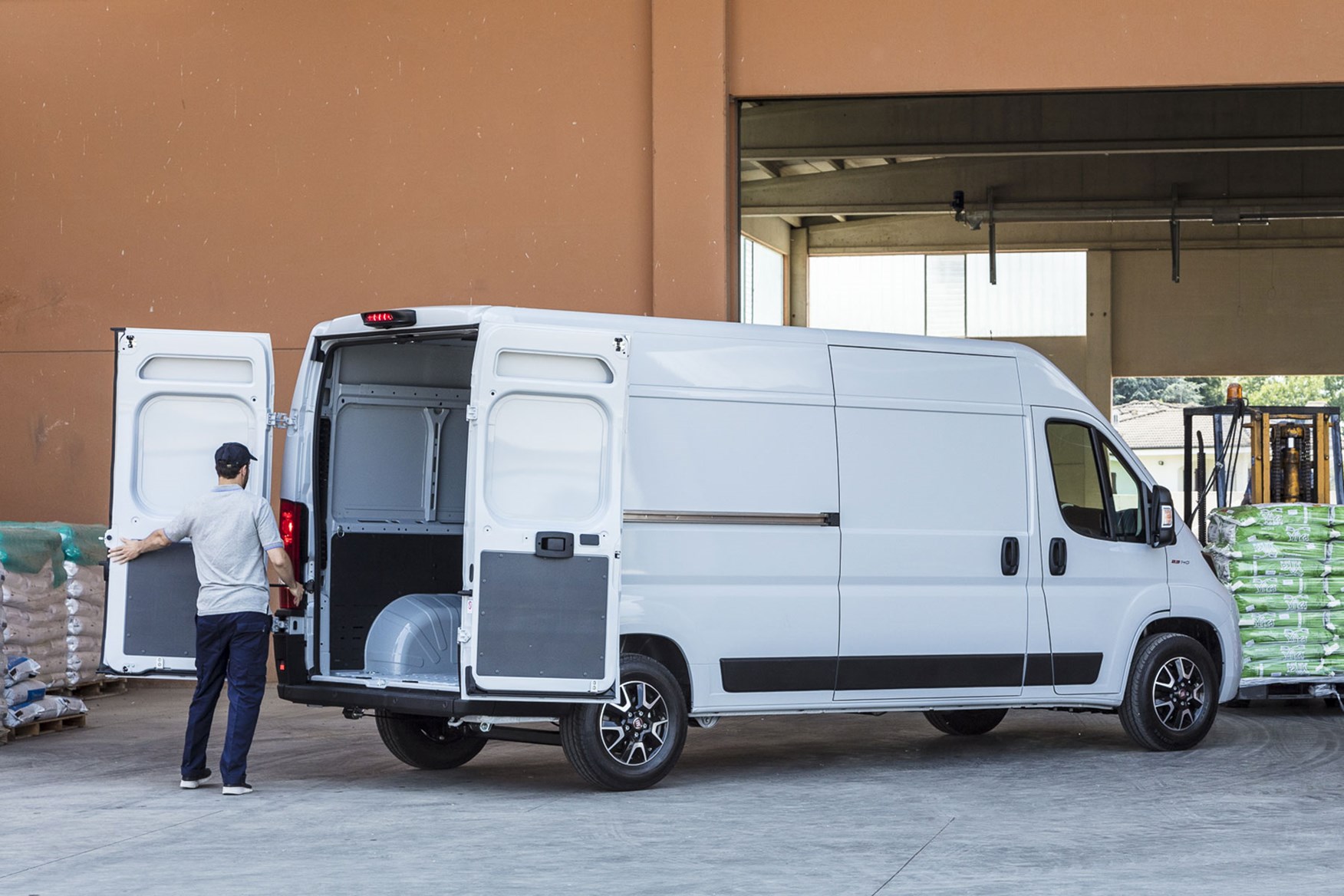 These are optional on the rest of the range, alongside traffic sign recognition, automatic high-beam assist and tyre pressure monitors. As of the 2019 MY20 update, Fiat has also made blindspot monitors and rear cross-traffic alert available.
The Ducato is not available with crosswind assist.
During our testing of the Ducato, we've found the lane-departure warning system only works erratically, and weren't especially impressed with the vigilance of the AEB system, either. So don't think you can totally rely on these to keep you out of trouble.
Euro NCAP Bronze award
The Fiat Ducato has received a Bronze rating from Euro NCAP, as part of the crash-test body's campaign to name the best and worst vans for safety, launched in December 2020.
Fiat Ducato security
All models get deadlocks as standard. The Tecnico trim adds an alarm system.
Which Fiat Ducato is best for me?
The Ducato comes in such a wide range that Fiat almost certainly offers a variant that will suit what you intend to do with it – although anyone after a rear-wheel drive vehicle is obviously out of luck, and don't pick one of these if comfort is a major priority.
Which Ducato engine is best?
With its high payload capability, one of the more powerful engines is recommended, though with increased torque at the lower end of the range, the entire MY20 engine line-up should serve well enough.
The previously available 2.0-litre engine is efficient, but likely to be strained when worked to the maximum (reducing its real-world mpg), and while the older 3.0-litre motor will feel deeply torquey, the 2.3-litre engines that match or exceed its power output should prove far cheaper to run.
Which is the best Ducato trim level?
The Tecnico trim level is the sweet spot of the range, with air-con and an alarm as standard among many other additional features – all at a very modest cost increase over the standard specification.
Sportivo looks fancy, but is mostly window dressing in comparison, plus painted bumpers that will be more expensive to repair. We'd stick to Tecnico.
Should I buy the Ducato nine-speed auto?
If this is a consideration, we'd go for it. The 9Speed gearbox is smooth in operation, keeps the engines quieter and makes the Ducato a doddle to drive. It'll also reduce running costs over time, as there is no conventional clutch for clumsy drivers to damage.
It's a huge improvement over both the standard six-speed manual transmissions and the previous Comfort-Matic auto, and likely to be a big hit with buyers of Ducato-based motorhomes (which were beginning to lose ground to VW Crafter conversions with that van's eight-speed auto) as well as businesses that operate in high traffic areas or with lots of stops and starts.