Fiat Fullback pickup review (2016-2019)
PROS
Good value for money
Fuel efficient
Great off road
CONS
Limited choice of trim levels
Small load area and payload
Can't tow 3.5 tonnes
Summary
The Fiat Fullback is a 1.0-tonne pickup truck based on the Mitsubishi L200 – and built in the same factory in Thailand. The 1.0-tonne part refers to both its payload and its light commercial vehicle (LCV) tax status, which means you'll pay less tax on one of these than you would on most regular cars and SUVs.
Van and pickup taxation – everything you need to know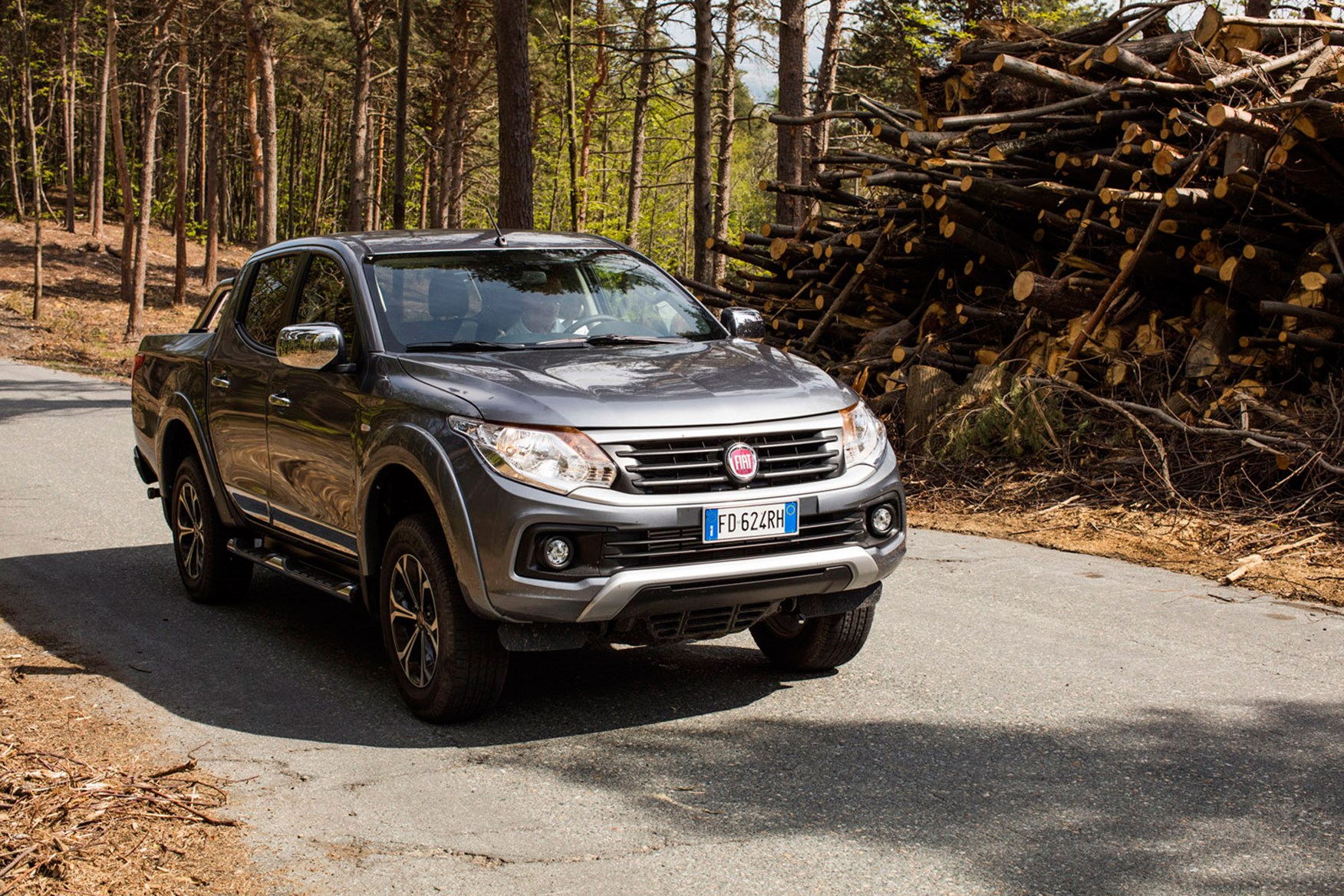 Initially sold only by Fiat Professional dealers – those Fiat dealers that are dedicated to vans – the Fullback is now also available to buy in Fiat car showrooms, which emphasises the marque's lifestyle ambitions for this vehicle.
In other words, Fiat is hoping the Fullback will appeal to private buyers as well as businesses – keep reading the full Parkers Vans reviews to find out if its right for you.
Fiat Fullback model range
While the Fullback is based on the Mitsubishi L200, Fiat offers a far smaller model range. Only available in the double cab bodystyle – meaning four full doors and five seats – there are just three trim levels: SX, LX and (as of late 2017) Cross.
That said, all models are generously equipped with standard kit, and the Fullback certainly offers good value for money. SX and LX are typical mid-size pickups, while the Cross features a number of add-ons designed to further turn the heads of those lifestyle buyers.
Fiat Fullback engines and transmissions
There are two 2.4-litre turbodiesel engine options, but these are tied to the trim level, so you can't mix and match.
Entry-level Fullback SX buyers can only have the 150hp version, while the LX and Cross come with the 181hp variant (which Fiat labels as a 180hp engine).
Every Fullback is fitted with four-wheel drive and a six-speed manual gearbox as standard. A five-speed automatic is optional.
Roomy inside but rivals are more heavy duty
In keeping with its L200 sibling, the Fullback has a roomy cab area, meaning plenty of room for people – even those adults relegated to the second row of seats. The interior design is nothing special to look at, but seems hardwearing and easy to use.
Relatively compact exterior dimensions – for a pickup – make this truck quite manageable around town and off road. However, also in keeping with the L200, the Fullback's load area, payload and towing ability lag behind the best in the class.
Best double cab pickups for payload
Typical rivals would include not only the L200 but the Toyota Hilux, Ford Ranger, Isuzu D-Max and Nissan Navara. The Fiat still represents good value against any of these, and can often be found with particularly attractive finance pricing.
Keep reading for the full Parkers Vans Fiat Fullback pickup review, but we also have the following individual model reviews:
Fiat Fullback 2.4D LX review – tested February 2017
Fiat Fullback 2.4D Cross automatic review – tested November 2017
Skip to our full verdict on...
The Fiat Fullback isn't the most sophisticated pickup to drive – certainly if you're coming from a car it may be a bit of a shock – but it has the joint-best turning circle in class and is nimble off road, and shouldn't be too difficult to live with at all.
Powerful engines deliver eager speed
The engines are all the same 2.4-litre turbodiesel fitted in the Mitsubishi, offering a choice of 150hp and 380Nm or 181hp and 430Nm.
Both are impressively and sometimes surprisingly quick, helped by a broad spread of torque and the Fullback's light chassis – it's around 150kg lighter than the class average.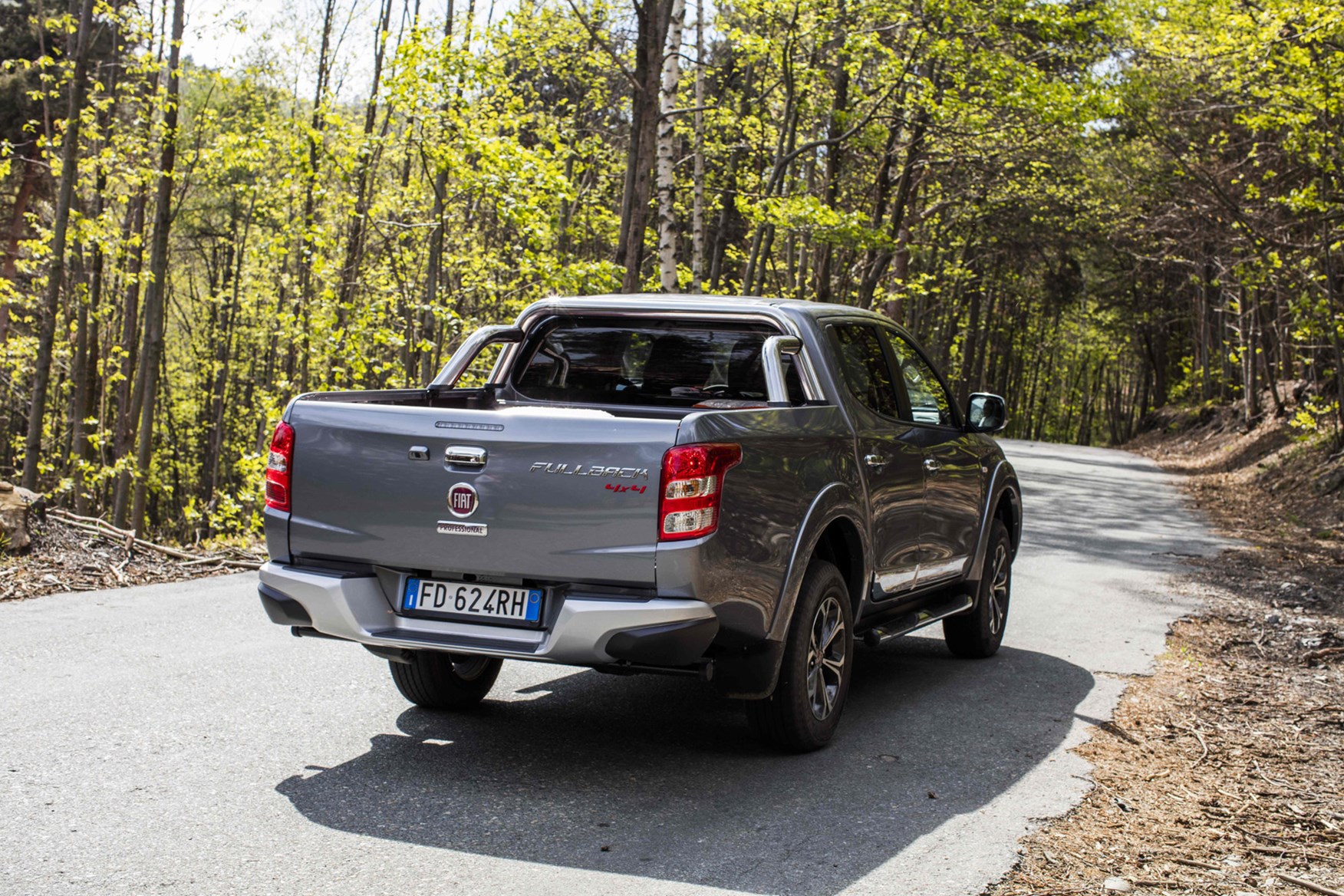 The standard six-speed manual gearbox is a bit awkward to use, but means the engine speed is lower on the motorway, improving refinement. Generally we find the five-speed automatic more user-friendly, however – it even responds quickly to manual control via the standard-fit paddleshfiters.
Engine noise isn't a massive problem with these – they can be a little loud when cold and under hard acceleration, but it's not an unpleasant sound and you'll barely hear the engine at all when cruising.
Bodyroll and comfort
The steering is light, and arguably a little detached feeling – but this is also quite a sprightly vehicle for something so large, with plenty of front end grip helping to make it confidence inspiring in traffic around town.
The suspension is soft but also rather brittle – meaning you'll feel bumps in the road quite abruptly yet there's enough bodyroll to likely ensure you won't be tempted to go too fast in the corners.
Assuming you can put up with a bit of bounciness, however, the Fullback is comfortable enough that you won't dread longer journeys.
Off-roading in the Fiat Fullback
The Fullback feels even more at home off road, however – particularly the 181hp version, which is fitted with a four-stage four-wheel drive system with the following modes:
2H – rear-wheel drive only, which saves fuel in regular driving
4H – four-wheel drive high-range, for moderately slippery conditions
4HLC – four-wheel drive high-range with central differential locked, distributing power and torque 50:50 between the front and rear axles, for when things start to get more sticky
4LLC – four-wheel drive low-range with central differential locked, gears the Fullback down for better control and increased torque delivery for the trickiest terrain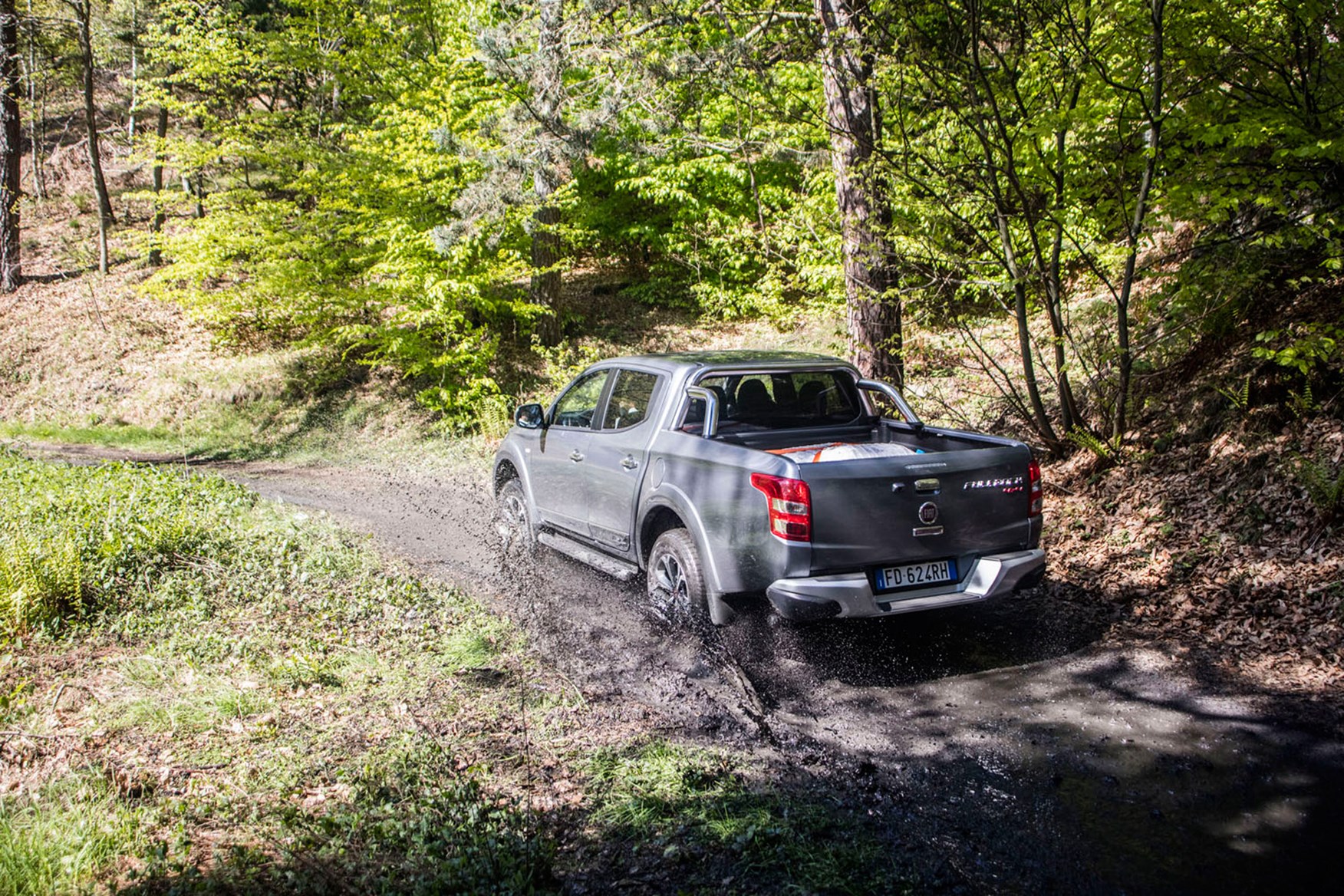 You can switch between 2H and 4H on the move at speeds of up to 62mph, which can be handy, and isn't available on every rival. The Fullback Cross also adds a locking rear differential to the above, improving low-grip traction even further.
The 150hp Fullback still gets four-wheel drive as standard, but this is a three-stage system without the variable centre differential, restricting on-road driving to two-wheel drive in all but the most slippery circumstances.
The turning circle and low vehicle weight also helps the Fullback in the rough, although its ground-clearance isn't particularly impressive for a pickup, and like all pickups, axle-articulation is limited.
The chassis of the Fiat Fullback sits fairly low, so climbing in is fairly easy. The cab is the longest in its class – alongside the L200 – and offers plenty of legroom for front and rear occupants, while the large windows and sloping bonnet provide good all-round vision.
In common with most pickups, compared to a van there isn't a large number of storage compartments inside the cab. The dashboard design is rather plain and outdated looking, too, but everything appears to be hard-wearing without being utilitarian.
The steering wheel only adjusts for height – unlike some rivals that offer reach as well. We didn't struggle to find a comfortable driving position, however.
Fiat Fullback standard equipment
The Fullback's model range is limited to just three versions – SX and LX were available from launch, with the Cross joining them in late 2017.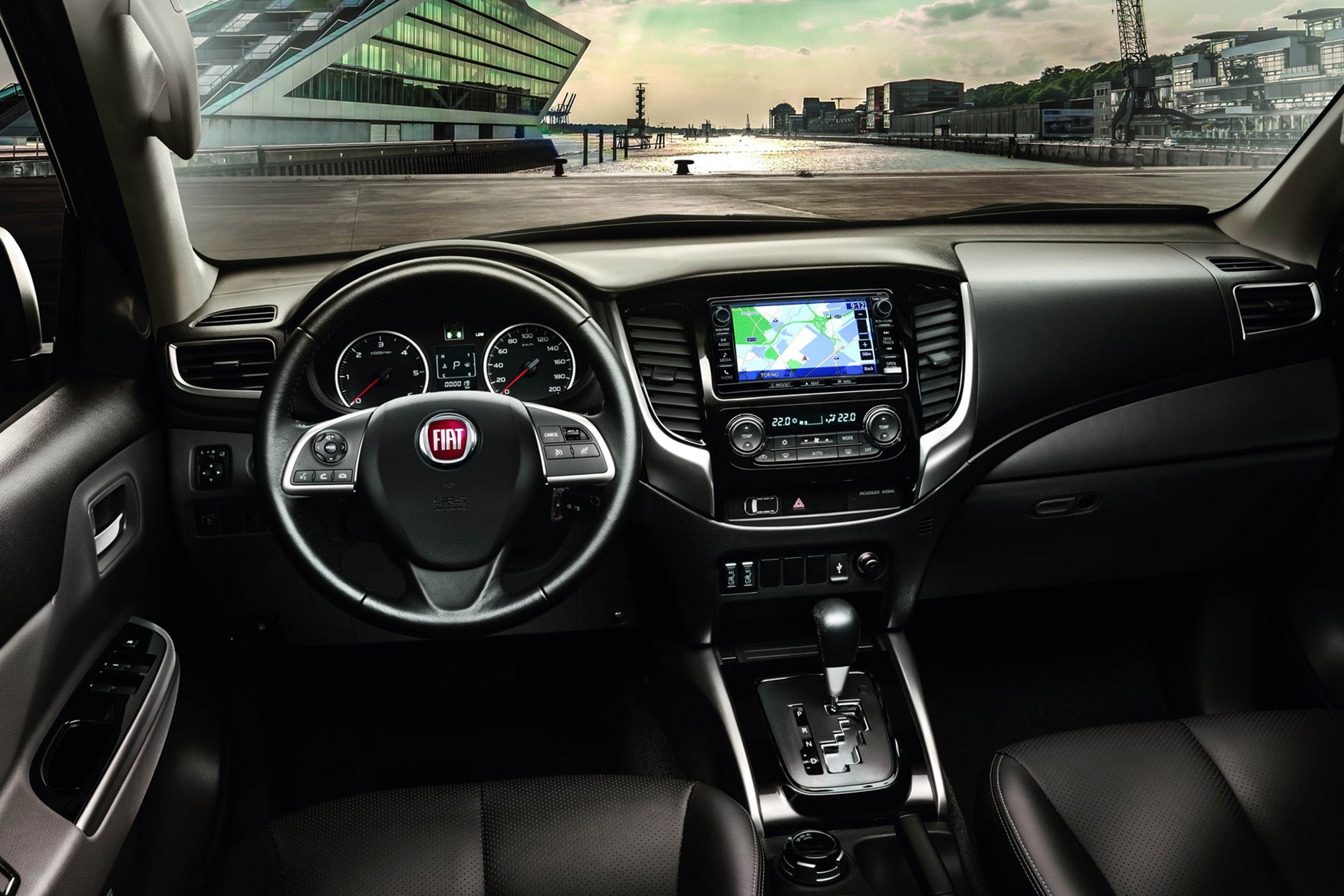 Fiat Fullback SX standard equipment highlights
The SX is aimed at utilitarian usage but all the basics are covered with remote-control central locking, electric windows and mirrors, air-conditioning and a DAB radio with Bluetooth connectivity and steering-wheel mounted controls all included.
Fiat Fullback LX standard equipment highlights
The LX grade is generously specced with keyless entry and ignition, leather seats (the front ones electrically adjustable and heated), dual-zone climate control, privacy glass and a 6.1-inch touchscreen infotainment system with satellite-navigation and a reversing camera.
Fiat Fullback Cross standard equipment highlights
Compared to the LX, the Fullback Cross ditches the keyless go but adds a number of lifestyle accessories – including wheelarch extensions, black alloy wheels with all-terrain tyres, a unique grille design and a locking rear differential (something that's not even an option on other models).
It also features an aerodynamically designed rear sports bar around the load area that's capable of supporting up to 30kg.
While the Fullback isn't the cheapest double cab pickup you can buy, it is one of the best value – thanks to generous equipment levels throughout the range. It can also often be found with particularly attractive finance deals, so if you're looking to buy monthly it's well worth taking a closer look.
Fiat Fullback fuel economy
Claimed fuel economy is reasonably impressive, ranging from 40.9mpg for 150hp manual down to 37.7mpg for the 181hp automatic.
Also helping with costs, the Fullback meets Euro 6 emissions regulations without resorting to AdBlue, saving you the expense of keeping that topped up.
Service intervals are every 12 months or 12,000 miles - whichever comes sooner. This is about standard for a pickup, but a far cry from the 25,000-mile intervals offered by the Nissan NP300 Navara.
As previously mentioned, the Fiat Fullback is based on the L200 and it's assembled by Mitsubishi. That firm has a solid record when it comes to reliability, and the L200 has featured in the FN50 list of top 10 most reliable light commercial vehicles – the only pickup to do so in recent years.
Fiat is backing this up with a three-year, 100,000-mile warranty. This is merely adequate in a sector where three pickups offer five-year warranties now (the Nissan Navara and Toyota Hilux have the same 100,00-mile limit, while the Isuzu D-Max also extends this restriction to 125,000 miles).
The top 10 most reliable vans and pickups according to the FN50 van reliability survey
As with all of the latest generation of pickups, the Fiat Fullback should prove a reasonably safe vehicle.
All models feature: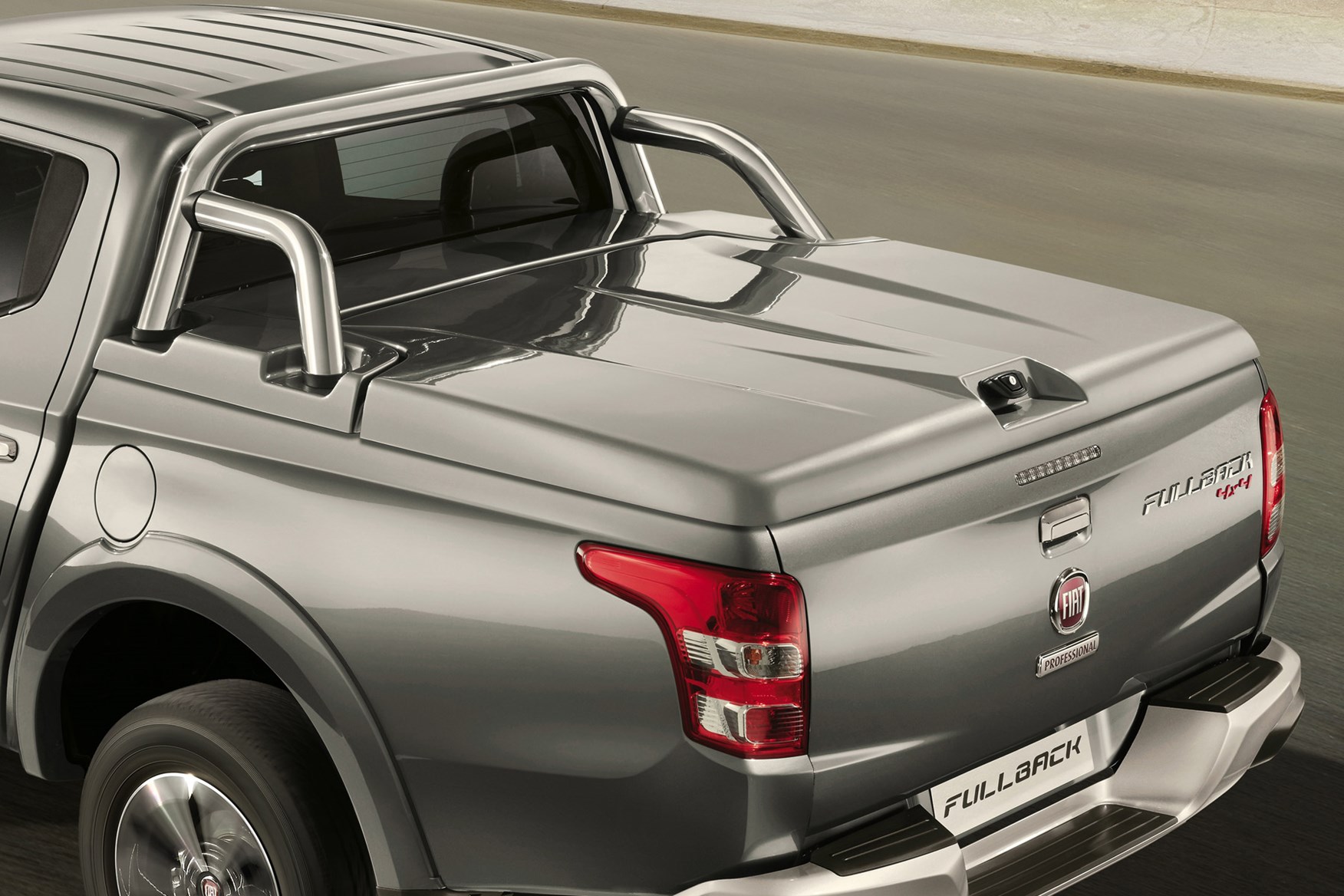 From LX and above you also get a lane departure warning system. This beeps rather annoyingly, but is easy enough to switch off.
However, surprisingly for such an off-road orientated vehicle, hill descent control isn't even an option.
Which Fiat Fullback is best for me?