Ford Fiesta Van review (2009-2017)
Car-based van that's great to drive and very stylish
PROS
Car-like dynamics
Stylish interior
Frugal range of engines
CONS
Can be noisy
Smaller engines may struggle with larger loads
Summary
Those after a compact, manoeuvrable van for transporting smaller loads should take a serious look at the Ford Fiesta Van.As you'd expect, much of it is based on the Fiesta car, and this is a very good thing.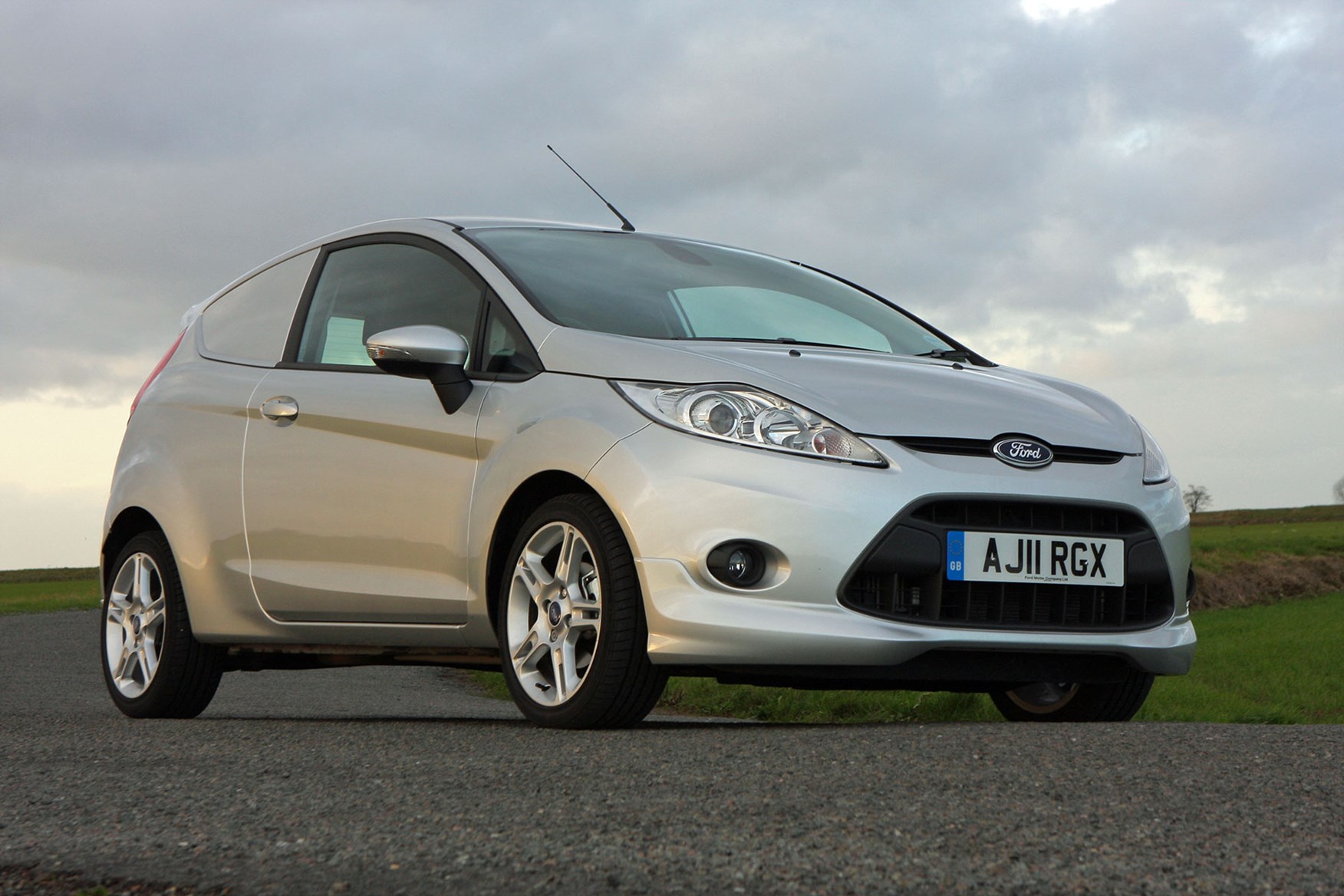 It's agile and simple-to-drive, with a cleverly designed cockpit and tactile controls. Furthermore, it's available in a range of trims and engines to suit your needs and your budget - including the popular Sport model.
Low running costs and a strong reliability record means there isn't much not to like about the Fiesta Van.
Ford Fiesta Van 2012 facelift
The Ford Fiesta van received a major facelift in 2012 (below) to mimic the rest of the Ford CV line-up, which was complemented by sharper headlamps incorporating LED technology, power-dome bonnet and, for the first time, the option of 17-inch alloy wheels.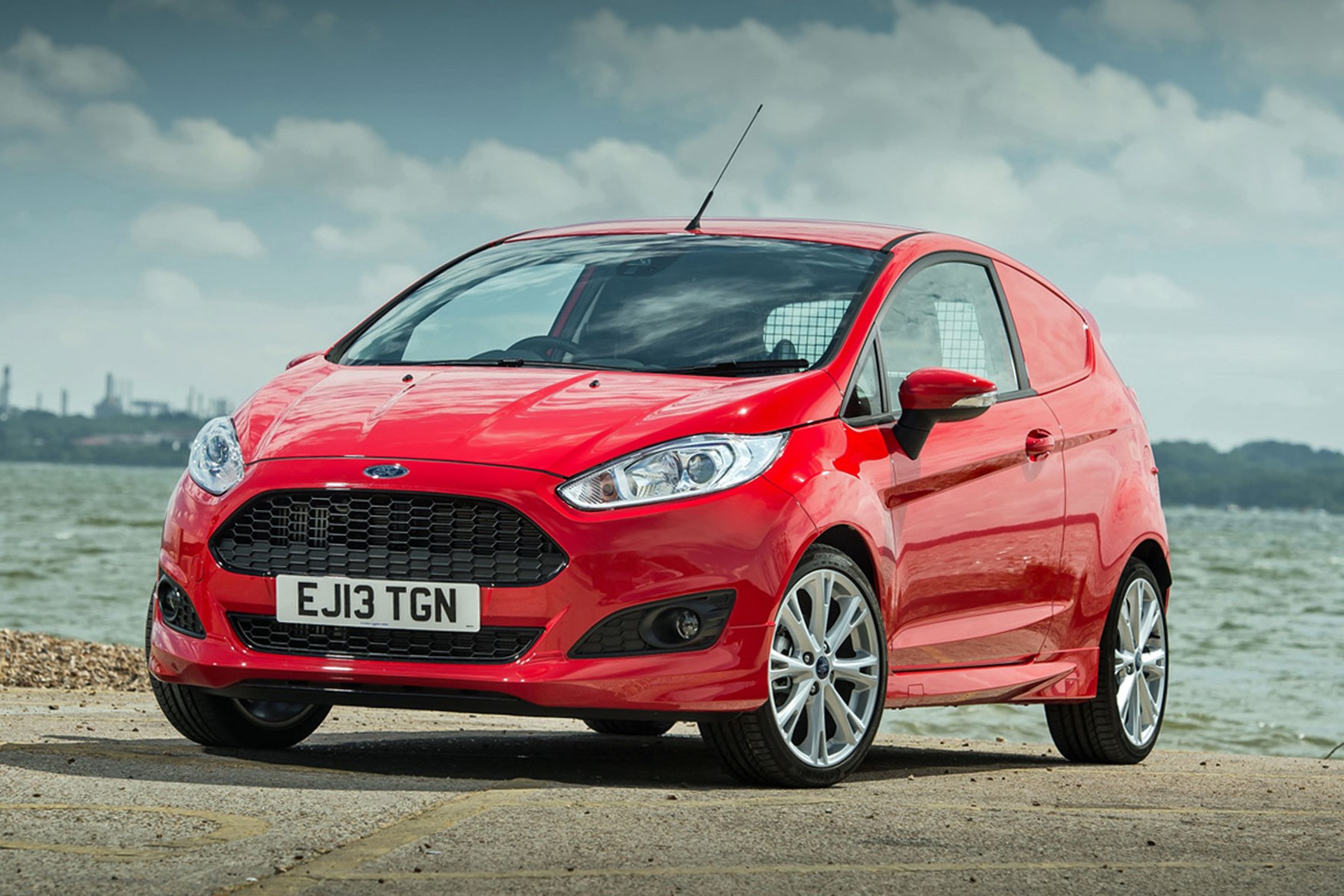 While very little changed to the load area, the cab was refreshed, a new engine was introduced and new safety systems fitted.
Skip to our full verdict on...
Ford's smallest van is very easy to drive. Handling and ride are similar to the regular Fiesta, giving it the edge over the competition. The steering is nicely weighted and direct, while not being too cumbersome around town thanks to its 10.2m turning circle.
Ford Fiesta Van engines
Prior to the 2012 facelift, there was a choice of four engines, each mated to a five-speed gearbox.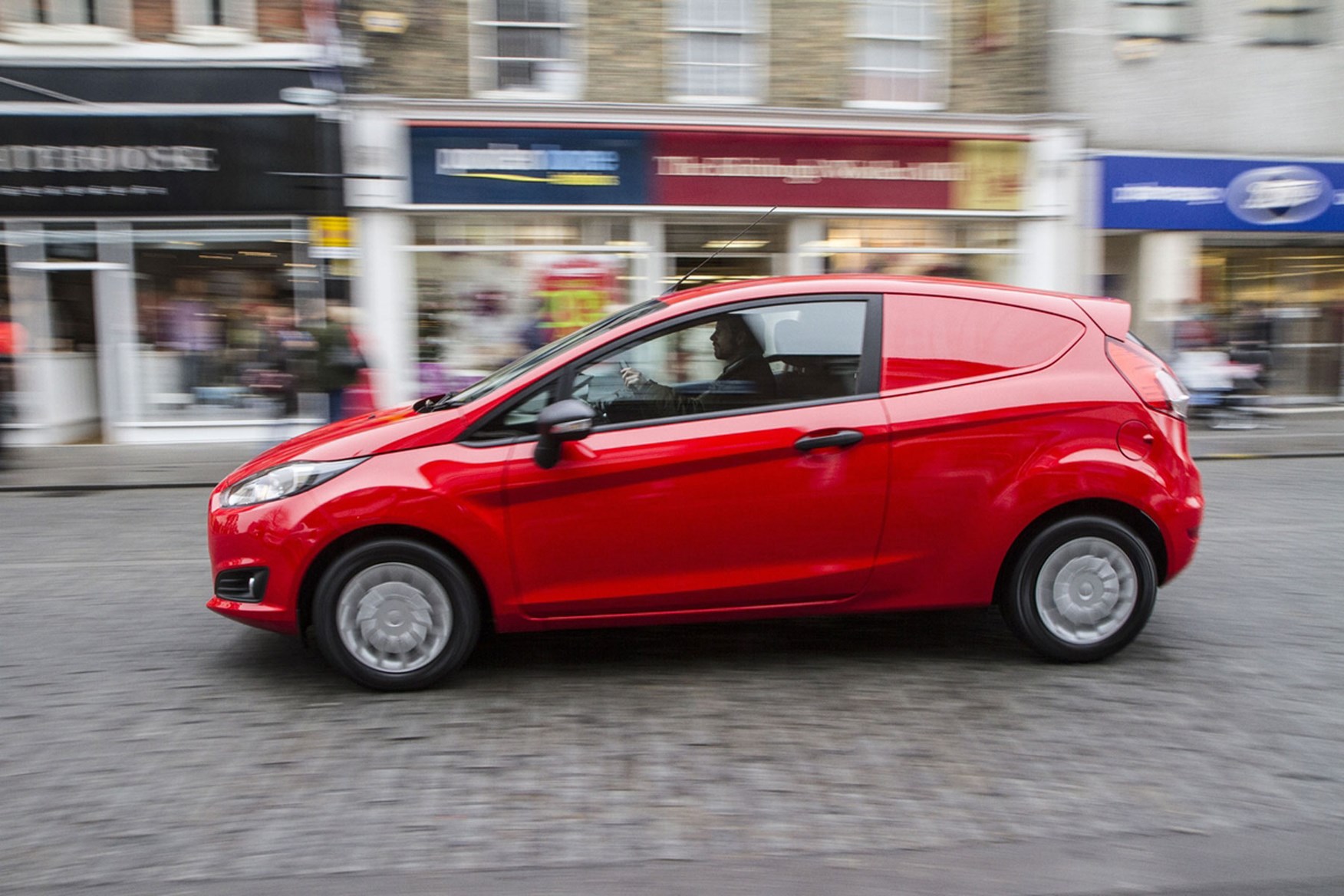 The cost-effective choice was the ECOnetic, a 1.6-litre diesel engine. Power is rated at 93hp while torque is 205Nm.
For a slightly more performance-focused approach you could opt for the Sport model which came with the same 1.6-litre engine, the same power and the same torque but is tuned slightly differently. The result is 0-60mph in 11.8 seconds, while its top speed is 109mph.
A 1.4-litre diesel that produced 68hp and 160Nm could be ordered for standard and Trend vans.
Finally, standard or Trend models can also be ordered with a 1.25-litre petrol engine. This makes 80hp with 114Nm of pulling power. It'll accelerate to 60mph in 13.3 seconds and go to a top speed of 105mph.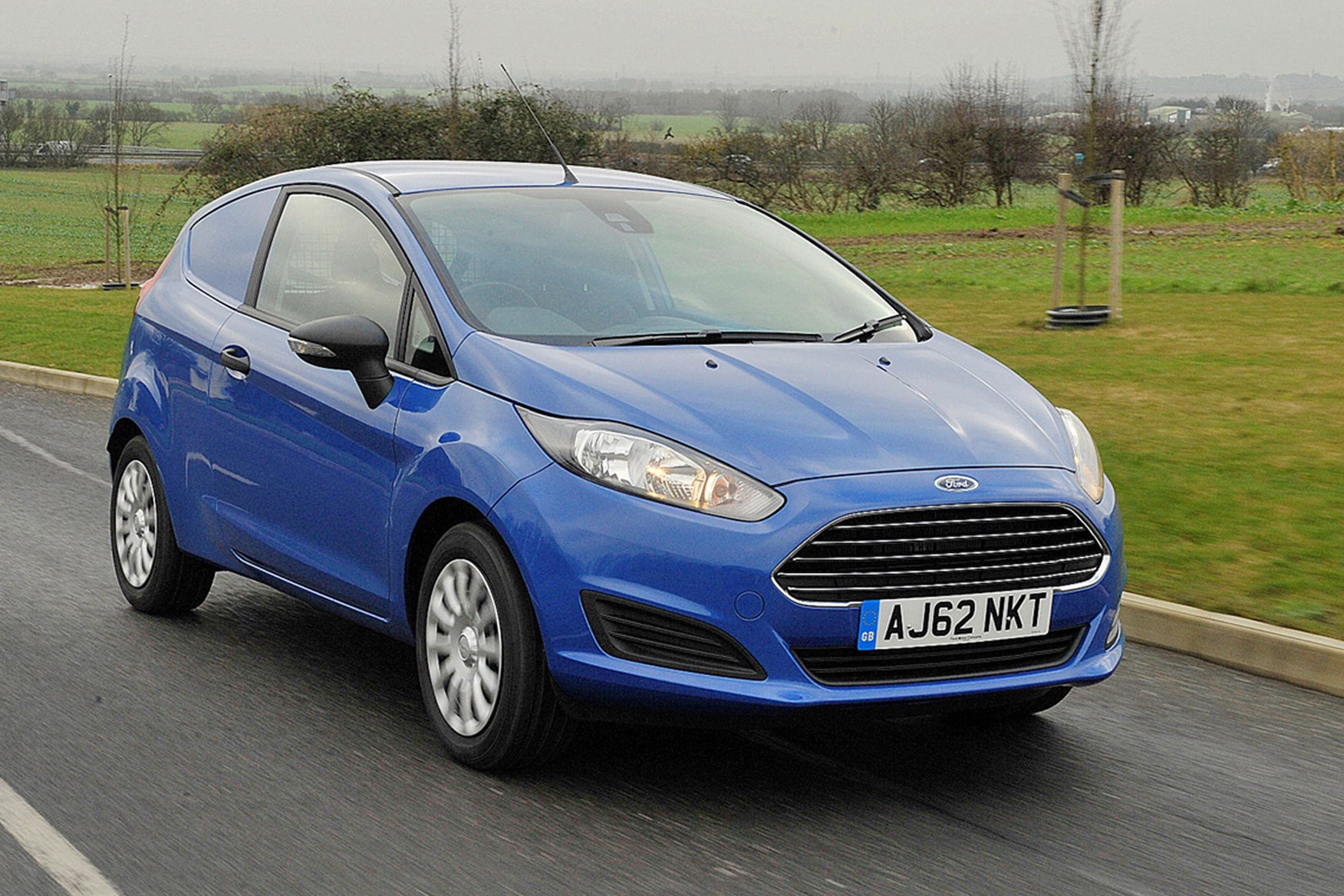 The 2012 facelift kept the 1.25-litre petrol (80hp/144Nm) and the 1.6-litre diesel (93hp/205Nm), but a new 1.5-litre (73hp/185Nm) diesel was also added.
The Fiesta Van has taken much of its interior styling from the regular Fiesta car, and this gives it one of the best van interiors available. The excellent stereo system deserves special mention; it's a simple and well-designed set-up with myriad, but easy to use, functions. You also get steering wheel-mounted controls as standard.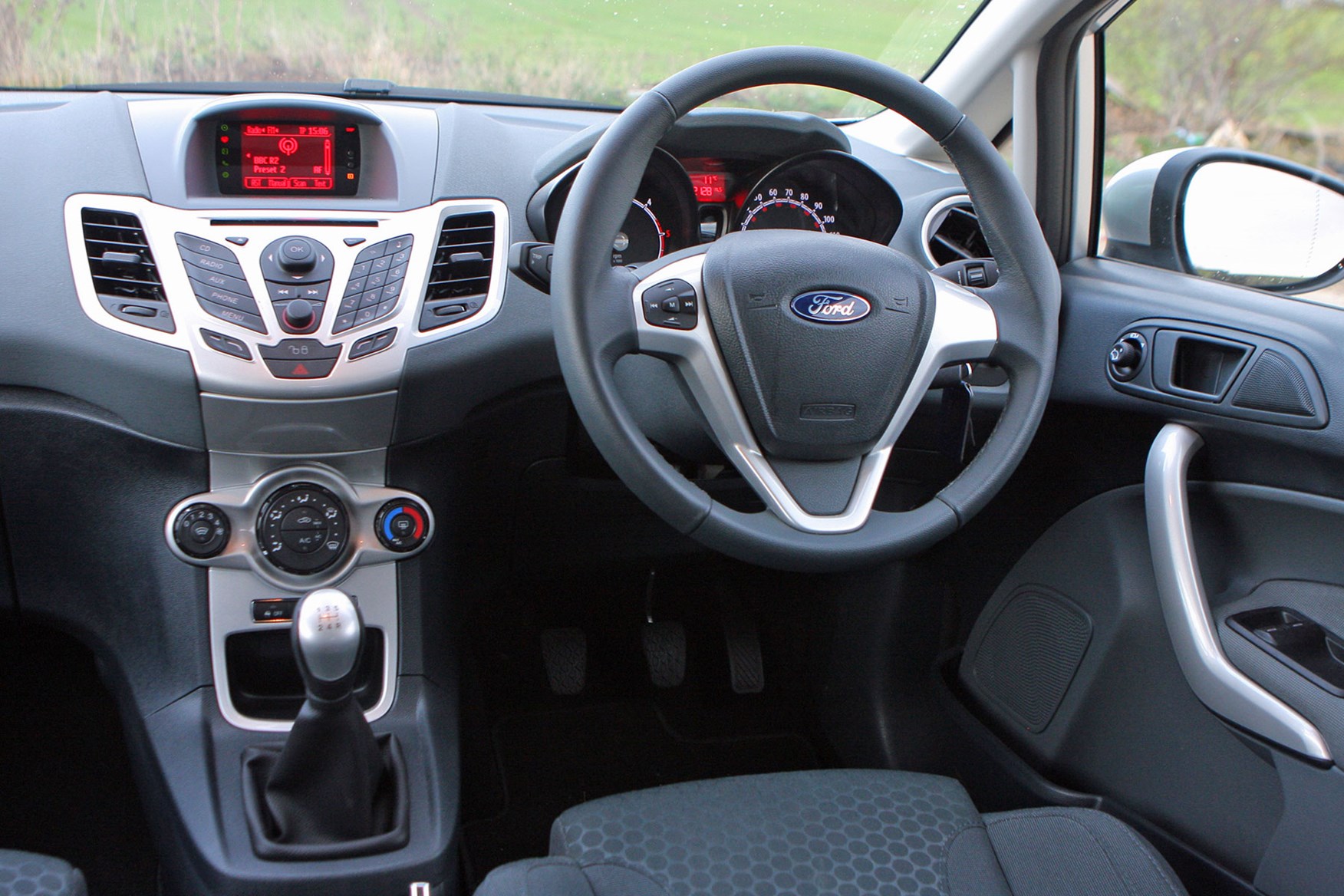 There's a choice of dash colours depending on which trim level you pick. Sport trim gets a contrasting silver trim, while the other specs get a plain black dash.
The front seats are very supportive and comfortable, while the sports seats fitted to the Sport version have adjustable lumbar and hold you in place very well when taking a corner at speed.
For post 2012 model, Ford ergonomics and interior design experts reconfigured the Fiesta interior with relocated switch-gear, a new centre-console with Ford SYNC infotainment, arm-rest and new materials.
The Fiesta Van shouldn't cost a silly amount of money to run.
Fuel economy is up to 78.5mpg (ECOnetic version) yet even the least frugal of the engine options returns 50.4mpg.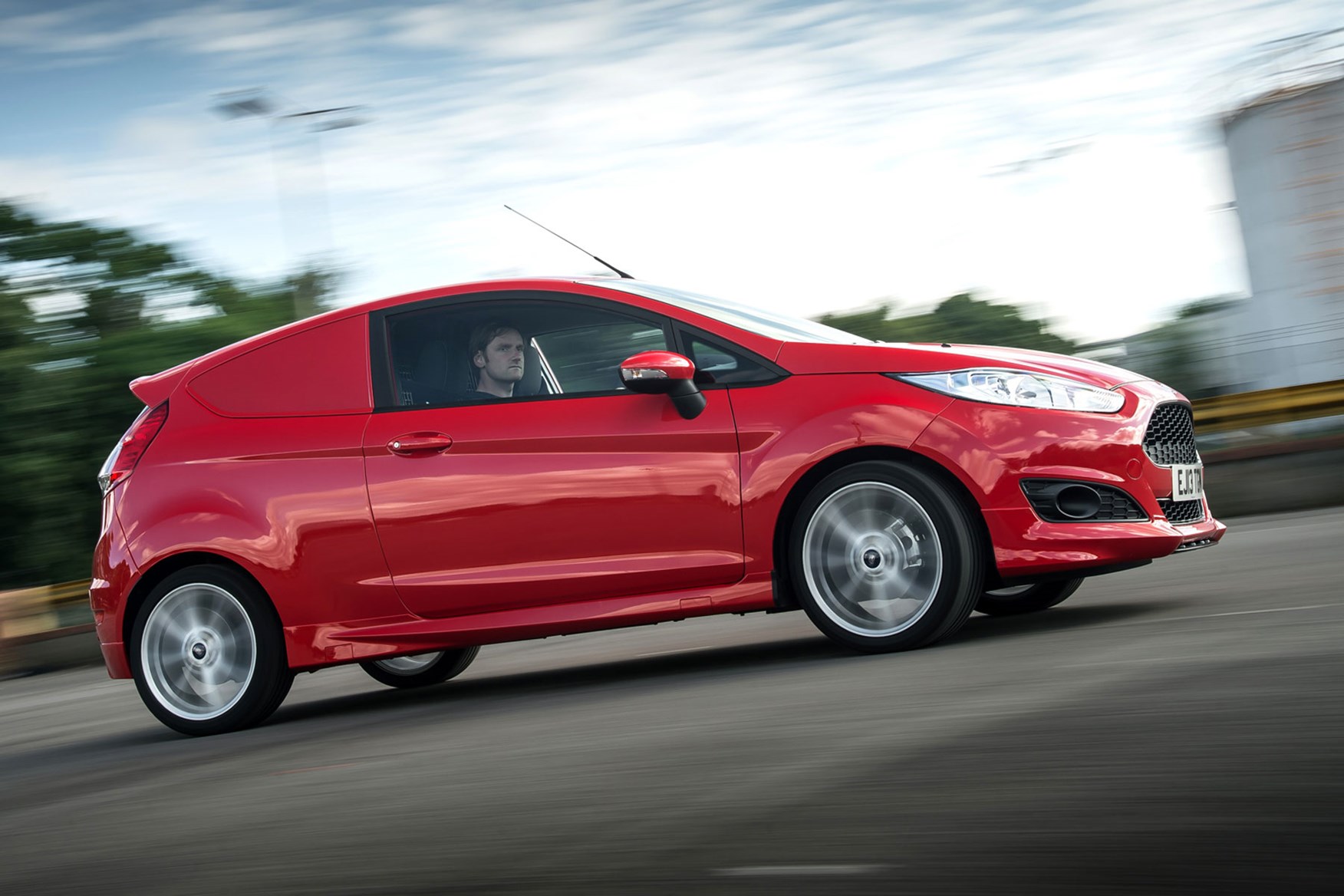 Insurance costs should be affordable too since the engines are fairly low-powered.
Servicing and maintenance won't break the bank – Ford isn't known for extortionate dealer costs.
Tax is payable as a regular van, which means fixed rate (click here for the latest figures).
Depreciation should be low, with the lower spec vans retaining 34% of their value after 3 years and 30,000 miles and the higher spec models retaining up to 38% of their value over the same period.
There's no reason to doubt the Fiesta Van's reliability. Many parts are based on the Fiesta car so should be absolutely solid.
Standard safety and security kit includes remote central locking, driver's and passenger's front airbags, head and thorax side airbags, anti-lock brakes, electronic brake force distribution, electronic stability control (ESC) and traction control.
Optional safety kit includes a driver's knee airbag and emergency brake assist.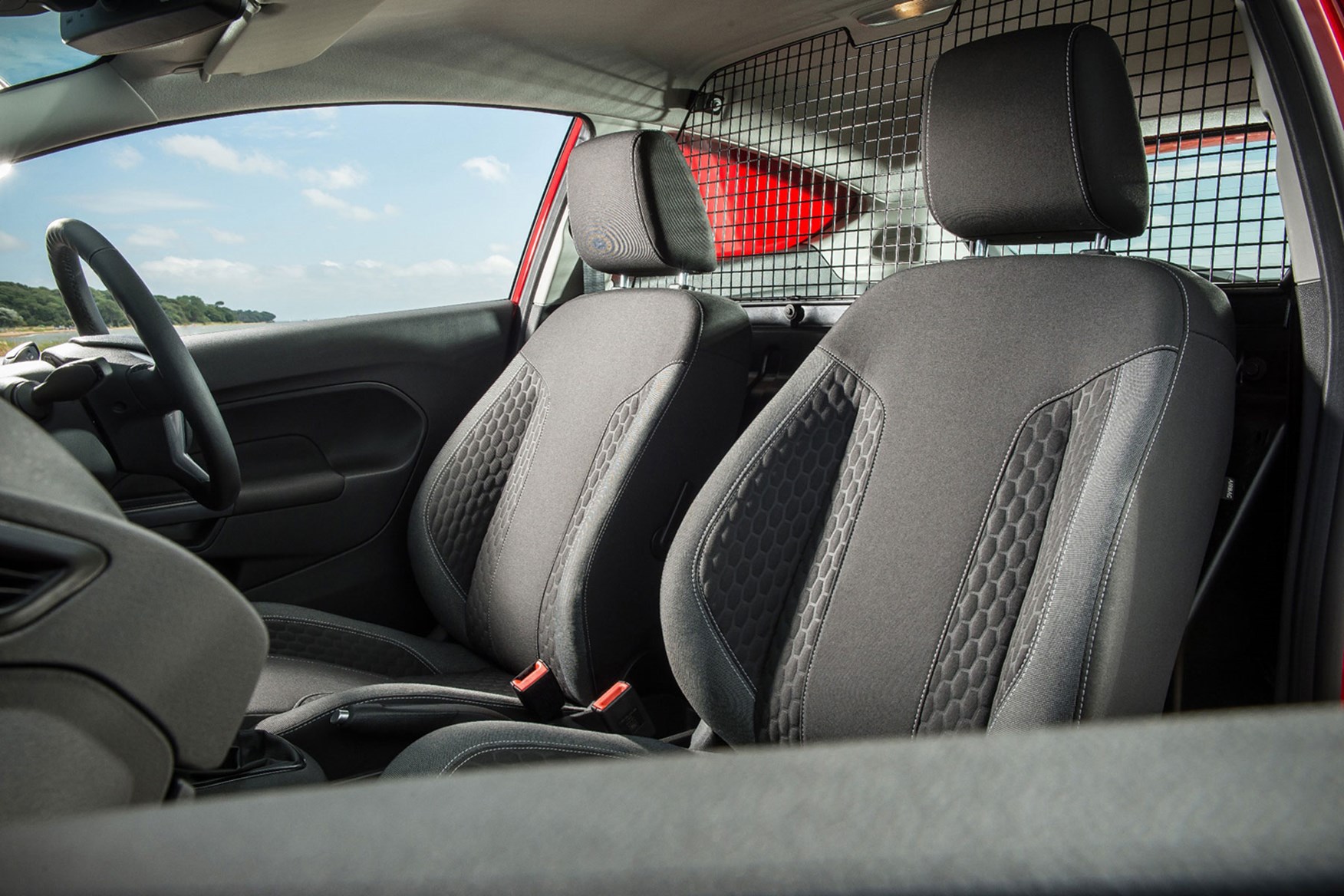 Post-2012 models receive Ford SYNC with Emergency Assistance, which directly connects the vehicle occupants to local emergency services operators after an accident, in the correct language for the relevant country.
Also introduced is Active City Stop, a system designed to help drivers avoid low speed collisions. It is offered alongside other convenience features such as Hill Start Assist, Easy Fuel and Rear View Camera.
The 2012 Fiesta Van's impressive package of driver assistance and safety features also includes a number of important segment-first technologies.
Ford MyKey, for example, allows businesses to encourage safer driving and limit the driver's exposure to risk at the wheel as well as providing fleets with ownership information.
Which Ford Fiesta (09-17) is best for me?