Mercedes eSprinter dimensions (2020-on)
Mercedes-Benz offers its regular diesel Sprinter in a choice of wheelbases, body lengths and heights - but for the all-electric eSprinter, things are rather simpler.
In fact, there's only one eSprinter variant - badged as L2 H2, with front-wheel drive.
That's actually one of the more popular variants within the Sprinter line already, and strikes a good balance - as the van's payload is comparatively low, making it physically larger would limit it further with no real increase in utility.
Check out below for the full dimensions, or read our Mercedes eSprinter review to see how we rate its driving manners, running costs or reliability.
The Mercedes-Benz eSprinter's single size variant is fairly compact, but not the smallest in the range.
It's still a large van, so don't expect it to be especially easy to park in town centres or supermarket car parks - however, it's manageable for tight streets and has an acceptably short rear overhang.
The load area inside is well-finished with a ply lining as standard, and retains the diesel Sprinter's clever touches to aid loading. There's LED strip lighting, 270-degree opening doors with heavy-duty hinges to prevent them slamming open, and a full-width bulkhead.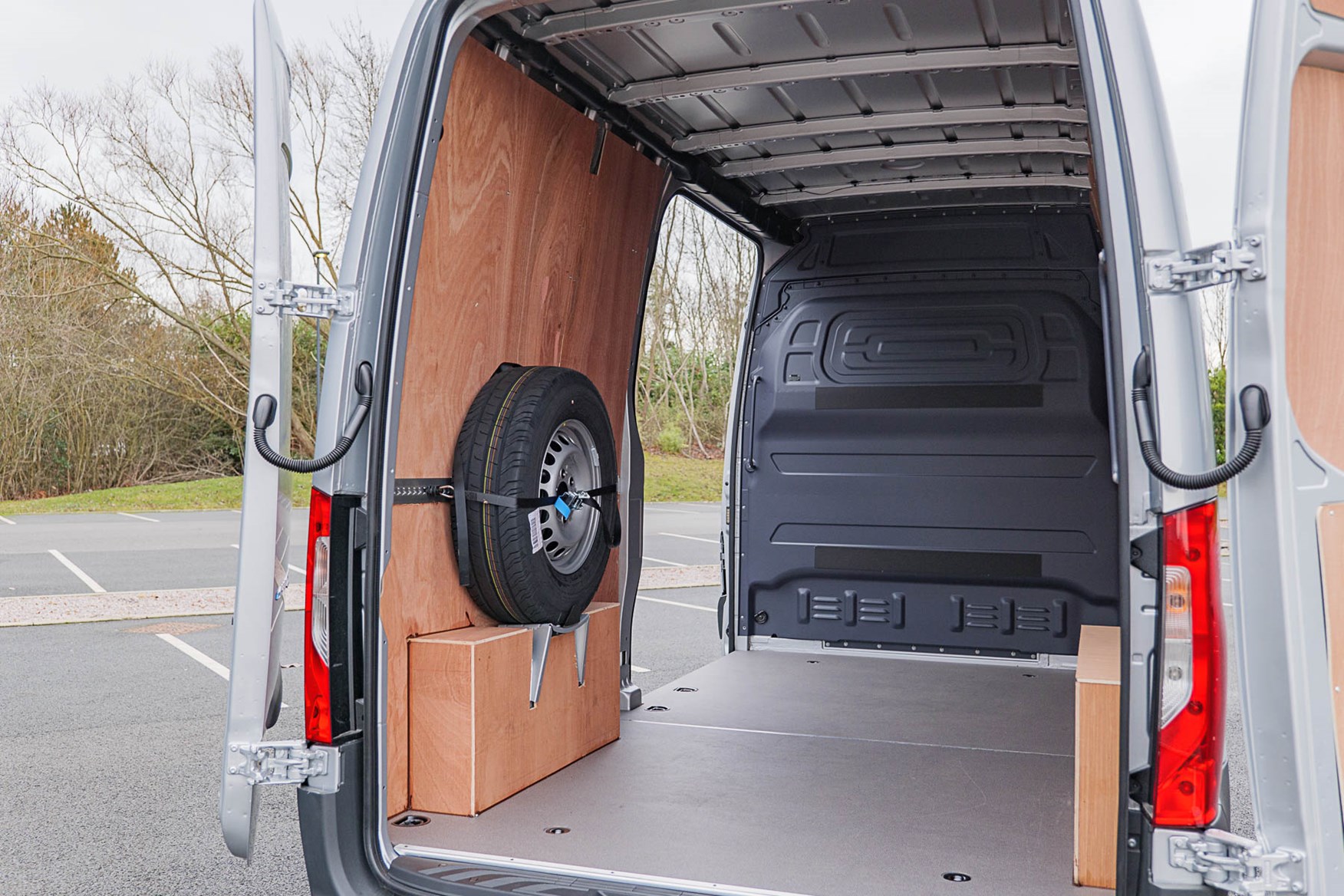 The rear loading height is also fairly low, as this is a front-wheel drive van.
Do note however that the underslung spare wheel of diesel models has had to be relocated to the load area due to the positioning of the batteries.
---
Mercedes-Benz eSprinter exterior dimensions
In its sole L2 H2 configuration, the eSprinter's exterior measurements are:
Exterior length: 5,932mm
Exterior height: 2,687mm
Exterior width: 2,020mm (2,345mm including door mirrors)
Wheelbase length: 3,924mm
---
Mercedes-Benz eSprinter load area dimensions
The Mercedes eSprinter's load area has the following dimensions:
Maximum load area length: 3,272mm
Maximum load area height: 2,079mm
Maximum load area width: 1,787mm
Maximum side door opening width: 1,260mm
Maximum rear door opening width: 1,555mm
Maximum load volume: 11.0 cubic metres
The eSprinter loses a fair few points when it comes to carrying capacity - its payload is low, due to the additional weight of a big, heavy battery pack.
As a result, even loaded up to its full 3,500kg GVW (gross vehicle weight), there's only a 774kg payload.
In the rest of Europe there's a version available with a smaller battery, which can carry over a tonne - however, that's not offered for sale here.
Mercedes-Benz eSprinter towing capacity
The Mercedes eSprinter is not rated for towing.
Also read:
>> Mercedes eSprinter main review
>> The Parkers guide to electric vans