Mercedes-Benz eSprinter electric van review (2022)
A good electric van, limited by short range and low payload
PROS
Smooth and comfortable to drive
Feels sturdy and secure on the road
Electric hardware well integrated
Large load area
Mercedes quality
CONS
Poor payload
Limited inter-city performance
Low range
Expensive to buy
Low-spec interior rather dour
Summary
Electric cars are all the rage at the moment, but the practicalities of converting working vehicles to run on batteries mean that so far, there aren't too many electric vans on sale that don't force a severe compromise.
The Mercedes eSprinter is one of a growing number that come very close, though. It's a large electric van, and its diesel counterpart is among the very best of its breed – it's been a runner-up in the Parkers Van of the Year awards for ages.
Much of that ability transfers over to the electric variant, but some crucial compromises have to be made that could be deal breakers for certain operators.
Ideal for driving around town
Just because you do a majority of short, low-speed journeys, you shouldn't necessarily be limited to a tiny van. While there are a multitude of small electric vans on sale – from the car-based Renault Zoe Van, to the popular Nissan e-NV200 and the new and Parkers Award-winning trio of PSA products (the Peugeot e-Expert, Citroen e-Dispatch and Vauxhall Vivaro-e), the eSprinter is arguably one of the first truly usable large electric vans.
Thanks to an electric motor's instant torque and seamless, smooth power delivery, the eSprinter is great to drive around town and doesn't feel sluggish and slow in the way that rivals such as the Renault Master Z.E. do. Add in the benefit of producing zero local emissions and it's easy to see why Mercedes is pitching this as the ideal vehicle for last-mile deliveries – delivery giant Amazon has ordered 800 for its UK fleet.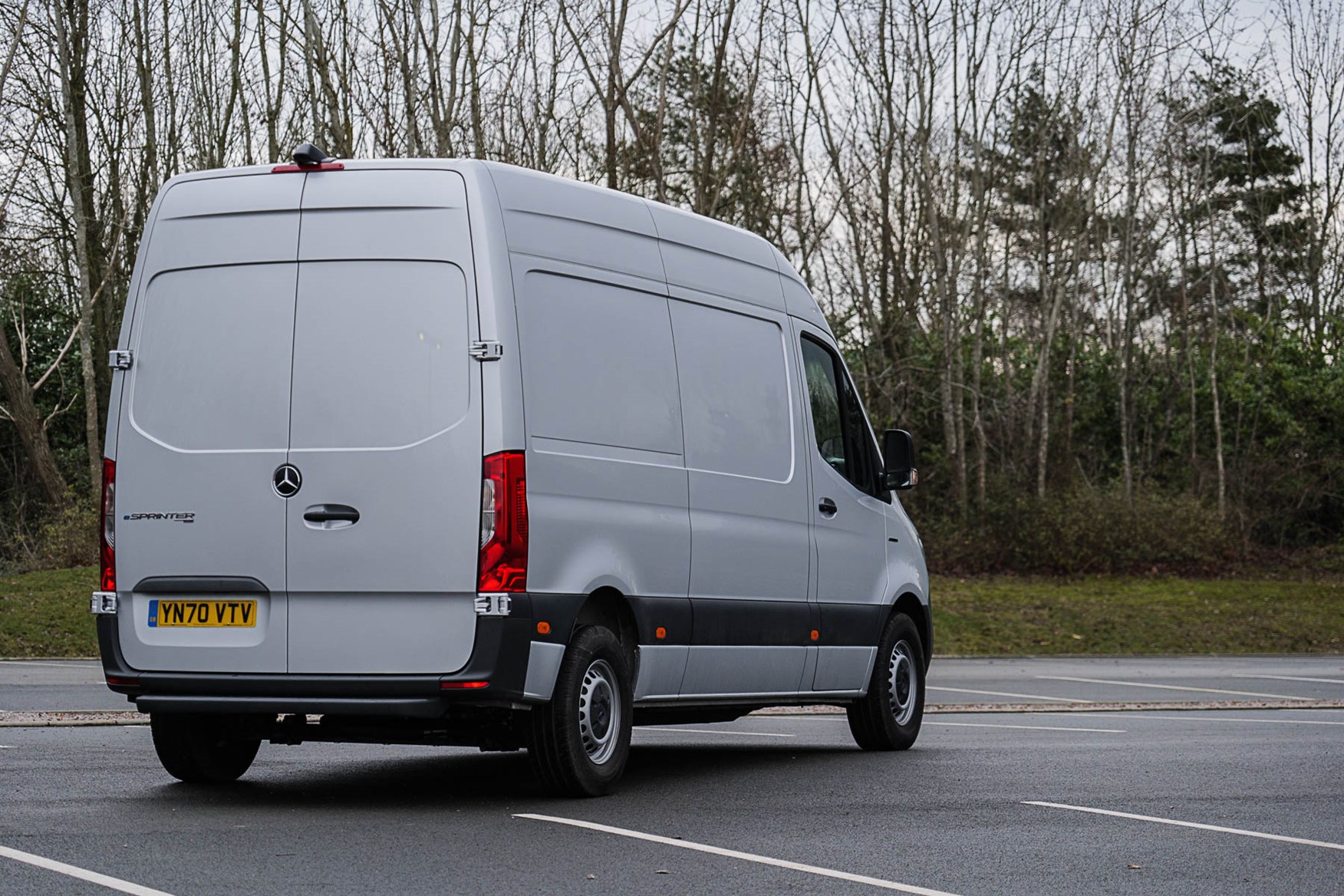 The Sprinter's base attributes shine through in these scenarios, too, such as good visibility and a spacious cab.
Low driving range limits utility
The eSprinter's biggest immediate downside is its driving range on a full battery charge. In the UK, it's offered with one size of battery, just over 55kWh in capacity. That's good for a WLTP-approved range of up to 96 miles.
That makes the eSprinter pretty much useless for inter-city work, especially as full loads, motorway speeds (and, dare we generalise, lead-footed drivers) will reduce that range even further.
Most users, then, will run the eSprinter around a town or city during the day and recharge it back at base overnight. A total charge from a standard 7.4kW wallbox will take around eight hours.
However, if the eSprinter needs a topup while out and about, it can take a 20kW charge, capable of bringing it back up to 80% within two hours. Optionally available is an 80kW fast-charge option which brings that same 80% within 30 minutes.
Yet with most electric charging bays being in busy town centres or car parks with limited bay space, you might find the extra-large eSprinter doesn't actually fit…
Huge loading area, but low payload
Further hammering the eSprinter's credentials for heavy-duty use is its payload – just 774kg in the single model that the UK market gets. Other markets are available with a smaller battery option that increases payload to more than a tonne, but with a range of just 70 miles it's further compromised in that area.
That's a significantly lower payload than our favourite electric mid-sized vans, the mechanically identical Peugeot e-Expert, Citroen e-Dispatch and Vauxhall Vivaro-e – all of which are capable of carrying more than a tonne even in their long-range configurations.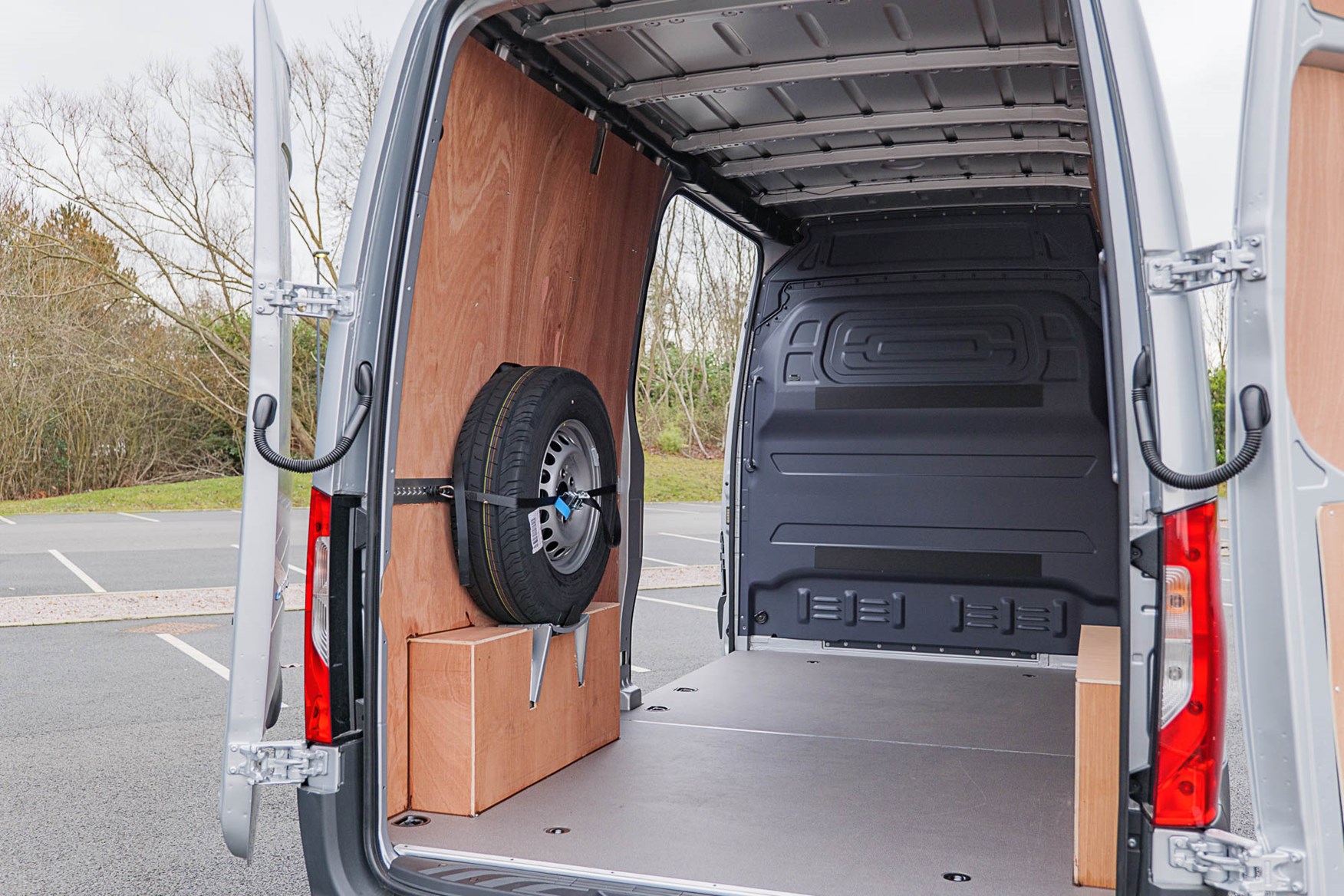 Where the eSprinter hits back is in load space. It's only available as an L2H2 model, giving it a total load area of 11.0 cubic metres – including well over three metres of loading length and over two metres of height. So it's great at carrying big things – just not heavy ones.
See our dedicated Mercedes-Benz eSprinter dimensions page for more details.
Mercedes-Benz eSprinter rivals
Current large electric vans are thin on the ground – the only real competitor is the Renault Master Z.E., which can carry a huge payload of over a tonne but is even more limited, with a range of just 75 miles and a top speed of 62mph.
What we're really waiting for are the big-hitters – the mechanically-similar trio of Fiat E-Ducato, Peugeot e-Boxer and Citroen e-Relay vans, which will go on sale in 2021, and the Ford E-Transit which will come along in 2022. Maxus expects to begin deliveries of the eDeliver 9 in 2021, too.
All of these promise more range, greater performance and payloads of more than a tonne, and we're really looking forward to driving them.
---

Verdict: is the Mercedes-Benz eSprinter any good?
Not necessarily the electric van we were hoping would change everything – but the Mercedes eSprinter feels like a good step along the way, with limitations that would be easy enough to live with for buyers capable of planning their loads and journeys to suit the van.
It's no wonder delivery firms such as Amazon have snapped up the eSprinter, with their predictable loads and well-planned routes. But those with days that are more unpredictable, or regular long journeys would be better served by a diesel van – for now.
Skip to our full verdict on...
Very comfortable to drive
Not quick, but smooth and silent
Front-wheel drive with single-speed transmission
Driving the eSprinter is a bit of a revelation if you've only ever experienced diesel vans before. However, the sheer bulk of the van combined with its comparatively low-powered 114hp electric motor means it doesn't have the immediacy or peppiness of smaller rivals – instead, it's the eSprinter's smooth and silent power delivery that make it pleasant to drive.
While its performance above 50mph is decidedly underwhelming, it gets up to 30mph acceptably fast – the benefits of having an electric motor, with all of its torque available from a standstill. Mercedes has engineered in a small delay upon pressing the accelerator, though – it feels to us a bit like a hesitant gearbox, and we're not too partial to it.
When driving along, all you hear is a faint whine from the electric motor – the Sprinter's always been very good for limiting wind and tyre noise and the same is true of the eSprinter.
Three driving modes to help maximise range
There are a choice of three driving modes – labelled C, E and E+. The C stands for Comfort and is the default mode, which delivers the full power and torque of the van.
E, for Economy, limits power and torque, while E+ cuts it back even further and also deactivates the climate control to be as miserly as possible with the available battery charge.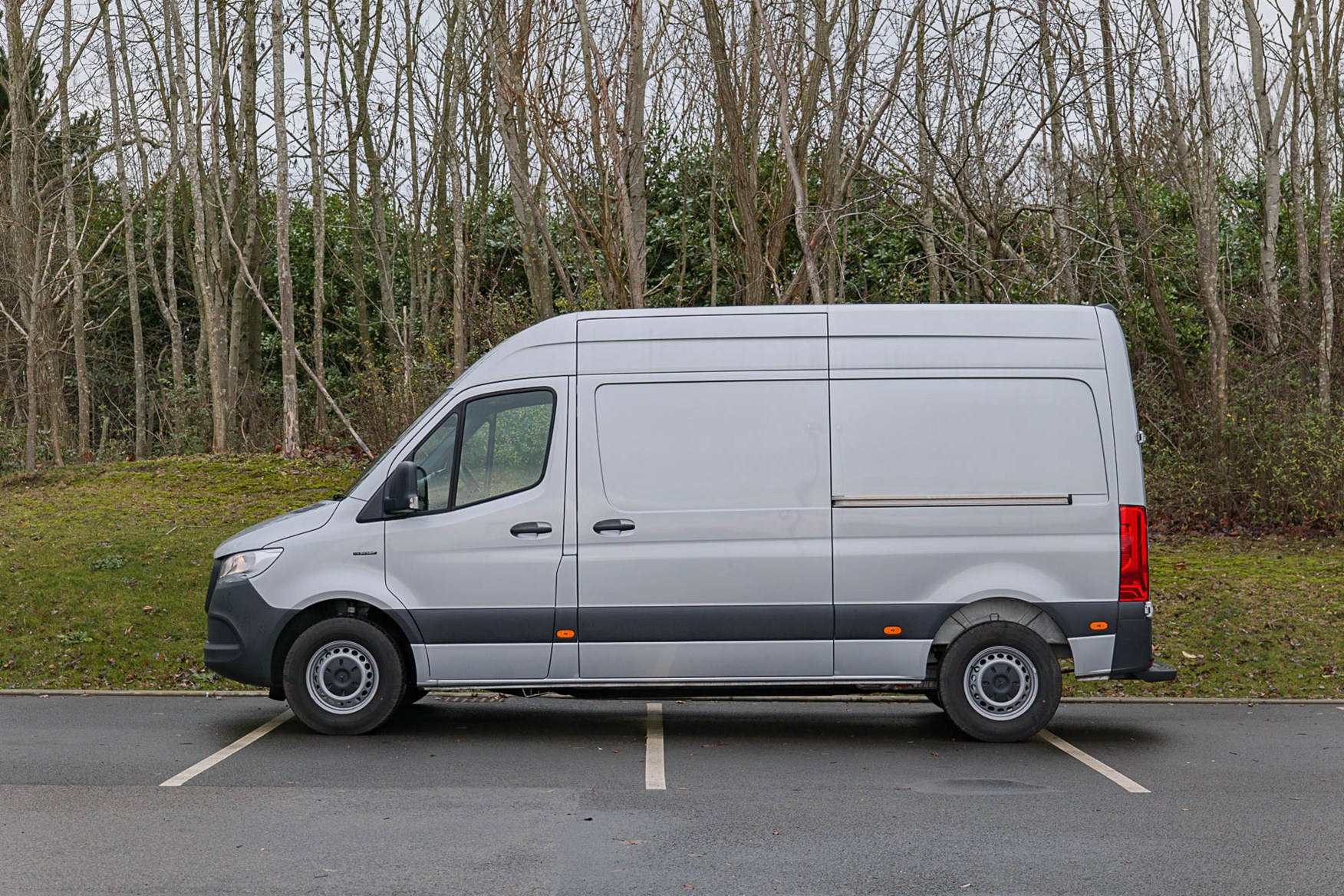 You can also adjust the level of regenerative braking via the steering-wheel-mounted paddles. By default, the eSprinter heads straight for its most aggressive mode – indicated in the instrument cluster by D-. In this mode, you can almost drive the eSprinter on one pedal alone – only needing to brake for quick stops or to pull to a total halt at a red light.
D and D+ modes reduce the braking force, while in D++ regenerative braking is totally turned off, so the eSprinter will coast if you lift off.
Easy handling with electric power steering
The eSprinter uses the same electrically-assisted steering as the diesel model, which is light enough to make the van super-nimble through town – just where you want it.
On faster roads, it weights up nicely, and though there's little to no feedback it's a precise and easy-to-manoeuvre van.
Using electric power steering rather than hydraulic also means the eSprinter has access to safety equipment such as active lane-keeping assist and crosswind assist.
Functional design, but not always intuitive
Hardwearing materials
The best equipment is optional
There's nothing untoward about the Mercedes eSprinter's cab – apart from a few electric-specific gauges, it's much like the standard van's.
It's certainly very impressive for a van, with a sleek centre console and fixtures such as the steering wheel and air vents that could have come straight out of one of Mercedes' passenger cars.
It's disappointing that the eSprinter doesn't come with much kit inside, though, and as it's only available in one trim level anything you do add has to be done via the options list.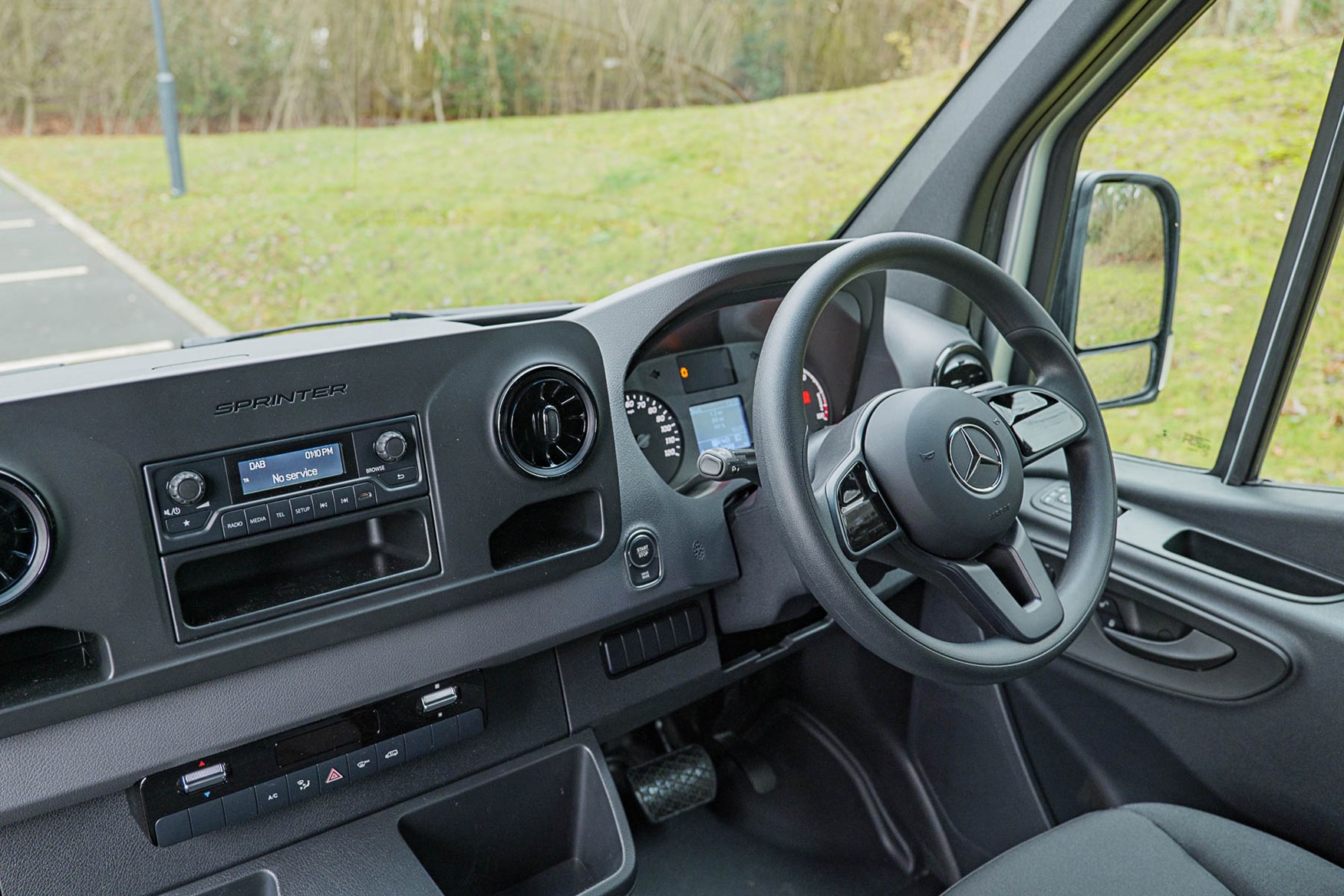 That means that instead of an excellent touchscreen media system in the centre of the dash, all you get is an old-fashioned radio with a three-line LCD display. Not very premium. Nor is the steering wheel, which is completely blanked off where higher specifications would enjoy controls for the stereo and cruise control.
However, comfort and visibility levels are above the norm, with seats that offer plenty of adjustment and a driving position that should suit most people. The seats are also designed to be easy to get into and out of, ideal for multi-drop couriers.
Furthermore, the dashboard doesn't jut out too much, so middle passengers won't constantly be hitting their knees – and it's wide enough for three to sit in more comfort than some rivals.
Storage is good – there are large door bins and a useful slot above the dash for phones that contains the charging sockets, while small items are taken care of with a trio of deep wells in the dashboard. There's also plenty of under-seat storage for larger items. However there's no conventional glovebox, so the VW Crafter wins out here – it also feels higher-quality than the eSprinter, though there's not too much in it.
Only one low-specification trim
Low running costs promised thanks to electric motor
High purchase price
As with most electric vehicles, choosing to purchase an eSprinter will come down to whether you're able to make it pay for itself. With a starting price of more than £50,000, it could take many years to break even on cost depending on how you charge and use the vehicle.
For high-mileage drivers, who charge the vehicle on cheap electricity overnight and make the most of its range almost every day, that break-even point will be earlier, and before too long the eSprinter will start paying for itself in reduced running costs. However, those who seldom use the van, or who charge at expensive public charging stations, will see that point move further away.
It's worth noting on the positive side that electric vans reduce tax costs significantly.
Electric powertrain limits costs
Of course, the reduced price to 'fuel' the eSprinter versus a diesel variant should be taken into account first. On an off-peak electricity tariff, a full charge should cost only a few pounds.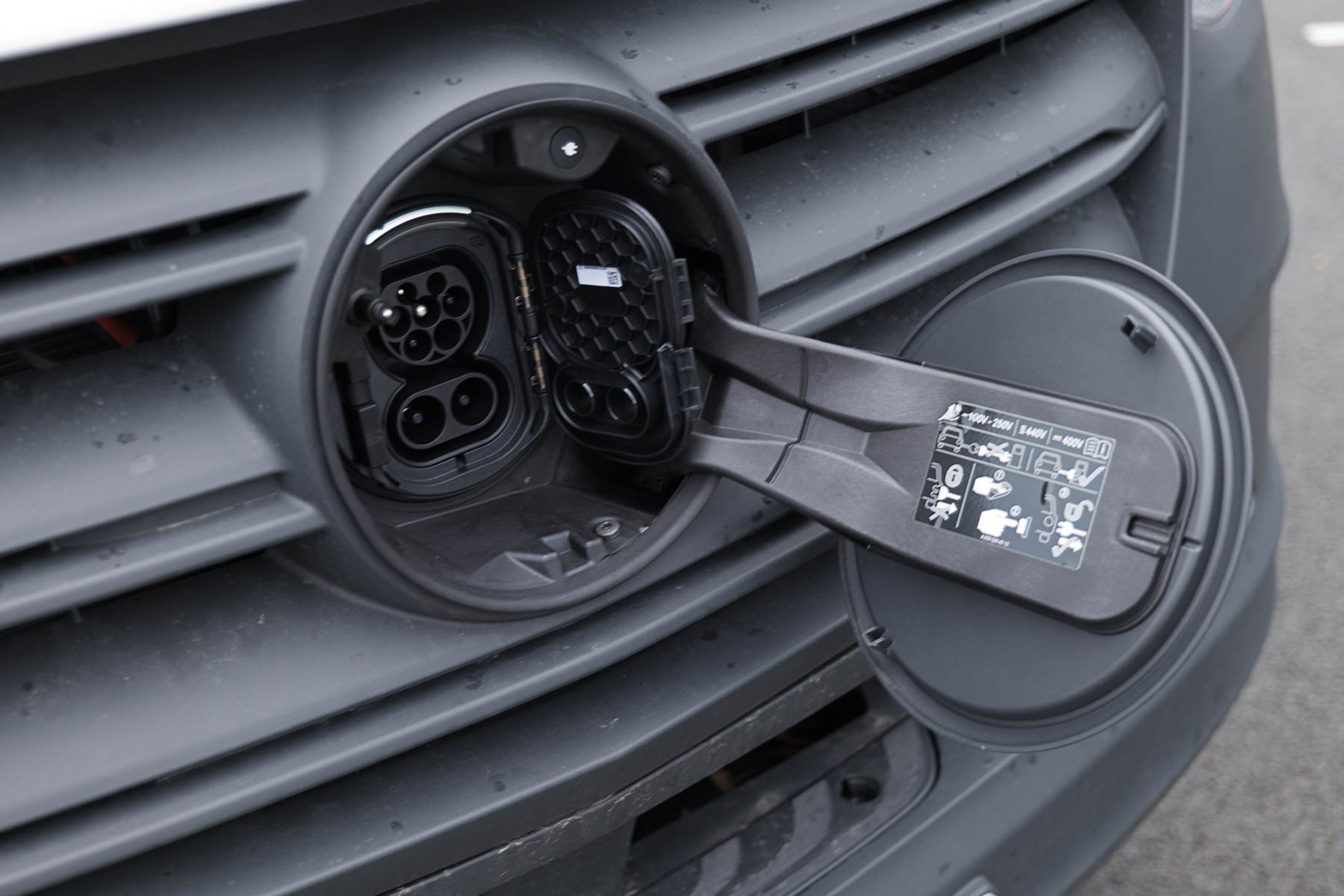 Other benefits will become apparent later on in ownership, though. Electric motors have fewer moving parts than a combustion engine, with no oil to change or clutch to replace – so maintenance costs are cheaper. And though there's little long-term data on their reliability, there's very little to go wrong.
Make ample use of the regenerative braking and you'll even find that wear components such as brake pads and tyres last longer.
Mercedes-Benz eSprinter warranty
Like all Mercedes vans, the eSprinter is warranted for three years and unlimited mileage – a boon to those who intend to use it to its maximum capacity most days. Furthermore, the battery pack is warranted for eight years 100,000 miles, guaranteeing at least 70% capacity after this time.
Mercedes-Benz eSprinter standard equipment
The eSprinter is available in only a single specification, based on the mid-spec Progressive trim. This doesn't endow it with a huge amount of equipment, though the basics are all there, including:
Dual passenger seat
Driver's heated seat
Air-conditioning
Audio system with DAB and Bluetooth
Crosswind assist
Attention assist
270-degree rear doors
Ply-lined load area
Mercedes Pro Connect (via app)
The inclusion of a wide array of safety equipment is very welcome, but it's a shame Mercedes hasn't endowed the eSprinter with a high-tech dash to match its high-tech powertrain – especially at this chunky price point.
There's little to say on this front. The diesel Mercedes Sprinter is the most reliable van on sale, according to the FN50 van reliability survey – and with fewer moving parts to go wrong, the eSprinter should be, if anything, more reliable still.
The diesel Sprinter has had three official recalls, though the last one involved just four vans and being related to transmission fluid wouldn't have affected the eSprinter anyway. Mercedes also offers its MobiloVan roadside assistance, free for any Mercedes van up to 30 years old as long as it's last been serviced at a Mercedes-Benz dealer.
Lots of safety equipment
Standard alarm and built-in connectivity
Assistance systems rated well by Euro NCAP
The Mercedes eSprinter packs in a lot of standard safety equipment that you'd have to pay for on other vans, particularly its autonomous emergency braking, active lane-keeping assist, crosswind assist and driver attention alert.
This package of functions was enough to net it a silver award in Euro NCAP's recent van safety tests, where its performance was just pipped by its smaller Vito brother.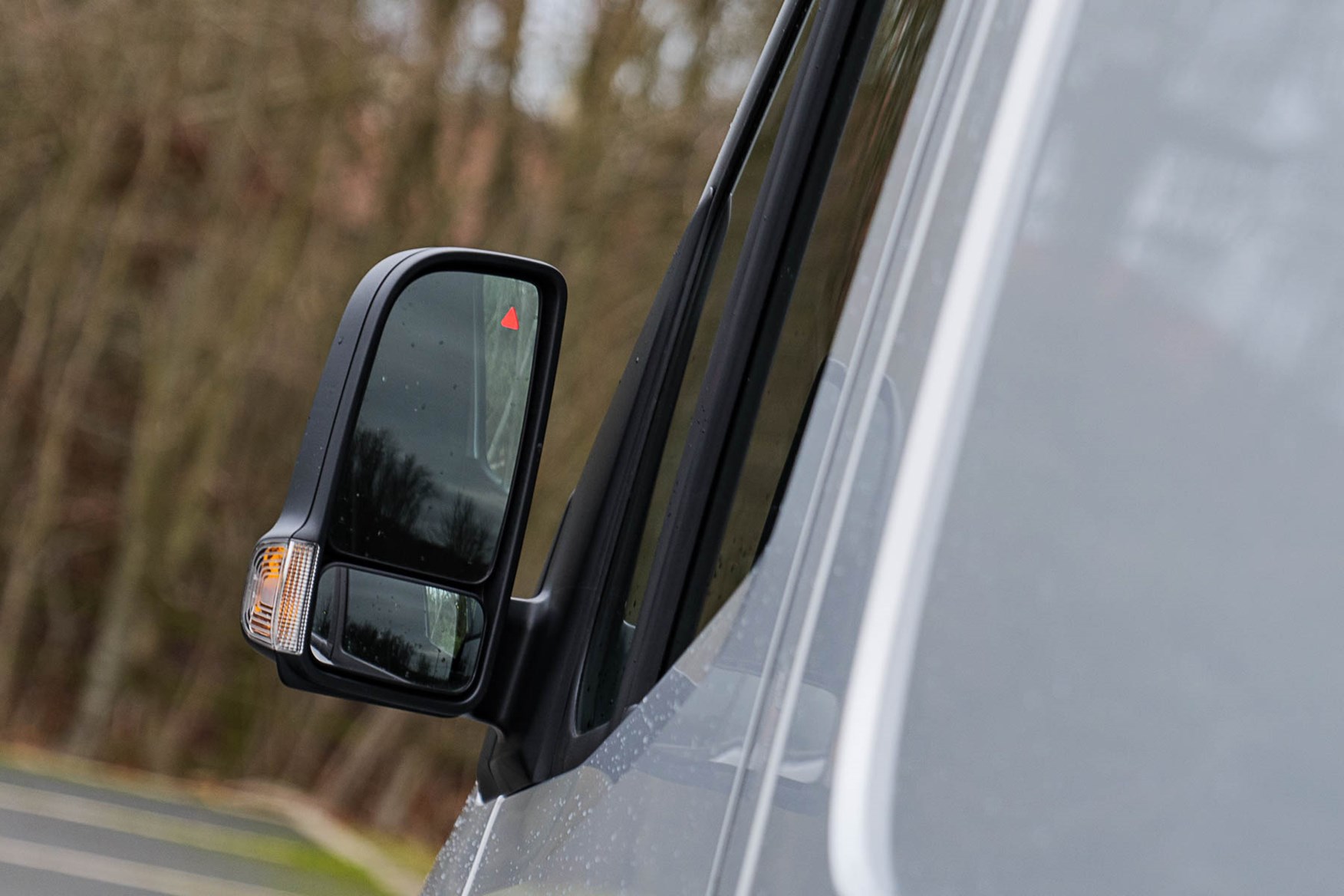 Security is well catered for, too – the eSprinter features standard keyless entry, so there's less chance of losing the key, while an alarm is also fitted.
Mercedes Pro Connect is an app-based system which beefs up security further – adding tracking features. This means not only can you remember where you parked the van, but after a theft law enforcement can track where the van is. The app also allows you to lock and unlock doors remotely.
Which Mercedes-Benz Sprinter eSprinter is best for me?
No choice here – there's one model, so if you want an eSprinter, you'll have to lump it with a single trim level and no choice of height or length.
That said, the L2H2 body is a useful size for most, and there wouldn't be a lot of point in having a bigger body – it would reduce the eSprinter's already low payload even further.
The real question is whether the eSprinter suits your needs versus a diesel model, and whether you want to take the plunge now or wait for a rival van with longer range and higher payload.
Also read:
>> Mercedes-Benz eSprinter dimensions and payload info
>> The Parkers guide to electric vans