View all Vauxhall Insignia reviews


Vauxhall Insignia Sports Tourer (2009 - 2017) review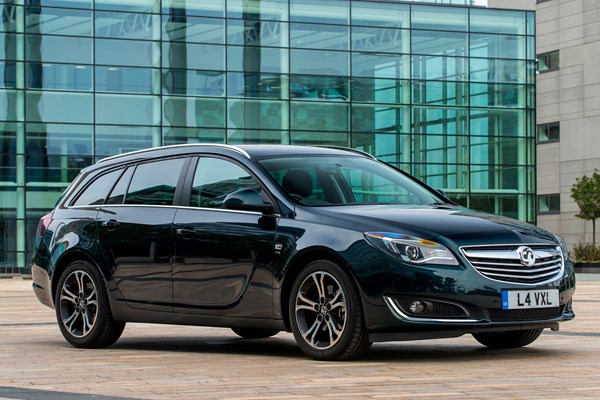 PROS
Elegant styling
Quality interior feel
Some clever practical features
CONS
Poor ride on 18-inch wheels
Restricted rear visibility
Clunky manual gear change
PROS
Elegant styling
Quality interior feel
Some clever practical features
CONS
Poor ride on 18-inch wheels
Restricted rear visibility
Clunky manual gear change
Vauxhall Insignia Sports Tourer rivals
The Vauxhall Insignia Sports Tourer represents a transformation from the firm's previous large family car, the Vectra. It's a far more stylish looking car in all its guises, but the estate version is perhaps the most handsome.
Quality levels match the best available and the Insignia feels more upmarket than the car it replaced.
However, the Sports Tourer doesn't quite have the levels of practicality of some alternative estates and any Vectra owners used to carrying large items will be a little disappointed by the lack of space.
Disappointingly, the latest diesel engines aren't as quiet or refined as those in alternative estates.
In June 2010 the diesel engines saw significant improvements to make them quieter and more refined resulting in the cabin being a more relaxed and comfortable place to be when it comes to noise levels. It's also a comfortable and refined car, so if you're covering lots of miles it's a sensible choice.
Major facelift in 2013
In 2013 the Insignia range received a major update. The headline stat was the inclusion of a quartet of new engines, one of which is capable of CO2 emissions as low as 104g/km for ultra-low road and company car tax.
The 2.0-litre diesel engine is now available in three power outputs – 118bhp, 138bhp and 161bhp – and the two lower-powered units can return the lowest emissions with claimed average fuel economy of 72.4mpg.
Petrol power is now available via a 1.6-litre turbocharged engine with 168bhp and 280Nm of torque, and a 2.0-litre version with 248bhp and 400Nm.
The chassis has been updated too, the Insignia now more comfortable than ever over long distances.
Happily, the interior has also undergone a major refresh to keep the Sports Tourer on par with its rivals. Ditto the safety kit, which has been given a huge boost on the recent car. This can be further added to via the optional extras list.
An all-new multimedia and sat-nav system is now available which is far easier to use than previous attempts. It can be controlled via voice, touchscreen or by a new 'touchpad' next to the gear lever.
To find out more about this extremely popular estate car, read on for the full Vauxhall Insignia Sports Tourer review.
Other Vauxhall Insignia (2009 - 2017) models: