View all Volkswagen Beetle reviews

Volkswagen Beetle Cabriolet (2013 - 2018) review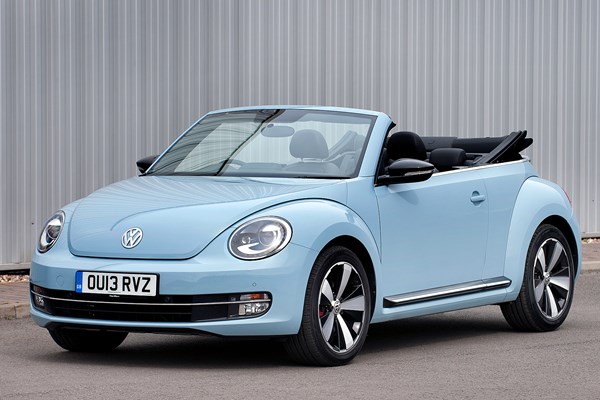 PROS
Larger boot, more efficient engine line-up, lots of safety kit
CONS
Ride is jittery, not as practical as a Golf
PROS
Larger boot, more efficient engine line-up, lots of safety kit
CONS
Ride is jittery, not as practical as a Golf
Volkswagen Beetle Cabriolet rivals
The first new-generation Volkswagen Beetle Cabriolet was launched in 2003 and it proved to be a popular car for those after a drop-top with unique looks. At first glance the new Beetle Cabriolet hasn't changed much. That familiar bug shape, so reminiscent of the original Beetle Convertible first revealed in 1949, isn't a surprise but underneath the skin VW insists it's more of a revolution than an evolution.
More practical
This new model takes design cues from the new Volkswagen line-up: the air inlet under the bumper looks very similar to that on the new Golf. Indeed, it shares many parts with the Golf and there's also more equipment and a larger boot.
It's reasonably practical and capable of carrying four in comfort. The previous car was blighted by limited rear headroom but VW has designed this new model so that adults sitting in the rear won't find their heads brushing the roof. The boot offers 225 litres of loading space and it includes a 50:50 split-folding rear bench seat that allows bigger items to be transported even when the roof is closed.
Engine line-up
The Beetle Cabriolet will be available with a choice of seven engines. The entry level engine is a 1.2-litre TSI petrol with 103bhp but a low-emissions version with VW's BlueMotion Technology will also be available. Then there's a 158bhp 1.4-litre TSI petrol and a 197bhp 2.0-litre version.
The diesel line-up comprises a 1.6-litre TDI with 103bhp, also available as a BlueMotion Technology version, and a 2.0-litre TDI with 138bhp.
The cloth soft-top can be opened in 9.5 seconds and closed in 11 seconds with a simple touch of a button and, unlike that in the Beetle convertibles of old, it lies flat when it's down so the driver can have an unrestricted view out of the rear of the car. The roof can be closed and opened when the car is in motion at low speeds, too.
Like the fixed roof version, new fuel-saving technology has been included so expect an official claimed average of around 65mpg or even more from the 1.6-litre TDI BlueMotion model.
A host of safety systems
Volkswagen has developed an active rollover protection system for the Beetle Cabriolet. It consists of two extendable hoops that are fitted behind the back of the rear bench seat. If the car were to roll over the hoops would be activated via the central airbag triggering unit. With fixed A-pillars the system is designed to provide effective protection for the occupants of all four seats within a matter of milliseconds. The Beetle also includes a standard front and head-thorax airbag system.
Other Volkswagen Beetle (2012 - 2018) models: