Volkswagen e-Golf review
Current Model
The go-to electric car if you're a first timer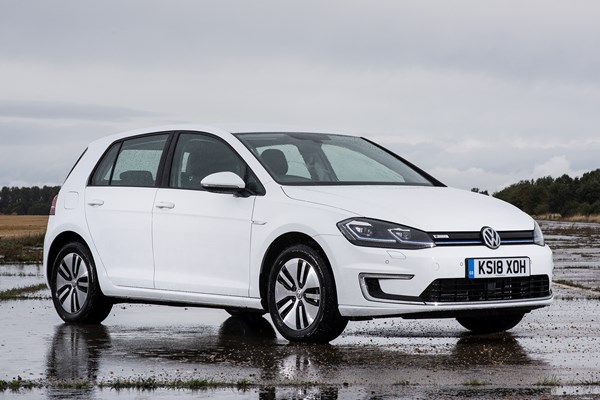 PROS
A great driving experience – comfortable, refined and quick

High-quality interior, decent room for driver, passenger and luggage

As an introduction to EV driving, it doesn't get much better than this
CONS
Limited range on a full charge – 120 miles maximum

Lacking a little bit of design flair compared with rivals

They won't be replacing it when the Golf goes out of production
PROS
A great driving experience – comfortable, refined and quick

High-quality interior, decent room for driver, passenger and luggage

As an introduction to EV driving, it doesn't get much better than this
CONS
Limited range on a full charge – 120 miles maximum

Lacking a little bit of design flair compared with rivals

They won't be replacing it when the Golf goes out of production
Volkswagen e-Golf Hatchback rivals
Volkswagen's aim for the e-Golf is to democratise electric car ownership. It seeks to do this by normalising the experience and turn Battery Electric Vehicle (BEV) ownership into a pleasant, fuss-free experience by doing everything as well as any other Volkswagen Golf. As such, it looks like a standard Golf and drives like one, too.
That's no bad thing. For those who are sitting on the fence about owning an electric car, the idea of familiarity will be very reassuring. Other manufacturers make a positive virtue of their BEVs being a bit different – which is fine when you're encouraging early adopters into the fold.
The e-Golf has some work to do, though. It's up against the Nissan Leaf, BMW i3 and Hyundai Kona Electric, which all claim a longer range, and in the case of the first two, been around long enough to pick up an enthusiastic following.
What is the Volkswagen e-Golf like to drive?

It's very, very good, and although it's an EV, it's also a Volkswagen Golf. So if you have experience of both, you're going to have a very good idea of how it's going to drive without even turning a wheel. Once you've fired it up, and adjusted to the silence, it's a case of pushing the transmission shifter into drive and pushing on the accelerator.
There are two transmission modes, D and B. The latter mode is good as you get a strong regenerative effect when you lift the throttle – a bit like heavy engine braking in a petrol car. And as for acceleration, it's smooth and rapid, and although Volkswagen quotes a 9.3-second 0-60mph time for our 136hp version, it feels a lot quicker than that.
There are five driving models in total, with Eco being reserved for those who are running out of charge. I'll go into more detail on the effectiveness of that in a later update.
Is the e-Golf comfortable as well as quick?
You bet. The e-Golf handles like a standard Golf, although in tighter bends, you're always aware of the additional weight of the battery pack. But it grips well and handles tidily, and does pretty much what you'd expect it to.
Where the e-Golf really excels is in terms of its ride quality. Maybe it's the additional weight of its power pack that does it, but the way that it flattens out the worst ruts, lumps and potholes is shockingly effective. It feels so impressively poised and level that you'll find yourself asking why you'd want to spend more.
It's one of the most soothing cars to drive in this class. But as well as that, it has to be said that it also drives rather better than Keith WR Jones's Nissan Leaf, which isn't exactly shabby itself. But that's because the Volkswagen is so much more refined and mature. So, it's a good car to drive, and one that we can heartily recommend from a comfort and handling perspective. We would mention its 120-mile real-world driving range, though.
What equipment does the e-Golf come with?
Although the e-Golf is expensive, you do get a £3,500 plug-in car grant from the government to help ease the pain. It's similarly priced to the BMW i3, but the Nissan Leaf and Renault Zoe – especially – are less expensive.
Standard equipment includes:
16-inch alloy wheels
Dual-zone climate control
Automatic LED lights
Cruise control
Parking sensors
9.2-inch Infotainment with sat-nav
Smartphone mirroring
How much does VW e-Golf cost to charge?
During six months of driving, and charging it on a home Pod Point (3.7kWh), and typically on an overnight tarriff at 10p per kWh, a typical 40-mile commute costs around 80p per day. At a more typical 14p per kWh rate for domestic electricity, a full recharge is about £3.00.
What is the range of the Volkswagen e-Golf?
After running an e-Golf for six months, we can confidently say that if you drive it in normal mode in decent weather and mixed traffic, you'll return between 110-120 miles on a full charge. This will fall to 90-110 when the weather turns colder, or you're heavy-footed – or doing lots of motorway driving.
The battery indicator suggests that a charge is good for an indicated 180 miles on a warm day, but it mis-reports unless you're in Eco+ and driving at a snail's pace. In winter, that indicated 180 (121 real-world miles) reduces to 160 (100 real-world miles).
Considering that the Nissan Leaf will get nearer 160 miles and its battery indicator is generally accurate, that's the only disappointment we have with the e-Golf. Finally, it's also worth considering the similarly-priced Hyundai Kona Electric, which in 60kWh form can easily beat 250 miles – the Golf's lack of range really is an issue in that context.
---
Volkswagen e-Golf six-month review
What it's like and how much it costs to live with a Volkswagen e-Golf over six months. Parkers editor Keith Adams shares his experiences of six months in a Volkswagen e-Golf

Electric car sales are on the up, and that position is changing rapidly. I ran the e-Golf as our commuter vehicle over six months, and although my work-home trip is shorter than Keith WR Jones's Nissan Leaf (18 miles versus 76 miles), it accurately reflected the typical use of these cars.
We worked out how much it cost, and factored in range anxiety as an issue on longer drives. The main question that needed answering was whether the e-Golf good enough to convert people who haven't so far been impressed by electric cars?
Did we add any options?

Options-wise the Parkers e-Golf had a few. We went for those which made life a little easier.
There's a heat pump (£830), which is said to reduce the heating system's electric power usage by recycling heat from ambient air and waste heat from the drivetrain components. Volkswagen claims that this alone can increase potential range by up to 36% in cold conditions.
In addition, we added the Winter Pack (£400) – headlight washers, heated front seats, heated windscreen washer jets and low washer fluid warning light – which really should come as standard on a UK car. Also, we couldn't resist the Active Info Display (£495), which replaces the traditional dials with a 12.3-inch high resolution TFT dash display screen with customisable menus.
Finally, keyless entry – including Start/Stop button on centre console (£375) – and carpet mats, front and rear, (£85) bring the price as tested to £30,700 (including government grant).
What's involved in fitting a wallbox?

We have a domestic charger fitted for our e-Golf

Like the Zoe and Leaf, the e-Golf uses a Type 2 connection for domestic wallboxes – and that gives you a flow of up to 7kWh, the maximum allowed for a home connection. For the Volkswagen e-Golf, that means a seven-hour recharge to fully charge from empty.
What does the wallbox installation involve?
We chose to go with Pod Point for our wallbox. The unit was what Pod Point calls a Tethered unit, and it weighs-in at £859 (or £359 after the government grant has been applied). What this means is that the the cable is attached to the wall unit, negating the need to use the car's own cable.

In the first instance a site survey needs to be undertaken in order to ascertain that your electricity supply is up to the task of delivering 7kWh for a sustained period of time. It's also at this point you need to decide if you want it installing inside your garage (if you have one), or on an external wall. According to our Pod Point engineer, the most popular location for a wallbox is on an external wall.
And how did the e-Golf work out?
Very well indeed. It takes seconds to plug in, and there's no messing about getting leads out of the boot to make it happen. More than that, when the weather is bad I don't have worry about getting my hands muddy or wet, as the cable wraps neatly around the unit as an all-in-one.
Learning to get the most from the e-Golf

I have to say that I might not be the most suitable long-term owner of an e-Golf in one important respect. I like a 'spirited' drive, and although the performance can't be faulted, it can take a toll on the indicated range. I remember one recent finish when a late finish in the office drew 50 miles range out of it – I live 18 miles away.
But I've been playing with my driving styles and the drive modes available, and despite being a 60-70mph commute, I can get much closer to the anticipated range with a little effort. For one, the use of air conditioning becomes optional, rather than expected. Switch it off, and you get 10 more miles.
Then there's Eco and Eco+ modes, which throttle back power delivery, and increase the effects of the car's excellent regenerative braking system. Eco+ is probably a little too hardcore for every day use, as it makes the e-Golf feel like it has 50hp, and you lose aircon and the adaptive cruise.
But Eco works well as a compromise, and doesn't rob it of too much performance or convenience features, and will happily return decent miles for your charge. The car does have a habit of nagging you if you're not driving efficiently though (above) – and as someone who hates being told what to do, it can have the opposite effect on my energy consumption.
Online help for e-Golf drivers
How Volkswagen Car-Net works


The good news is that you don't have to be an iPhone user to get the most from Car-Net; it also intgrates with your Android phone and web browser too. Car-Net gives you real-time information about your car, such as location and battery status, which works well if you're the sort (like me), who forgets where they've parked.
The other thing I like about Car-Net is that you can send configuration data directly to your car. So, I can see where my car is, whether it's locked, and how much juice is left in it.
Also, I can set remote-start times for recharging when plugged in, and by setting a departure time, I can also pre-warm and pre-prepare the car for the journey without leaving the comfort of my home. As this e-Golf is equipped with a supplemetary heating system, it's super-efficient, and toasty warm by the time I climb aboard.
As I'm fortunate enough to have a home charger, and plug-in overnight to get the most out of my cheap electricity tariff, I can get the car throughly warm without depleting the battery. Food for thought when managing 120-mile range...
Comparing the e-Golf and Nissan Leaf

We pit the market-leading EV against our e-Golf


So, now we know. The Volkswagen e-Golf is a particularly nice car to drive, and a brilliant place in which to spend your time. It rides well, steers beautifully, and it has the most resolved set of controls of any hatchback in its class.
But the thing is, that's the case of any Golf – be it a 1.0-litre base-spec model, or a firebreathing R. They're all class-leading products, which is impressive as we're coming to the end of the Mk7.5's life.
But just because it's good as a car doesn't mean it's great as an EV. As we know, there's more to being a great electric car than how it drives – real-world range is a hugely important factor. As is usability and overall fitness of purpose.
Where does the e-Golf beat the Leaf?
This is easy. Because the e-Golf has normalised the whole EV experience, it's easy to conclude that where it beats the Leaf is in its styling, interior, controls, and the overall way it drives. If you're an EV newbie, there's nothing about the e-Golf that will intimidate you. And right now, that's what the market needs.
In terms of driving experience, the Leaf isn't far behind the e-Golf. You're saddled with a high driving position, which is good if you're vertically challenged like me, and it steers, handles and rides reasonably well. The steering is slightly heavier and offers more feel than the Golf, but in all other areas, the German car roundly trounces the Japanese one.
But overall, it's a big score to the e-Golf. It's better to drive, nicer to sit inside, and – joy – the charging port is at the rear, which means I don't need to forward park in bays. I'm opposed to doing that at a molecular level.
Where does the Leaf beat the e-Golf?
The Volkswagen's limited range really hampers it against the Leaf for all but the most ardent urban dwellers. The Leaf's reported range is similar to the e-Golf's but in reality, it drops its miles more slowly – and in winter, were the Golf's down to a 100-mile range, the Leaf will go 20-30% further.
It's also usefully quicker – with 14hp additional power on offer, acceleration is sprightly, and able to challenge the most hard-charging GTIs. It's also worth noting that the Leaf is also cheaper at £27,490 after a £4,500 government grant for plug-in cars, but it's anticipated to depreciate more heavily.
It's also worth noting that the Leaf's e-Pedal works really well. It takes the e-Golf's B mode for its transmission several stages further, with a regenerative effect that allows you to drive for 90% of the time without ever touching the brake pedal. Right down to a halt. That alone makes it feel a little more alien to EV newbies – but you can switch off that function.
So, which is it to be? e-Golf or Leaf?
This is a predictable answer for anyone who's been following our updates. The e-Golf is a class act and will woo you with its well-resolved interior and exterior styling, as well as its friendly demeanor, relaxed driving experience and semi-premium image.
As such, all the EV newbies I've introduced to the Golf love it. However, there is a but, and I'm sure you know where it is...
But in terms of cost, range and overall fitness for purpose, the Leaf is the better bet for anyone who's commited to buying an EV, and would like to use them for more than just tooling around town. Had the e-Golf a better range, there would have been no contest – but as it stands, the Leaf makes the more convincing case for more people more of the time.

Winter concerns

How the colder weather affects the range of the e-Golf


Battery technology works less well in cold weather, because it takes longer to top-up, and discharges more quickly than on a warm day. It will also produce less power, and that adds up to less range, and poorer performance.
Volkswagen's battery management tech is up there with the best – and adds a host of clever features that ensure keep the power pack operating at its optimum temperature. In the case of the e-Golf, it uses liquid to keep the battery pack warm, which as well as making it more efficient, should help prolong its life.
Problem, of course, is that these systems draw power from the same batteries they are heating. The good news is that you can get a rough idea of how things are affected by visiting Volkswagen's site, which explains all – and tells you what you can expect as the weather turns (below).
So, what can we do to maximise the range?

We've done one major thing, by specifying the optional heat pump, which puts far less strain on the car's battery pack in order to warm the e-Golf's cabin. In addition to using this, the other good thing to do, is use Car-Net to pre-heat the cabin while the car is plugged in on cold mornings.
Again, this takes strain off the battery, and means you don't need to kick the heater into overdrive in order to get yourself toasty in the morning. But even with these systems in place, there's no escaping that when dealing with a car that's not exactly at the cutting edge in terms of range, things can get a little tighter.
In the real world, how much?
If a full charge was good for an indicated 180 miles on a warm day, that's reduced to 160 miles as the tempterature falls below 10 degrees. Considering that our indicated 180 turned into 121 real-world miles, it looks like the hit taken due to the cold weather really isn't that bad in percentage terms. We're getting 100 real world miles.
But it's enough to get us biting our nails if we're not keeping it top-up charged at every opportunity – and any EV evangelist will tell you, this is not what you should be doing to get the most out of your electric car. A quick look at the e-Golf's driver performance screen reveals that although we're driving reasonably efficiently, we're still only running at 80% eco effectiveness. Maybe it's time we went back to school…

Volkswagen e-Golf frequently-asked questions

We've been asked a whole load of questions along the way. It seems that electric cars are a real talking point for many of you.


Does the e-Golf drive like a normal car?
Yes, absolutely. The biggest shock is when you fire it up, there's absolutely no mechanical noise to gauge its 'running' status against. You only know you're ready to drive away, when you put it in Drive and and it bing-bongs a confirmation for you.
Once under way, it drives like any other automatic transmission car, but with an other-worldly level of refinement (compared with petrol and diesel versions). As you'll have picked up (assuming you've read all of this), the brakes work very effectively in regeneration – you rarely need to tickle the brake pedal at all...
Other than that, the e-Golf shouldn't scare anyone who's moved over from a car powered by an internal combustion engine – a far cry from the perception that many people still hold about electric cars.
How long does it take to charge?
If you have your own wallbox at home, and it's capable of charging at 7kW, then you should be able to 'fill-up' the e-Golf from empty in 4-6 hours. You're best considering a three-pin plug socket as an emergency measure, as that refill time can extend to 15 hours.
However, if you're out and about and are looking to involve yourself in a little public rapid charging, then you can from near empty to 80% (or about 100 miles) in around 45 minutes. That's a decent leg-stretch, coffee and browse in the newsagents at any decent service station.
Is getting a home charger worth it?
Definitely. But you do need to be sure that your house wiring is up to it. As I found, if it's old or sub-standard, you will probably need a rewire to ensure a clear, error-free supply to your car. That can be costly, but in the long-run, this will pay you back in petrol money saved.
It's also cheaper than a public charger to run. My Pod Point would deliver 3.7kWh, and typically on an overnight tarriff, you'll pay 10p per kWh, which on my typical 40-mile commute, comes in at 80p per day. At a more typical 14p per kWh rate for domestic electricity, you're looking at around £5.00 per recharge.
To get a decent gulp of public power, 80% would be typically more like £2.00. A full recharge at home works out at about £3.00. Of course, some public chargepoints are free, but they are getting rarer.
What's the range of a Volkswagen e-Golf?
I've talked about this at length in this report, but a useful guide when driven normally is 100 miles in the winter and 120 miles in the summer. In Eco mode that could easily extend to 160 miles, which in town driving means you'll be moving all day without a problem at all.
Would we drive to Cornwall in one?

I could, but I'm not sure I have the patience. There are some excellent mobile apps (such as Zap Maps) out there to locate chargepoints, and the network is expanding fast – but I'd struggle with the elongated pitstops or the wait for a free plug while someone else takes up the bay.
Anything else?
I've been asked some odd questions along the way – here are some answers…
Is it easy to get one?
Volkswagen's struggling to meet demand with some customers waiting up to six months for theirs. This is easing off now, but it's worth bearing in mind that 2019 will probably be the last year of e-Golf production, as the company pushes the ID.Neo from 2020.
Any charging dramas in the rain?
Not at all. I've plugged in many times in the wet, and it's never been an issue.
Is it happy on the motorway?
Yes indeed. Refined and planted. Just like any other Golf really. Except that if you're running a sustained 70mph, that 120-mile real-world range will drop to around 90 miles.
What happens when it runs out of juice?
I've wimped out of finding out. Despite running it low, I've never got close to stopping… Not sure I want to. Would you want to run out of petrol or diesel either? Exactly!
* Of course, if you have any other questions you need answering, please email me (click on the link below the image), and I'll be glad to help you out.
What the VW e-Golf costs to run

We're coming to the end of our time with the e-Golf and it's time to get out the calculator and work out what it's cost us over the past six months.


How much electricity did it use?
It's interesting to consider the psychology of an EV driver before we drill too deeply into the running costs. During my time behind the wheel of the e-Golf, it's pretty much felt like 'free' driving to me – the fact I have my own wallbox, and plug in and go when I use the car adds to that feeling.
I must admit that I've only used public chargers twice during the past six months. I didn't go on any long trips, and other than one occasion when I plugged in at my local car park (it didn't work without a 'phone call), and another at Peterborough services, I've never felt the desire to. So, the costs are hidden until the electricity bill comes in.
I have plugged in at the office intermittently (which currently is free), and when other people have used the car, they have handled their own costs. So, I'll just cover my own cost of ownership – and reiterate that it's felt like my electricity bill hasn't gone up too much. But the reality is that it has – and this is what the numbers look like after 4,360 miles behind the wheel.
How the costs stack up
Total mileage (charged at home): 2,936
Energy consumption: 0.29kWh/mile
Cost of domestic electricity: 11.47p/kWh
Total cost of electricity: £97.66
How does that compare with petrol?

Obviously that figure should be judged for what it is – purely based on domestic charging only, and representative of anyone who has a charger at home, purely uses this, and is a heavy-footed driver like me. But in a nutshell, and compared with a petrol model, that's a whole lot less money than you'll spend at the pumps.
I drove a Volkswagen Golf 1.0 TSI 115 SE Nav over the 2018 summer holidays by way of comparison, and it was an interesting exercise. On one hand, I loved the additional range from a tank of petrol, but missed the convenience of charging up at home.
How the costs stack up (2018):
Total mileage: 2,936
Fuel consumption: 43.1mpg
Cost of fuel: 120.9p/litre
Total cost of petrol: £366.33 (303 litres)
So, on the face of it, there's a clear-cut case for choosing electric on fuelling costs alone? Yes, but once you take monthly finance figures into account, the picture changes somewhat.
Financial conclusion
If you're like 91% of UK retail buyers, and financing their purchase monthly, the picture changes somewhat, based on the much higher PCP cost of the e-Golf. We like the Volkswagen e-Golf a great deal, and would recommend it as an EV purchase – with provisos, PCP finance being one of them. Luckily, it looks much better value on Personal Contract Hire (PCH), and you can see what lease deals are available here.
The Golf's list price was dropped by £2,765 (to £27,575 after government grant) at the end of August 2019. On a 36 month PCP agreement, with a £3,645.37 deposit and an annual mileage limit of 10,000, monthly payments work out at £334.36. This price drop is down to Volkswagen clearing the path for the new ID.3, but represents a significant drop in overall price – and with resale values for EVs in general getting better, expect further drops in leasing rates in the future before stocks dry up.
Find out more about all electric cars here