View all Volkswagen Touareg reviews


Volkswagen Touareg Estate (2010 - 2018) review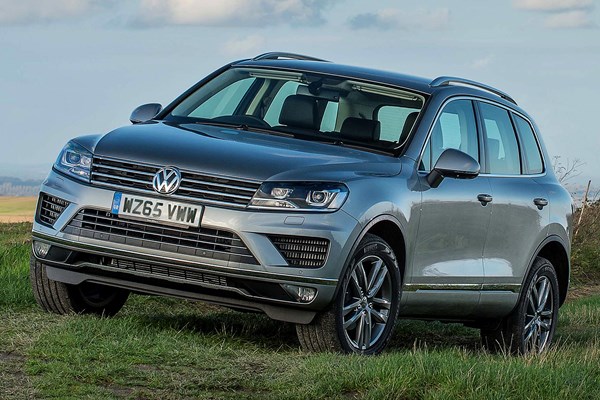 PROS
Premium cabin
Superb refinement
Economical 3.0 V6 TDI
Off-road prowess
CONS
No seven-seat option
Hybrid inferior to V6 TDI
V8 model thirsty
PROS
Premium cabin
Superb refinement
Economical 3.0 V6 TDI
Off-road prowess
CONS
No seven-seat option
Hybrid inferior to V6 TDI
V8 model thirsty
Volkswagen Touareg rivals
The second-generation Volkswagen Touareg may have a similar appearance to its predecessor, but it is a significantly different car. True, the exterior shape is similar albeit with the new front end first seen on the 2009 Golf, and facelifted again in 2014 to resemble others in the VW line-up, but in every other respect this is a considerable improvement on the already impressive original.

On the road it's more refined with better poise in corners while the steering is more precise, yet it's still as relaxing at cruising speeds. The interior is a big step forward and feels far more sophisticated with a luxury car feel, plus there's the usual build quality we've come to expect from Volkswagen.
The engine line-up originally included the superb 3.0 TDI that's punchy yet economical, plus - for the first time in a Volkswagen - a hybrid unit which delivers rapid performance but with low CO2 emissions, as well as a V8 TDI. When the V6 TDIs were improved in 2014, the Hybrid and V8 TDI were removed from the British range. Most models are unlikely to venture off tarmac, but Volkswagen does offer an Escape version designed for more demanding terrain.
Refined and comfortable
It should come as no surprise the Volkswagen Touareg is good to drive when you consider how closely related it is to the Porsche Cayenne. The Touareg doesn't have quite the precision of the Porsche on twisty roads, instead focusing on comfort and refinement, but it's still a very good car to drive for this class of 4x4.
Just as importantly, the ride quality of the VW is superb and betters the Porsche for the way it serenely deals with lumpy roads, something improved further still at the 2014 facelift. It helps that this second generation Touareg is around 20 percent lighter than the car it replaced. Another plus is the VW is very refined, quiet and great at covering large distances with ease.