View all Volkswagen Up reviews

Volkswagen Up review
Current Model
The benchmark of the city car class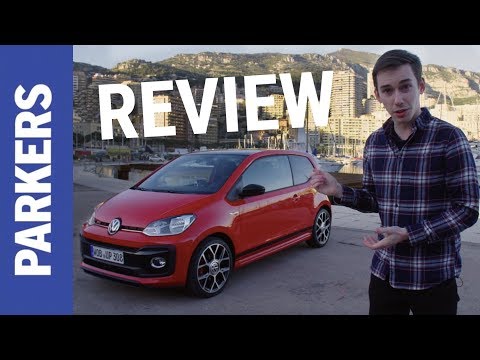 Enlarge
1

videos
Enlarge
86

photos
PROS
Class-leading build quality
Peppy range of petrol engines
Surprisingly good practicality
Accomplished all-round drive
Fabulous Up GTI model
CONS
Pricier than many rivals
Only four seats
Sparse base trim level
E-Up is too expensive
PROS
Class-leading build quality
Peppy range of petrol engines
Surprisingly good practicality
Accomplished all-round drive
Fabulous Up GTI model
CONS
Pricier than many rivals
Only four seats
Sparse base trim level
E-Up is too expensive

The Volkswagen Up replaces the Fox at the base of the German brand's range as its smallest and cheapest car. Ideal for young drivers or those with a keen eye on value for money, it promises to combine Volkswagen levels of quality with city car running costs and convenience.
Competition, however, is strong, with accomplished rivals such as the Hyundai i10, Toyota Aygo and Fiat 500 all available at a similar cost, plus in-house competition from the Skoda Citigo and SEAT Mii – both of which are mechanically similar to the Up thanks to Volkswagen Group platform sharing.

So, is the Up the ultimate city car, or will its myriad rivals prove too much to handle? Read on to find out.
Skip to Move Up trim onwards for the best standard kit
The Up is available in three main trim levels, plus one special edition Beats version, a GTI performance derivative and the all-electric E-Up.

We'd avoid the base Take Up trim as standard kit levels are sparse, yet upgrade one step to Move Up spec and features such as air-con, Bluetooth and USB phone connectivity, a 5.0-inch colour infotainment screen and a variable height boot floor are all standard.
Peppy economical petrol engines, plus the all-electric E-Up
Every Volkswagen Up (apart from the E-Up) comes with a 1.0-litre three-cylinder petrol engine that is available in three different power outputs – 60, 75 and 90hp, plus a 115hp variant in the Up GTI.
All are capable of propelling the Up around town nicely, although we'd stick to higher output versions if you plan on doing lots of motorway driving. Fuel economy is impressive no matter which engine you go for, reaching highs of 68.9mpg for the 60 and 75hp 1.0-litre stop-start models.
Tardis-like practicality
Measuring up at 3.6 metres long and a shade over 1.9 metres wide, the Volkswagen Up is one of the smallest cars on sale today. However, there's still enough room for four adults (there's only two seats in the back), plus the boot space is up there with the best in class.

Storage space is also reasonable for a car of this size, with large door pockets and a spread of cubbyholes up front.
Comfortable, yet fun to drive
Volkswagen has pulled off a clever trick making the Up feel agile and fun to drive, but also comfortable and refined. The quick steering and small turning circle are perfect for buzzing around narrow urban streets, while the forgiving suspension does well to soak up pockmarked roads.

Refinement on motorways is good for a car of this size, plus there's plenty of driver enjoyment to be had on twisty country roads thanks to the car's diminutive kerb weight.
VW Up GTI
Launched in 2018, the Up GTI is the performance derivative of Volkswagen's city car, boasting an increased 115hp power output, bigger brakes, a lowered chassis, 17-inch alloy wheels as standard, a sportier appearance and a generous spread of standard equipment.
Pound-for-pound, it's one of the most enjoyable cars that money can buy and should be a shoe-in for our 2018 Parkers Cheap Fast Car shortlist.
Volkswagen E-Up
The Volkswagen E-Up is a pure electric city car with zero tailpipe CO2 emissions and a range of 99 miles. It's a perfect solution for city-dwellers looking for environmentally friendly travel, however it's not cheap.
Even with the £4,500 Government grant, the E-Up is still thousands of pounds dearer than rivals such as the Renault Zoe.