Skoda Citigo review
Current Model
Capable and great value city car feels surprisingly grown up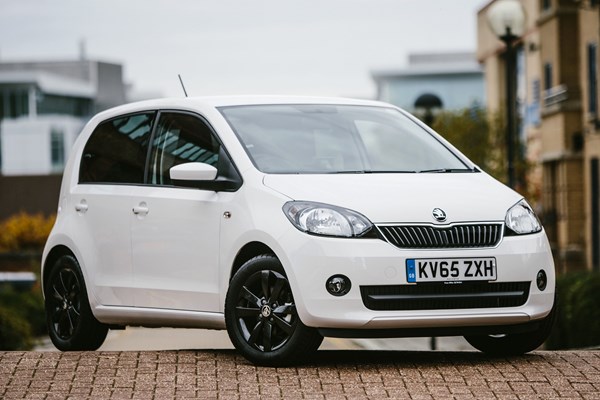 PROS
Generally excellent value
Low running costs
Practical for its size
Interior quality
CONS
Limited engine range
Strong competition
Too dull for some
Lack of personalisation
PROS
Generally excellent value
Low running costs
Practical for its size
Interior quality
CONS
Limited engine range
Strong competition
Too dull for some
Lack of personalisation
Even seven years on from its 2012 debut, the Skoda Citigo cuts a strong silhouette in the competitive city car market. Skoda's first attempt at a car in this market segment has been a successful one, and the Citigo is one of the very best small cars you can buy.
If you think the Citigo looks familiar, you may be confusing it with one of its sister models. It's based on the same underpinnings as the Volkswagen Up and SEAT Mii – with styling and trim the only physical differences between the three cars. The Citigo is the cheapest of the three to buy, though.
Competition in the market is strong, with many new models launched since the Citigo's debut. Cars such as the Kia Picanto, Ford Ka+, Peugeot 108 and Suzuki Celerio all take aim at the Citigo, while higher-specification examples also rival entry-level versions of superminis such as the Skoda Fabia or Hyundai i20.
Tiny size, tiny running costs
Ownership of the Skoda Citigo day-to-day should be very inexpensive. Purchasing the car in the first place is affordable – it's the cheapest of its sister models, and Skoda offers excellent finance deals with regular deposit contributions and 0% APR packages to tempt buyers. It's worth mentioning, though, that the price of these can get very close to the lower end of the larger Skoda Fabia – making that car worth considering if you'd rather have more space than equipment for your money.
While the Citigo's pair of three-cylinder engines aren't exactly powerful, they offer excellent fuel consumption – and if buying used, most qualify for free or low road tax. Skoda's reputation as a dependable manufacturer should also mean maintenance costs are reasonable.
Spacious, high-quality interior
Even more modern city cars struggle to compete with the Skoda Citigo's excellent interior. It's roomy for a car this small, with genuine space for four six-foot adults – though access to the rear on three-door versions is slightly limited. The front seats, though, feel spacious, airy and comfortable, aided by the minimalist dashboard that sites all the major controls up high.

No version of the Skoda Citigo gets a touchscreen infotainment system as standard, but the slick controls for the radio and heating feel well up-to-date and premium.
For navigation and infotainment purposes, Skoda offers a bespoke smartphone app and built-in phone cradle – a clever move, considering the high-quality displays that most of us carry in our pockets every day. Prior to the car's 2017 facelift, this was provided by a removable Garmin unit.
What's just as impressive is the Skoda's sense of quality. Materials feel beautifully put together, dense and expensive for a city car. Elements such as the painted door tops also lend a cheerful ambiance that's missing from some competitors.
Fun to drive
The Citigo is offered with a pair of 1.0-litre, three-cylinder engines that do without any form of turbocharging or forced induction. This means that power outputs and performance are modest, and the turbocharged engines fitted to some rivals do endow them with a greater turn of pace. However, the engines are rev-happy and characterful, and once up to speed they're perfectly content to maintain a steady cruise.

The Citigo rides and handles with a verve that belies its small size. On the road, it really feels like a much larger car, thanks mainly to a composed and supple ride that keeps the car feeling stable and planted. Quick and direct steering makes it just as much fun to pilot down a twisting B-road as it is to thread through tight city streets, while decent levels of refinement also mean you could undertake a long motorway journey without feeling too fatigued.
Ideal as a first car for younger drivers, a city runabout or simply cheap everyday transport, the Skoda Citigo could be an excellent buy. Read on to find out how Skoda's smallest model stacks up next to its competitors.