Volvo V40 review
Current Model
Comfortable old stager that's still a sound all-rounder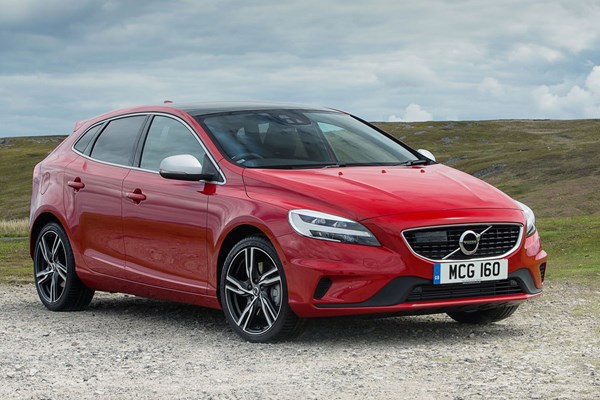 PROS
Good to drive but not the best ride
Exceptionally comfortable seats
Good refinement levels
Lots of standard safety equipment
CONS
Fewer engines offered as of 2018
Dated media system
Cramped interior space
Cluttered, button-heavy centre console
PROS
Good to drive but not the best ride
Exceptionally comfortable seats
Good refinement levels
Lots of standard safety equipment
CONS
Fewer engines offered as of 2018
Dated media system
Cramped interior space
Cluttered, button-heavy centre console
Volvo V40 Hatchback rivals
The Volvo V40 is a compact premium hatchback that's been around since 2012 but still remains a popular choice for those looking for a posh-ish badge. It's a fiercely-fought market sector, but brings Swedish cool, a refreshingly left-field image, and the kudos of coming from a car manufacturer that's on the way up.
If you're tempted by a V40, it's likely that your shopping list will also contain the Audi A3 Sportback, Volkswagen Golf, Mercedes-Benz A-Class and BMW 1 Series, and all of them are much younger, and packed with much more up-to-date technology. But there are a lot of conservative buyers who like the Volvo's old-fashioed simplicity.
It also offers slick styling, a comfortable interior and excellent value - especially when you consider how much safety equipment is available and how it manages to blend an enjoyable drive with impressive comfort. Much in the same way the Volkswagen does.
There's also a jacked-up version called the V40 Cross Country, for those who fancy bumping up and down kerbs.
Suave looks, and a surprising drive
It's really rather good drive, as you'd expect from a car that car trace its ancestry back to the second-generation Ford Focus. The V40 flies under the radar compared with its rivals but it feels very similar to the accomplished Volkswagen Golf from behind the wheel. That's to say it's quiet and refined with nicely weighted steering, a comfortable ride even on larger alloy wheels and good body control in the bends.
On the motorway it's relaxed and very quiet, and makes for an excellent all-rounder. The only black marks on the move are the restricted visibility when manoeuvring - the windows at the back are quite small and the pillars at the rear of the car are chunky, so it's a good thing parking sensors and cameras are available to assist here.
A simple range to choose from

Since 2018, Volvo has offered just two petrols and two diesel V40s. Petrol power is provided by the 122hp, 220Nm T2 and the 152hp, 250Nm T3 - both of which are available with manual and automatic gearboxes. Diesel engines, meanwhile, come in 120hp, 280Nm D2 form and 150hp, 320Nm D3 form - which can both be specified with manual or automatic gearboxes.
With similar claimed fuel economy between the two petrols and the two diesels proving similarly frugal, it's the more powerful models that appeal most here, if you can afford them. Previously, more powerful T5 and D4 engines were available which were really rather good for stealthy performance. If you want a V40 with stronger performance, you'll need to seek out a used version of one of these.
Trim variations reflect the rest of the Volvo range, so the entry point is the Momentum mode, then you can choose between the sporting R-Design and the luxurious Inscripton model. The Cross Country gets its own review on Parkers.
Unsurprisingly, it's still a very safe choice
Despite having been around for a while, safety is high on the list with all manner of cutting-edge active systems available as standard or as optional extras. To ensure the greatest pedestrian safety the company has crammed an airbag under the bonnet. This system features a bank of sensors in the front bumper that activates the airbag if it thinks the car is about to hit a pedestrian.
Other features include the option of blindspot monitoring (BLIS), lane-keep assist with adaptive cruise control, automatic parking and a suite of airbags around the car. There's Autonomous Emergency Braking, collision warning with adaptive braking, and active LED headlights. Inside there are some nice touches including impressively comfortable seats, a frameless rear-view mirror and a backlit gearknob.
As we said, this is an impressively safe car for one that's been in production for this long.
But to find out more, and to see how it stacks up against its rivals, read on.