View all Audi A6 reviews


Audi A6 RS6 Avant (2013 - 2018)
Review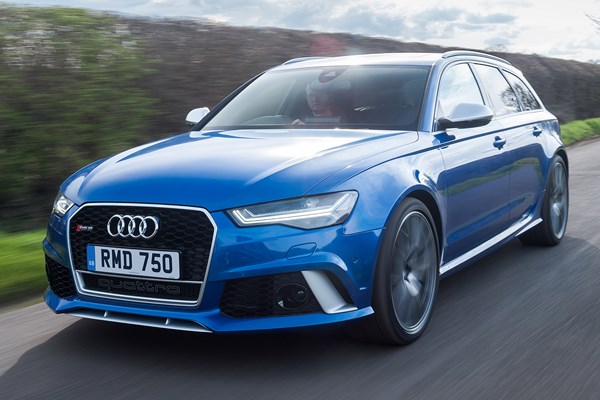 PROS
Seriously fast
Huge amounts of grip
Lots of equipment
Very practical
CONS
Not cheap to run
Ride can be choppy
PROS
Seriously fast
Huge amounts of grip
Lots of equipment
Very practical
CONS
Not cheap to run
Ride can be choppy
Other Audi A6 (2011 - 2018) models:
Verdict
The Audi RS6 Avant is an ultra-high performance car, created by slotting an enormously powerful engine into the innocuous A6 Avant estate. The German firm promises 'supercar performance with estate car practicality' – and you'd be hard-pressed to argue they haven't provided exactly that.
This is one immensely fast car. It simply devours motorway miles and almost feels too fast for enthusiastic B-road jaunts. That's not all though; at lower speeds it's also very quiet and simple to drive.
Primary competition for the RS6 comes from the bonkers Mercedes-Benz E63 AMG Estate, which offers a similar package yet unfortunately isn't available with four-wheel drive in right-hand-drive configuration. That means it loses some of the practicality and all-weather assurance the RS6 offers, however the E63 does provide superior driver engagement.
Smaller engine but bigger performance
The new RS6 has downsized slightly, taking its power from a turbocharged 4.0-litre V8 petrol engine instead of the 5.0-litre V10 in the previous generation. Despite the reduced size, however, it is even faster than its predecessor with a 0-62mph time of 3.9 seconds.
Top speed is electronically limited to 155mph, but can be upped to 174mph with the optional Dynamic package and derestricted further to an eye-watering 189mph if the 'Dynamic Plus' box is ticked on the options list. Happily, large high-performance brakes have been fitted, with carbon-ceramic brake discs available as a cost option.
Like all Audi RS models, the RS6 Avant uses the quattro four-wheel drive system. The engine's 552bhp is sent to all four wheels via an eight-speed automatic transmission with tiptronic shift controls should the driver wish to change gear themselves.
New air suspension system
The new RS6 Avant gets adaptive air suspension - a first for an Audi RS model - although conventional steel-sprung suspension can be specified instead as an optional extra. The air suspension adjusts itself automatically according to road conditions and modes selected by the driver.
Steering ratio and weighting is driver-adjustable too; and it's also possible to make the car louder via switchable flaps in the exhaust system. A sports exhaust system is a cost option for even sportier sound and yet more volume.
Impressive list of kit
There's a huge amount of standard equipment available on the RS6 Avant and it can be customised further still by exploring the vast optional extras list.
Highlights on the standard kit list include xenon headlights, Audi's parking system plus, cruise control and DAB radio.
Optional extras include all-LED headlights, head-up display and a 15-speaker Bang & Olufsen surround sound system.
Read on for our full Audi RS6 Avant review to find out more about this supercar-slaying family estate.