BMW 3-Series M3 (2014 - 2018) review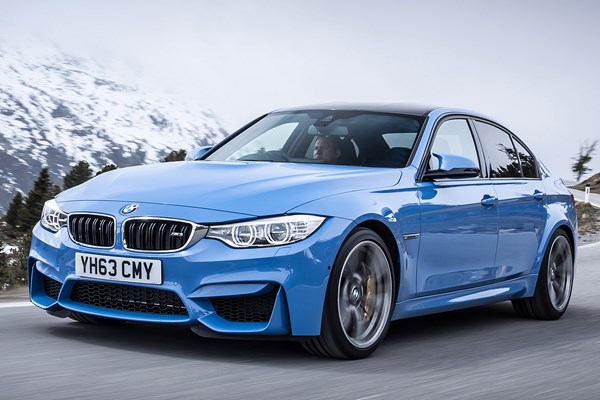 PROS
Engaging performance
Muscular stance
Communicative handling
Family car practicality
Manual gearbox standard
CONS
Very expensive 3 Series
Interior lacks drama
'Piped' exhaust sound
PROS
Engaging performance
Muscular stance
Communicative handling
Family car practicality
Manual gearbox standard
CONS
Very expensive 3 Series
Interior lacks drama
'Piped' exhaust sound
So much has the BMW M3 name become fabled among motoring enthusiast circles in the near three decades since the original was launched, that there's an all-new model to sit alongside the sportier-looking
M4 versions.
It's logical really: while the previous 3 Series coupe and convertible have become the 4 Series – hence M4 for the high performance version – the 3 Series saloon and Touring estate have continued using their familiar numbering system.
Mechanically identical to the M4, the new BMW M3 is only available with the four-door saloon bodyshell, and we expect it to be something of a rarity next to its two-door brethren.
More efficient, turbocharged petrol engine
M3 aficionados will weaken at the knees learning the latest in the lineage has returned to a straight-six engine layout, but brand purists may baulk at learning the 3.0-litre motor's turbocharged, rather than naturally-aspirated.
They needn't worry because turbocharging ensures performance remains on par with expectations from the previous generation, yet downsizing has boosted both fuel economy and reduced emissions significantly.
Nestled under the M3's bonnet, blistered at its centre with a requisite power bulge, is a motor boasting 425bhp at 5,500rpm – encouraging plenty of throttle application – and 550Nm of torque available from just 1,850rpm. In real-world terms this means the top speed remains electronically governed at 156mph, while the 0-62mph surge is over in just 4.1 seconds – identical to the M4 coupe's time.
Yet despite this accelerative ferocity, BMW's tireless work in its quest for greater efficiency means that it posts a claimed average of 34.0mpg, emitting 194g/km of CO2.
Those figures relate to M3s fitted with the seven-speed M DCT dual clutch gearbox which can, should you wish it to, drive in fully automatic mode. In most respects it's an impressive transmission, but for those who insist on changing their gears themselves, a six-speed manual's fitted as standard. Be aware that the manual delivers marginally inferior performance (0-62mph is 0.2 seconds slower at 4.3) and efficiency (32.1mpg and 204g/km).
Improved handling from weight saving
As part of its regeneration, the new M3 lost a significant amount of weight, with those fitted with manual gearboxes tipping the scales at just under 1,600kg. That's about 100kg more than the two-door M4 coupe, but the M3 has a pair of extra doors, together with the electrical controls for the windows.
The key point remains that it's lighter than its principal rivals and great efforts have been made to keep the bulk of the mass as low down within the car as possible, lowering its centre of gravity. You can illustrate this to your friends by pointing out the unpainted carbon fibre roof, complete with an aerodynamic depression along its centre-line, but it's much more fun to demonstrate it by showcasing the M3's impressive agility.
Adaptive damping continues on the M3, with drivers being able to select different levels of firmness for the suspension switching between Comfort, Sport and Sport Plus, with similar controls for the steering weight and throttle responsiveness.
Power, as before, is sent exclusively to the rear wheels despite BMW's xDrive four-wheel drive system gaining popularity elsewhere in the 3 Series line-up. Promoting traction is the Active M Differential, directing more power to the outer wheel of a corner, providing it has better grip.