Not much to get excited about here, since BMW has already shown off its new 'i' Brand with the i3 and i8 concepts.
The only thing really worth shouting about is the unveiling of the ActiveHybrid 5-Series. This features an electric motor with a lithium-ion battery, a six-cylinder petrol engine and automatic transmission.
It will cost you £46,860 when it goes on sale in the UK in February. Under the bonnet lies the 535i's 296bhp twin-turbocharged straight-six petrol engine and a 54bhp electric motor, resulting in a combined power output of 330bhp. If you put your foot down for a quick getaway then you'll get from 0 to 62mph in 5.9 seconds. Top speed is limited to 155mph.
If you aren't hell-bent on driving like a lunatic you could get 44.1mpg on average, while CO2 will seep from your exhaust pipe at a rate of 149g/km.
You can drive up to 37mph on electricity alone but you can only do that for 2.5 miles, and at an average 22mph, before the internal combustion engine kicks in.
Other fuel-saving technologies such as brake regeneration, stop/start are also included in BMW's new ActiveHybrid.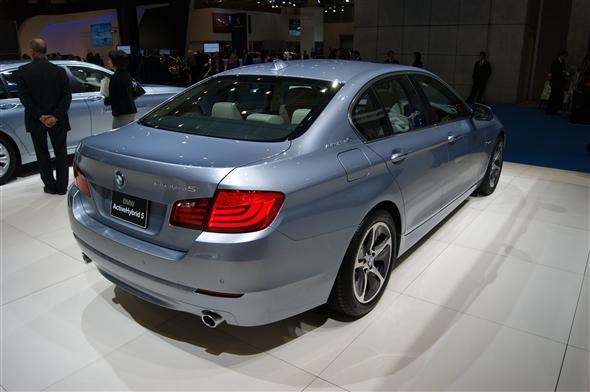 For more information on the 2011 Tokyo Motor Show, click here.