The mucky season is almost upon us. This means it's time to carve out that weekly wash to keep your car gleaming. Car care, maintenance and repair more than make just a vanity project. Careful ownership can help mitigate depreciation and help the resale value of your car. This guide is all you'll need to keep your car clean all year round.
We have a dedicated guide to cleaning your car's interior too. You can also read our guide to the best car vacuum cleaners, the group test we did on vacuums and the best corded ones, for those lucky enough to have an outdoor socket. There's also an upholstery cleaner guide to give you your fill of interior cleaning goodies. 
> Read our review of the Gtech Multi MK2 K9
> Read the Parkers review of the Proscenic P11 vacuum
Just so you know, while we may receive a commission or other compensation from the links on this page, we never allow this to influence product selections – read why you should trust us.
The cleaning essentials:
A pressure washer is a fairly hefty investment for cleaning your car, but it will pay dividends the second you see how it cuts through embedded mud. Not only will it make cleaning your car a lot easier, but it also unlocks the marvel of snow foam for you to use too. You'll also have a tool that's perfect for cleaning the shed, patio and other garden areas that get grimy over time.
The perfect introductory pressure washer, this compact model from Turtle Wax offers good power (110 bar pressure and 330 L/H flow rate) while being reasonably priced and easy to store when not in use. We like that it's designed for cleaning cars and comes with a snow foam attachment as standard.
> Have a look at the top pressure washers right here
> Check out the best hoses for car cleaning
A bucket may sound like one of those things you can cheap out on when it comes to washing your car, and I guess you can, I mean as long as it's not full of holds what difference does it make?
A five-gallon (US measurements) bucket will offer enough water to clean two medium-sized cars with ease and this one is of excellent quality. The Meguiar's one also comes with a grit guard so little deposits you pick up on your paintwork aren't transferred back onto your paintwork which can potentially cause damage to your paintwork.
Well, you'll discover as you fall deeper down into the world of car detailing that even something as simple as a bucket can contribute to small scratches as you clean your car and recommend buying two so you can start cleaning using the double bucket method.
> Read more about the importance of grit guards here
Buy a wash mitt for the sake of your paintwork. It will prevent small scratches that can occur when you use a traditional sponge and is one of the cheapest upgrades you can do for some really effective changes.
We were blown away by this wash mitt when we tested it. Making use of 700gsm microfibre means you'll get fewer scratches, cover a larger area while you clean and get more suds from your shampoo. This version features a central split in the mitt for better control as well as a ribbed cuff that makes it very comfortable.
> Read why you need a wash mitt for your car here
Detailing brushes will make cleaning your car a lot easier and will produce better results. There are countless variants available perfect for pretty much any surface you can think of but for first-timers, we recommend buying a brush designed for your alloy wheels to begin with, simply because of how dirty your wheels can get and how much better the results will be with a brush.
This detailing brush pair from 26JPN is of excellent quality and are a great introduction to fine cleaning. The bristles are soft boar's hair and won't deform or 'mushroom' over time. They also features a sturdy yet ergonomic handle for comfort while you clean. 26JPN is a brand that prides itself on high performance car care and there's no question from our tests that such a reputation is well-deserved.
Microfibre cloths are a must too and we've tested the best budget microfibre towels.
> Read more about detailing brushes here
Drying towels are the perfect way to finish cleaning your car. They're designed to prevent those nasty watermarks from appearing on your car's paintwork and will ensure that your car looks as good as it can. They can also be used to buff polish and clean your car's interior too. They're a garage essential.
A simple and good value drying towel is all you need to begin with. This five square foot option from Kent Car Care will offer good drying and is good value too. It also won't leave any marks and will prevent scratches.
> Read our guide to the best drying towels here
> Check out car dryers: the death of the chamois
And if you're particularly cautious about using chemicals, you can check out the best eco-friendly car cleaning products here.
Car Cleaning 101 – Getting started:
Preparing your car: the pre-wash
Cleaning the wheels and tyres
Your wheels will be the dirtiest part of any car because they're the point of contact between your car and the road (unless something goes wrong) and as such will collect the most road grime, salt and dirt, as well as brake dust. As such it's best to start by cleaning the wheels first.
1. How to clean your wheels and tyres:
Point your pressure washer at your wheels to remove any embedded dirt and loosen debris making cleaning them a lot easier. Don't forget to do the same to your tyres too.
Apply the wheel cleaner using the instructions as a guide.

2. Use a detailing brush with fairly stiff bristles, agitate the surface to get the wheel cleaner working. Make sure you use your buckets to clean the brush regularly. Also, remember that most wheel cleaners will change colour when they're ready to be washed off.

3. Rinse the wheel with the pressure washer and use a drying towel to dry it.

4. Apply the wheel sealant according to the instructions and wait for it to properly cure.

5. Buff the wheel with another drying towel until it looks flawless.

6. Finally, apply some tyre dressing using an appropriate applicator and wait for it to dry too. You now have a stunning set of wheels.
> Take a look at the best wheel cleaners here
> Read our guide to wheel sealants here
> Read more about tyre shine here
> Check out our Sonic Scrubber Pro Detailer review
> Learn more about deeper cleaning with drill brush attachments
Cleaning the exterior of your car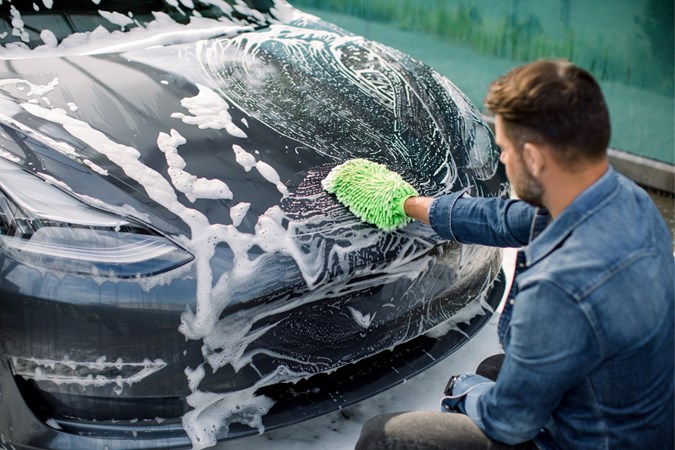 Now we're getting to the heart of the cleaning process, washing the bodywork of your car. This can be as complex or quick as you want but we're going fairly comprehensive in our guide. Expect to have to deal with splattered insects, mud and road grit as you're cleaning the bodywork.
How to clean your exterior:
1. Prep your bodywork by removing bird droppings, or the majority of that stuff—it welds itself if left. (Note, it's worth investing in bird poo wipes to remove as you go.) 

2. Using your pressure washer with a foam lance attached, coat your car in snow foam. This is a pre-wash step that will help dislodge dirt which will make cleaning it easier. It will also limit bits of dirt scratching your paint as you begin to clean the car with your wash mitt.

3. Fill two buckets with water and add shampoo to one of them per the product's instructions. Then take your wash mitt and begin to wash the car with the shampoo starting at the top and working your way down. Remember to clean your wash mitt in the plain water before dunking it into the shampoo bucket.

4. After rinsing away the shampoo with water grab your clay bar and lubricant (no jokes please). Spray the lube onto the bodywork in small areas and run part of the clay bar over the area. The clay bar will collect any last pieces of debris from your car, including tree sap and overspray. Once you've finished with your clay bar, rinse your car down again with water.

5. Dry the car using a clean drying towel. Drape it over the bodywork, starting at the top. Doing it this way will maximise the drying towels surface area and is the most effective way to avoid having any watermarks.

6. Once the car is dry it's time to polish and seal it. You can choose to either polish by hand or with a machine but if you're a beginner, hand polishing will be cheaper and you'll need some practice using a polishing machine because you can damage your paint. Follow the instructions of the polish and remember to take your time.

7. The final stage for your bodywork is to seal it, either with wax or a paint sealant. Apply the product according to the instructions and make sure to buff it with a clean drying towel.
> Read more about snow foam here
> Look at our best car shampoos here
> Read more about the wonders of clay bars here
> Read more about polishing your car here
> Read more about waxing your car here, also check out Best Car Wax for Black Cars
Cleaning the glass
How to clean glass
Firstly, don't worry about getting shampoo or snow foam on your car's glass. They will do no harm and will probably help remove some dirt.
1. Don't forget about the door mirrors—they often get overlooked.

2. Once you've washed your car with shampoo and dried it, add some glass cleaner onto the windows as per the product's instructions.

3. Wipe away the residue with a drying towel and repeat on the interior glass.

4. On the exterior, add rain repellent. It'll improve your visibility in poor conditions and make it easier to clean the car the next time. Some products combine glass cleaner and rain repellent, so it's worth checking what you're buying.
> Read more about rain repellents here
Cleaning the trim
Cleaning your car's trim requires its own section because you'll need different products depending on what car you own. If it's chrome-heavy, invest in a metal polish. If you have chunky black plastic trim, you'll need a trim cleaner.
Thankfully these products are very easy to apply, wash your car as normal and use these products during the polishing process (all you need to do is read the instructions provided).