On show: Rapid Spaceback, Yeti facelift, Octavia Greenline
Rapid Spaceback (pictured above)
Like the practicality of the Skoda Rapid but fancy something with a bit more style? Never fear, Skoda has the answer in the form of its Rapid Spaceback. It may boast an estate-style rear-end, but the boot's actually a little smaller. It makes up for the deficit in suitcase carrying ability with more room for rear passengers instead.
You can make it even more stylish too by opting for the panoramic glass roof which stretches the whole length of the car and uses a 'prolonged rear window' to extend its way down past the tailgate badge for an even sleeker look.
Seen here in production form, Parkers will be driving the car in a couple of weeks – in the meantime click here to read the latest information on the Skoda Rapid Spaceback.
Yeti facelift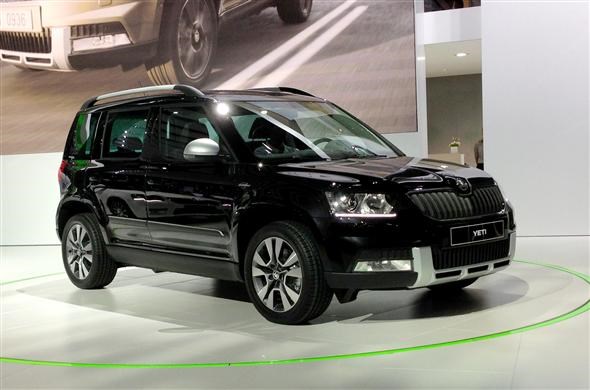 If ever there was a family-car design that split opinion it's the Skoda Yeti – loved for its practical well-built cabin and sharp dynamics but maligned for its awkward looks. Get past the dinner-plate round lights on the nose though and most are quickly sold on the prospect of ownership.
Skoda knows the looks have put people off though, which is why the Yeti has just received a rather conventional facelift – and those round headlights have gone, replaced with a more 'normal' pair of lamps. The cabin has been upgraded too, while there's some changes to the engine line up as well.
More interesting is the split of the range; you can now buy a regular Yeti or a Yeti Outdoor. The former features body coloured bumpers and is primarily aimed at urban use, the latter clad with plastic bumpers and available with the firm's underbody protection package. Fitted with the correct tyres and four-wheel drive this Yeti will take you places that will see certain Land Rover products struggle.
You can read the full story on the Skoda Yeti here.
Octavia Greenline
Big news for those looking for ultra-low running costs – Skoda also unveiled the Octavia Greenline.
Without beating around the bush, it's capable of claimed fuel economy of 86mpg and CO2 emissions of 87g/km – that means extremely low tax for both private and company car drivers.
Click here for all the Frankfurt Motor Show coverage.