Citroen unveils latest DS3 Cabrio by Benefit
Fourth model designed by Citroen with Benefit Cosmetics
Special features include pink detailing and beauty bag
DS3 Cabrio by Benefit on sale now costing £18,745
Fourth model designed by Citroen with Benefit Cosmetics
Special features include pink detailing and beauty bag
DS3 Cabrio by Benefit on sale now costing £18,745
Working in conjunction with the Benefit cosmetics company, Citroen has unveiled its new DS3 Cabrio DStyle by Benefit.
On sale from 1 August, costing £18,745, the latest production by the French car manufacturer offers additional equipment over the standard Cabrio DStyle.
Despite pricing the latest model at £1,000 more than the standard DS3 Cabrio, extra equipment over the regular version is worth more than the price hike. Included on the DStyle by Benefit model are 17-inch 'Bellone' black alloy wheels, Bluetooth and USB connectivity, and most noticeably, the City Signature Pack.
The City Signature Pack includes climate control air-con, automatic headlamps and windscreen wipers, automatically-dimming, heated and electrically-folding door mirrors.
Rather glaringly targeting female car buyers, the Citroen DS3 Cabrio DStyle by Benefit. When purchased, the owner of the car will receive a Benefit beauty bag containing make up accessories provided by Benefit, including selections from the 'Stay Flawless' range.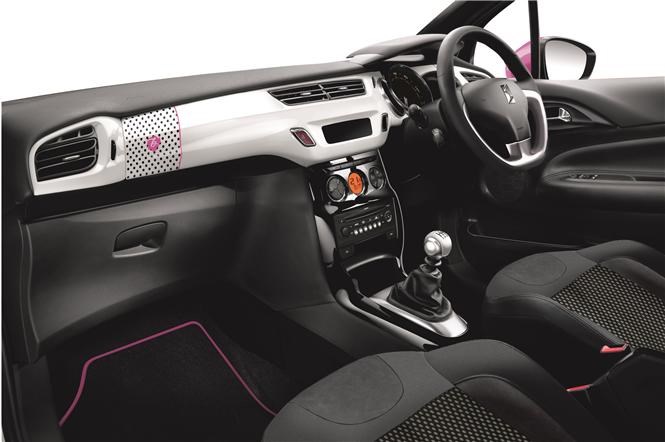 Influences from Benefit are subtle, but effective in making it distinct from the regular DStyle model. The polka dot pattern on the top of the dashboard complemented by the white gloss interior trim are the more obvious contributions from the cosmetic's company. Fuchsia Pink is a prominent exterior accent colour, with the wing mirrors and Benefit logos in that hue, contrasting with the Polar White bodywork and black fabric roof. A 'Gabbi's Head' logo features on the 'shark fins' on either side of the DS3.
Away from the design of the car, the engine remains unchanged from the standard DS3 Cabrio DStyle. The 118bhp, 1.6-litre petrol engine is retained under the bonnet, so the 0-62mph time of 8.6 seconds, and the top speed of 118mph are unchanged. Drive is sent to the front wheels via a five-speed manual gearbox.
Also unchanged is the convertible folding fabric roof. Although it is capable of being opened and closed at motorway speeds, the functionality of the feature is still called into question as the rear roof pillars remain in place, so the Cabrio DStyle maintains its inferiority to competitors like the MINI Convertible in this department.
Learn more about this popular range with our full Parkers Citroen DS3 Cabrio review.