No, your eyes aren't deceiving you. This is the facelifted Volkswagen Polo. On the face of it you'll notice… not a huge amount. The exterior of the car has changed only the subtlest amount from when the car originally launched back in 2009. It's under the skin that the tweaks are most obvious.
The headline is a set of new engines. They all conform to an emissions regulation called Euro 6, which eventually every new car is going to have to adhere to. What that means for you as company car drivers is efficiency improvements of up to 21 percent, and thus lower company car tax and better fuel economy than ever.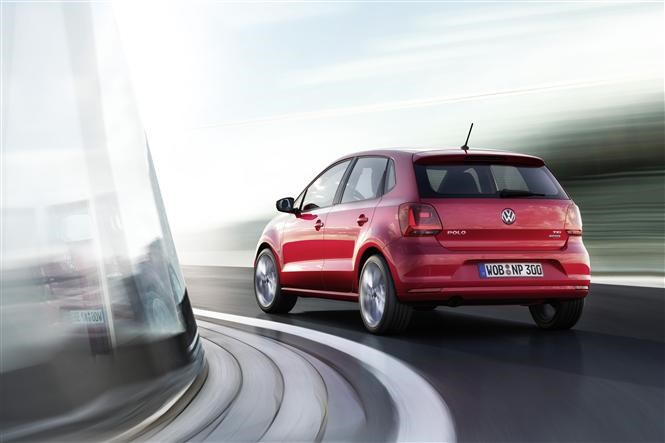 Chief among the fuel-sipping range is the three-cylinder BlueMotion TSI, which means the lowest-emitting Polo is going to come with a 1.0-litre petrol engine. Remember that 3 percent diesel surcharge on your company car tax? Well not with this car.
Capable of CO2 emissions of 94g/km, you'll be looking at Benefit-in-Kind tax payable at 10 percent for 2013/14, rising to 11 percent next tax year. Prices haven't been announced yet, but we're not expecting a huge hike over the current P11D values. That means favourable tax bills – something everyone wants.
Private car buyers will enjoy low annual car tax too – it's going to be free for this tax year, in fact.
In terms of fuel economy you're looking at 68.9mpg on the combined cycle, so during real-world driving expect closer to 50mpg.
Until the range-topping GTi model appears next year, the fastest model will be a Blue GT model with a 1.4-litre TSI which returns 148bhp. It features clever cylinder deactivation technology, so although it's pretty powerful it's also expected to be quite efficient.
Other petrol options are a pair of 1.0-litre three-cylinders with either 58 or 74bhp, while a pair of 1.2s return 88 or 108bhp.
Diesel options are limited to a pair of new 1.4-litre, three-cylinder versions with either 73 or 88bhp.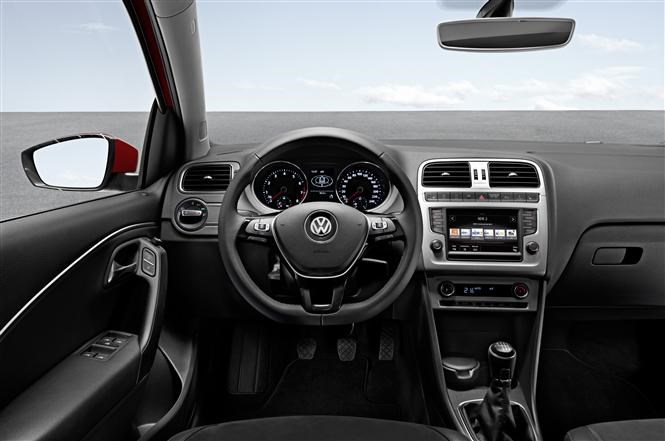 The main change on the inside of the car is the addition of a multimedia system that Golf drivers may be familiar with. In fact, it's the next generation of the system found in the Golf, and is capable of some very clever features when hooked up to a system called MirrorLink. While not available at launch, we're expecting the UK-spec Polos to be fitted with this quite soon after launch.
Effectively what it does is mirror the applications on your smartphone, opening up an entire range of interactive systems such as streaming media, point-of-interest searching, driving tuition for best fuel economy, performance driving recording capability (perfect for the GTi version) and navigation options.
It can be controlled by a swipe of the finger across the screen in much the same way as your favourite smart phone.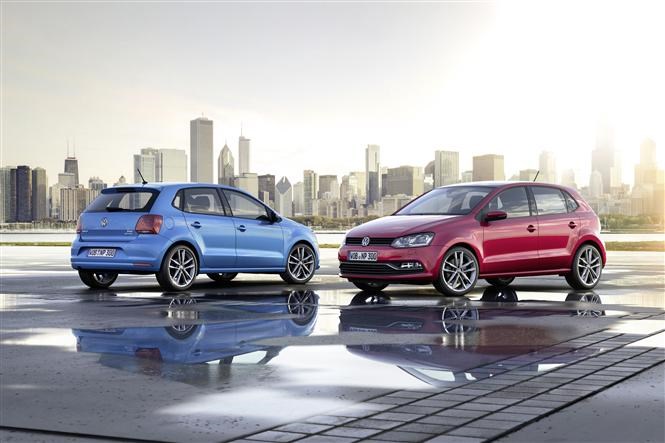 Another feature making its way onto the range for the first time of any car in its class is adaptive suspension. This can sharpen up the damping at the touch of a button, meaning the car is more composed and agile through corners when needs be.
Every Polo will come with an automatic post collision braking system as standard, which applies the brakes after an impact to prevent the risk of further collisions. Optional safety kit includes a driver alert system which can detect fatigue, automatic cruise control and city emergency braking, which stops the car autonomously if it detects an impending accident at low speeds.
So, have you managed to spot the differences on the outside yet? No? Then let us help: there's a revised front bumper, LED headlights (optional), a remodelled rear bumper and redesigned rear lights, plus a set of five new alloy wheel styles.
On the inside there's a new steering wheel, while the instruments and centre console have been changed and the heater controls redesigned.
You'll be able to order the refreshed Polo in April, with first deliveries starting towards the end of July. Keep an eye out for the facelifted Volkswagen Polo review coming soon.