New Mercedes-AMG GT R boasts 577hp and race car aerodynamics
AMG GT R becomes the third car in a five model line-up
Mercedes-Benz's most powerful sports car since SLS AMG Black Series
Gains an extra 115hp over the regular AMG GT
AMG GT R becomes the third car in a five model line-up
Mercedes-Benz's most powerful sports car since SLS AMG Black Series
Gains an extra 115hp over the regular AMG GT
The Mercedes-AMG GT R was revealed to the public for the first time today, with rear-wheel steering and active aerodynamics as the standout features of the brand's new flagship performance car.
Powered by a modified version of the 4.0-litre twin-turbo V8 fitted to the 510hp AMG GTS, the latest model has been extensively tested at the famous Nurburgring circuit in Germany. Such honing means power is up to 577hp in the AMG GT R, while torque is rated at a colossal 700Nm.
In achieving such figures, AMG engineers have added new turbos with increased boost and retuned the entire combustion process. The result is a 0-62mph time of just 3.6 seconds and a top speed of 197mph. Drive is sent through a race-track tuned version of Mercedes-Benz's dual-clutch seven-speed transmission.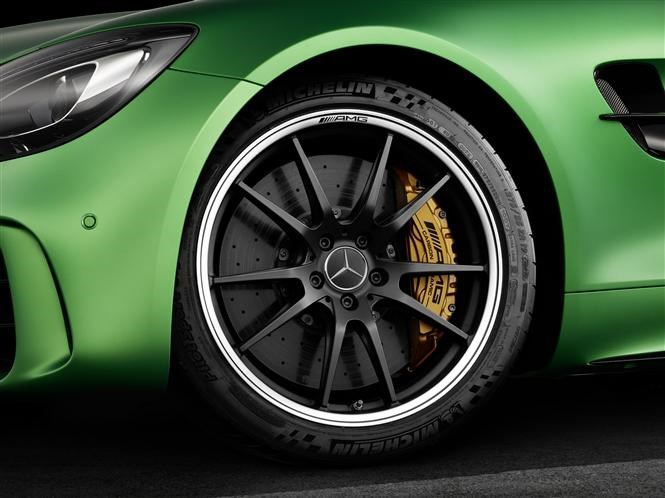 The AMG GT R's handling has been sharpened over the regular GT's too. A 1,555kg kerbweight and liberal use of carbonfibre promise a stiffer, more agile chassis over the mid-range AMG GTS. Mercedes claims a class-leading power-to-weight ratio, the AMG GT R making 371hp-per-tonne to the Porsche 911 GT3 RS's 352hp-per-tonne.
A wider front and rear end, plus fatter 19- and 20-inch street-legal performance tyres help to complete the racing-car look, as does the aggressive front splitter and conspicuous rear wing. Further aerodynamic trickery takes place underneath the car, with a small electronic carbonfibre wing sucking the vehicle towards the road at high speed.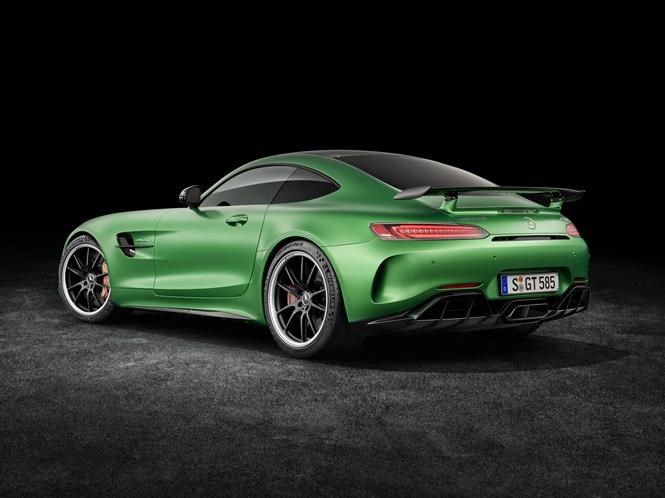 The familiar AMG Drive Unit returns, allowing a number of parameters to be changed from inside the car, including suspension damping, steering weight, traction control and gearbox settings. Other clever gadgets include an electronic limited-slip differential and rear-wheel steering; the latter feature enabling greater stability at high speeds and a more agile drive at lower speeds.
The AMG GT R will go on sale in November 2016 and, although prices haven't been confirmed yet, expect a significant premium over the £110,500 AMG GTS list price.