What is it?
Tuition aimed at newly licensed drivers, with practical simulations in the areas of hazard recognition, vehicle handling, and speed/space management.
How much is it?
Free – which is the best price of all. You just need to sign up online.
Where can you do it?
The three-day event is held in the ExCeL Centre London during the weekend leading up to Road Safety Week in November.
Who can do it?
Anyone who holds a full valid driving licence – the course is aimed at younger drivers but there's no restriction.
What's involved?
Different stations simulating real-world situations including drink and drug driving, mobile phone use, speeding and driving in wet or icy conditions. These include:
Handling course
Here you can drive a Ford Fiesta with plastic sleeves over its rear tyres, which simulate a loss of control in wet or icy conditions.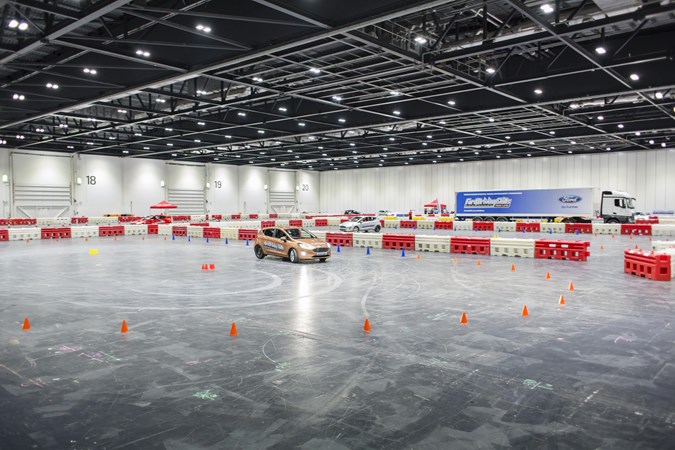 These vehicles have almost no rear-end grip and respond to overzealous steering and throttle inputs by snapping into a skid, or even spinning out.
An instructor builds up your speed gradually and explains not only how to get the car back into control, but how to avoid the situation in the first place.
Braking test
The idea behind this is to provoke the car's ABS into responding by accelerating up to roughly 20mph and then standing on the brakes.
For a lot of the course's participants, this was the first time they had felt the system's odd juddering sensation through the brake pedal, which can be quite alarming.
A second test involves hard braking while steering to avoid an (imaginary) obstacle, demonstrating the way ABS allows you to maintain control during an emergency stop.
Distraction and drink driving simulation
There are several pieces of equipment here to simulate the effects of being drunk, hungover or under the influence of drugs.
Equipped with special dizziness-inducing goggles participants are challenged to kick a football at a goal – a task that rapidly becomes almost impossible.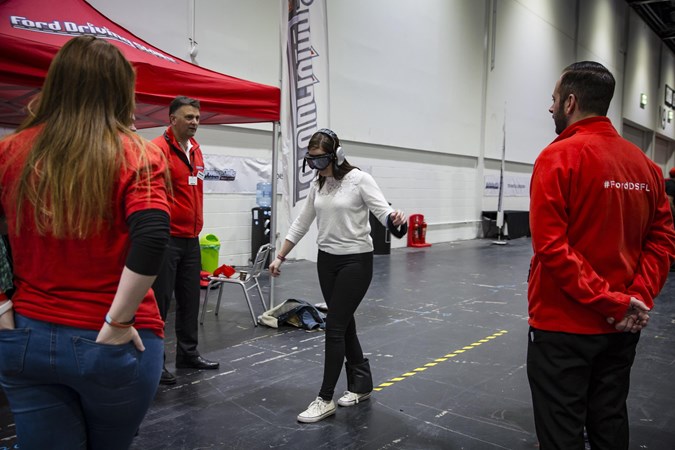 There's also a chance to drive a car around a tight track while an instructor distracts you – by fiddling with the stereo and shouting loudly – to demonstrate how difficult it is to concentrate in this situation.
Maintenance
Instructors take the group through a series of basic maintenance procedures – checking tyre condition, refilling fluids, and other important maintenance tasks as well as the importance of keeping your car in top shape.
Lorry awareness
Finally there's a chance to sit in a huge articulated lorry and see first-hand how hard it can be for HGV drivers to see tailgaters or cars on roundabouts, and the importance of giving them space.
What do you get from it?
The opportunity to experience terrifying situations like a loss of control in the wet or a full, hazards-on emergency stop, in a controlled environment with an encouraging instructor.
Instead of having to face this for the first time in an emergency, drivers are equipped to avoid the situation in the first place, or at least deal with it with familiarity and confidence.
It's also a great opportunity to repeat the vital message about the dangers of drink and drug driving, and the need maintain your car.
The Parkers Verdict
Ford's research shows that car crashes are the leading cause of death among young people, with 17-24 year olds making up 20% per cent of those killed or seriously injured in traffic collisions.
That's unacceptable, quite frankly, and anything you can do to reduce the likelihood of panicking in an already dangerous situation will improve your ability to manage the problem.
At Parkers we're passionate about driver training being an ongoing process of improvement – not something that ceases the day you pass your test.
Here is a free course that reinforced that idea while reducing your chance of becoming a statistics. Go and do it. Tell other people to go and do it too.
Rating
Five out of five. Can't recommend highly enough.