Buying a car: it's a stressful activity. There's a lot to think about and sometimes it's hard to know where to start. We've put together a list of essential pointers to help you on your way, whether you're after a brand-new car or a used one.
Got a car-buying query? Why not tweet us @ParkersNews and we'll do our best to answer it.
BUYING NEW
Petrol or diesel?
Diesels usually use less fuel but are generally more expensive to buy (usually by well over £1,000 compared with a petrol version) and you'll pay more for the fuel itself at the pump. That said, diesels are usually cheaper to tax thanks to lower CO2 emissions and often hold their value better when the time comes to sell.
It all comes down to distance – if you're going to do lots of miles, diesel could be the better bet – 10,000 miles a year is the usual threshold before the extra initial cost is balanced out by savings in fuel consumption. Less than that and you might be better with a petrol.
Time it right
Buying a car at the end of a quarter means dealers may be looking to complete sales and may be more open to discounts. If you don't mind being a little behind the curve, buying a previous-generation car at the launch of a new one can net you a bargain as dealers look to sell on old stock to clear room for the new cars.
Find out more in our guide: When's the best time to buy a car?
How much will it cost to run?
How much will it cost to tax? How good is it on fuel? The Parkers Cost of Motoring tool can be your friend here. Taking into account everything from depreciation to servicing and fuel costs, you can directly compare how much different models (both new and used) will cost you to run over a set number of miles and years. You might be surprised by the results. Click here to use the tool.
Take props with you
Pushchairs, golf bags, cycle carriers – do they fit? There's only one way to know for sure. Take them along when you view the car, and bring the family too – it's important that the kids like the car and aren't going to feel sick in it.
Should you part-exchange your old car or sell it separately?
Part-exchanging your old car at the dealer is quicker and less hassle but you could get a better deal if you're prepared to invest the time in selling the car yourself. Find out more in our cash versus part-exchange guide.
BUYING USED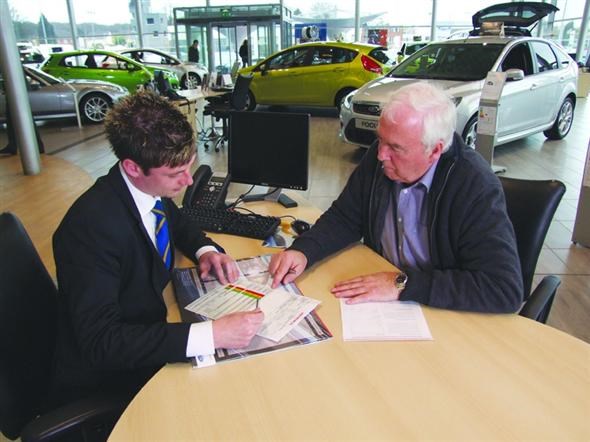 Pay the right price
The Parkers valuation section will tell you how much a car ought to be worth, according to age, mileage and condition.
Get a car history check
A history check will reveal hidden skeletons in the closet such as whether the car's been previously written off, reported as stolen or scrapped. It can also tell you how many owners the car's previously had, whether it's had any number plate changes or if there's any outstanding finance. That last one's particularly important – read on to find out why.
You can get a Parkers car History Check here
Watch out for outstanding finance
If there is any, the finance company responsible will have an interest in the car until it's paid off and they could chase you for the money or attempt to repossess the car if you buy it without settling the finance. That doesn't mean you should avoid altogether, though. Read our guide to dealing with outstanding finance for help.
Once you've decided on the right type of finance for you, make sure you visit our finance section for a quote – we work with over 21 lenders to give our customers access to over 100 different lending options.
Take a test drive
We can't stress this enough – buying a car without driving it first is an incredibly foolhardy action. Always drive before you buy. You can tell a lot about a car even after a short drive. If possible, take a knowledgeable friend with you as an extra pair of eyes and ears.
What to look for when you test drive a car:
Does it start easily? And once it's running does it tick over quietly and evenly?
Put your hand on the bonnet to see if the engine's warm before you drive it – some older cars are more reluctant to start from cold and the seller may have sneakily warmed it up beforehand.
On the road, put the car in a high gear at around 30mph and put your foot down. If the revs rise but the speed doesn't then the clutch is slipping and could be on its way out.
Make a slow three-point turn to use all the steering lock. If there are any unusual noises or vibrations that could mean worn driveshafts or CV joints.
If it's safe to do so, brake firmly and check the car stops in a straight line with no untoward noises from the discs and pads. If there are any steep slopes on the test route try the handbrake too.
Lurching body roll or a bouncy ride could point to worn dampers.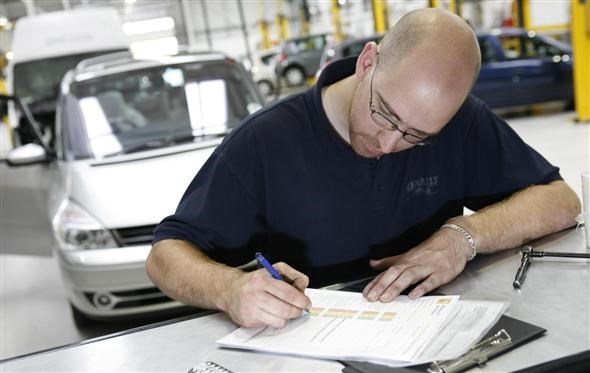 Check paperwork
Firstly, you need to see the V5C registration document. This tells you the car's details and who it's registered to. Check that the details on the form, like the registration number, colour and chassis number, correctly match the car as do the owner's name and address. If they don't, ask why and if there's no V5C, don't buy.
The MOT test certificate needs to be present and correct and the mileage on the certificate should be in line with that on the dials. Check for any advisories (work that needs doing to keep the car on the road).
A full record of servicing and maintenance carried out is also highly recommended – if there are big holes or no history at all that could be a problem.
From 1st October 2014 sellers won't be able to carry over a car's existing road tax – if you're buying the car you'll need to make arrangements to tax it right away, which you can do online, at the post office or over the phone.
Check the service schedule
When was the last service carried out and where? How long until the next one? Was the last batch of work carried out at a reputable garage?
Usual bodywork checks
Scuffed wheels and bumpers might be a clue as to how well a car has been looked after. Kerbed alloys could also point to hidden tracking or suspension issues.
Watch for warning lights
When you switch on the ignition all the warning lights should go out. If the engine light stays on it could be an expensive fix come MOT time.
See also:
Top 10 new cars for under £20,000
Best used hatchbacks for under £5,000
Ten hidden gems for under £1,000