The new Vauxhall Corsa is quite unlike any of its predecessors – and we say that as a good thing. Over the years the Corsa has built up a reputation as a solid and dependable, but not exactly a cutting-edge or exciting car. However, the new model is built with the help of the French PSA Group, which also owns Citroen, DS and Peugeot, and promises to be a totally different machine.
Being very closely related to the new Peugeot 208 (a car we rate very highly) the Corsa looks set to add good driving dynamics, an excellent engine range and plenty of technology to its roster of talents.
But with four engine choices, including a pure electric model and five distinct trim levels, selecting a Vauxhall Corsa from this large line-up can be a confusing process. That's why we're here to help guide you through, so you can select the right Vauxhall Corsa for you.
Which Corsa engine is right for me?
At launch, the Vauxhall Corsa is offered with a choice of four different powertrains. These are:
75hp 1.2-litre non-turbocharged petrol, paired to a five-speed manual gearbox
100hp 1.2-litre turbocharged petrol, paired to either a six-speed manual gearbox or an eight-speed automatic gearbox
102hp 1.5-litre diesel, paired to a six-speed manual gearbox
136hp electric motor with a single-speed automatic transmission
Which of these is best for you depends totally on the kind of driving you do. We'd recommend the 75hp 1.2-litre unit only for those who spend the vast majority of their time in towns and cities and rarely venture onto faster roads. Alternatively, it could be a good low-cost option for younger drivers looking to minimise their insurance costs.
Its power deficit means it's not particularly relaxed on fast A-roads and motorways, and there's little in reserve if you need to overtake. In addition, the five-speed gearbox leaves the engine revving loudly at high speeds.
We think the best petrol choice for most drivers is the 100hp unit. It's still peppy around town but much more relaxed on the motorway, and the six-speed manual gearbox is useful for refinement. It's also likely that this engine will return better real-world fuel economy, as it doesn't need to be worked as hard as the 75hp model.
The 100hp engine is also a great option if you need an automatic gearbox. The eight-speed auto is the same as fitted to many Peugeot, Citroen and Vauxhall products. It's smooth and responsive, and very well matched to the car.
The 1.5-litre diesel is somewhat of a niche prospect. It's ideal for those who do lots of long journeys and rack up many thousands of miles in a year. We'd expect fuel economy to be exceptional, but it's significantly more expensive than the petrol models – you'll need to cover many miles for it to become efficient.
As for the all-electric Corsa-e, it's a really interesting proposition if you think the time may be right to ditch internal combustion. It's capable of 211 miles on a single charge – more than enough for most people's weekly driving – and if you're able to top it up at home, you may never need to visit a public charge point. Electric cars cost pennies to run and dodge road tax as well as London's congestion charge. But it's much more expensive than the petrol or diesel Corsas, so think carefully about your usage before you buy.
Which Corsa trim level is right for me?
Vauxhall Corsa specifications are, to be blunt, a confusing mess – and it can be tricky to work out which cars come with the specification you want. From lowest to highest-spec, they are:
SE
SE Nav
SE Premium
SE Nav Premium
SRi
SRi Nav
SRi Premium
SRi Nav Premium
Elite Nav
Elite Nav Premium
Ultimate
That's quite a lot of choice for any supermini, and it gets more confusing when you consider that not all of the engines are available in every trim. You can have the diesel or the 100hp petrol across the whole range, but the 75hp petrol is only available in SE trims.
Meanwhile, electric Corsa-e models are limited to SE Nav and Elite Nav trim levels.
All models come with a good base level of equipment. There's air-conditioning, alloy wheels, LED headlights, a touchscreen infotainment system and cruise control.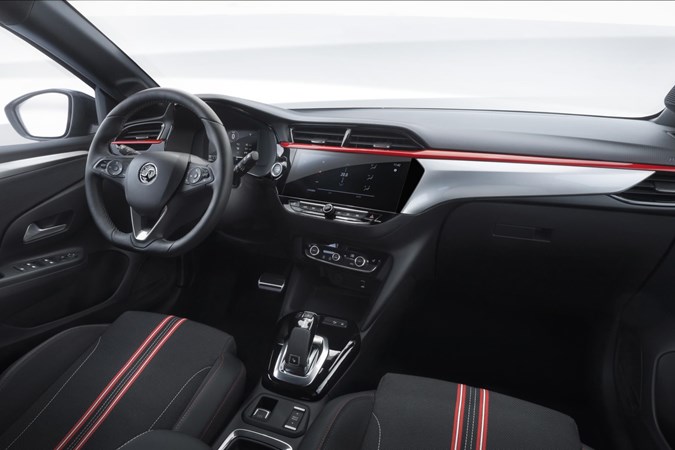 Stepping up to SRi models will bring electric rear windows, a two-tone paint finish, rear parking sensors and LED fog lights, while Elite models get leather-effect trim, a rear-view camera, and heated seats among other items.
Top-spec Ultimate models receive 17-inch alloy wheels, an upgraded 10-inch infotainment display, full leather upholstery, and even a massaging driver's seat.
For most people, as with almost every car on the market, we'd recommend opting for a trim somewhere in the middle. An SE Nav Premium or SRi Nav will offer all of the equipment you'd be likely to miss were it not included, but won't be too expensive. After all, Ultimate models top £25,000 in price – that's enough to buy you a well-specified example of a much bigger car, such as a Skoda Octavia.
Vauxhall offers some bright colours on the Corsa, which is really nice to see – and we think it looks great in Power Orange, Hot Red or Voltaic Blue. But if you'd rather blend in a bit more, a selection of whites, greys and blacks are also available. The six different alloy wheel designs are locked into trim levels, as are the four upholstery choices.
What else should you consider?
You shouldn't rush out to buy a Vauxhall Corsa without considering the other supermini options on sale. For starters, there's the Peugeot 208 – the Corsa's sister car. It's very closely related, sharing the same engines, chassis and technology, but the Peugeot's styling and interior are more avant-garde, which some may prefer.
The Renault Clio won the Parkers First Car of the Year Award, and it's a very worthy competitor. It drives well, has a brilliant interior, and we think it looks great – plus, Renault offers some very good finance packages.
We'd also really recommend the Ford Fiesta if you're a keen driver. This supermini has been the UK's best-selling car for many years, and it remains the pick of the class for dynamics. It's also practical and well-priced, a real consummate all-rounder.
Read more:
>> Vauxhall Crossland X review