By 2030 Volvo customers will only only be able to order electric Volvos – and they'll only be able to do it online via Volvo's Care by Volvo scheme. Care by Volvo aims to simplify car purchasing by bundling together items like servicing and insurance into one monthly payment – while also saving time and effort by allowing it all to be done without visiting a dealership. 
Volvo expects 50% of its sales to be online by 2025, but that doesn't mean the end of dealerships. You'll still need to visit somewhere to get your car serviced, for instance. Plus, if you do want to physically see a car before buying, this option is available. 
Even Volvo's head of global commercial operations, Lex Kerssemakers reckons seeing something in the metal is a good idea. He said: 'I'm the kind of person who likes to go to a dealer. Wherever the customer is in their journey – online, in a showroom, in a Volvo Studio, or driving the car – the customer experience needs to be top-notch.'
Around 90% of new Volvo customers (customers who haven't bought a Volvo before) use Care by Volvo. And 73% of those customers would have never chosen a Volvo without Care by Volvo.
Keep scrolling to find out more about Care by Volvo, or use the links below to skip to individual sections.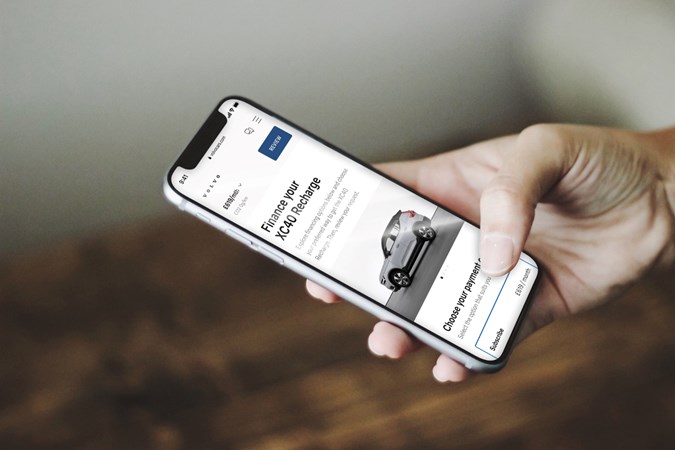 What is Care by Volvo?
Care by Volvo is Volvo's subscription service. It launched nationwide in September 2020 following a successful trial in Germany, the Netherlands, Norway and London.
Volvo reckons its subscription service 'brings unrivalled flexibility' to the market – something customers are desperately seeking out. For instance, Volvo's own research shows that customers on a three-year, or a four-year PCP deal want to change after two years.
Care by Volvo bundles the cost of a new Volvo, maintenance, and roadside assistance into one monthly fee. There are no deposit or sign up fees, and all prices listed are without Volvo's insurance bundled in. Volvo will also sort out insurance, for an additional fee.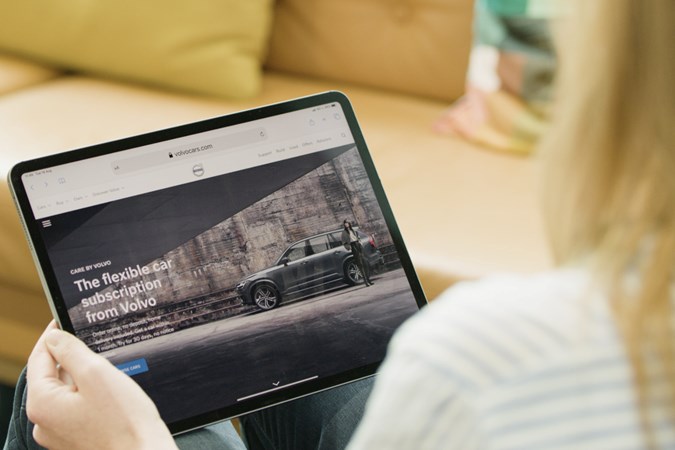 The monthly cost of Care by Volvo includes:
– Scheduled servicing
– Wear-and-tear maintenance and repairs
– Replacement tyres
– 24/7 roadside assistance cover
– 10GB in-car WiFi per month (data plan lasts the duration of the Care by Volvo subscription)
– Annual road fund licence
– MoT testing (where applicable)
– Access to a dedicated Care by Volvo customer service team
Care by Volvo cost UK
Customers can choose from any model in the current Volvo line-up. Polestars are not available with the Care by Volvo.
Volvo XC40 from £559 per month*
Volvo V60 from £1059 per month*
Volvo XC60 from £919 per month*
Volvo V90 from £1389 per month*
Volvo XC90 from £1309 per month*
Volvo S90 from £1,399 per month*
Volvo S60 from£1,779 per month*
Prices for models change depending on which trim and engine choices are picked, as well as stock levels.
How does Care by Volvo work?
Broadly there are four steps:
– Go to Care by Volvo homepage
– Choose from cars for in stock or configure new car
– Pick mileage (6-24,000 mileage)
– Get delivered to home, or pick up from dealer
In stock cars are delivered within 30 days.
Volvo is giving potential users the opportunity to try the service risk-free for 30 days without any notice period. It basically works like a 30-day trial, while insurance is provided and there are no cancellation fees – customers will just need to pay the monthly cost.
After the 30 days, customers can change their car or end their subscription with just three months' notice. The subscription is open-ended and there is no cancellation fee.
In essence, it works like a leasing package with services thrown in, and the option to opt in to Volvo's insurance package too.
What if I want to do it via a dealership?
During the trial period, 70% of customers did not visit a dealer.
This doesn't mean you can't do it in a dealership.
Guy Twiselton, Volvo Franchise Dealer, Endeavour Automotive, said: "Care by Volvo means we can offer something new for customers, rather than just PCP or HP.
"In some aspects, our role as a retailer doesn't change. We're there to help customers choose the right car. Plus we're also there to help with the sign up process if they'd prefer not doing it from home. Sometimes people need a bit of reassurance.
And of course, customers need us for servicing and maintenance."
Care by Volvo desktop
Care by Volvo price comparison:
Care by Volvo
Car: Volvo XC40 Core
Mileage: 8,000 per year
Contract length: rolling
Initial deposit: £0
Monthly cost: £767
Cost for 24 months (24 payments): £18,408
Typical leasing deal
Car: Volvo XC40 Core
Mileage: 8,000 per year
Contract length: 24 months
Initial deposit: £500
Total monthly cost: £586.17
Cost for 24 months (23 payments): £13,482
Total cost difference here is £4926 over two years (or £205.25 per month).
Whether you think this is good value depends on whether you think £205.25 per month is a lot to pay for the ability to chop and change more regularly. Plus Care by Volvo offers little extras that leasing companies don't provide – like Care by Volvo customer service team and wear-and-tear repairs.
* These deals are indicative examples of some packages available as at 15 November 2023, but are subject to change without prior notice