Genesis is a relatively new brand to the British car market, but so far it's been dazzling people with its sharp designs and techy interiors. 
And now people in the UK can get a Genesis on a subscription model, called Flexibility. Prices start from £599 per month and include everything you need to run a car except for fuel.
Managing Director for Genesis Motor UK, Andrew Pilkington, commented: 'We strive to deliver a customer-first luxury experience, and the launch of Genesis Flexibility builds on this, as we are simply responding to both customer demand and changing customer needs by providing our own vehicle subscription service that offers a convenient and stress-free introduction into the world of Genesis.
'We want our subscription customers to have the same first-class Genesis service, on their own terms and to suit their lifestyle.'
How does Flexibility work?
It's pretty simple. Choose which car you want. Select how many miles per month you'll cover. Then how many months you want the contract to run for.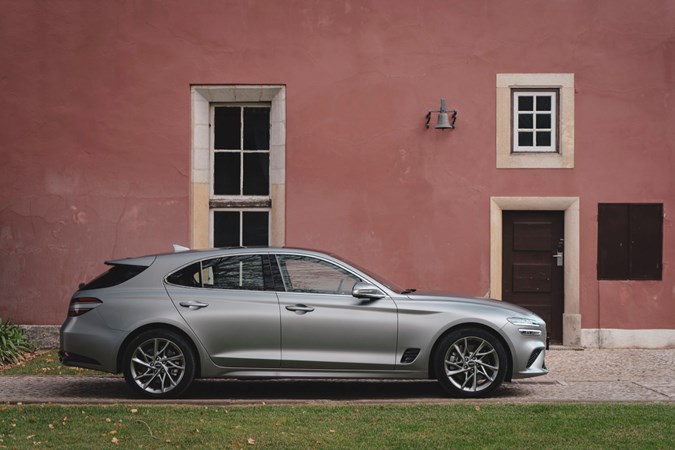 After you've done this, the online configurator will spit out a monthly fee and an initial payment. This covers everything you'll need except for fuel. So that's insurance, servicing, roadside assistance, delivery, and a 'dedicated Genesis Personal Assistant' who will pick up and drop off the car for you when it's being serviced.
What cars are available on Genesis' subscription service?
How much does it cost?
The price you pay is dependent on the car, how many miles you choose, and how long the contract is. Prices also change from time-to-time.
But at time of writing, the cheapest option is the G70, which starts from £599 per month. Below we've broken down an example.
Genesis G70 2.0T RWD Premium*
Monthly cost: £599 (17 payments)
Initial payment: £599
Mileage allowance: 10,000 miles per year
Total amount payable: £10,782
Typically, the GV80 will start from £1,122 per month, the G80 £649 per month, the GV70 £880 per month, and the G70 Shooting Brake will cost around £649 per month.
Price comparison
It's hard to compare pricing because technically Genesis is the only company offering its cars on a subscription service. Leasing is much the same but typically doesn't bundle in insurance and roadside assistance. Plus its terms are less flexible.
However, below, we've highlighted a lease deal with insurance and maintenance included.
Genesis G70 2.0T RWD Premium*
Monthly cost: £1,159.19 (18 payments)
Initial payment: £1,159.19
Mileage allowance: 10,000 miles per year
Total amount payable: £22,294.61 (including £270 brokerage fee)
This is hardly typical because 18-month lease deals are hard to find and Genesis cars are still new. But it certainly highlights how expensive leasing companies can be when they're not dealing with cars in bulk from mainstream manufacturers.
* These deals are indicative examples of some packages available as of 1 February 2022, but are subject to change without prior notice
Further reading
>> Parkers' guide to car subscriptions
>> 0% APR car finance: all of the latest deals