View all Cupra Ateca reviews


Cupra Ateca SUV
Review
Current Model
SEAT's Cupra brand debuts with a sporty SUV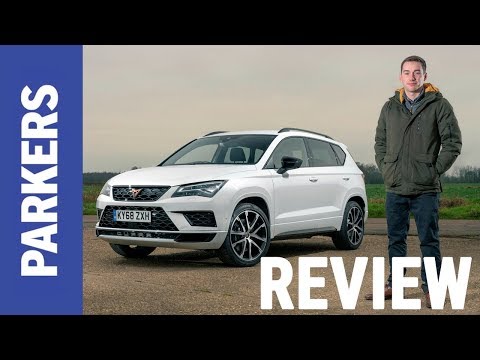 Enlarge
1

videos
Enlarge
58

photos
PROS
Few direct rivals to speak of at this price
Strong performance and excellent ability
Retains practical, well-built interior
It's an excellent all-round performance SUV
CONS
Cupra-specific add-ons won't suit all
Not as thrilling to drive as you'd expect
Still looks and feels like a normal SEAT
Options packs hike up the price
PROS
Few direct rivals to speak of at this price
Strong performance and excellent ability
Retains practical, well-built interior
It's an excellent all-round performance SUV
CONS
Cupra-specific add-ons won't suit all
Not as thrilling to drive as you'd expect
Still looks and feels like a normal SEAT
Options packs hike up the price
Verdict
The Cupra Ateca is a performance version of the SEAT Ateca SUV - but don't call it a SEAT. Cupra is now a brand in its own right, rather than a name for faster versions of SEAT models. It's been around for a while on the bootlids of various hot hatchbacks, but now the new Cupra logo sits proud on the front of the Ateca - the first standalone model - with more to follow.
The Cupra brand exists to appeal to a new range of buyers, with 80% expected to be new to SEAT/Cupra. And by offering something that doesn't appear to have any rivals, there's an air of exclusivity about it. The Ateca deliberately sits bang in the middle of regular crossovers and SUVs from mass-market brands and more premium offerings, like faster versions of the Audi Q5, Mercedes-Benz GLC and Range Rover Evoque.
What does a Cupra model look like?
At first glance, the Cupra branding is a little in-your-face. That could be because it's new and unfamiliar, but the aggressive-looking badge, huge grilles at the front, extensive bodykit and use of copper and carbon trim details will be an acquired taste for many. Get the spec right, and it's a menacing-looking thing that looks quite special. There's a risk that it can look like you've added some of the bits yourself with some combinations, however, but it also manages to look quite tame in some specifications. SEAT/Cupra has managed quite a trick there.

There's little to differentiate the Cupra from the regular Ateca inside, though - with just a couple of trim and material changes, and that badge. That's not necessarily a bad thing, as the Ateca's interior is already a nice place to be. It's all fairly familiar under the bonnet, too, where you'll find the same 2.0 TSI petrol engine you'll find housed under the bonnet of the Leon ST Cupra (and the same 4Drive all-wheel drive system) mated to a seven-speed DSG gearbox. You can thank the VW Group for having all this stuff laying around to make use of.
Cupra Ateca engines, performance and drive
From behind the wheel, the Cupra Ateca – unsurprisingly – feels like the mechanically similar Leon ST Cupra, just with a higher driving position. That translates to a fast and composed drive, both in a straight line and around bends, but one that's not as exciting as those wild looks suggest.
At the heart of the Cupra Ateca is a 2.0-litre TSI turbocharged powerplant producing 300hp. Channelling the power via a seven-speed DSG automatic gearbox to all four wheels results in a claimed 0-62mph acceleration time of 5.4 seconds before pressing on to a top speed of 152mph. Clearly this promises to be a quick five-seater SUV. It takes a lot to unstick the Cupra, but as you push on and on in corners, the bodyroll – while mostly well contained – will eventually convince you to ease off a bit. For a tall car it handles well, just like a regular Ateca, but there's only so much you can do to resist body movement in a tall SUV.

What does impress is the ride. Even on larger alloy wheels and with 10mm lower suspension than a normal Ateca, the Cupra deals with bumps in the road remarkably well even in the most hardcore Cupra driving mode; there's also Normal, Sport, Individual, Off-road and Snow modes to choose from. Driving modes don't just alter the ride quality - the system makes adjustments to the engine's responsiveness, the setup of the Dynamic Chassis Control (adaptive damping), steering weight and other factors.
The digital instrumentation can also be configured to within an inch of its life, with a confusing number of display confgurations and dials, whether you want to prioritise performance information, trip computer, sat-nav – pretty much anything you want – but you'll have to spend a good 15 minutes fiddling to go through all of the options.
The steering can feel artificially heavy in Cupra mode, so we'd opt for the Individual mode's capacity to pick and choose, and leave the steering set to Normal – it feels a bit more responsive which, in turn, makes the car feel a little more agile, while you can put everything else in a sportier mode if you desire.
Fundamentally, it's just like a fast Ateca. It doesn't kick you in the back when you put your foot down like you might expect, building speed smoothly, if not as quickly and ferociously as you might hope for with that headline 0-62mph figure. That's probably due to the SUV nature and the slightly underwhelming sound coming from the engine softening things a bit. It's refined on a long journey too, meaning it still fulfils the brief of being a family-friendly car for times when you're not trying to be a racing driver.
Cupra Ateca SUV interior: practical and family-friendly

In becoming a Cupra, the Ateca has lost a bit of boot room because of the all-wheel drive system, but it retains a still-spacious load area of 485 litres, plus it's well-shaped and accessed by a standard-fit electric tailgate. For passengers, it's just the same as any other Ateca, which means you get plenty of room to stretch out in, lots of practical storage options and a place for everything.
Elsewhere the changes are relatively subtle, with carbonfibre trim adorning much of the cabin, Alcantara faux suede accents, sports seats with extra side bolstering and a Cupra-specific virtual cockpit digital dial setup. Of course, the basic dashboard design, switchgear and door panels are shared between the Cupra and SEAT Atecas, but the trimming feels more luxurious on the former, helping to justify its higher price and, theoretically, making its occupants feel more special. The touchscreen infotainment system is just as you'll find in other cars, so it's easy to use and full of connectivity options such as Bluetooth, DAB, Apple CarPlay and Android Auto and sat-nav.
Where can I buy a Cupra Ateca?
The majority of existing SEAT dealers will be able to sell and service these models from a dedicated 'Cupra Corner' of the showroom, sold by a 'Cupra Master' (also known as a sales executive). There will also be a range of lifestyle accessories available to customers, so that those experiencing the brand feel immersed and part of a new community, according to SEAT. It's also worth noting that Cupras come with a four-year warranty instead of SEAT's three-year offering, and the price is inclusive of servicing and maintenance costs.
Should you buy a Cupra Ateca?
Creating a new Cupra model out of an existing SEAT car makes the most business sense, and going for an SUV is the obvious choice for current trends. People are buying them in their droves, and the market for a fast version is probably growing as people want to mix having fun with having a family.
The Ateca is a solid first effort – whether the branding appeals to you is your own judgement – and it'll take a little while for the name to become commonplace, and for people to get used to that new badge; the brand seems confident it's going to be a success.
The car itself retains all the best bits about the regular Ateca, just with a few more straight-line thrills, so there's little to complain about. It's just not quite as exciting as you might expect from the look of it.