View all Dacia Sandero reviews


Dacia Sandero
Review
Current Model
Bargain basement prices but rich in roominess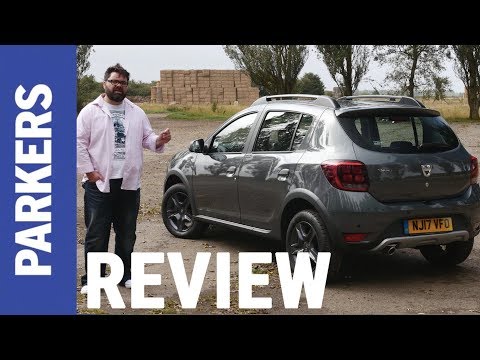 Enlarge
1

videos
Enlarge
83

photos
PROS
Most affordable new car in the UK
Roomy cabin and practical boot
Most models are well-equipped
Efficient engine range
CONS
Rivals are more fun to drive
Standard kit is poor on base model
Diesel engine hikes price
Interior quality is off the pace
PROS
Most affordable new car in the UK
Roomy cabin and practical boot
Most models are well-equipped
Efficient engine range
CONS
Rivals are more fun to drive
Standard kit is poor on base model
Diesel engine hikes price
Interior quality is off the pace
Verdict

If you're looking for a brand new car then the Dacia Sandero hatchback is as cheap as it gets in the UK, starting at less than £6,000.
And as you can see, it's not a tiny city car either: size-wise the Sandero rivals the likes of the Ford Fiesta and Vauxhall Corsa, yet its pricing is less than the smaller Ka+ and Viva from those brands. Sounds intriguing, doesn't it?
So, how does Dacia manage to do it so cheaply? Well, under the skin it shares its platform and mechanical components with the Renault Clio – but an earlier generation of model – and it's built in Romania, with cheaper labour costs than many other EU countries.
Petrol and diesel Sandero engines
There's a limited range of three engines for the Dacia Sandero – a pair of petrols and a diesel.
With 90hp, the 1.5-litre dCi diesel offers impressive frugality, but only if you cover a high number of miles annually, something most small car customers don't tend to do.
More suitable will be one of the three-cylinder petrol engines, both of which should still manage 45mpg in the real world.
There's a non-turbo 1.0-litre SCe motor with 75hp that replaced an earlier 1.2-litre unit with the same power in 2016, or – more appealingly – a 0.9-litre turbocharged TCe engine also with 90hp.
Clearly these aren't outputs that will sate enthusiastic drivers who like to press on, but they enable the Sandero to make adequate progress, even if overtaking manoeuvres require a bit more forward-planning.
Function over form
At 320 litres with the seats in place, the Dacia Sandero's boot is one of the largest in the small hatchback sector, and all models get a 60/40 split rear bench as standard, although it's worth noting that it doesn't fold flat.

More frustratingly for a car where you'd expect practicality would be centred upon, there's no external way of opening the tailgate save for using the key. At least there's a release lever down at the side of the driver's seat.
The remainder of the cabin really is no frills – even higher-spec Sanderos still feel on the cheap side with masses of hard, hollow-sounding plastic. Nevertheless, it feels pleasingly robust in its construction, with no sense that anything flimsy will fall off in your hand.
Paucity of entry-level Sandero equipment
Just like the larger Dacia Duster SUV, there are three trim levels in the Sandero range: Access, Ambiance and the top-of-the-range Laureate.
Although it's the entry-level Access model with the temptingly low sticker price, in reality you are buying a very basic car, without electric windows, stereo equipment or air conditioning.

It's the middle-ranking Ambience model that hits the sweetest spot in the Sandero range as it includes a number of features buyers have come to expect as givens these days, including an easy-to-use touchscreen for the multimedia system.
Most Sandero buyers, somewhat surprisingly, opt for the range-topping Laureate specification, but it's not one we would recommend given that at the top end of the range you're into the price territory of more conventional – and polished – superminis.
Range tweaked in 2019
In January 2019 the Sandero range was tweaked to include a new Blue dCi 95 diesel engine (95hp, 220Nm, 11.9sec 0-62mph, 98g/km CO2 and up to 67.2mpg), available across Essential and Comfort trims. Those two trims have been renamed (replacing Ambiance and Laureate), while entry-level Access remains.
The Parkers Verdict
Let's be clear, the Dacia Sandero hatchback isn't a bad car, it just feels off the pace compared with much newer and more refined rivals, and that's fine providing you buy one from the cheaper echelons of the range.
Sure, a multimedia system and air-con aren't necessities, but they do make budget new-car motoring easier to embrace, but the trinkets fitted to higher spec models negate the Sandero's value-for-money appeal.
Read for our full Dacia Sandero hatchback review