Ford Ka review
Current Model
Value-focused model aces the basics, buts lacks style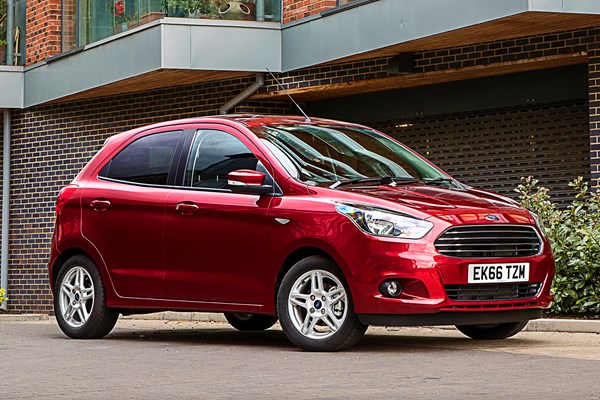 PROS
Affordable and well-equipped
Competitive Ford finance deals
Comfortable but fun to drive
Space for four passengers
CONS
Bland styling compared with rivals
Interior design could be bolder
Few personalisation options
Limited engine and trim choice
PROS
Affordable and well-equipped
Competitive Ford finance deals
Comfortable but fun to drive
Space for four passengers
CONS
Bland styling compared with rivals
Interior design could be bolder
Few personalisation options
Limited engine and trim choice
With value-for-money and practicality central to its offer, the five-door Ford Ka+ not only replaced the Ka three-door, but also less expensive versions of the slightly larger Fiesta. At least that was the plan back in 2016, but by 2019 Ford confirmed its entry-level small hatchback would be discontinued before the end of the year.
It's not the only supersized city car on the market, however, with sensible five-door rivals coming in the form of the Hyundai i10, Kia Picanto and Vauxhall Viva. The spartan Dacia Sandero is also available for a similar price and offers an even greater amount of space.
So why would you want the Ka+ over the Fiesta – or the numerous affordable alternatives? Ford states that this new car prioritises functionality, high levels of equipment and fuel efficiency while remaining fun to drive. And it feels like a substantial car for the money.
Entry-level model has grown
While some small cars focus on style with endless personalisation options from zany patterns to lurid paint and bright interior trim, the Ka+ is a much more serious prospect. It doesn't aim to compete with rivals in the design stakes but instead has neat and tidy styling inside and out and plenty of standard kit.

It's also much bigger than its Fiat 500-based predecessor, giving little away to the Fiesta in terms of length, meaning there's more space for passengers and their luggage. A pair of rear doors also increases the Ka+'s flexibility and sense of value.
Three engines and two trims
Though Ford is known for offering countless versions of most of its cars, the Ka+ is not one of them. Just two 1.2-litre petrol engines are available, with one 1.5-litre diesel producing 95hp. Two specifications are offered, with base Studio trim only fitted with the less powerful 70hp petrol motor, while Zetec trim is available with both petrol powerplants and the diesel.
Fuel economy for both petrol models are identical, although a number of rivals offer lower claimed fuel consumption, meaning that if you want the most economical small car, this isn't it. On the other hand, in 85hp form the Ka+ is one of the faster city cars. Opting for diesel may get you towards 60.1mpg but you'd have to cover a lot of miles in the Ka+ before you start recouping the savings. The higher list price is to blame here.
At this end of the market many cars feel like they've had equipment stripped out to cut the price. With just two specification levels on offer, this is not the case with the Ka+.
Even the basic car includes Bluetooth, an alarm and a trip computer plus a handy speed limiter and hill start assist. Those after an automatic gearbox, however, will be disappointed, as just a five-speed manual is available with both engines.