View all Hyundai Genesis reviews


Hyundai Genesis Saloon (2015 - 2017) review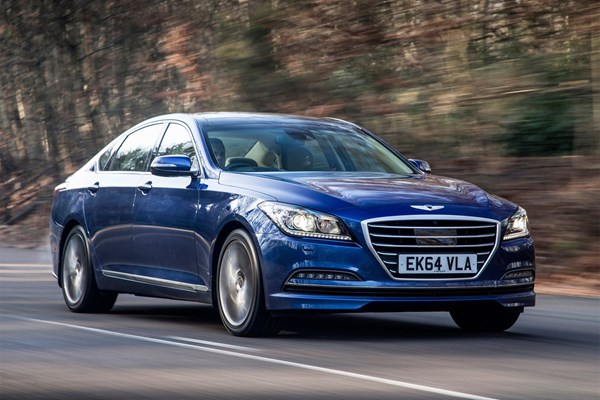 PROS
Comfortable
Well-equipped
Fast
Different
CONS
Expensive to buy
Expensive to run
Brand image
Cheap cabin switchgear
PROS
Comfortable
Well-equipped
Fast
Different
CONS
Expensive to buy
Expensive to run
Brand image
Cheap cabin switchgear

This is the new Hyundai Genesis Saloon – a massive executive car the firm tells us "won't sell in the hundreds" in the UK, but is more popular in the USA and Australia.
So what's the point, then? It's a statement of intent. It's the Korean firm showing what it's capable of. We strongly suspect there's a diesel powertrain on the way for this car, which is going to make it a far more realistic proposition, and until then it's a showcase for what the company can do in terms of equipment and build quality.
Expensive to buy
Priced at £47,995, make no bones about it: this car is a difficult sell. At that level it squares up – on paper at least – with some seriously good rivals. You can have a very high specification of the BMW 5 Series or Jaguar XF, netting you loads of toys and a fantastic drive.
But while that trio are some of our favourite saloons and come with the option of efficient diesel engines, the Genesis is a fair chunk bigger and has just one engine option: a 3.8-litre V6 petrol. Its size could be roughly compared to the far more expensive Audi A8, and that's really where this car excels. It's more of a limo than a luxury saloon, catering for two rear seat passengers in surprising opulence compared to what we're used to from Hyundai.
Very comfortable
Five minutes inside the car and that fact is plainly obvious. The ride quality is excellent thanks to the firm's Continuous Damping Control system, meaning it's capable of astonishing levels of comfort and a harder, sportier set-up if faster driving is on the cards. It can be adjusted using the Intelligent Driving Mode system, which also changes the gear-change ferocity, throttle response and stability control settings accordingly. You've got a choice between Eco, Normal and Sport – though the latter is merely academic in our opinion; this is a huge, sumptuously appointed car and adding sporting pretensions feels at odds with its character.
But perhaps that's being a little unfair, since this isn't a slow car. We've driven the Genesis for a total of around 20 minutes, but in that time we experienced impressive performance from the muted but eager 3.8-litre V6 petrol engine. Indeed, it boasts 311bhp and 397Nm of torque, so the figures look promising. It'll cover 0-62mph in just 6.5 seconds, and eventually will hit 150mph flat-out. But unfortunately performance on the road is hampered by a fairly lethargic eight-speed automatic gearbox which can be reluctant to select the correct gear, especially at lower speeds. We were also a little disappointed with the shift paddles found behind the steering wheel, which are made of poorly moulded plastic and feel very cheap for a car at this price point.
The same is true of some of the switches and technology: they're lifted from other (lesser?) models in the Hyundai and Kia stable, so don't feel anywhere near the quality of rivals from more premium brands.
Laden with toys
Still, that fact does mean Hyundai has managed to absolutely cram the kit into the Genesis. As mentioned before, it's a showcase, so it's no surprise to find a nearly endless list of features installed. And while the components themselves do feel on the cheap side for a near-£50k car, the way the interior is finished and the materials used do feel up to the sort of scrutiny experienced by the better-known rivals in this sector.
The seats especially are very comfortable indeed and finished in plush, high-quality leather matching the heated steering wheel. This is lit beautifully by the panoramic glass sunroof which somehow makes the cabin feel even bigger. The front ones are electrically adjustable while the rear seats feature an armrest which folds down to unveil rudimentary controls for the 14-speaker stereo system along with buttons to move the front seats forwards for more legroom.
All four seats feature both heating and ventilation systems for added comfort, and there's a load-through feature for the rear bench if you need to store longer items such as skis. The boot will open electronically too – albeit rather slowly – so making access to the 493-litre boot that little bit easier. At the front of the car there's a set of HID headlights featuring an automatic high beam system. Automatic lights and wipers take some hassle away too.
Safe and sound
Safety is something else Hyundai has focused on here, and there's a long list of systems installed at no extra cost. Highlights include seven airbags, lane-keeping assist, an electric parking brake, automatic braking, hill-start control and a blind spot detection system. There's a Hyundai first in the around-view monitor too, which allows you to see a 360-degree view around the car for parking purposes.
This, along with the rest of the multimedia functions, is taken care of via an eight-inch touchscreen which features a rear view parking camera, an automatic parking system, Bluetooth connectivity, USB and aux-in jacks, and voice recognition technology. There are buttons on the steering wheel to control all this, too.
Interestingly, the Genesis also features a dual-zone climate control system which uses a CO2 sensor to detect when more fresh air is required in the cabin before activating the ventilation system automatically.
Expensive to run
So there won't be much carbon dioxide on the inside of the car, then. Good job too, since this engine pumps huge amounts out of the tailpipe. The official figure of 261g/km writes this car off from most – if not all – company car lists and relegates it to buyers who really want a Korean limo saloon. Car tax will be £505 per year and in the first year you'll pay a staggering £1,100. Take a minute to compare those figures to an Audi A8 and you'll see how far behind the Hyundai is in this respect. Even a £100k version with Bentley's gargantuan 6.3-litre W12 petrol engine emits just 3g/km more than the Genesis.
Fuel economy isn't what you'd call inconsequential either – the claimed average of 25.2mpg isn't great to start with and we reckon 15mpg is a more realistic figure day-to-day.