View all Hyundai i30 reviews


Hyundai i30 Fastback N review
Current Model
Hyundai's Golf GTI rival in a sleeker body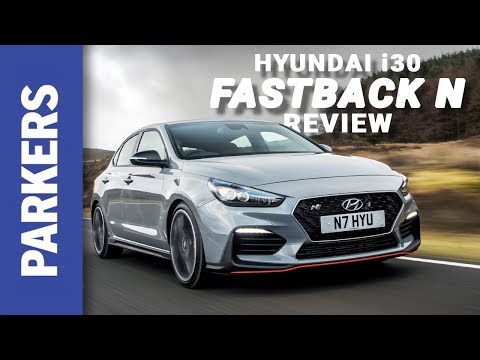 Enlarge
1

videos
Enlarge
0

photos
PROS
Good performance
Exciting to drive
Generous standard equipment
More sophisticated design than hatchback
Comfortable, supportive sports seats
CONS
Rear visibility worse than hatchback
Rear passengers have less headroom
Hard interior plastics
Manual gearbox only, butch clutch
PROS
Good performance
Exciting to drive
Generous standard equipment
More sophisticated design than hatchback
Comfortable, supportive sports seats
CONS
Rear visibility worse than hatchback
Rear passengers have less headroom
Hard interior plastics
Manual gearbox only, butch clutch

The Hyundai i30 Fastback N takes the foundations of the Korean company's impressive i30 N high-performance hatchback, and dresses it in a more elegant five-door coupe body.
Hyundai bills it as the first 'hot five-door coupe' in the segment, and while that's perhaps true on a technicality, really the relationship is comparable to the more expensive Mercedes-AMG A 45 hot hatch and its curvier CLA siblings. You might choose it as an alternative to the Renault Megane RS, Honda Civic Type R and VW Golf GTI hatchbacks, or less powerful versions of the Mercedes-Benz CLA.

The Fastback carries only a small premium over the i30 N hatchback when specified in comparable trim, but succeeds in appearing a more mature and expensive vehicle. Because it's based on the same wheelbase as the hatchback, rear legroom is identical, with space for six-feet-tall adults sitting behind one another.
Hyundai i30 Fastback N: dimensions
Its bodywork is both 120mm longer and 21mm lower, however. The key practical gain is an increase in luggage volume from 395 to 450 litres. On the negative side, visibility is poorer through the aggressively raked rear screen and rear headroom is tighter, though neither compromise is likely to be a deal-breaker.
The front of the cabin is much like the hatchback – the seats are attractive, comfortable and supportive, and come with 'faux suede' and leather upholstery as standard, plus there's heating on both front seats, and electric adjustment and a memory function for the driver's side. The touchscreen infotainment system is intuitive to use, features sat-nav as standard, and all controls are easy to find while driving, including drive-mode buttons handily located on the tactile leather steering wheel that adjust steering weight, engine characteristics, suspension firmness and more.

While the overall appearance impresses, a majority of plastics do feel hard and cheap on closer inspection.
Unlike the i30 N hatchback, the Fastback comes only with the most powerful version of the 2.0-litre turbocharged engine. It delivers 275hp, can accelerate from 0-62mph in 6.1 seconds, and averages 34mpg and 178g/km CO2 on the combined cycle – respectable, but a good way short of the similarly potent Megane RS.
How does the Hyundai i30 Fastback N handle?
Complementing the higher power output are 19-inch alloys fitted with Pirelli P Zero tyres and an electronically controlled limited-slip differential to increase grip.

The i30 Fastback N sets a sporting tone even on a shopping trip – the exhaust has a purposefully gruff bark, power floods in eagerly from low revs, the steering is reasonably heavy and quickly responsive, and the suspension sacrifices a little comfort for a firm, tied-down feel.
It's all in keeping with the high-performance remit, but there's a harder edge to this car than a Golf GTI, though we wouldn't mark it down for that.

Buyers have no choice but to have a manual transmission and front-wheel drive – gear shifts are slick but the clutch action feels quite abrupt, and there is some wheel scrabble under heavier acceleration in lower gears. But over a challenging road, the Fastback really shines, with huge grip and composure, strong brakes, precise steering and generous performance.
A Civic Type R feels both significantly quicker and better transfers its extra power to the tarmac, but the Fastback is a fun, engaging car to drive enthusiastically, feeling every bit as energetic as the i30 N hatchback despite what it's more refined design might suggest.