View all Jaguar F-Pace reviews


Jaguar F-Pace review
Current Model
Generously-sized SUV is perfect for keen drivers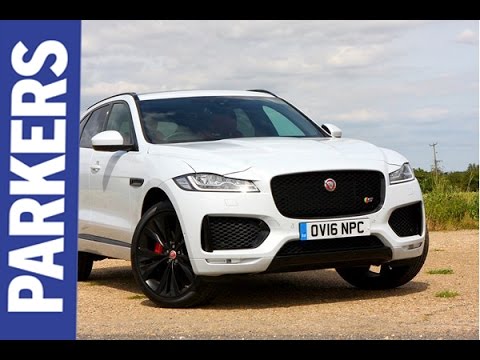 Enlarge
1

videos
Enlarge
105

photos
PROS
Great handling and steering

Practical and roomy interior

Low-cost 2.0-litre diesel option
SVR is a fire-breathing monster

CONS
Large wheels kill ride quality

Luxury models expensive
Macan better to drive quickly
Interior finish disappoints
PROS
Great handling and steering

Practical and roomy interior

Low-cost 2.0-litre diesel option
SVR is a fire-breathing monster

CONS
Large wheels kill ride quality

Luxury models expensive
Macan better to drive quickly
Interior finish disappoints
The Jaguar F-Pace has been a critical and commercial success for the British marque, capturing new customers previously put off by the company's rather staid image. The idea of a high-riding off-roader to wear a Jaguar badge, even as recently as 10 years ago, might have seen a stretch too far – but times are a-changing.
Alongside the Range Rover Velar, it's fighting to keep the British end up in the premium SUV market sector. And it has quite a fight on its hands, going toe-to-toe with the Alfa Romeo Stelvio, Audi Q5, BMW X3 and Mercedes-Benz GLC.
Being a Jaguar, the F-Pace has been conceived to major on driving dynamics, so it's technically closer to the XE and XF saloons, with which it shares a great deal of its underpinnings. As such, it makes extensive use of aluminium and other lightweight materials in its construction – and Jaguar says you feel this behind the wheel.
Being based on the XE and the XF, certainly results in the F-Pace feeling lighter on its feel than its rivals, with all models delivering decent performance and efficiency. It's a good place to start, although the F-Pace isn't as light as it should be considering such extensive use of lightweight materials.
Should I buy a petrol or diesel Jaguar F-Pace?
Unsurprisingly, the F-Pace is strong in diesel form – it was engineered from the outset to make great use of the company's efficient four-cylinder oil burner. Entry level is the 2.0-litre 163hp diesel rear-wheel drive model matched with a manual gearbox, with official figures of 59.2mpg and CO2 emissions of 126g/km, although it's the slowest in the range requiring 10.2 seconds to complete the 0-62mph benchmark sprint.
Of the bunch, the best compromise is the more powerful 180hp 2.0-litre diesel – called 20d – with a smooth-shifting automatic feels less of a compromise: the 0-62mph sprint takes 8.5 seconds, yet Jaguar still claims 55.4mpg and 129g/km of CO2. There's also a 240hp twin-turbo edition of the same diesel (badged 25d).
If your budget can stretch to one of the 3.0-litre V6s then you'll appreciate the extra refinement as well as speed: the 300hp diesel requires 6.2 seconds for the 0-62mph dash, the 380hp supercharged petrol just 5.5 seconds. The downside of the latter is an eye-watering 31.7mpg official average.
In terms of petrol engines, the choices are less generous, and they're aimed at drivers more focused on performance. So you get a single option of the 2.0-litre petrol Ingenium engine, which is offered with 250hp and 300hp. These are badged 25t and 30t.
In answer to the question – if you're after range and economy, the diesel is the only choice worth looking at. The petrol models are great driver's cars, but until the hybrid F-Pace appears, you'll need to head for the diesel models if you're looking for the best overall compromise.
How does the Jaguar F-Pace drive?
As you'd expect, the engineers charged with perfecting the Jaguar F-Pace have done a great job with its dynamics. Unlike a Land Rover or Range Rover, which has to have great off-roading capability in its DNA, the F-Pace doesn't carry this baggage, and therefore should be treated as an off-roader in as much as it will tow a horse box up a muddy hill, and complete a little light green-laning, ably assisted by its intelligent all-wheel drive system.
On road is where it matters to the F-Pace and that's where it scores reasonably well. It's blessed with good steering and a suspension set-up that's capable of delivering great cornering once you're used to the lofty driving position.
The ride quality is very wheel dependent. On 22-inch wheels, it struggles with bumps and ruts, while feeling fidgety on motorways. On 20-inch wheels, it's a much calmer affair, although never does it really settle down and feel as comfortable as its rivals such as the Mercedes-Benz GLC.
While the F-Pace boasts the option of alloys up to 22 inches in diameter, we'd suggest you steer clear: it's a comfier car on 20-inchers and we reckon the car handles better with them, too, particularly if you opt for the adaptive suspension system.
Jaguar F-Pace: Large, tech-filled cabin

No rivals can match the Jaguar when it comes to making the cabin feel sporty. It's been designed to make you feel a part of the driving experience, with a high shoulder line despite its lofty driving position.
While the build quality is acceptable, the richness of the plastics used for the interior lags behind its key rivals, especially the Audi. There are too many hard surfaces and the switchgear isn't blessed with the same level of well-damped satisfaction.
The boot itself is huge and there's plenty of room in the cabin as well, with rear headroom only slightly impeded for taller passengers if you've got a panoramic roof installed. You can even have reclining rear seats installed as an optional extra for another touch of luxury.
Jaguar F-Pace gadgets and technology

We are impressed with the tech on offer, though. Jaguar's InControl Touch Pro multimedia system is a significant leap over the firm's earlier offerings and represents a big step forward in terms of its responsiveness. Is it at the cutting edge of what's on offer, though? No.
In-car, wi-fi along with a number of apps, are on hand to make best use of the car's systems, while other clever features include an Activity Key – a waterproof, wearable car key – and a powered tailgate, which is standard on all models.
Jaguar F-Pace SVR: taking the fight to the Porsche Macan
In March 2018, the long-awaied range-topping Jaguar F-Pace SVR was unveiled. It's powered by a 5.0-litre supercharged V8 that F-Type owners will be more than familiar with. It develops 550hp, an it will dash from 0-62mph in 4.3 seconds. Unlike its German rivals, its maximum speed isn't limited, either – so it tops out at 176mph.
It features uprated suspension, a new rear electronic differential to manage the power, torque vectoring, and a Quickshift automatic transmission. To make it look the part, the SVR has a revised and clean-looking front end, and a rear bumper that houses four exhaust tailpipes and a mini flip-up spoiler. Standard wheels are 21-inch alloys, but 22-inch wheels are an option.
Inside, you get slimline leather sports seats with 'lozenge' quilting and an embossed SVR logo. Up to four upholstery colour combos can be specced. It's available from £74,835.