Kia Optima Sportswagon: Plus Points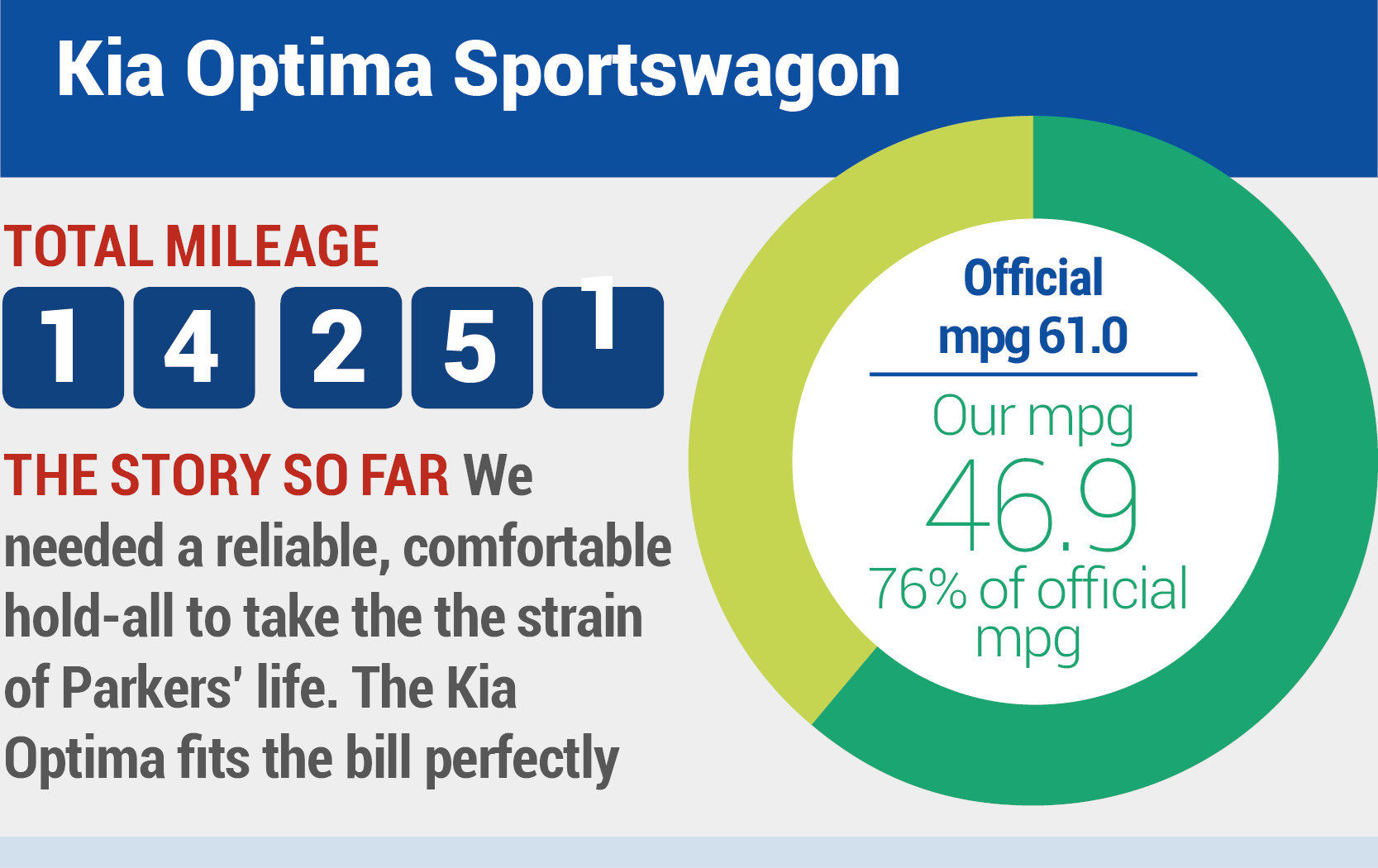 Fresh from a double-Keithing, the Kia gets Garethed
Different driver and different take on the Optima's talents
Taken in context it's not all that bad...
The weather was particularly blustery when I had the pleasure of taking our Optima Sportswagon home for the evening.
The Frankfurt motor show had been on, which is always a busy time in this game - despite remaining in the office this time rather than going out there - so I'd put in some long hours and just wanted to get home.

It was then I noticed the Optima's simplistic driving talents. First of all, it's an easy car to drive. Just jump in, do up your belt, push the engine start button (which incidentally is completely hidden behind the steering wheel for me once I've adjusted the seat), drop the gearlever into D and away you go.
OK, so the twin-clutch gearbox doesn't shift as quickly as some rivals (though this sharpens up if you select Sport mode) and its paddleshifters on the back of the steering wheel (below) feel cheaper than is in any way necessary, but aside from this the Optima isn't such a bad steer after all.

In fact, it's the steering that impresses most. It's delightfully responsive in a way no previous Kia has managed. Sure, there's absolutely no indication of what's going on under the front wheels, which is a symptom of the electric assistance it needs, but it's been tuned to react extremely quickly to inputs and that makes the car feel livelier when you're in a rush.
It's a shame there isn't more in the way of wheelspin mitigation, though – on my wet blast home I had to wait too long to get on the power again and that became frustrating. A Skoda Superb has better front-end traction than the Optima, regardless of the Kia's sporty bodykit and 'GT' moniker in its model name.

But isn't there a lot of kit on board this car? I'd wager that while the two Keiths in the updates directly below this one don't think it's particularly desirable against rival cars, if the Optima was your only reference point you'd actually feel pretty happy with what's on offer.
It's not a premium-priced machine, and does without any pretensions of being so. But as a reliable, practical workhorse you could do a whole lot worse.
And you get a seven-year warranty. Bonus.
By Gareth Evans
---
Eighth report: Sub-Optima Prime
Having prised my tush out of the Mercedes V-Class for the first time in several thousand miles, it's been refreshing to sample a few of the other long-termers in the Parkers stable.
First on my list is the ex-Stuart Collins Kia Optima Sportswagon, fresh from its Cumbrian quest at the hands of Editor Keith Adams.

Usually I refrain from reading colleagues' impressions of cars until after I've driven them myself, but on this occasion I was well-versed with my editor's thoughts.
And, I have to say, I agree completely with his surmising, with the additional observation that at motorway speeds the adaptive cruise control starts scrubbing speed off far too soon after 'seeing' a vehicle in front.

It could probably be resolved with a software tweak, but my preference would be to brake or decelerate more aggressively when the Kia's nearer the vehicle ahead, rather than beginning to ease off gently the moment it spots a blip on the horizon.
So, there you have it. Thank you and good bye.
Must try harder
Oh. Apparently, I have to say something else…
See, this is where it's tricky, because in many respects it's a perfectly fine, impressively capacious, impeccably built, generously appointed family car. Throw in Kia's enviable reliability record and you've got a must-have hit, haven't you?

Err, no, not exactly. Even though the Optima ticks many of the boxes that suit me, it lacks one intangible factor – that you'd want to own it. It's like meeting a potential partner for the first time: they've got the looks, the job, the swanky pad but zero personality.
Imagine going on a date with Holliday Grainger (Google if you have to) and over dinner being subjected to her extolling the joys of porcelain thimble collecting and why Red Leicester's better than Cheddar (says the man with a library containing more than 20,000 car sales brochures…).

Room for the kitsch and the kitchen sink
Some of the exterior details are a little overdone – front grille I'm looking at you – but Kia's not alone on that score. It's handsomely attractive, but unlikely to make you all trembly-kneed.
What flair's present with the Optima's bodywork isn't mirrored inside: it's drearier than a long weekend caravanning in Doncaster. And that red stitching that's part of the GT-Line S trim looks like the half-hearted afterthought that it is.
Oh! Perrrlease: again, Kia's not in a club of one with this marketing-led pretension, but the Optima's not remotely GT-like, and what's the 'S' for? Superficial?

I will give the Kia a bonus five points for employing a single font for the instrumentation, multimedia screen and switchgear labelling, though. It irks me no end when other carmakers chuck typefaces aplenty at a car's cabin in a manner reminiscent of a primary school pupil's PowerPoint presentation, but this probably says more about me than anything else.
There's a distinct lack of sparkle about the way the Sportwagon drives – maybe drop the 'Sports' and just call it 'Optima Wagon'? – being neither particularly agile nor imperiously comfy. Sure, it doesn't wallow around like a listing liner or telegraph every surface imperfection to your buttocks, but it's no standard-setter.

The appliance of science
I'll say things like this to my non-car-enthusing friends (I do have them, you know. Friends, I mean) and the usual bemused response is 'well that's not important: I only want to get my stuff from A to B, nothing more.'
Why? Cars are typically our second-most expensive purchase, a machine you'll spend hours on end in, so shouldn't there be some passion involved?
I don't intend to spend quality time with my dishwasher, so I'm comfortable with that being an appliance, so don't settle for it in a car.
Keith's right – the Optima is a 90% car, and that missing portion is labelled 'desirability'.
Keith WR Jones

---

Seventh report: catching up
We've had a bit of a shuffle of our long-term test cars, and the net result is that our Kia Optima Sportswagon ended up being my ride for a recent week-long trip to Cumbria. I must admit that it's particularly interesting for me, as my usual drive is a Skoda Superb Estate, which is one of the Optima's deadliest rivals.
First impressions of the Optima are very positive. Given I've not seen much of it while photographer Stuart Collins has been using it, seeing up close for the first time in months reminds me of just how sharp-looking it is. The estate version is huge, but thanks to its impressive styling, it doesn't look particularly big – the opposite of my Skoda, which seems deliberately imposing.
Inside, it's sombre and, aside from its jolly centrally mounted screen, looks very generic, and not particularly modern. But it's far from uninviting, and there's no denying it has great build quality – if anything, it feels more tightly assembled than the Superb.
Forget all that, what's it like on a long journey?
You'll have read all the intricacies of this car in Stuart's previous reports, so I'll just do the top-line thing. Seating position is good, the controls are logically laid out, and once on the motorway, it feels planted, secure and reasonably punchy for a 1.7-litre diesel.

Over the course of the 800-mile week, I've come away with a deeper respect for this car than I was expecting. In fact, the easiest way of describing my time with the Sportswagon into a simple bullet-pointed list.
Things I love
Fuel consumption. This is a big car, and allied with a large fuel tank, this 47mpg wagon has an easy 650-mile range. Compares well with the 400 from my petrol Superb.
Interior room. This is a genuine five-seater family car. The rear seat will take three adults without too many complaints, while the boot is enormous, and very well shaped.
Controls and tech. It's very easy to find your way around. Old-fashioned rotary heater controls that work, logical stalks, and a traditional auto-shifter make this a car that anyone can jump into and feel comfortable very quickly.
Styling. I think it looks great.
Things I'm not so hot on
The infotainment. It looks cheap, and isn't as simple to use as many of its rivals. My personal dislike of touch screens is always exaggerated when there's no way of driving it from the dash/centre console.
Accelerator and brake feel. It's only a small thing, but the brakes are grabby and the throttle pedal doesn't give much feedback. So, when you're parking, or driving in a queue, it's difficult to drive smoothly. In an auto, this is unexpectedly disappointing.
Refinement. The engine is reasonably quiet, but it sounds rough when extended. More disappointingly, there's too much wind and tyre noise at speed. I suspect replacing those Michelins will quieten it down to some extent.
Adaptive cruise control. It's nice that the Optima has it, but I find it slightly frustrating to use compared with the best of the opposition. It's not smooth in mixed traffic, and sometimes surges, with an accompanying jerk from the transmission.
Verdict: how does the Kia Optima stack up?

In short, very well. Some of my non-car enthusiast friends were genuinely interested about the Kia, and asked my thoughts on it. After thinking long and hard about it, I summed it up by saying that it's a 90% car.
In other words, it feels nine-tenths of the way to excellence. It certainly looks and feels the part, and with that legendary seven-year warranty, there's plenty of piece of mind when buying one.
But the lack of high-speed refinement, the indifferent controls and the cheap-looking infotainment system take the polish off it. Kia's list price of £30,755 (at the time of writing) put this up against some very talented opposition.
Would I take one over the brilliant Skoda Superb Estate? No.
But I understand anyone who might.
---
Sixth report: a mile muncher

It been a busy few weeks for me and the Optima and it's still proving to be a fantastic long-distance wagon and a great photographer's car.
I've been piling on the miles (about 2,000) driving to Scotland to meet a gaggle of Kawasakis, the New Forest to shoot some newly restored vintage motorbikes, Liverpool to shoot another restored bike, Preston for a tribute band music festival and Leicestershire to shoot the new Vauxhall VXR8 GTS-R.
The miles are going to continue racking up as I've got a busy couple of weeks ahead of me, starting with a drive to Wales to shoot another motorbike. Thankfully the Optima excels at long journeys and can manage around 600 miles to a tank, so the only reasons to stop en-route are traffic jams or toilet and coffee stops.
Mileage: 10,810
Fuel economy: 47.3mpg
---
Fifth report: Five things we like and dislike
Boot capacity
What can I say? It's a huge, massive space that almost echoes it's so big. I've been filling it with everything from camera gear to band equipment, and even myself for car-to-car photographs, and not yet found anything that won't fit.

There's levers in the boot to drop the seats, which is a nice touch, as is the storage for the load cover under the floor of the boot. Kia seem to have nailed down exactly what this car will be used for, so the sliding and removable tie-down points are perfect for stopping my gear slide around, and can be simply removed when I need a flat floor for the guitars and amps.
Equipment
Buttons, buttons, buttons… there are a lot of them in the Optima and I'm not sure I've even pressed them all. With a spec level to rival any premium brand, the Kia is no slouch in the technology department and I can't think of anything that Kia have left off of this car.

I really like the parking cameras that give a virtual aerial view of the car, which I find invaluable for parking on my crowded street. I've only tried the self-parking once, but that was just to see what it did, and to show off to my kids of course.
There's also plenty of charging options for my various tech, three 12v sockets, and two USB sockets, meant that everyone was kept happy when I took my children away at Easter.
Seats
The Optima's seats are a great shape for me, and I find them extremely comfortable. I have no problem driving for several hours without stopping, getting to my destination without aches or pains.

I recently compared the seats in the new BMW 5-series, and I found the Kia's to be more comfortable. In the cold winter mornings the heated seats were very welcome, although I'm not sure I'll get used to the cooling option. That feels a bit odd to me.
Gearbox
I've got a bit of a love/hate relationship with the 7-speed auto in the Kia. While it's perfect for the long drives, and when stuck in traffic, pulling out a junctions can be a bit of a hazard.

The delay between putting my foot down on the accelerator and the car actually moving is just that bit too long, and I'm sure I've caused other drivers to have to brake while the car decides it's going to move. When it does eventually go, it does tend to scream off in first gear using all the revs making it look like it's me pulling out late. It's not, honest.
Fuel economy
Hmmmmm, Kia suggest that the combined fuel economy for this car is 61.4mpg and I've never come anywhere near that, which is slightly disappointing. The best I've ever got was 47.3mpg on a long driving through France.
It's not as though I drive like an idiot either, I'm mostly a good boy behind the wheel, don't accelerate harshly and take my time wherever I'm off to. I even drive with the gearbox in its ECO mode, as I prefer its relaxed manner. I'm not even sure that the poor economy would be due to carrying photography or guitar equipment.
Mileage: 8,732
Fuel economy: 42mpg
---
Fourth report: Not lighting the way
I've been without my Kia Optima Sportswagon for a couple of weeks due to the repair of the wing that was damaged, but it's back now and have been gladly putting on the miles en-route to numerous photoshoots.
It still feels as comfortable and spacious as when it first arrived, even when compared to the new BMW 5 Series Touring, which I shot recently, which seemed noticeably smaller in the cabin and the all-important boot area.

The fuel consumption still seems on the high side, when Kia quote a combined mpg of 61.4, the 44.05 that I'm getting is a bit of a disappointment. It's not as though I drive it hard, most of the time I leave the gearbox in its Eco mode as I prefer its less-eager response, but it may be due to the fact it spends most of its time loaded with equipment, so hopefully this will improve with age.
One thing that I do have a problem with however, is the lights. At night they're super-bright, but have such a hard fall off line that I struggle to see ahead far enough.

It's even worse when I put on the full beam, as there is a gap between the two sets of lights which falls exactly where you need the extra illumination. The tree tops are very visible though.
The only victim of the miles seems to have been the front parking camera which is now cracked… I'm guessing it happened on the road, unless it caught a glimpse of one of my recent subjects.


---
Third report report: Overseas adventures
It's been a busy few weeks for the Optima, driving all over the country to photoshoots, piling on the miles, and serving as perfect family transport when I took my children away to France for the Easter holidays.
The huge boot swallowed all the bags, food and holiday paraphernalia with ease and the 600-ish mile range meant that after filling up before boarding the ferry, we would only have to stop for food and leg stretches before we got to our final destination of Saint-Cenere.

Compared to the UK, driving in France is a pleasure - 80mph speed limit on the autoroute, and virtually no traffic. Sure, you do have to pay for the pleasure, but it's worth it to arrive stress free, aided by the great seats in the Kia.

My children think the Optima is great too, not just for the auto tailgate and self-parking wizardry, but with three 12/18-volt power points and two USB charging points it meant that their DVD players and iPods, and my phone, remained fully charged for the long journey.
I made use of the adaptive cruise control in France, and it works well on their near-empty roads. Back in the UK, however, it becomes a bit frustrating. Even with the distance limiter on the shortest setting, the car starts slowing very early, leaving at least a two-second gap between me and the car ahead.

This is fine, but it does mean that two of your average nose-to-tail commuters would think nothing of filling that gap at 70mph, causing the Kia to slow even more. The cruise control also has a problem when overtaking traffic on right-hand bends as it senses the vehicle on the inside lane and slows the car down.
As frustrating as the cruise control can be, I can see myself using it more and more with the new speeding fines now in force.
Mileage: 6,437
Fuel economy: 44.06mpg
---

Second report: the big test
The real test of any estate car is how much stuff you can fill it with, and the real test of any estate car I drive is how I'm going to fit in all my guitars, amps and other band-related paraphernalia.
Never mind the camera equipment that I use for my work, that can fit in most cars I've driven. Squeezing two Marshall amps, three Les Paul guitars, a PA amp, PA speakers, an effects board and a bag of cables isn't going to fit into a Mazda MX-5 no matter how hard you try.

It probably takes my band one rehearsal to get a selection of new songs learnt, but it's taken me three or four to finally settle on a packing order for my equipment in the Optima. The first couple of attempts weren't disastrous, but I did wince at every corner and roundabout waiting for a heavy thump from the load in the back falling over. It's like a big jigsaw puzzle, but once I got it right, everything stays where it should. I just need to remember to turn off the easy-access seat so that it doesn't crush a guitar when I open the driver's door.

You would think that something so big and red would be easy to see whilst parked in a car park for a week… Well, apparently not. Some (enter choice expletive here) thought that they would be kind enough to leave me a present in the form of a dent and a scrape on the front corner of the Optima, without telling me. Thank you.
By Stuart Collins
Fuel consumption: 40.4mpg
Mileage: 6,636
---
First report: welcome
Perhaps it's because of my chosen career, perhaps I was born this way, but I do like a good estate car. When the 'dream garage' question inevitably gets asked, the first car on my list is always a good-looking estate, and the new Kia Optima Sportwagon certainly falls into that category.
My main requirement in a car is a large load space for the camera gear and band equipment that I haul around, and with the Optima swallowing an impressive 552 litres with the rear seats up, I can fit everything I need for even the most technical shoot.
Fold the rear seats down and that capacity increases to a whopping 1,686 litres, so should easily fit the mountain of guitars, amps and associated paraphernalia that I need for the band; in fact I might have to buy more guitars just to fill it.

The Optima Sportwagon gets the 1.7-litre CRDi diesel engine, and with its 139bhp and 340Nm of torque, should be a good match for the seven-speed DCT automatic gearbox. Kia is quoting a figure of 61.4 mpg, but the onboard computer has yet to reach those impressive numbers - so far the best it's shown me is 41.
Top spec GT-Line S is well-equipped
As well the boot space being fully loaded, this Optima is also fully loaded with almost every conceivable extra you would want in a car. It's top-of-the-range GT-Line S trim level means that there's not one blank switch or button in sight, and I don't think I've even managed to press them all yet. Early starts and cold mornings are made less arduous with the heated seat and steering wheel, cosseting me like a dry bath.

Kia has packed the Optima full of tech, way too much to list here, and I'm not sure I'll use all of it, but the 360-degree camera view makes parking a doddle, and the blindspot detection is handy when fully loaded.
The eight speaker 490-watt Harman/Kardon sound system is perfect for me to listen to all the new songs I need to learn for the band while on the move, allowing me to connect my iPod via the USB socket, my phone via Bluetooth, and with the DAB permanently tuned to Planet Rock, I'm never short of music to listen to either.
By Stuart Collins