View all Lexus GS reviews


Lexus GS F (2015 - 2018)
Review
Old-school V8 thrills with impeccable cabin quality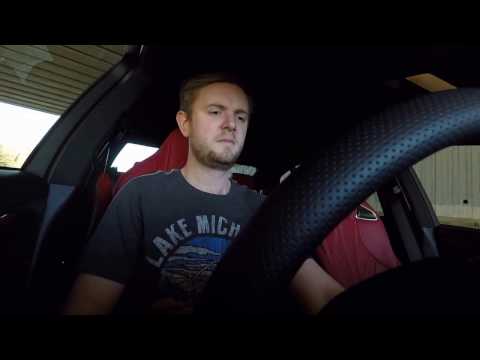 Enlarge
1

videos
Enlarge
75

photos
PROS
Characterful V8 engine
Excellent cabin quality and loads of kit
Comfortable cruising ability
Crescendo of noise and pace
CONS
Rivals offer sharper handling and gearbox
Power delivery is less immediate too
Infotainment controller awkward to use
PROS
Characterful V8 engine
Excellent cabin quality and loads of kit
Comfortable cruising ability
Crescendo of noise and pace
CONS
Rivals offer sharper handling and gearbox
Power delivery is less immediate too
Infotainment controller awkward to use
Verdict
The Lexus GS F is an affable car with a sonorously characterful - and blessedly turbo free - V8 engine.
Its three biggest problems all come from Germany: the BMW M5, Mercedes-Benz E63 AMG and Audi RS6 Avant, which collectively have every corner of the executive performance saloon market sewn up.
Although there's plenty to like about this Japanese car – the noise it makes, the quality of the cabin and the superb ride – a couple of flaws in key areas means it represents a left-field alternative rather than a genuine challenger to that Teutonic trio.
Old-school V8 feels like the end of an era
While everyone else seems to be shrinking their engines and adding turbos, the Lexus packs a whacking-great 5-litre unit with a delightfully split personality. It provides a proper muscle car soundtrack when provoked, yet cruises politely on the motorway when you need it to.
Compared with its forced induction rivals you certainly need to wind the big motor up to get the best out of it, with its 470bhp maximum arriving at a lofty 7,100rpm, and peak torque of 530Nm on offer between 4,800 and 5,600rpm.
It makes the GS F feel quite inert but easy to drive at low speed, and also encourages you to go for the red line and soak up the magnificent range of noises from the engine and exhaust when driving fast.
While this type of power delivery suits a sports car like a Porsche 911, we'd have liked a bit more get-up-and-go from low down in the rev range to provide lazy overtaking power, something the twin-turbocharged unit in the E63 AMG does very well.
Interior is a sea of high-tech elegance
Lexus always scores big points for interior design – there's something very appealing about the way technology and classic design have been integrated.
There's an enormous 12.3-inch screen nestled deep inside the dash, not just plonked on top as an afterthought, and the main digital dial – which other manufacturers could learn a lot from in terms of graphics - is set against a traditional speedometer.
It's just a shame that the rectangular touchpad device used to control it all is so fiddly – BMW's iDrive is much more intuitive and Audi's MMI is easier to use.
At least, the driving position is spot on (it's set a little high, but this makes it easier to get in and out) and there are plenty of high-quality materials which look durable too; especially the riveted swathe of suede-like material on the dashboard.
The Parkers Verdict
Should I buy one? Yes - providing you can look past the minor flaws detailed in this comprehensive Lexus GS F review. It's a great car but falls short when compared with German rivals.